Captain Marvel aka Carol Danvers is the most powerful character of the Marvel Cinematic Universe. She is going to bring the floor down next year with the release of her upcoming movie starring none other than the talented Brie Larson. But how powerful is this woman?? Can anyone actually fathom her power levels? Presenting – 16 times Captain Marvel did something physically impossible!!
1. Fought two villains while wearing power inhibiting cuffs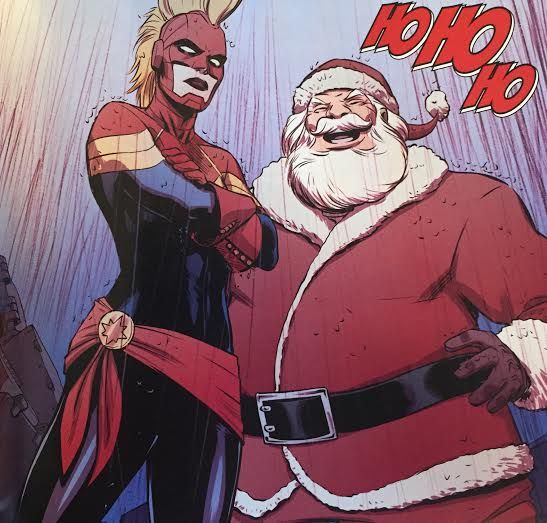 Carol Danvers loses her memories and decides it is in the best of her interests to venture into space as the Avengers' space representative. But once, she decides to come back to Earth during Christmas time where she is handcuffed with power inhibitors by Grace Valentine and June Covington. She fights them off easily even without her powers and with some help from Santa Claus.
2. Survived a massive avalanche in the Antarctic
When Carol Danvers was losing the control over her own powers and abilities, she decided it is best to visit the only man who can help her gain back control over her energy manipulation skills. She decided to visit Tony Stark in his Antarctic Research laboratory but with her powers going loco, she soon falls prey to an avalanche. But she managed to survive even that.
3. Fights two mega sharks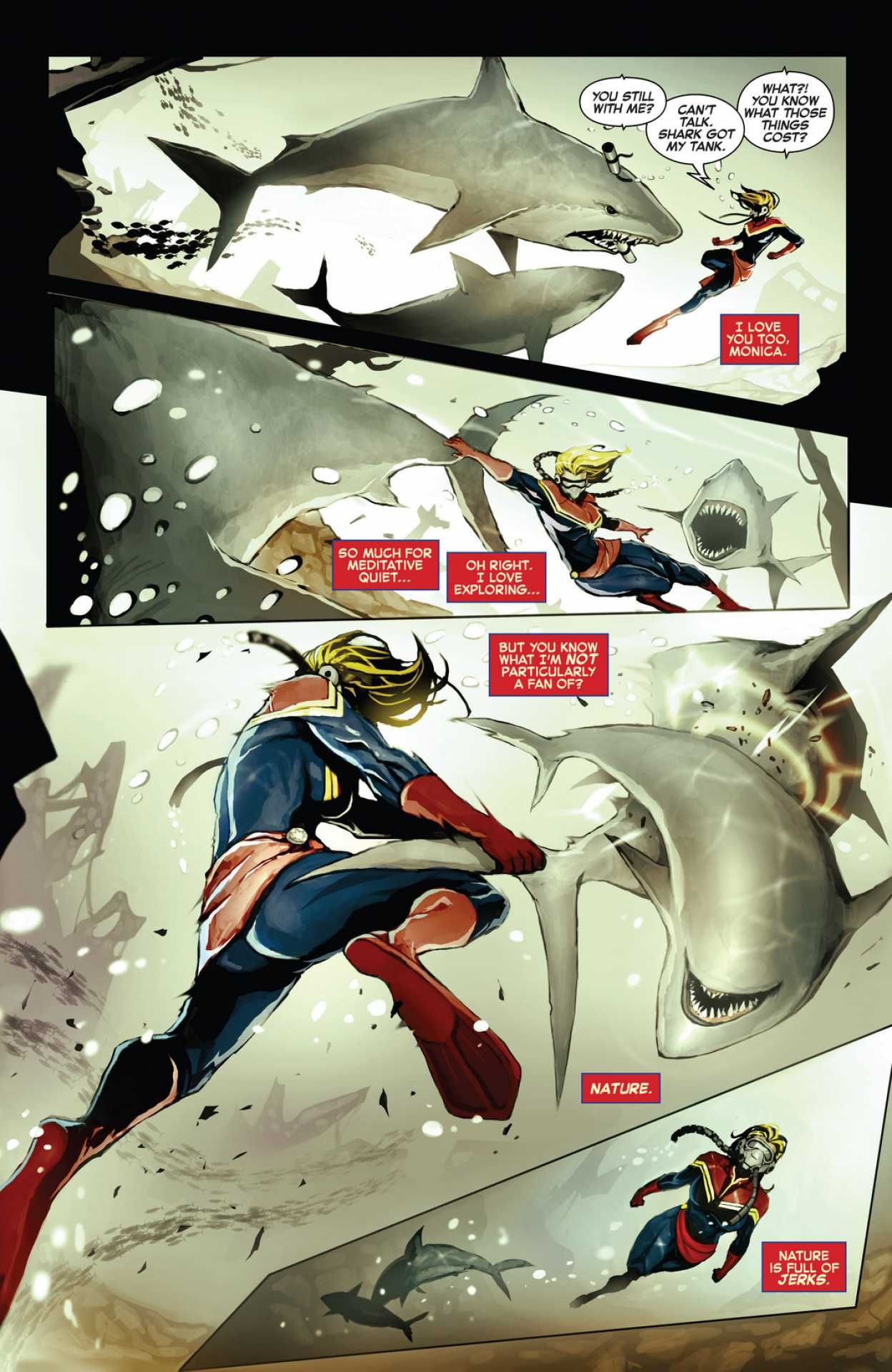 When ships suddenly start disappearing in one lonely patch of the ocean, Carol decides to investigate. Carol puts on scuba gear and dives deep into the sea. There she finds a graveyard of military ships dating back to World War Two. Carol finds two super-sized sharks charging at her, the reason the ships are disappearing. When one of the sharks bites away her oxygen tank, she hurls the other shark at it and defeats them both. And she does that underwater.
4. Lifts a passenger train while injured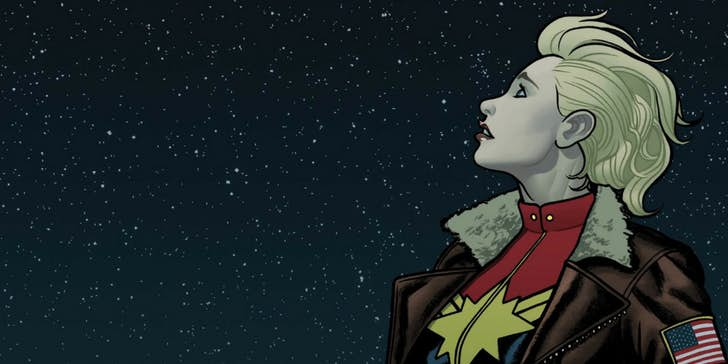 Captain Marvel fights many foes and in one of these fights, she gets wounded and it hampers her medical condition. In a later issue, a train tunnel suddenly disappears and a passenger train is about to be crushed with lots of innocent people inside it being killed in the process. Carol, despite her health, lifts the whole train on her shoulders and carries it to safety.
5. Fights Dinosaurs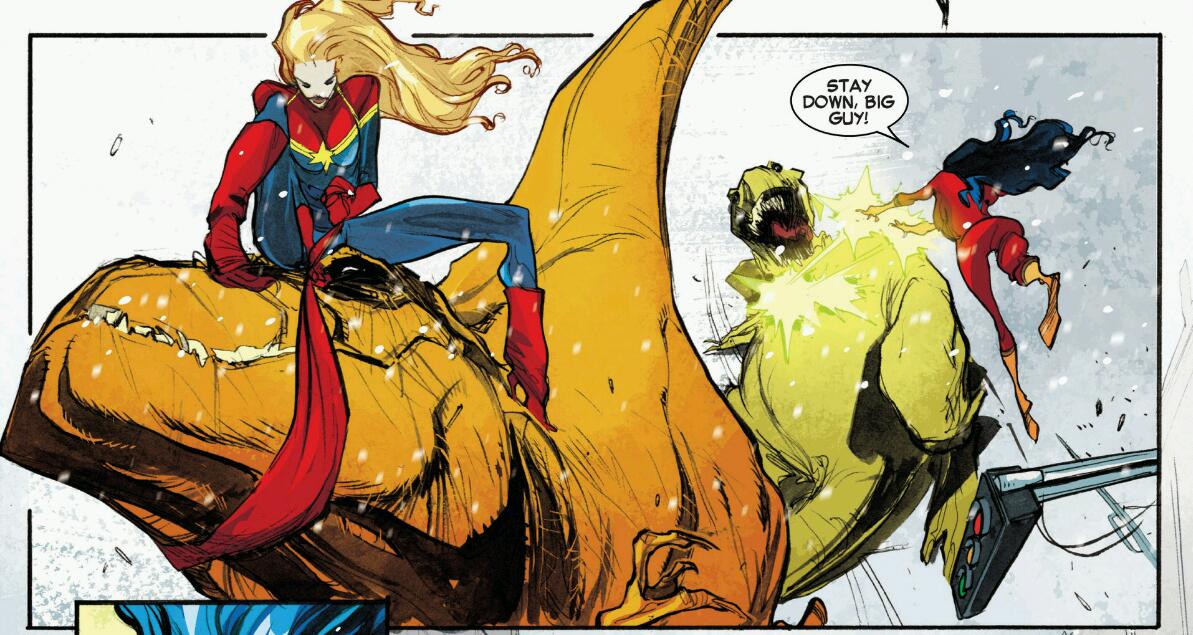 New York City is indeed one hell of a strange place. One time you see super advanced alien races roaming around the town with laser blasters and giant robots and the other time you see dinosaurs wandering through the streets. Carol Danvers was having trouble with her powers and she was about to meet her doctor. On the way, she sees carnivorous dinosaurs terrorizing New Yorkers. Jessica Drew and Carol Danvers both leap into action.
6. Fights an ice monster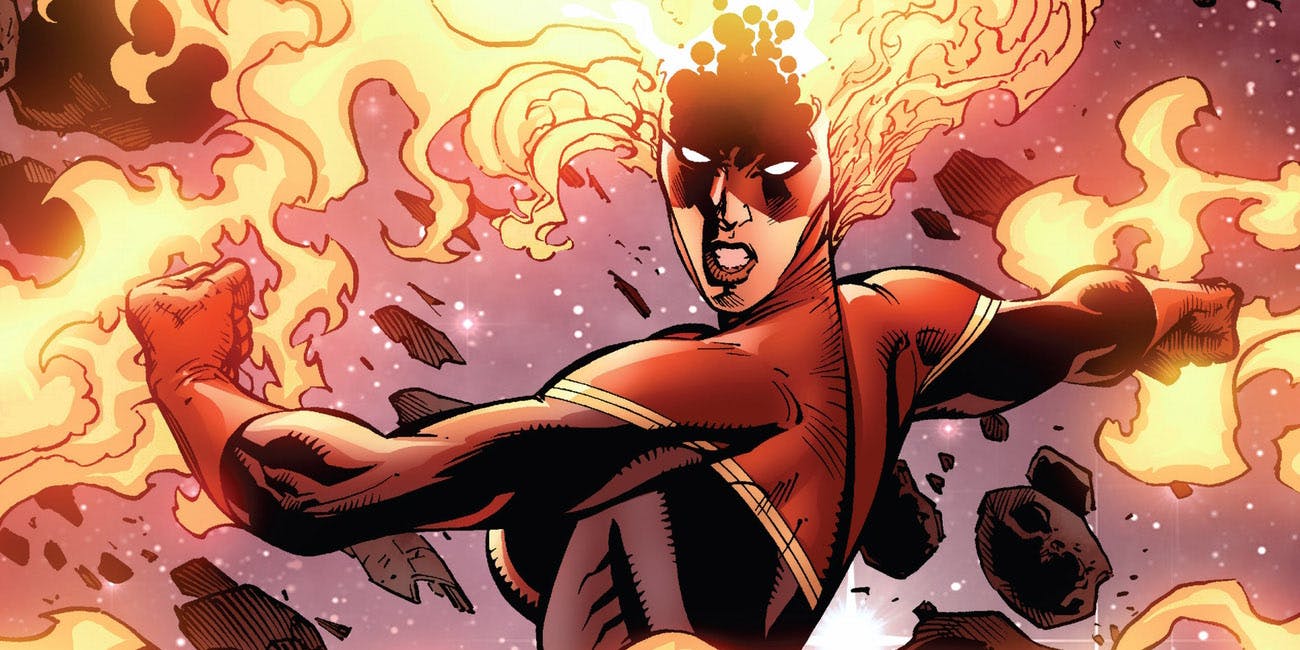 Carol and Tony aren't on the best of terms. In short, they both hate each other to the core. So when Carol seeks Tony out to help her control her powers which happen to be going haywire, Tony decides to stop her from reaching out to him. He instructs his A.I to create a giant ice monster that soon attacks Carol Danvers with full force. The monster is swiftly defeated by the binary woman.
7. Ambushes the Mad Titan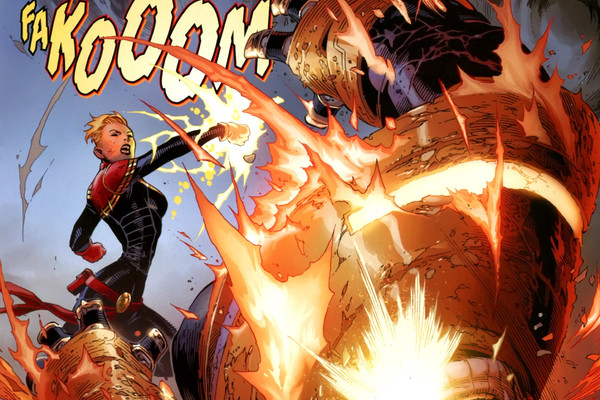 Carol and Tony are the leaders of the two sides that are opposing forces in Civil War 2. An inhuman named Ulysses can precisely predict future events and Carol wants to use that ability to stop bad things from happening in the first place. Tony wants an ability like this to not be misused and thinks it is dangerous to change the future on your own. An ambush on Thanos before he could do any harm is successful, all thanks to Captain Marvel, but Rhodey is killed in the process and Tony blames Carol for his death.
8. Fights giant space ball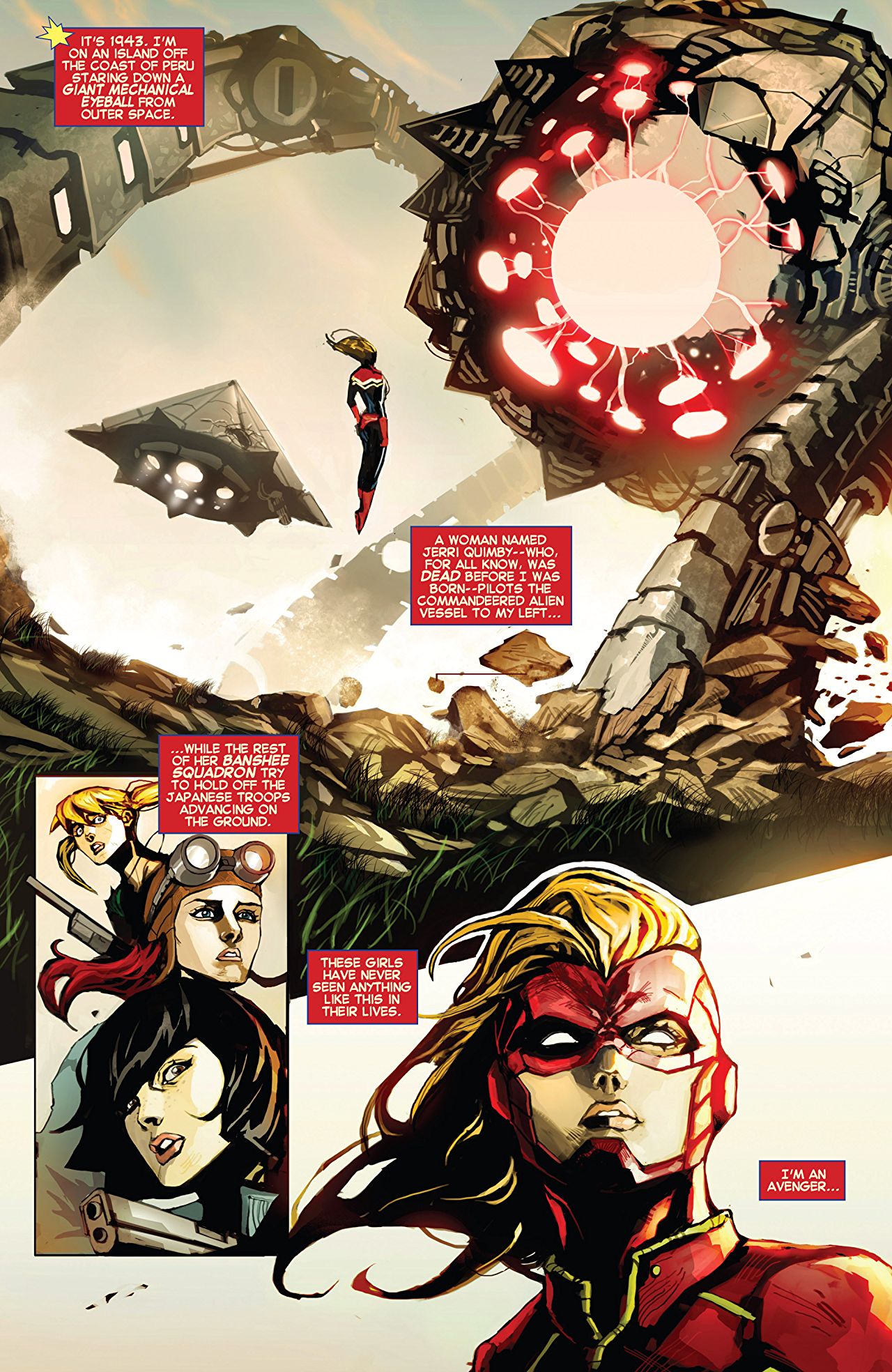 Carol Danvers is transported through the time stream to World War 2 era Peru, where are all-women squadron is fighting Japanese forces. The time she lands in is also a bit strange as the Japanese are aided by a giant space eyeball that makes Carol Danvers crash land on her buttocks with one energy beam. Captain Marvel defeats her by redirecting its own energy at itself.
9. Travels a distance of 240,000 miles within a few seconds
In the Mighty Captain Marvel Run by Stohl, Carol Danvers encounters a spaceship carrying Kree children to distant star systems for being sold. Since Carol is half Kree, she decides to get to the root of this new intergalactic child trafficking problem. She rescues a Kree girl and transports her pod via her own energy to the Alpha Flight Space Station which is roughly 240,000 miles away in a matter of a few seconds.
10. Wins a fight against her own superpowers
Carol Danvers is so powerful that the only thing that can stop her is literally herself! Tony Stark put that to good use when he decided to use his genius mind to come up with a technique to make Carol have a taste of her own medicine. In Civil War 2, Carol and Tony fight one on one but the fight is heavily favored against Iron Man. So he uses his tech to redirect Carol's energy back at her which temporarily knocks her down. She gets up again and still keeps fighting.
11. Destroys warships of the builders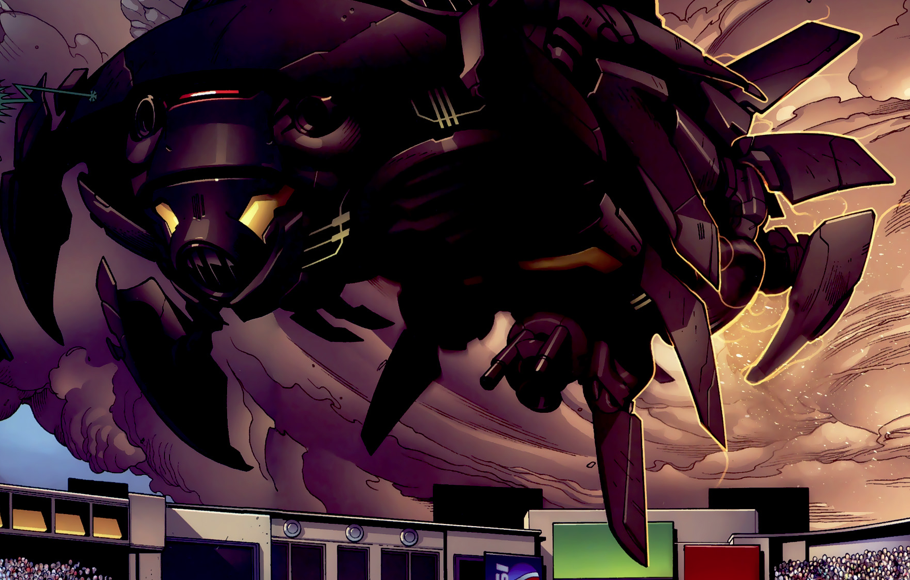 The Builders are one of the oldest and the most powerful races of the Marvel Universe. They are closely associated with Thanos, who learned a lot of his genius knowledge from these guys. The Builders, in one Infinity tie-in, decide to conquer a world and attack Carol Danvers, who is suffering through amnesia at that point. Carol somehow regains back her binary powers which she then uses to destroy several Builder warships with ease.
12. Merges with Spectrum to destroy a giant robot
Monica Rambeau is also one of the strongest beings of the Marvel Universe. Like Carol Danvers, she also has a vast range of abilities and goes by the name Spectrum. Monica also happened to possess the 'Captain Marvel' name before Carol took it without permission and thus, there is still some animosity between the two. Though when a giant robot arises from the sea, Monica and Carol join hands, literally and become one to defeat the mechanical mammoth.
13. Pierces through a Chitauri Leviathan Fleet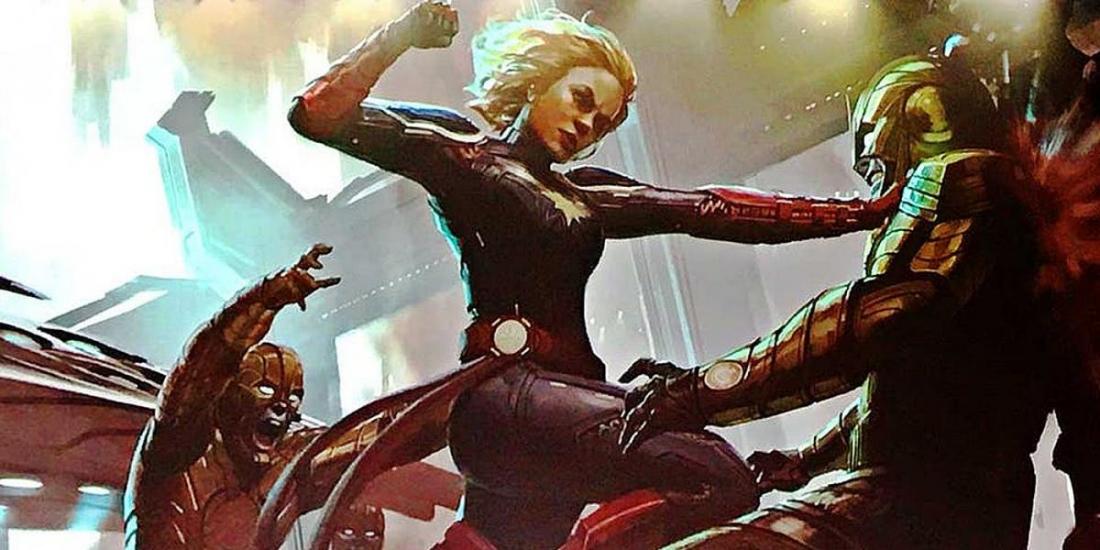 After Captain America betrays the Earth by revealing to be a Hydra agent in one of the most controversial storylines ever, it is up to Carol and the Alpha Flight team to save the day. The Chitauri have almost conquered Earth and Carol is the only thing that could stop them. They come to take her out while Carol, with the help of the Ultimates and the Guardians of the Galaxy, plans to bust through an entire Chitauri Leviathan armada and destroy a shield that is stopping outside forces from coming to Earth's aid.
14. Is the sole guardian of an entire planet

A horde of refugees was relocated to a desolate planet called Torfa. Torfa then became their home but the people suddenly started to fall sick. The King of the Spartax Empire, who was the one who relocated the people to Torfa, ordered them to be evacuated again. The people refused to leave their home. It was later found out that Torfa was basically a huge mound of Vibranium that the Spartax Empire aims to mine and sell. Captain Marvel then singlehandedly destroys an entire armada of Spartax ships that have come to defeat Torfa.
15. Survives the Satori, enemy of the Kree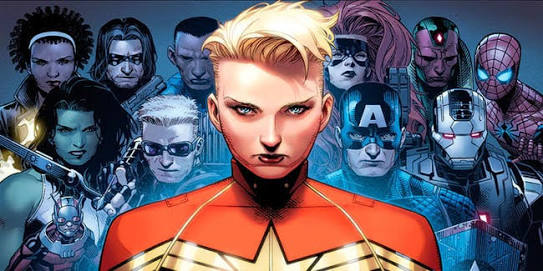 The Satori is a race of beings with the sole purpose of hating the Kree. That is all they do. All the Satori has evolved to become anti-Kree. Even their technology is aimed at inflicting massive damage to the Kree. So when Carol finds herself captured by the Satori while one a routine inspection aboard an abandoned Kree ship, much to the Satori's pleasant surprise, they realize Carol is half Kree herself. They then go on to torture her. Carol survives the worst that a Kree could suffer and still lives to tell the tale.
16. Survives an HLA explosion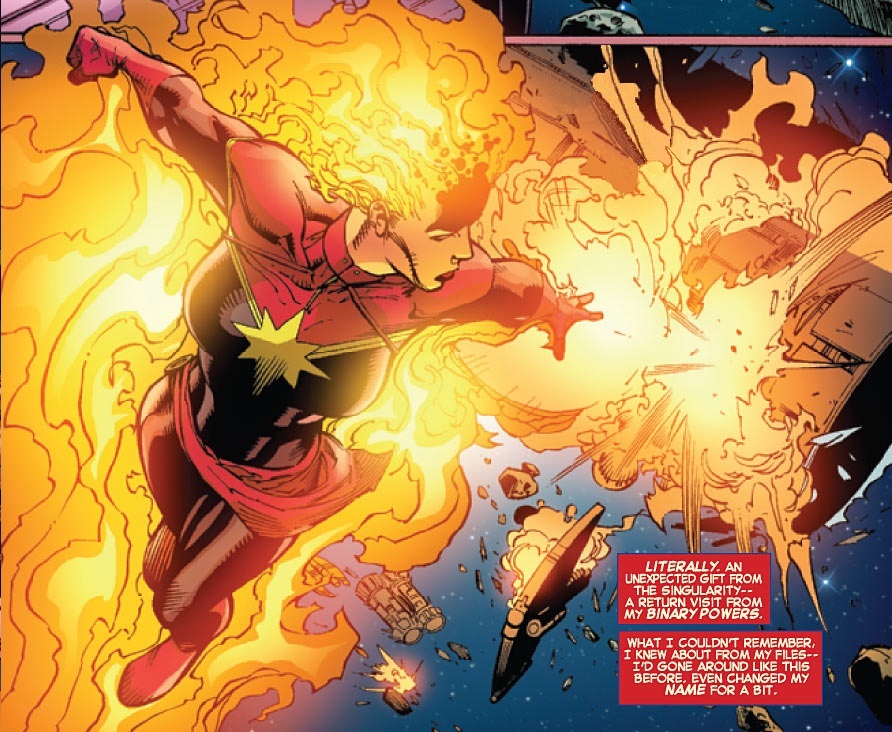 Carol saves a Kree girl from being sold to slave traders. She later finds out that the child trafficking ring is capturing young Kree infants to experiment on them and turn them into super weapons. Carol, who has dubbed the rescued kree girl as Bean, is able to track her location by using her HLA signature. Bean, turns out to be the last ingredient – the energy catalyst, to complete an HLA super weapon. The resulting explosion is so huge that it is felt light years away. But Carol survives it nonetheless. And she does that at point blank range.
Do I really look like a guy with a plan? You know what I am? I'm a dog chasing cars. I wouldn't know what to do with one if I caught it! You know, I just… do things