Books
Ruskin Bond's Dehra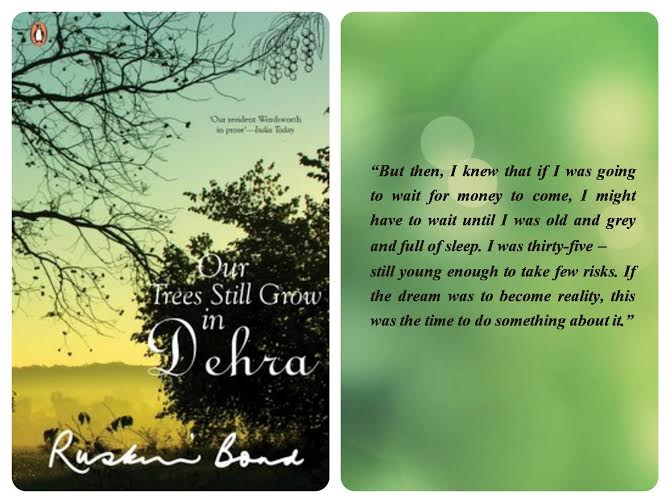 Ruskin Bond has been adding wings to our imagination for six decades now. Beginning with 'The Room on the Roof' which won him the John Llewellyn Rhys Memorial prize and launched him into the nascent arena of Indian fiction, he has explored several genres, edited and compiled anthologies and gifted delightful stories to all readers' dreams. He has made ink flow into horror and ghost stories, express friendship and love, and run in numerous twists and turns that make one gasp with surprise. However, what is perhaps most beautiful is the way his pen etches Dehra and its surroundings.
We see tall deodars and rosy cheeked women, bustling bazaars and dirty-faced children, cool streams and birds chirping as moving pictures in a kinescope, imprinting themselves on our memories forever. The rumbling train snaking its way across the town, busy roads with irate bullock cart drivers and few fantasized about automobiles, transport us into his world.  Word after word builds a township in front of our eyes. One can almost feel the cool wind of the hills turning pages.
His characters skip over the rough terrain and terraced slopes like nimble mountain goats, carrying blue umbrellas or sweet jalebi or prized spinning tops. They make us play in the maidan until dusk, wave to passengers in the train rushing past, and watch snake-mongoose fights with interest. Simple but effective, the fluidity of their construction and realism of their actions teach enduring life lessons.
Bond describes the cottage in which he lives, the lovely garden adjoining it, his chatty neighbours, the witty conductor at the bus stand and clever street urchins with such clarity and attention to detail that one feels like a bystander within the scene. We gossip with the characters over cups of hot chai, beware of leopards in the jungle behind the houses and reminisce over the British past with its gramophones and tonga rides. His Dehra gently nudges us into different time periods, sometimes blowing the dust off stories of the past, sometimes checking our face in the gleaming mirror of the present.
R.K. Narayan's Malgudi and Gabriel Garcia Marquez's Macondo find a worthy counterpart in Bond's Dehra. The sleepy valley that he effortlessly weaves into our consciousness with brightly coloured threads and worn out ones; with romance and fear and action and courage and beauty and hope, is certainly here to stay.