Technology
The Impossible Project– I-1 Analog Instant Camera
We take a huge number of pictures on our phones, yet we never truly take a gander at them. Digital pictures will sooner or later lose all sense of direction in the cloud because they can't be easily shared or passed on. But, Polaroid pictures offer you the opportunity to truly look. They physically exist in reality. By polaroid stopping the manufacturing of cameras and film in 2008 the craft of instant polaroid photography is very nearly being lost. To the salvage comes The Impossible Project, a company established in Berlin, which radiantly is proceeding with its central goal to guarantee supportability and development of the polaroid film market with its first unique camera. While Polaroid struggled to discover its place in the photography business, the Impossible saw a chance to make a new, cutting edge business and is presently attempting to swing things back in the positive heading by coming up with an absolutely new camera worked for the exemplary Polaroid 600 picture format. It's known as the I-1 Instant Camera. A camera that has the best of both the universes. The nostalgic delight of the simple instant polaroid cameras of old on one hand and the smooth and sleek design and advanced control usual to the 21st century on the other.

No doubt, that analog photography, particularly Polaroid film, is still a costly pursuit, but Impossible Project is endeavoring to make it more alluring. It might look extremely basic o the outset having resemblance and similarities to the original Polaroid cameras, however, that is the point where these similarities end. It has a couple traps up its sleeve. With the film staying at the base the camera has a strange, triangular shape, marked by an advanced 10 LED ring flash that adjusts automatically taking into account the surrounding light and focus distance on the front and a square shaped compartment for the film. In addition, it has an inherent light meter and autofocus system. It's an impeccably functional kit.

There are no controls on the camera itself. There's next to no visual marks of buttons and switches on the product. Rather you need to turn on the application and pair it to your phone via Bluetooth to get full control over shutter speed, aperture and flash settings as well as light painting and double exposures. You can also use it to trigger the camera remotely when shooting from a distance. Or use the self-timer to take a selfie without the awkward angles.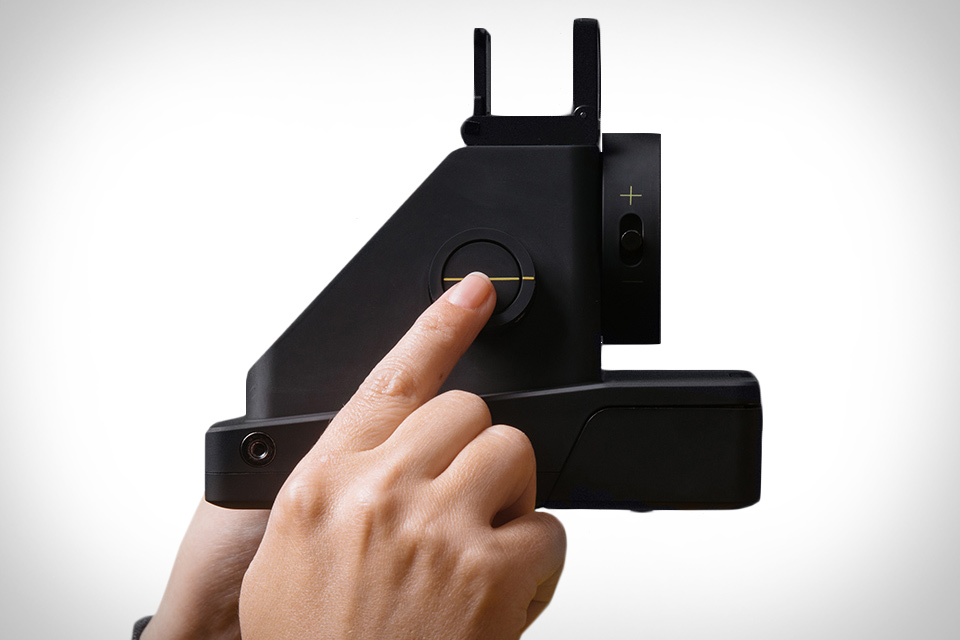 The camera works on a programmed automatic mode at all times, adjusting the exposure and focus by itself. There is a +/- switch, which basically goes about as an exposure controller bringing it up or down by a stop of light. Else, you'll need to take out your telephone to change your settings.
The ring flash lights up one LED at a time to inform you of the remaining battery life when you push the shutter button and the camera is off. Alternatively, you can pull the on switch which is a rotating ring around the shutter button – back to find out how many pieces of film you have left.


When you hit the button, the camera releases a photograph and you'll have to sit tight for a few moments for it to develop. The I-1 works with the all new I-type film which is available in both colored and high contrast B&W packs. The pictures are more honed and sharp, with enhanced color saturation and tone, without losing the nostalgic character of the photo prints. The camera weighs around 440 grams without the film pack and has a 500mAh superior lithium particle rechargeable battery.
The Impossible Project I-1 has as of now arrived bearing a Rs 20,000 ($300) sticker price, that puts it right on the track with other Polaroid cameras. For me, it's intriguing to see how the photography and camera aficionados respond to the new components and features of this modernly designed product.
A zealous and trained dancer. An avid reader. A cooking aficionado. Painting and sketching enthusiast. I am an avid learner, a napper, and a dog-snorgler. EDM devotee. Anti-Gandhi. Money does everything. I like to open my mind and absorb everything around me. Work hard, Dream big, Stay Humble. I believe in reading between the lines and stating the obvious not so obviously. Being a law student I decode everything that intrigues me. I enjoy new experiences, fun times, anything that is new and exciting! I am a wanderer, swashbuckler, explorer and there is no rock I will leave unturned in my search throughout this lifetime. I love traveling, seeing new places, learning about new cultures, meeting new people. WHY BE A KING WHEN YOU CAN BE THE GOD?