Technology
Microsoft Surface Book vs Apple Macbook Pro: Which One is Better?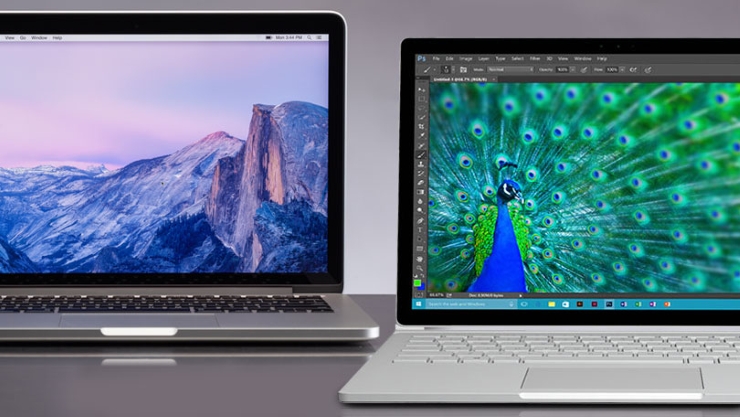 Microsoft claims that its very first laptop, the Surface Book, is easily the most robust 13-inch laptop ever produced. Apple might have something to say regarding that.
The Apple MacBook Pro along with Retina display is the organization's most efficient laptop creation, aimed toward power users. However, has Microsoft been able to pounce in and present an even better device?
In the subsequent paragraphs, we will compare the features of Surface Book and MacBook Pro.
Surface Book Features a Larger and Higher Resolution Display
Microsoft has stuffed a lot of pixels into the 13.5-inch display. Whilst the 13-inch MacBook Pro together with Retina display provides an amazing 2,560 x 1,600 resolution for 234ppi, the Surface Book crams in a 3,000 x 1,800 resolution for 268ppi.
Needless to say, a screen is more than simply resolution. However, in this area Microsoft has persisted to highlight its production. The outcome is a 100% RGB color representation as well as 1800:1 contrast ratio plus low glare. Microsoft furthermore uses its brand new PixelSense engineering which, in essence, means an extremely thin, meticulously bonded, glass screen meant for super sensitive touch and also stylus controls.
The MacBook Pro fails to offer a touchscreen display and Apple keeps the numbers quiet and just claims that it features a "high contrast ratio."
Surface Book Is Lighter and Detachable, but Thicker
The MacBook Pro is merely 18mm thick despite cramming in lots of power and utilizing an all metal framework.
In comparison, the Surface Book, also all metal, provides a removable screen which becomes double as a tablet. However, this has implied a slight improvement in thickness to about 23mm once closed. Nevertheless, it remains less heavy at 1.52 kg in comparison to Apple's 1.59 kg.
Surface Book Seems More Powerful
Both the MacBook Pro and the Surface Book come with sixth-gen Intel Core chips. Each top out at 16GB RAM and as much as 1TB of SSD memory. Yet it is the graphic power that provides variation.
The 13-inch MacBook Pro includes Intel's Iris Graphics 6100. Whilst the tablet portion of the Surface Book is restricted to the Intel HD Graphic 520, there's an independent GPU in the keyboard section. It is a Nvidia GeForce processor along with 1GB of GDDR5 memory.
Surface Book Boasts of a Longer Battery Life
Microsoft has been able to eke out additional battery life from its laptop which includes a 12-hour life. The MacBook Pro features just 10 hours of battery life.
Macbook Pro Is Less Expensive
Apple has been able to undercut Microsoft right here with the MacBook Pro beginning at $1,400 whilst the Surface Book commences at $1,600. At this particular price tag, both the Surface Book and the MacBook Pro includes 128GB storage, 8GB RAM and Intel i5 processor.
Which Is Better, the Microsoft Surface Book or the Apple Macbook Pro?
When it comes to sheer performance, you will be getting more from the Surface Book; however, when you add in extra storage as well as memory, the $1,599 starting price quickly jumps to $2,699. Apple's system features a lower starting point at $1,399 and also tops out at just $1,799.
Although you might be spending less money for a MacBook Pro, chances are you'll end up spending more should you need a tablet and want to include an iPad or even iPad Pro to the gear bag. What really does matter is that if you appreciate the freedom of having a tablet in a single unit and in case having a touchscreen as well as pen support is essential to you, in that case, the Surface Book outshines the MacBook Pro easily.