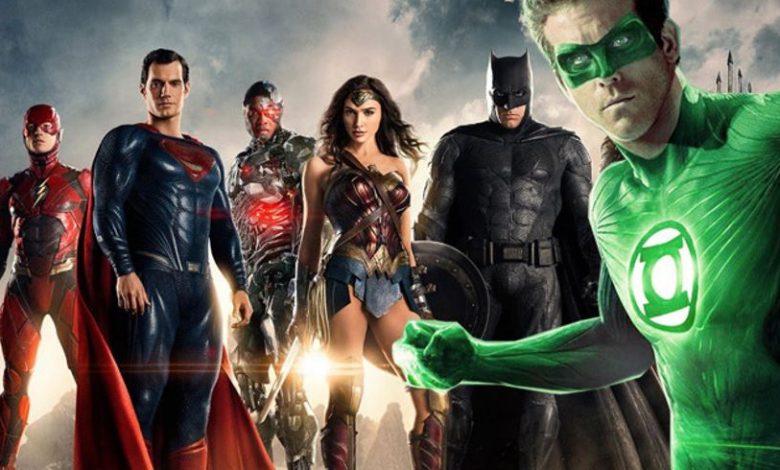 THR just reported that Jared Leto is joining the cast of Zack Snyder's Justice League, as he will be a part of the additional filming which will involve Ben Affleck, Ray Fisher and Amber Heard. But, there are more actors who could join the project as well. And one of them is still rumored to be Ryan Reynolds. The Deadpool star has shown his hatred for the Green Lantern movie time and time again. He even shot down the rumors of his part as Hal Jordan in Justice League. But still, there's one YouTuber who keeps bringing up his name for Justice League every now and then.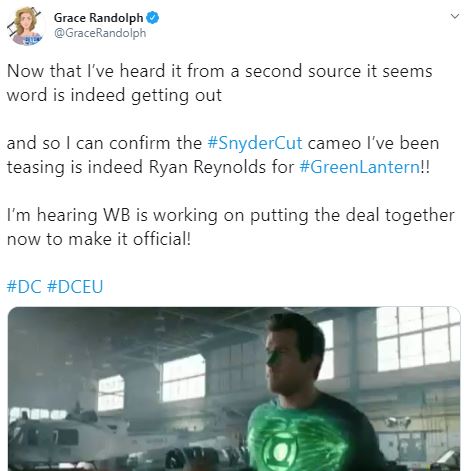 Back in June, YouTuber Grace Randolph tweeted that she has heard about the Ryan Reynolds rumor twice. Then in August, Reynolds played coy with the Green Lantern rumor through this tweet: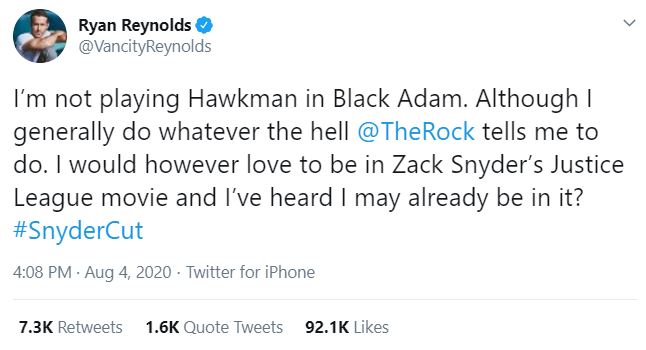 After that, he also trolled his involvement in the Snyder Cut with this edited video of Justice League. Watch this parody if you haven't:
Here's the secret Reynolds Cut of GL you all haven't been waiting for. In order to make it as great as possible we made some judicious cuts. pic.twitter.com/B2tUelctr8

— Ryan Reynolds (@VancityReynolds) August 4, 2020
This video made it seem that Reynolds will never play Green Lantern again. But now, Grace Randolph is back at it as she has stated in her latest YouTube video that the announcement of Ryan Reynolds being the Green Lantern in Justice League is coming very soon. She said:
"Just wait until the Ryan Reynolds headline hits. That will be a glorious day… And I told you Green Lantern is coming. And again, I am hearing a Ryan Reynolds headline is likely very soon."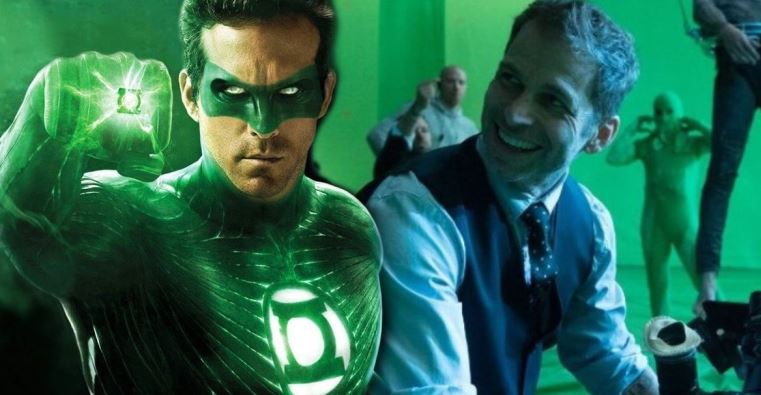 Now, we're going attach another rumor with this one. The YouTube channel called "LightCast Podcast" has given out several scoops in the past. Taylor Murphy from The Cultured Nerd is usually the one giving out scoops on the LC Podcast channel, and he has been talking about the solo Batfleck project for a while now. But, he has brought up another topic, and that is of Zack Snyder's Green Lantern. Watch the following video:
https://www.youtube.com/watch?v=64GN1qF39Ec
According to Taylor Murphy and even Kevin Smith, Zack Snyder was denied the use of Green Lantern in Justice League. It was probably just like he was denied the use of Jared Leto's Joker. He was always going to use Hal Jordan and probably had a young actor already cast for the role. But, that didn't happen as Joss Whedon took over. Now, Snyder isn't holding back upon anything. HBO Max is letting him do everything he wants. He has added Heto, is redoing the whole Steppenwolf design from scratch and has been adding black color to Henry Cavill's suit. He has also got the budget for some additional filming. This period of filming could involve Ryan Reynolds.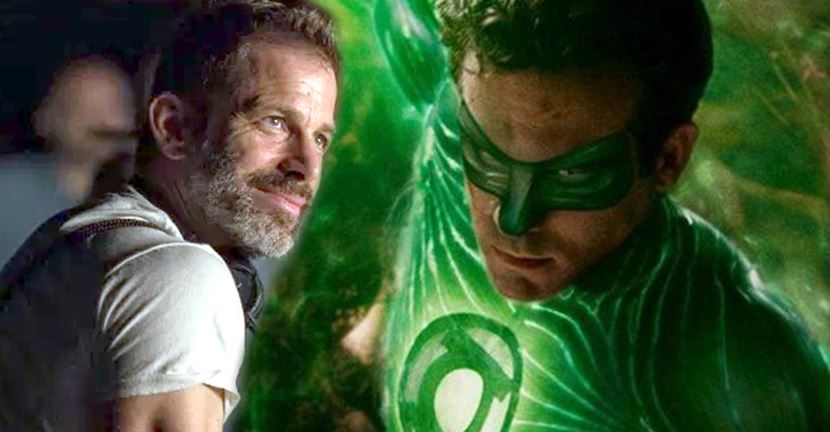 Snyder has revealed plenty of details about his Justice League movie, but he has never freely talked about Green Lantern. That is probably a surprise which he doesn't want to spoil. So, he probably wants Ryan Reynolds to make a cameo as Green Lantern in Justice League. As mentioned above, it was supposed to be a different actor initially, but now that the involvement of Reynolds is possible, Snyder might be working to make that happen.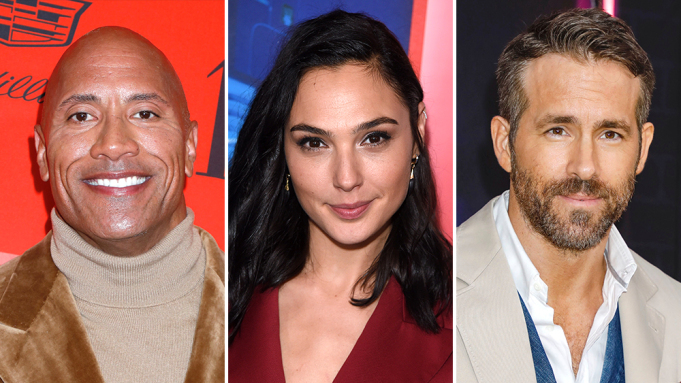 The problem with the involvement of Ryan Reynolds in Justice League is his packed schedule. He is currently busy with the filming of Netflix's Red Notice. So, how he is going to film his Justice League scenes certainly beats my understanding. Even if he is able to make it to the Warner Bros. set, I highly doubt that he could actually be a part of future Justice League installments because his schedule is extremely packed already.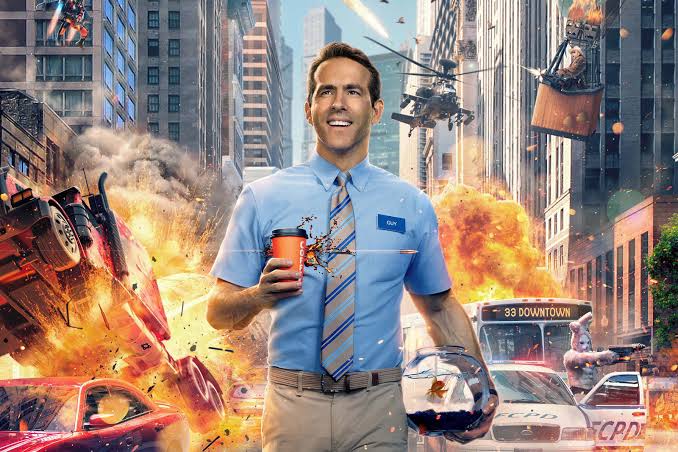 Here are the movies that he is confirmed and rumored to appear in:
Free Guy – Already Shot & Ready to release (December 2020)
The Croods: A New Age – Ready for release (December 2020)
The Hitman's Wife's Bodyguard – Ready for release but delayed to next year (August 2021)
Red Notice (Netflix) – Under production (Probably late 2021 or in 2022)
Our Name is Adam (Netflix) – Will begin production after Red Notice
Upstate (Netflix) – Announced
Dragon's Lair (Netflix) – Announced
Futha Mucka (Quibi's Animates Series) – Announced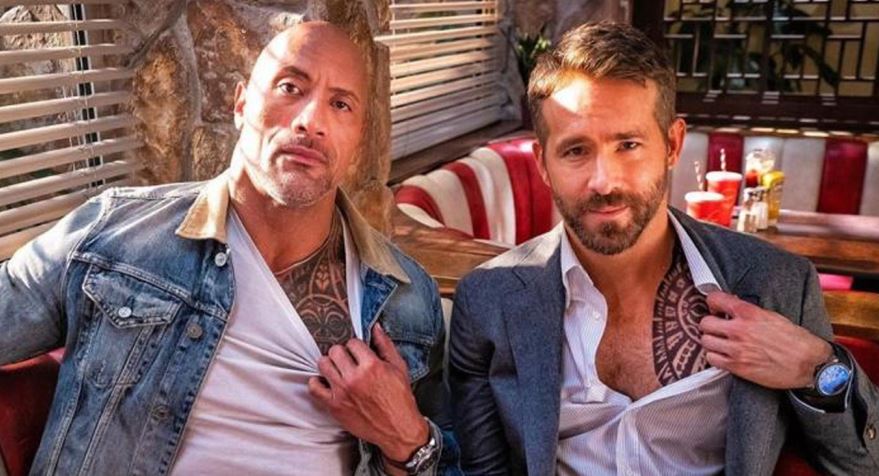 Hobbs and Shaw 2 – Reynolds is confirmed to star in it when it happens (probably 2023).
6 Underground sequel(s) – The first one was successful & it did set up sequels.
Red Notice 2 – The Illuminerdi reported that Netflix is already setting up a part 2.
Detective Pikachu 2 – Not confirmed
Deadpool appearances – Recent rumor suggested that Kevin Feige wants Reynolds to sign a big contract. So, he could appear in 10 or more MCU films.
Free Guy 2 – Richtman stated
The Hitman's Bodyguard 3 – Richtman stated
The Proposal 2 – Richtman stated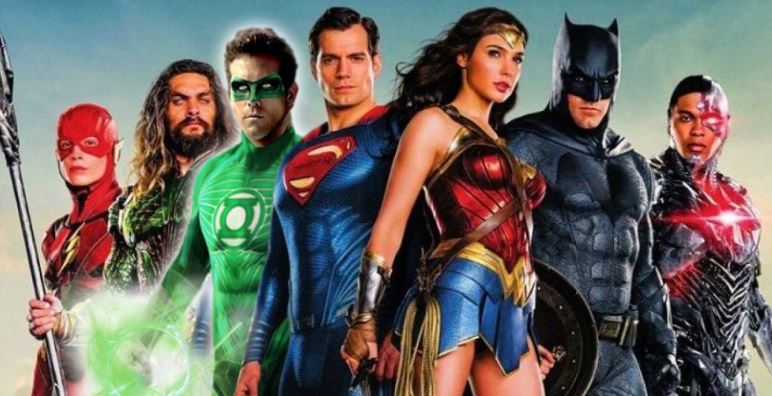 Becoming Green Lantern once again would be a tough ask if he is to star in even half of these films in the coming years. So, I'd still say that we should take Grace Randolph's statement as a grain of salt until an official announcement. Her track record for scoops is 50-50. So, this one could also go wrong. Let's wait and see.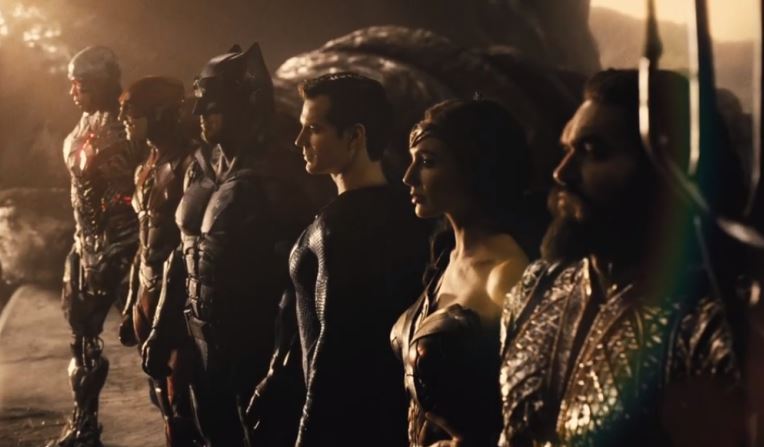 Zack Snyder's Justice League arrives on HBO Max in early 2021. Here's how the rest of the DC slate looks like – Wonder Woman 1984 releases on December 25, 2020. The Suicide Squad opens on August 6, 2021. The Batman arrives on March 4, 2022. Black Adam is undated for now. The Flash arrives on November 4, 2022. Aquaman 2 opens on December 16, 2022. Shazam! Fury of the Gods will hit theatres on June 2, 2023.
Would you like to see Ryan Reynolds as Green Lantern in Zack Snyder's Justice League? Tell us in the comments down below.