Movies
10 Incredible Facts About Vision The Android Avenger We Bet You Never Knew
The Vision is one of Marvel Cinematic Universe's flagship superheroes. Coming into the scene during the events of Avengers: Age of Ultron, Vision has the powerful mind stone on his forehead that gives him the life force to survive.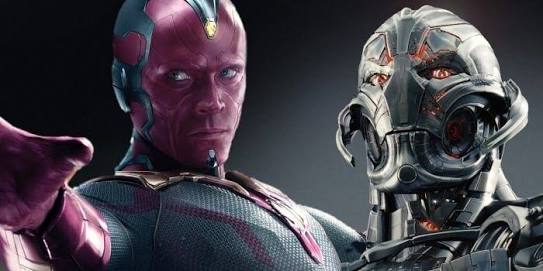 Vision has had many pivotal roles in several storylines succeeding those of Age of Ultron like Civil War and Infinity War. But the Android Avenger still remains a mystery to most. No one knows what exactly his powers are as most of the time in several scenes, his powers would adapt to a point that he could virtually do anything. Moreover, what is this android?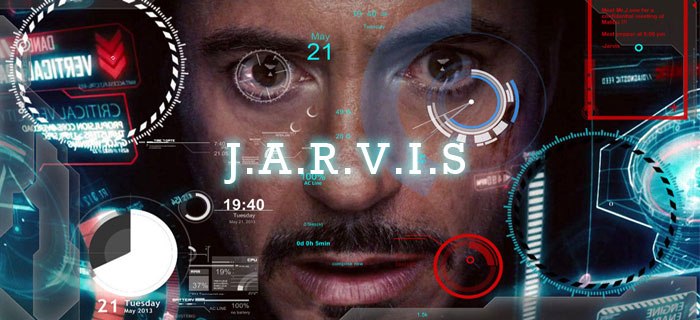 How was he born out of an Infinity Stone and Tony Stark's Jarvis A.I? Is he alive or is he just a robot? Does he have a soul? Presenting – 10 incredible facts about Vision the Android Avenger we bet you never knew!!
1. Vision was a copy of another comic book character from a different publication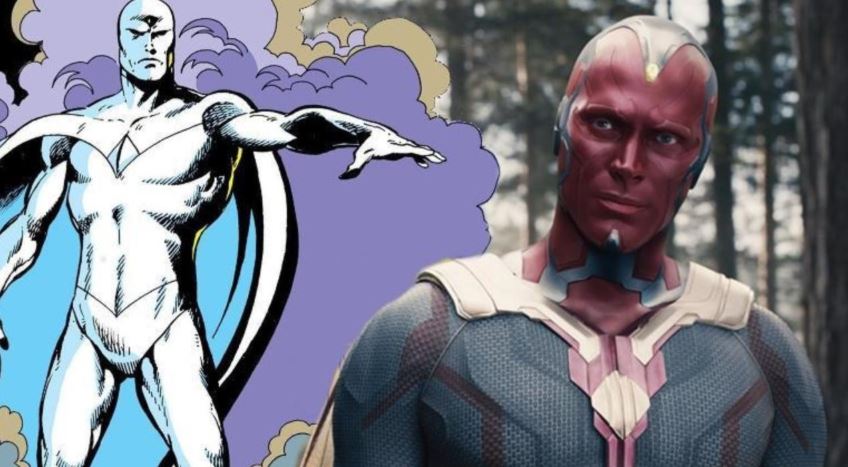 A character named as Aarkus debuted in Marvel Mystery Comics #13 in the year 1940. He was an inter-dimensional crime fighter who stayed on Earth to fight crime and kill criminals. Aarkus was the brainchild of writer Joe Simon and the legendary artist Jack Kirby. Aarkus could fly, control temperature and ice as well as teleport himself to places where there was smoke.
Roy Thomas, the creator of Vision, used this character as a basis for creating his own superhero. He believed that Marvel would try to steal his original ideas so he decided to copy one of their older ones. Suffice it to say, Vision was a great success and Roy Thomas' plan backfired.
2. He has two origin stories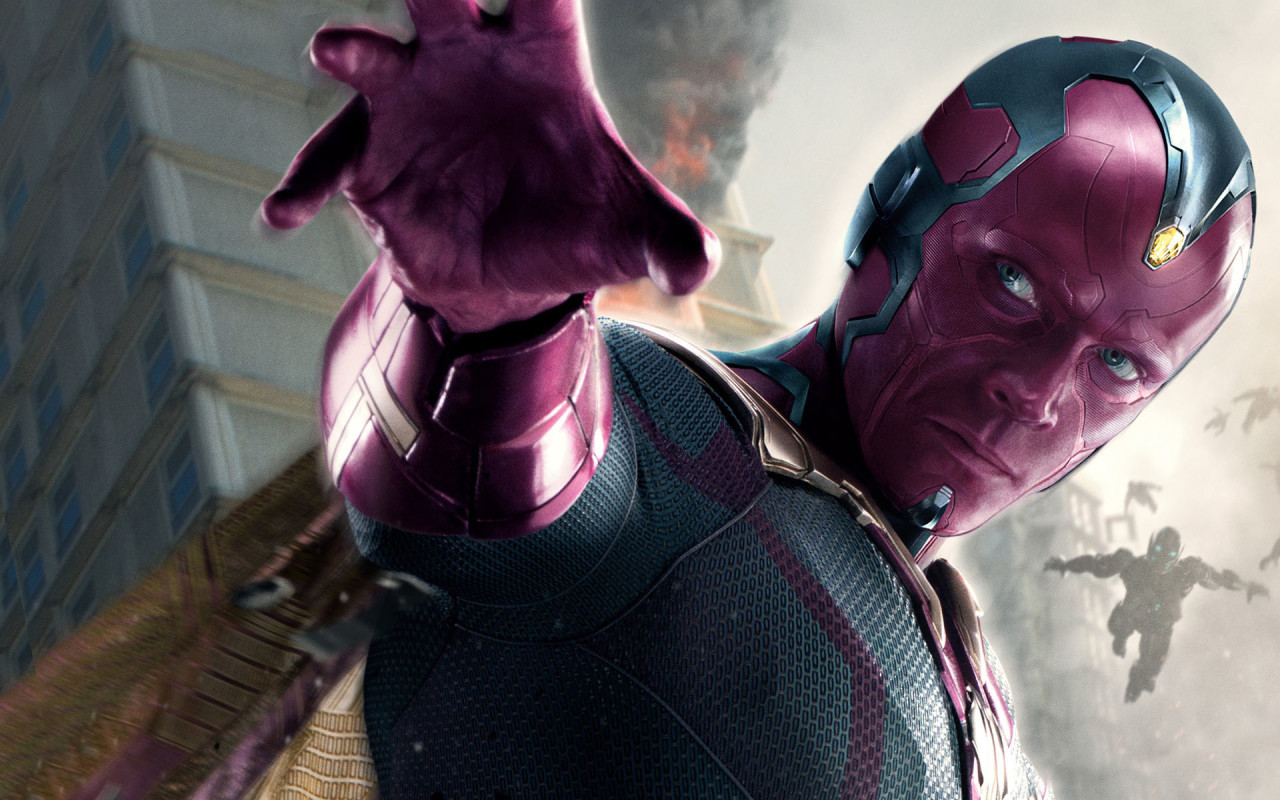 Believe it or not, the way Vision was born into the Marvel Universe is actually a two-way street. The original and the official version is associated with the Villain Ultron. After Ultron was created, he created Vision to act as the perfect robotic host that he could transfer his consciousness into.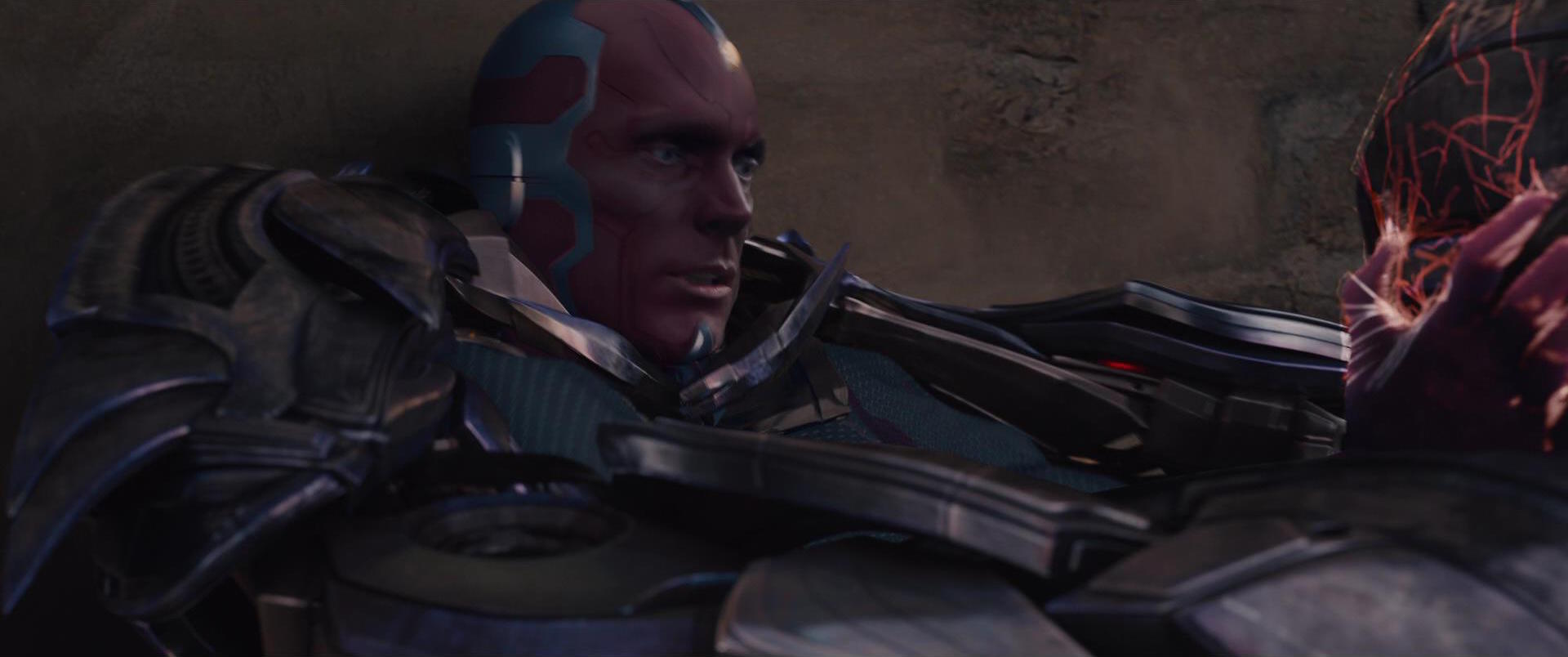 Vision would eventually gain free will of his own and rebel against his master. This is the version the MCU Vision is also familiar with. In another storyline Vision is actually the abandoned armour of Iron Lad (time travelling version of Kang the Conqueror), which would later gain sentience after the suit's old operating system starts acting out on its own.
3. He has the mind of Wonder Man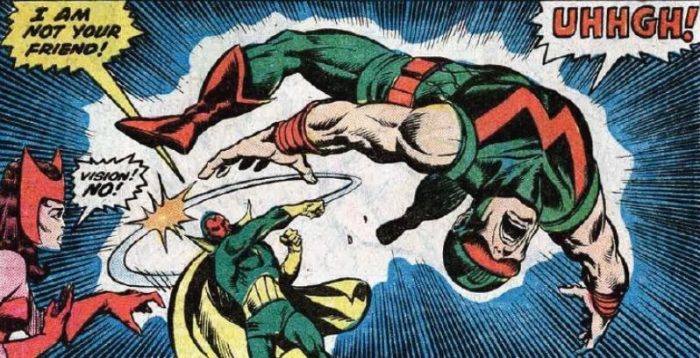 In the MCU, Vision came into the picture when the rogue A.I Ultron tried creating an indestructible body made out of Vibranium. Vision was supposed to be the final form of Ultron in the movie but it would later gain its ability to think and feel on its own.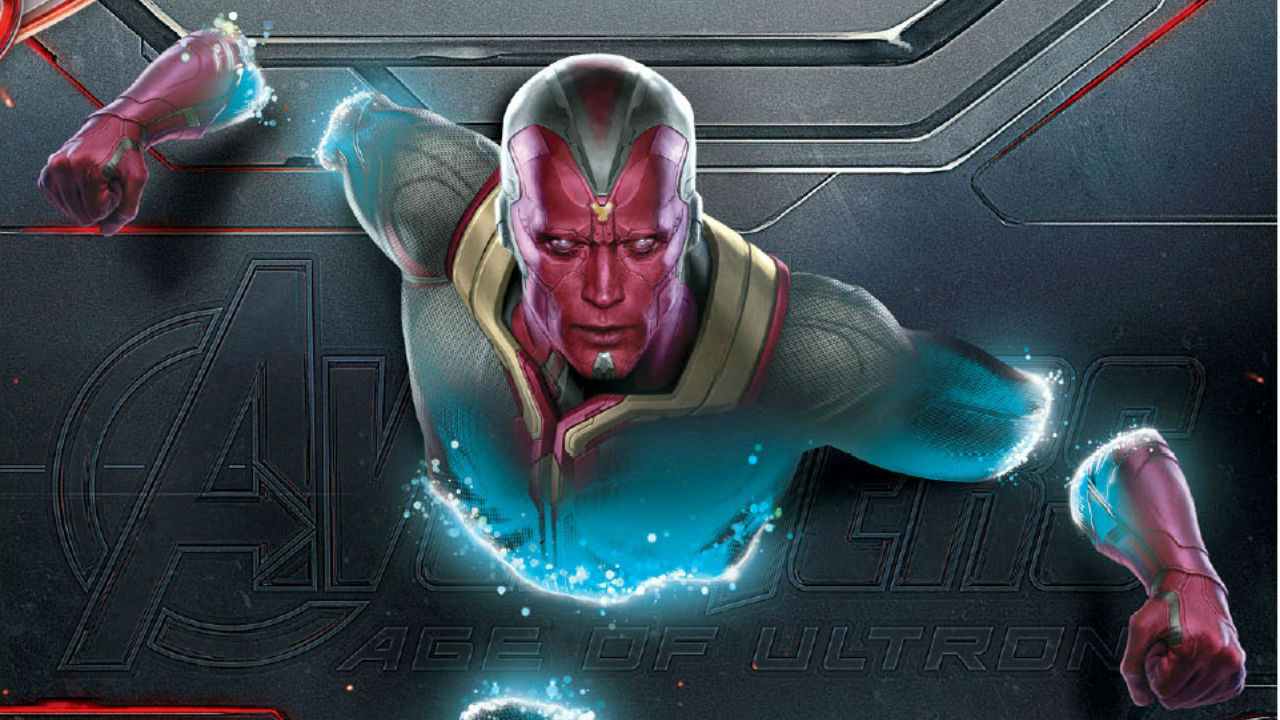 In the comics, Vision was the product of Ultron using the brainwave matrix of Wonder Man and merging it with that of the body of the original human torch, the Jim Hammond Version from the 1940s. On both scenarios, Ultron creates Vision as a weapon against the Earth's mightiest heroes. In both scenarios, his plan goes awry.
4. In an alternate reality, Vision is a female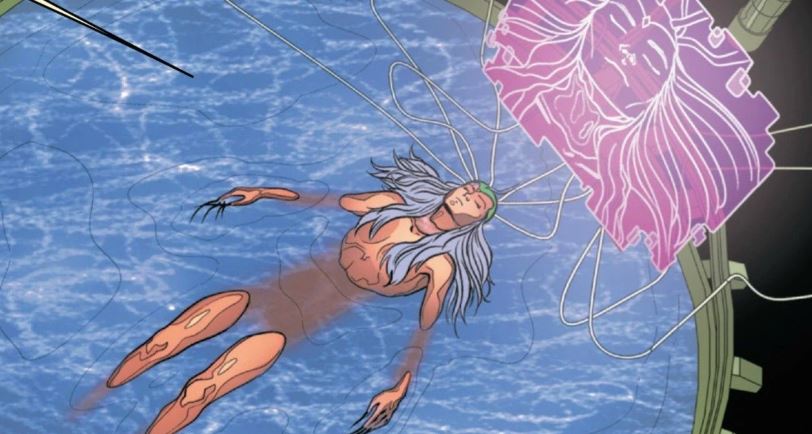 Marvel has created publications on several different bizarre yet diverse realities and timelines. In 1992, Marvel upped its own game when the released the Marvel 2099 story arc. It was supposed to be a retelling of the future of the Mainstream Marvel Universe but it has since yet been officially renamed as Earth-928.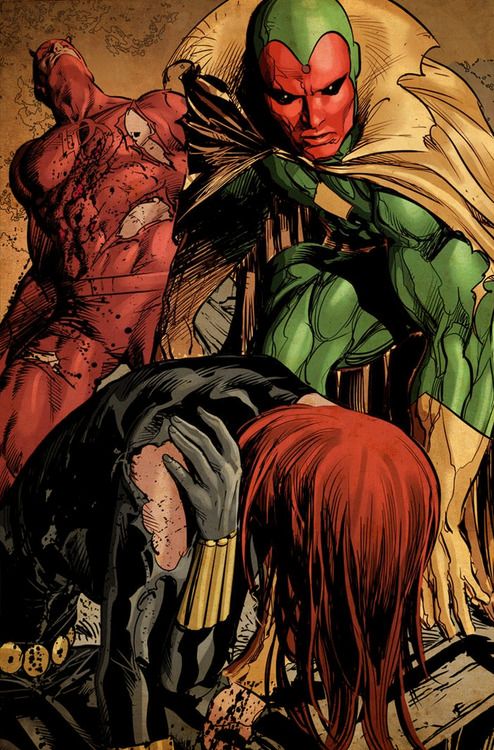 In this reality, the Vision exists but it is not a he anymore. Vision is a female with powerful abilities of precognition, clairvoyance and associated telepathic powers and has periodically helped the Alchemax Avengers led by Iron Man 2099 in dealing with new threats to the Marvel Universe.
5. He is too damn powerful to be a superhero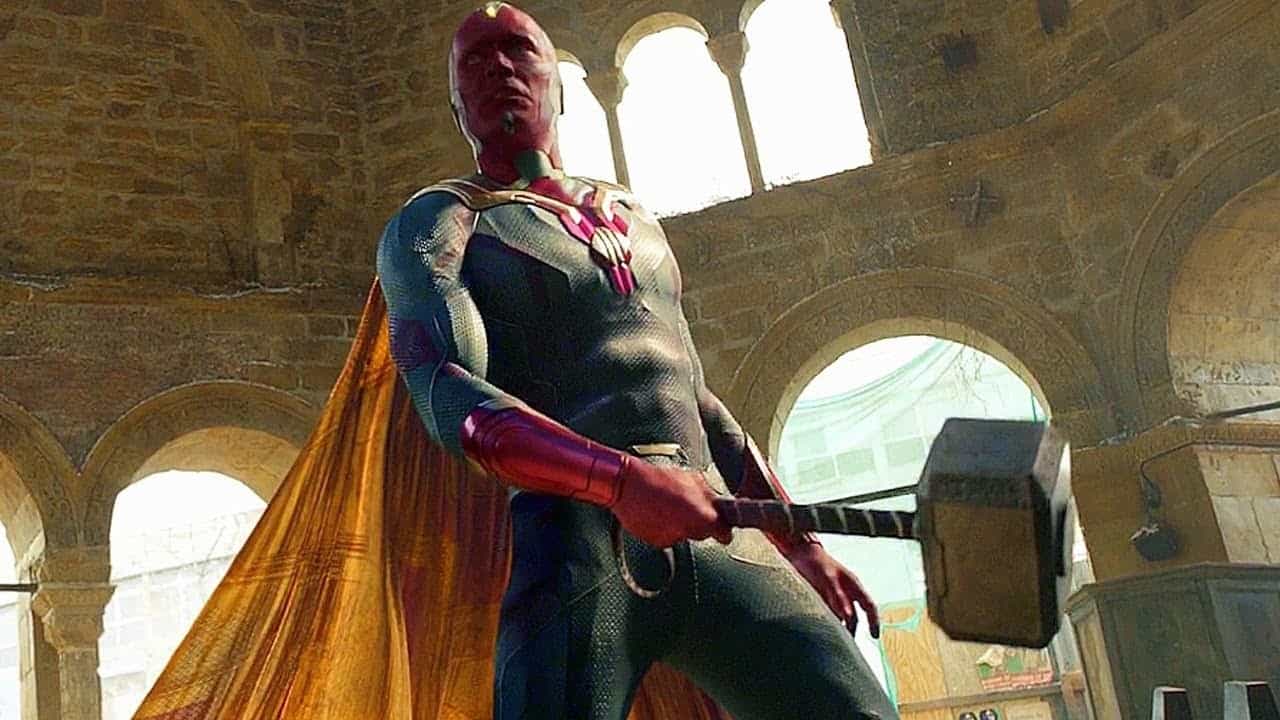 Vision has a range of abilities that are varied and so many in numbers that anyone could easily lose count. It is this vast skill set that we wonder why anyone would think that Vision could be a superhero and not a super-villain! Vision can fly, shapeshift into anything and could also turn intangible. Vision could also control his own density level, turning him into of such heavy mass that he becomes nigh indestructible.
Vision also has the ability to self-heal, create synthetic objects out of his body from scratch and use the gem on his forehead to shoot deadly amounts of solar radiation. Vision also has the standard superhuman physical attributes of strength, speed, endurance, agility, intelligence, dexterity and durability. Oh did we also mention that he can control technology?!?!?
6. Although a robot, his humanity is what defines him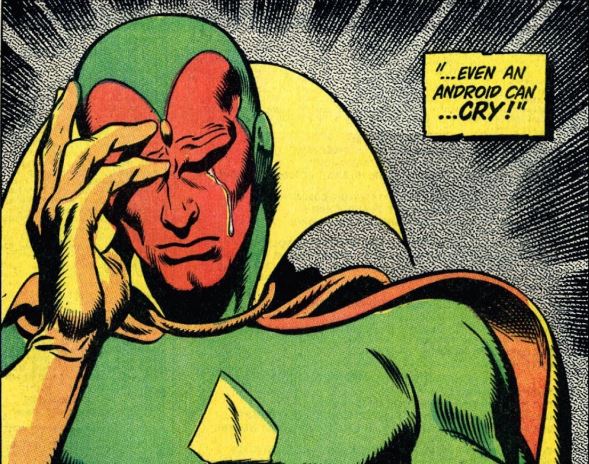 In Marvel, anything or creature that could emulate human emotions and could replicate the human element but is artificially created is termed a ''synthezoid". Vision is one of Marvel's first Synthezoids. But Vision has always had a thing for human emotions.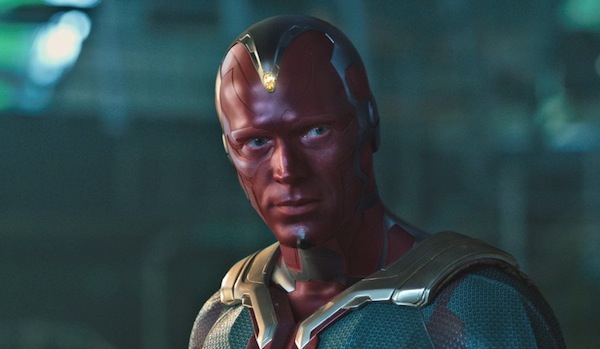 Vision was created from the brain wave matrix of Wonder Man which would explain why he could feel so much within that tin can hollow chest. In the MCU, the Vision is empowered by the Mind Stone on his forehead so there could be a logical explanation for the way he behaves in the movies. The picture above could be of some explanation.
7. Vision has had multiple relationships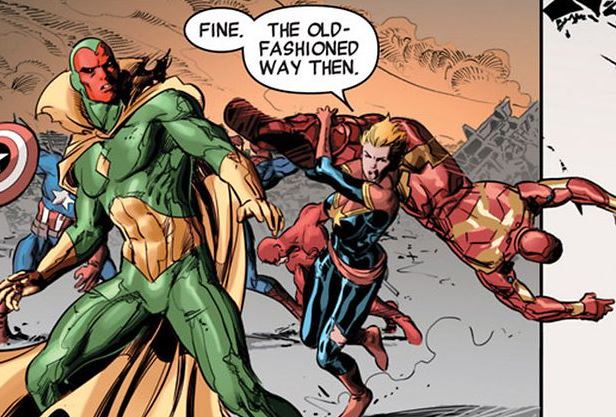 If you thought that Wanda Maximoff aka Scarlet Witch is the only woman to steal his heart, you are dead wrong! Granted he has been together with Scarlet Witch the most but there have been also several other women he has been with. There is Cassie Lang aka Stature, the daughter of Scott Lang aka the Ant-Man. There is also Carol Danvers. That's right folks!! Vision has been in a relationship with Captain Marvel!! He has also been in a relationship with the green-skinned Mantis, a fellow Guardian of the Galaxy member!!
8. He has had children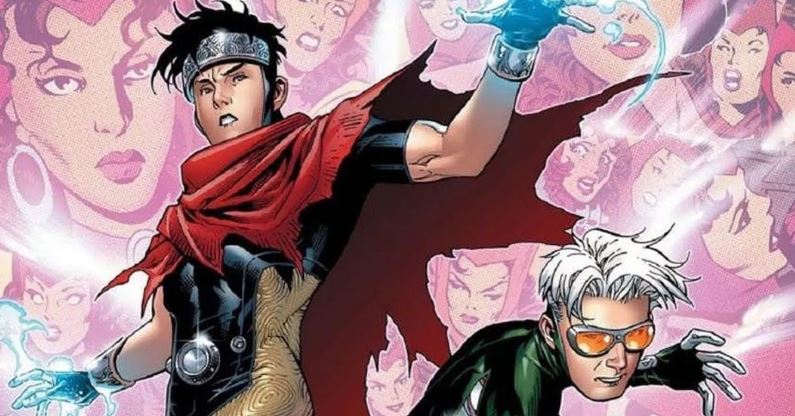 Vision is an android so by default, he has no reproductive parts. This means that Vision can dump his junk as many times as he wants but there won't ever be anything coming out the other side. But there was one instance where Vision did indeed do the impossible.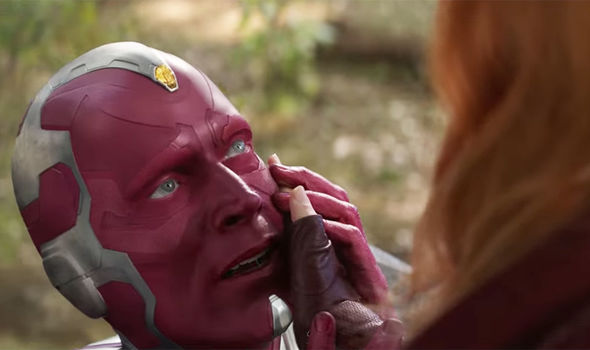 In one storyline, Wanda Maximoff used her reality-altering abilities to transfer a fraction of Mephisto's soul into two sentient creatures, giving them life and Vision called both of them their twin children. But Mephisto soon came for collecting his lost soul fragments back and the twins were killed, which drove Scarlet Witch mad and Vision abandoned her after that.
9. He is the former leader of the Avengers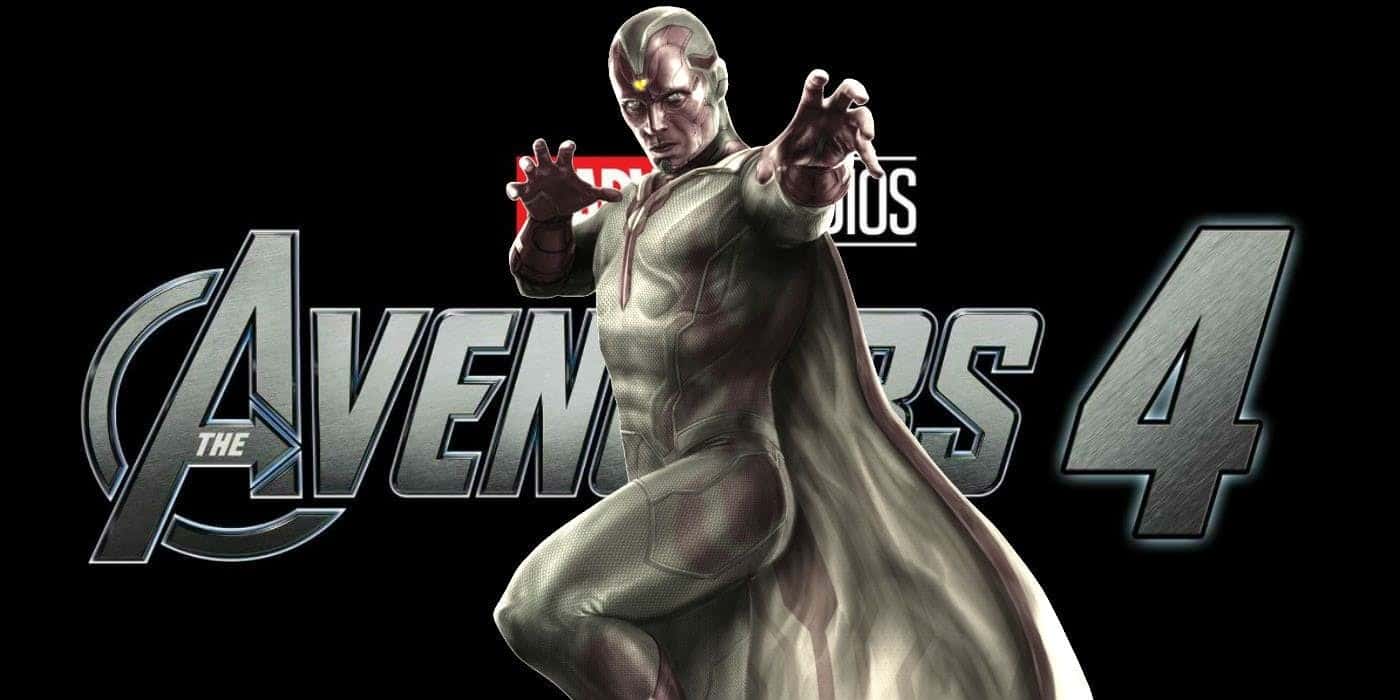 In the year 1984 came out the Avengers #242-243. In these issues, the Avengers were led by the Wasp, who was not doing that much of a good job as the leader. So when push came to shove, the Wasp froze mid-battle and the Vision had to take in on the reins and issue commands.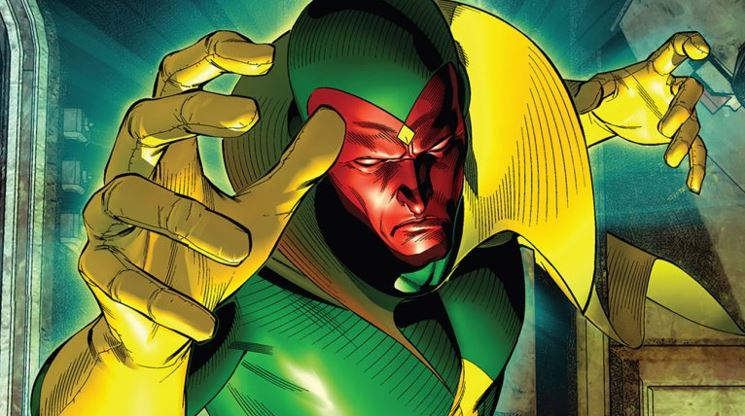 The Wasp would later realize that Vision is actually a born leader and stepped aside for the android to take over as the new leader. Vision would then use his newfound position to take over the world and gain access and control over the world's entire information network. This doomed him as a liability and the Avengers had to fight back.
10. He has been on a number of other superhero teams as well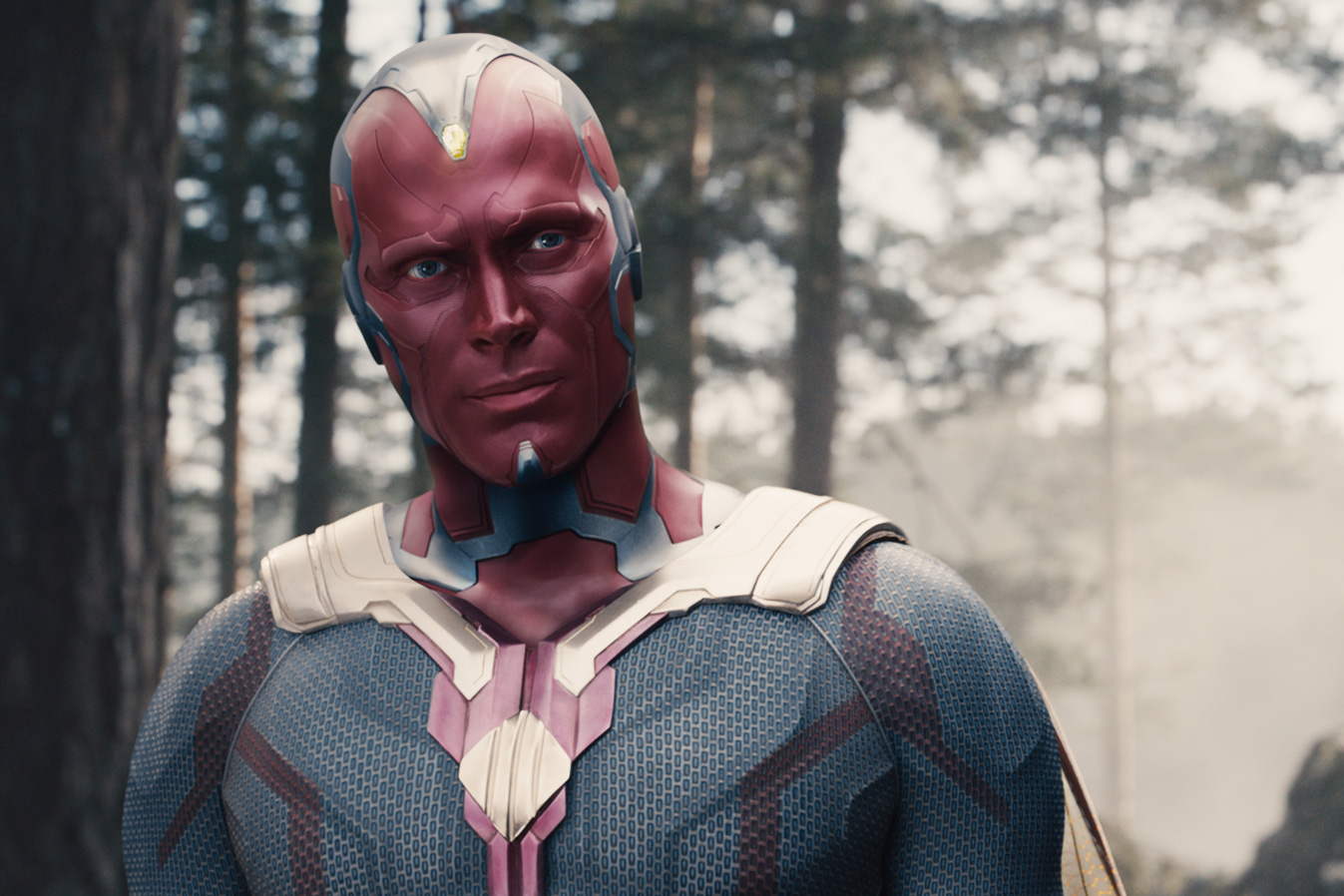 In Marvel Comics, one superhero can never stay loyal to just one superhero team. Same goes for vision. Loyalty is thrown out of the window if you are a caped vigilante. Vision has been a member of a plethora of superhero teams like the West Coast Avengers, the East Coast Avengers as well as Avengers A.I.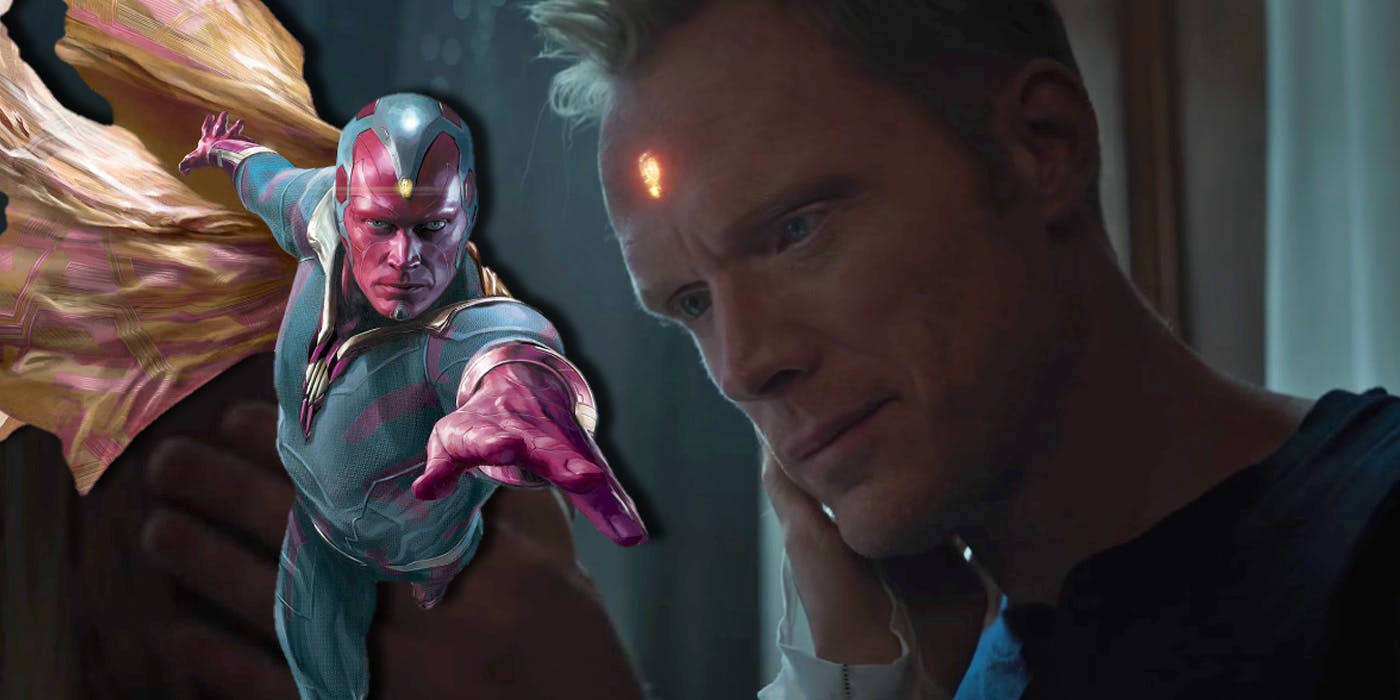 He is also an honorary member of the Defenders, the Mighty Avengers and holds permanent membership in Young Avengers along with Stature aka Cassie Lang. There are also a lot of backstories associated into the complicated weave of teams the Vision has been associated with. If you are confused, then fret not – So are we!!!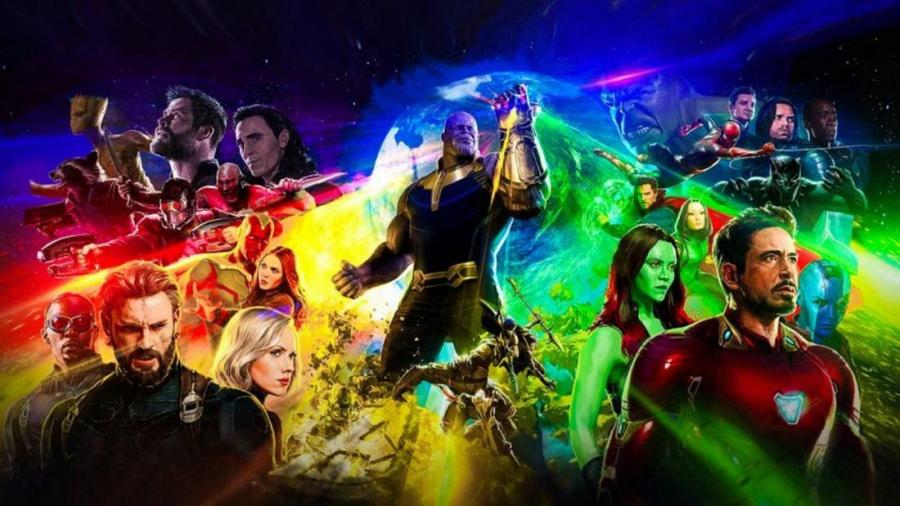 The last Avengers movie to be released under the MCU banner to feature Vision was Avengers: Infinity War. The official film synopsis for the movie reads:
Iron Man, Thor, the Hulk and the rest of the Avengers unite to battle their most powerful enemy yet — the evil Thanos. On a mission to collect all six Infinity Stones, Thanos plans to use the artefacts to inflict his twisted will on reality. The fate of the planet and existence itself has never been more uncertain as everything the Avengers have fought for has led up to this moment.