With Barcelona winning the game at Vicente Calderon in September, Atletico will be looking to exact revenge. Both teams are level on points, with Barcelona having a game in hand. This presents Atletico with a perfect opportunity to go 3 points clear of their title rivals. But at Camp Nou they stand little chance to do it.
We take a look at some key points for today's clash.
Turan returns 
Arda Turan made a name for himself at Atletico and today he will be looking to dent their title hopes. That's football. He has been good for Barcelona for whatever little playing time he's had since being eligible for selection. His partnership and understanding with Rakitic could be crucial for Barcelona.
Arda Turan had a notorious reputation for physicality against Barcelona, will he be on the receiving end of it today?
Midfield 
Barcelona are unquestionably the best team when it comes to ball retention and their midfield is THE most important part of that. There is almost no way a team can boss Barcelona in terms of possession, which is why the battle in midfield will be so interesting.
Atletico never have too many qualms about playing without the ball and can be deadly on the counter. Their intense style of play is maybe the only way to unsettle Barcelona.
They must feel confident that if they can cope with Barcelona and nullify or atleast limit the threat coming from midfield, then they've always got a chance of hitting Barcelona on the counter.
Torres ruled out 
Fernando Torres is somewhat of a golden boy for Atletico Madrid. He was welcomed back with open arms by the fans after his stint abroad. He hasn't been 'Prolific' but hasn't been too bad either.
He is looking for his 100th goal for Atletico for quite some time now and looks like he will have to wait longer. Torres is unlikely to play any part in today's match missing out due to injury.
He will be a big miss for Atletico because he does have a knack of scoring in big matches.
When will he reach the ton?
 Suarez Vs Godin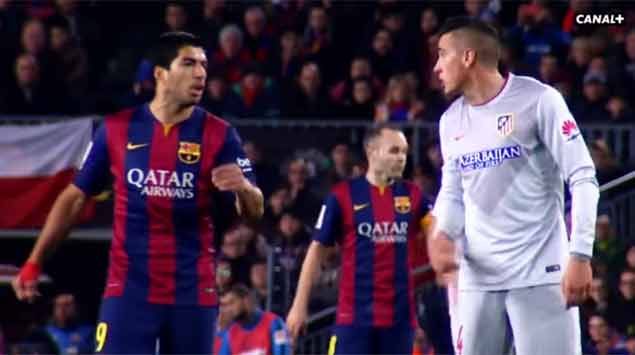 United by countries, divided by clubs. The Uruguayans will be at the core of all the happenings in the match. Both are perhaps the best players in their respective positions playing in this match and the contest between them will be fascinating to watch.
There is no defense in the world that Suarez cannot cause problems for, but his national team-mate might just know a few things most other defenders don't and his insight into his countryman's game might eventually prove to be vital in the outcome of the game.
I personally think Barcelona will come out on top, but I hope Atletico cause an upset. They are a very tightly knit unit who can do well against top teams. But will they do well
tonight
?