Cricket
Martin Guptill – The Most Under-rated Kiwi Batsman
Having succeeded in all the formats of the game, the Kiwi Batsman Martin Guptill still remains in the controversies as a regular opening batsman for New Zealand Cricket team.
The Aukland player has scored more than 6000 runs in international cricket at the age of 29. A thing which few people know about him is that he was involved in a forklift accident when he was 13 and lost three toes.
Let's now see some of his great achievements in cricket.
His Double Century in WC 2015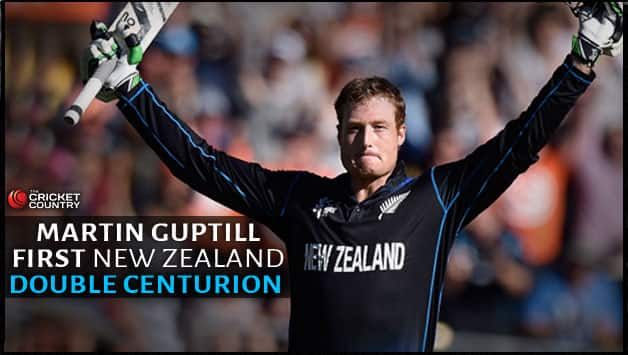 It was the first knockout match being played at Wellington,New Zealand. McCullum's partner in crime signalled his intentions by hitting the first ball of the match to boundary, driving the ball of Jerome Taylor.
He scored 237 runs in the match which included 11 sixes & 24 fours. This masterclass innings came of just 163 balls. This record broke his own previous best of 189 against England.
His International Records
At the young age of 29, Guppy already has many records under his belt. Firstly, he is the first Kiwi & fifth in the world to score a double century in an ODI match. He also holds the record for highest individual score in World Cup edition. Further, he scored a century in his ODI debut against West Indies, becoming the first New Zealander to do so.
His debut century came with a six and he scored 122 runs which is highest in New Zealand cricket history. Also, in his 2013 tour of England, Guptill scored back to back tons scoring 330 runs in a 3 match bilateral ODI series equalling the record of Sir Viv Richards on English soil.
Consistency in shorter format
Since his inclusion in T20 side, Guptill hasn't looked back and has performed brilliantly in the shortest format of the game. Ever since Bazz has failed to give Kiwis a good start, this man has shown up his class. He is the only player in T20 format to score 30 or more in 5 straight innings.
The Day Night Test
The year witnessed the first ever Day-Night Test which used a Pink-Ball, played at an Australian Venue. Martin Guptill was the player to face the first pink ball in the history of the game. Fortunately, he also became the first batsman to be dismissed in the game by Josh Hazlewood.
Unforgettable Test Bowling Debut
He made his Test bowling debut against Pakistan at Napier in which he took 3 wickets for 37 runs in his 13 overs. This is one of the best bowling figures noticed from a debutant under pressure for first time in an international Test Match.