Cricket
Virat Kohli's Worst Year, Still Not Bad Enough!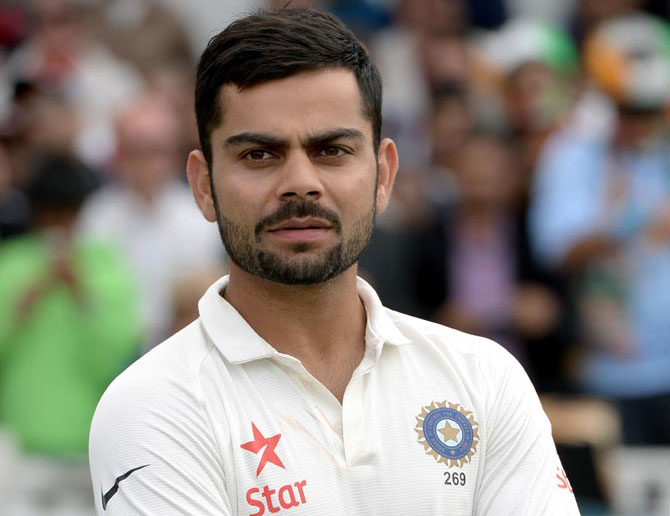 It is normal around nowadays to hear that this has been Virat Kohli's worst year. Well it has been a pretty bad year by his high standards. Surely!
Virat Kohli is the new hope of the Indian cricket fans after the retirement of Sachin Tendulkar. He has some pretty big boots to fill. He has done it quite well for the team after India's famous five retired turn by turn.
Kohli has not disappointed India and the fans of Indian cricket over the years. He gives them more reasons to cheer than to cry. He gives them unbelievable victories. He has given them such amazing batting spectacles which will last forever in their memories.
Without any doubts, 2015 has been his worst year till now in international cricket. He started the year with a bang as he scored a great knock of 147 runs against Australia in the fourth test of that series. He also scored 46 runs in the second innings of the match too. He started the year on a high note.
After that he didn't do much well in the tri series which was played between India, England and Australia in Australia. Virat only managed to score 24 runs in that tri series.
The World Cup started then, India was first up against arch rivals Pakistan. It was the most awaited match too. The stadium was jam packed and the environment was electric. It was a pressure match and in reality a battle of nerves. India had won the toss and they decided to bat first. India lost Rohit Sharma early but then the hope of India came on to bat and well he didn't disappoint them. He was a little lucky in the innings as he got chances due to Pakistan's bad fielding. Kohli capitalized on those chances and that is the sign of a great player. In this innings he was calm and composed and played very safely through the innings and scored a 107 runs. He carried the innings and helped India post a total of 300. India won the match and very rightfully Virat Kohli was adjudged as the player of the match.
After this in the World Cup Kohli did not get much of a chance to bat but when it was expected of him to perform against Australia in the semi final. Well he couldn't. He got out just for a run of a short ball of Mitchell Johnson. This was heart breaking for the fans. Many disrespected him and targeted his girlfriend Anushka Sharma for his failure. That was wrong.
The World Cup finished and the IPL started. Well IPL doesn't count in his international record and anyway it went well for him as he got quite a few big scores there and the team that he captained reached the semi final.
Virat Kohli was now the captain of the India test team after Dhoni had retired from the longest format of the game. He led the Indian team for the first time as a full time captain against Bangladesh in the one off test at Fatullah. The match was washed off by rain and we couldn't see Kohli as a captain and his tactics.
Next India had to visit Sri Lanka for a three test tour. This was also Sangakkara's farewell series. India started the series on a very high note and they were in a very commanding position to win the first test but Dinesh Chandimal and Rangana Herath spoiled the party. Kohli's captaincy was very much questioned after this and he was hugely criticized but he bounced back very strongly. India went on to win the remaining two tests and clinched the series 2-1. Virat Kohli scored .a 103 against Sri Lanka in the first test which they went on to lose and scored 78 in the second test. He missed a well deserved hundred there as he batted brilliantly for his 78. India had won a test series in Sri Lanka after 22 long years. Certainly a great start to his test captaincy then. Here we saw that Virat would make a great captain and also saw his abilities to lift the team up even after a very disappointing loss in the first test.
South Africa then visited India for 3 T20's, 5 ODI's and 4 Tests. The long tour started with the T20's and India lost it 2-0 but Virat Kohli managed to get a record to his name in the process. Kohli became the fasted to reach 1000 T20 International runs. He reached the milestone in only 27 innings overtaking Kevin Pietersen and Alex Hales who reached there in 32 innings.
The ODI series started then and it didn't start very well for Virat as he got scores of 11 and 12 in the first and second match of the series respectively but then he regained his form and scored 77 in a losing cause in the third ODI. The best performance came in the penultimate ODI of the series when he scored a brilliant 138 runs. His knocked helped India reach a very good total of 299 runs. The 138 run innings included six well crafted boundaries and five mammoth and gigantic sixes. It was a spinner friendly track and it was great to watch him use his feet. He was brilliant there.
South Africa in the end won the ODI series 3-2. It was a great contest between two very good teams.
At last it was time for the test series. All eyes were on Virat Kohli and the young Indian team to see if they could beat the world's No.1 test team. Well they did it quite convincingly thanks to the spin duo of Jadeja and Ashwin. India managed to win the series 3-0, it probably could have been a 4-0 whitewash but one test in Bengaluru was washed off by rain where India was in a very dominating position.
Kohli himself couldn't perform much with the bat as the pitches were more bowler friendly but even in such conditions he managed to be among the top five run getters of the series by getting 200 runs in 6 innings. His best score was 88 and it came in the last innings of the series. Once again he missed on a very well deserved hundred there. Started the year with a 147 and ended it with an 88 run knock. Not bad.
In 2015, Virat Kohli scored 640 runs in 9 test matches at an average of 42.66. He compiled two hundreds and two fifties in the process. In ODI's he scored 623 runs in 20 matches at a comparatively low average of 36.64 and in the process he scored two hundreds and a fifty. In ODI's he hasn't been up to his standard but in his defense he scored those two hundreds in very crucial and pressure situations. Those two hundreds hold great significance and probably no one else could have given those performances if it was not for him.
There is an ODI and T20I series against Pakistan in December but that is still in question as to whether it will be played or not. Kohli's worst year has been better than many. The sign a class and legendary player that is.
We come to the conclusion that the year 2015 for Kohli has not been as bad as they say. It has been pretty good. He can be mighty proud of some achievements up there.