Cricket
The Only Five To Have Scored Double Hundreds In ODI's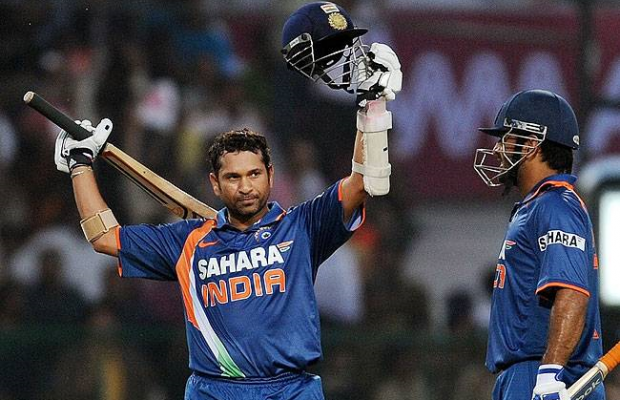 Till very recently a double hundred in the ODI's was considered to be a very hard task. It was seen as next to impossible to accomplish. Saeed Anwar's was considered to be the limit of it. Then Charles Coventry of Zimbabwe reached that limit and even when he failed to convert it to 200 then it was considered to be even more impossible in ODI's. Then something happened, the most gifted, blessed, hardworking, elegant and personifying cricketer ever, Sachin Ramesh Tendulkar breached the 200 mark in ODI cricket. This was the beginning of it.
Sachin Tendulkar – 200*
The first ODI double hundred was scored by the little master himself. Sachin is considered to be the best batsman ever. Don Bradman, the man who has an inhuman average of 99.9 in tests, once saw Tendulkar playing and said to his wife "Come and see, this is what I might have looked like while playing in my younger days." Well that is a great compliment to be received from one of the greats of the game. This innings was an absolute hallmark of class. Sachin scored an unbeaten 200 against South Africa at Gwailor and the innings included 25 classic boundaries all around the ground and 3 huge sixes.
Virender Sehwag – 219
Yes, it is none other than the entertaining Viru Pa Ji. The second double hundred was scored by him. Well the sort of player Sehwag was you would expect him to score a double ton in ODI's once in his career and there you go he scored it against West Indies in 2011 at Indore. Virender Sehwaq scored a staggering 219 runs of a mere 149 balls at a strike rate of 146. The innings consisted of 25 boundaries and 7 sweetly time sixes. This was the then fastest double ton in ODI's and also the then highest score in ODI's.
Rohit Sharma – 209 and 264
Sometimes they call him Ro-HIT and sometimes they call him the Hitman. Well they are right as Rohit goes on to prove them right about his nicknames again and again. Rohit is said to be one of the most talented players around the world and scoring such mammoth runs in a single ODI match are a proof that he is indeed very much talented.
Rohit was the third player to score a double hundred in ODI's. He scored his first against Australia in the famously high scoring series of 2013. Rohit scored 209 runs in that match in only 158 balls. He hit 12 boundaries and 16 humungous sixes.
The second time Hitman scored a double hundred was against Sri Lanka in 2014 at the famous ground Eden Gardens in Kolkata. Rohit scored an unbelievable score of 264 in that match of only 173 deliveries. Rohit hit 33 boundaries in this much and these are the most by any batsman in a single ODI match. This is till date the highest score in one day match by a batsman.
Chris Gayle – 215
When there is a list of such humungous scores how can Chris Gayle not be there? Although he is now not that much of a consistent performer but on his day he can destroy any opposition with his huge bat. The fourth batsman to score an ODI double hundred is none other than Christopher Henry Gayle.
He is also the first player to score a double hundred in an ICC ODI World Cup. Gayle scored 215 runs against Zimbabwe in the world cup held earlier this year which was won by Australia. This is also the fastest double hundred ever hit in ODI's. His innings consisted of 10 boundaries and 16 gigantic sixes. YES THEY WERE LITERALLY GIGANTIC AND BRUTAL.
Martin Guptill – 237*
The KIWI opener Martin Guptill is the fifth to have this distinction of scoring an ODI double ton. One would think that Guptill's opening partner would more likely achieve this feat but well it is Guptill who did it. It was the fourth Quarter Final of the World Cup 2015 contested by New Zealand and West Indies. New Zealand were put into bat first and Guptill really made it count by scoring an unbeaten 237 runs in such a crunch match. Guptill hit 24 fours and 11 sixes out of which one was hit out of the stadium. Yes it was such kind of carnage in the death overs by this silent Kiwi batsman. This is also the highest ever score in a world cup match by a batsman.
Overall there have been six double hundreds scored in one day internationals. Four of these have been scored by Indians and one each by a West Indian and New Zealander.