Cricket
Six Best Innings Played by Suresh Raina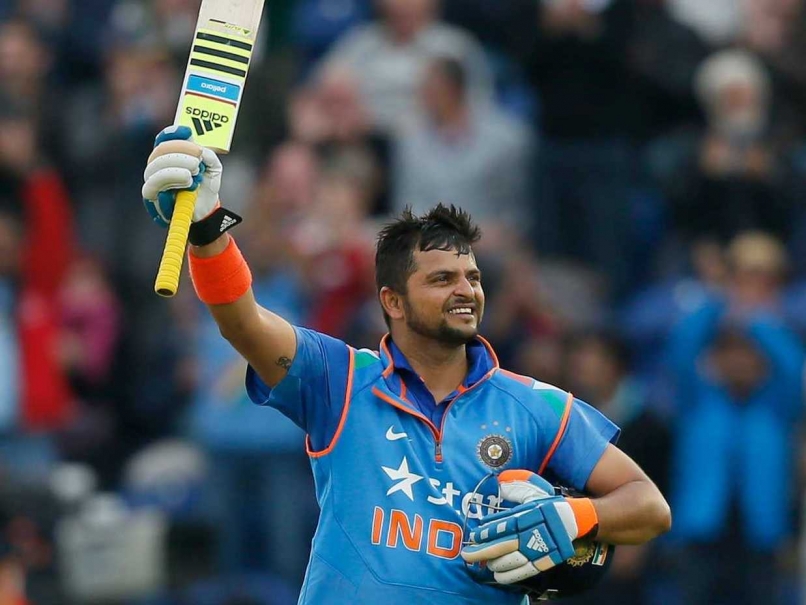 Suresh Kumar Raina, it has been a long time since he has been around in international cricket. In 2005 we saw an 18 year old boy make his debut against Sri Lanka at Dambulla. Surely it wasn't a debut to remember as he got out for a 2nd ball duck in that match but after that we have been hearing a lot of praises of this superbly talented boy from India. Suresh Raina smashed a hundred on his test debut against Sri Lanka and became the only 12th Indian to do so. Here on his 29th Birthday we reflect back on his best batting performances.
101 vs South Africa in 2010
Suresh Raina was the first Indian to score a T20 International hundred and the third overall. It was the ICC World T20 2010 and India was up against South Africa. India put into bat first were in a spot of bother in the sixth over as they were 32-2 by that time. After that Suresh Raina and Yuvraj Singh stitched a very sensible and valuable partnership of of 88 runs. Yuvraj got out for a well made 37 but Raina went on to bat and got to his hundred. Raina scored 101 of 60 balls in an innings full of entertainment. Raina hit 9 boundaries and 5 mammoth sixes. This innings was crucial in taking India's final total to 186. South Africa in the end just fell short by 14 runs and Raina was awarded the Man of the match award.
89* vs England in 2013
India was facing England in the fourth match of the series played in 2012-13. England won the first and India won the second and third match of the series. A third straight win could give India the series whereas on the other hand a win for England could have leveled the series.
India put England to bat first and their players were able to post a decent first innings score of 257 in Mohali. India in reply made a steady start and were then four down for 158 in the 32nd over of the innings.
Still a good effort was required to score the last 100 of the 18 overs remaining and Raina took the responsibility by scoring a very sensible and quick 89 of 79. India easily chased down the target then with 15 balls to spare courtesy some brilliant cricket by Raina.
87 vs Kings XI Punjab in 2014

Raina is the undisputed king of IPL as he is the highest run scorer ever in IPL and also has played the most number of matches in the famous league. This innings was simply awesome. Words are not enough to describe it. Kings XI Punjab put into bat first scored a mammoth 226 courtesy of a brilliant century by Virender Sehwag.
In reply Chennai Super Kings were quickly 1 wicket down for a run on the second ball of the innings. Then Suresh Raina came to the crease and smashed the ball all around the park. It simply was carnage at the Wankhede. CSK then reached hundred in only 6 overs. But then due to miscommunication between McCullum and Raina led to a run out and that is how the brilliant innings ended.
Raina scored 87 runs of only 25 balls at a staggering strike rate of 348. This knock was filled with 12 fours and 6 sixes. Although Chennai could not win the match but this was an innings which entertained us to the full.
100 vs England 2014
India visited England for a long tour of 5 tests, 5 ODIs and a T20 International. India after suffering a 3-1 defeat in the test series were looking to recover from it by winning the ODI series. First ODI was washed out due to rain. In the second ODI India started poorly by losing two wickets early in the 8th over only.
Then a good partnership between Rohit and Rahane took place but it wasn't enough to place India in a winning position as they soon were 4 down for 132 in the 30th over. MS Dhoni joined Suresh Raina at the crease and they built a good sensible partnership and then we saw a superb attack from Raina as he blasted off to his hundred in 74 balls only.
Raina scored 100 runs at a strike rate of 133 and the knock was filled with 12 fours and 3 huge sixes. It helped India post a better than par score of 304 and in the end India won by 133 runs by the D/L method.
109* vs KKR in 2014

It was the final of the Champions league T20 at the M Chinnaswammy Stadium in Bangalore. Kolkata were put into bat first by MS Dhoni and they scored a very defendable score of 180 courtesy of a brilliant knock of 80 runs from Gambhir. That is a pretty big score in a T20 final. In reply Chennai were quickly one down for a mere 9 runs in the 1st over. In came Raina and joined McCullum in the middle. Raina came and smashed the leather into the stands. Raina scored a match winning unbeaten 109 of only 62 deliveries. The innings consisted of 6 boundaries and 8 maximums into the stands.
110* vs Zimbabwe in 2015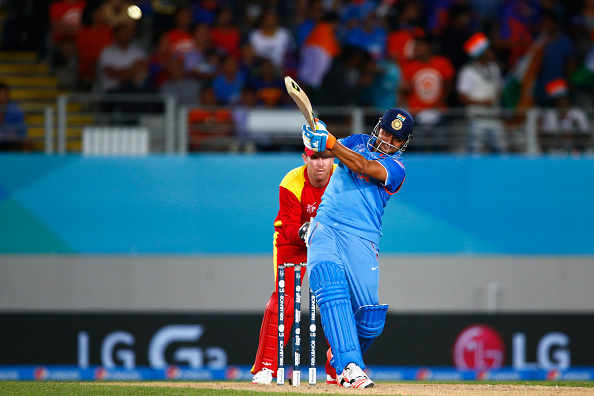 It was the ICC World Cup 2015 and the Indians were up against Zimbabwe. Although India had already qualified for the quarter finals but losing to Zimbabwe is not good at all. Zimbabwe posted a pretty good total of 287 courtesy of 138 runs from Brendan Taylor. India in reply were quickly four down for 92 runs in the 23rd over. Kohli, Dhawan, Rohit and Rahane all were back into the pavilion and it seemed as if India would lose the match from there on.
But then Dhoni and Raina once again were up to the challenge and started to build a steady partnership. They got the odd boundary of a loose delivery bowled by the Zimbabweans every now and then. In the end India cruised to victory with 8 balls to spare courtesy of unbeaten 85 and 110 from MS Dhoni and Suresh Raina respectively.