Cricket
Gabbar Owned the Champions Trophy 2013…
Gabbar owned the Champions Trophy 2013 and it wouldn't be wrong to say it this way. Shikar Dhawan was adjudged as the player of the tournament of the Champions trophy 2013 for his breath-taking and scintillating performances with the bat. Team India eventually went on to win the tournament and they had Dhawan to thank it for. Although it was a team effort overall but Dhawan's contributions were immensely important in the triumph.
In the very first match of the tournament, which was held between India and South Africa, Gabbar had immediate impact. India were put into bat first and the opening duo of Rohit and Dhawan gave India a flying start. Shikhar scored an absolutely classy innings of 114 runs of just 94 balls which consisted of 12 fours and a six. India went on to win the match by 26 runs after posting a mammoth total of 331 runs courtesy of Dhawan.
After defeating the porteas India were up against the men from the Caribbean. West Indies were put into bat first by India and they were restricted for a fairly poor total of 233 runs. In reply to this the Indian openers once again gave India a flying and steady start. Rohit scored another well made half century but Shikhar scored his second consecutive hundred. He scored 102 runs of 107 balls which included of 10 fours and a six at a strike of 95. India quite easily chased down the target and won the match convincingly.
India's third and last match in the group stage was against Pakistan. Well there is very less one can say about this match as Pakistan put on a very miserable show while batting and just scoring 165 runs. Then due to rain the target and overs were reduced to 102 and 22 respectively.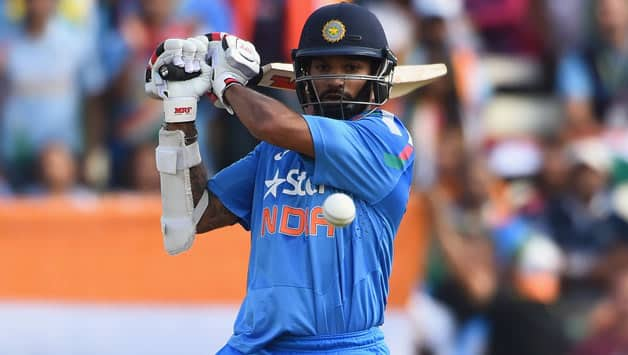 Gabbar once again was on the counter attack as he made a brisk and flying 48 runs of just 41 balls with five flashing boundaries at a strike rate of 117.07.  Even in the semi final and final of the tournament Dhawan scored 68 not out and 31 respectively. Keeping in mind that the final was reduced to only 20 overs and in a 20 overs game even 30 odd runs are of great value.
"Gabbar's memorable outing in his first major tournament."
Just by seeing all the numbers one can say without any hesitation that this tournament belonged to Shikar 'GABBAR' Dhawan. Apart from the numbers Shikar batted with so much ease in the tournament that his batting was just pleasing to see. This tournament was when the famous moustache twirl from Dhawan was recognized worldwide.