Cricket
5 Reasons Why INDIA Need Cheteshwar Pujara In Test Cricket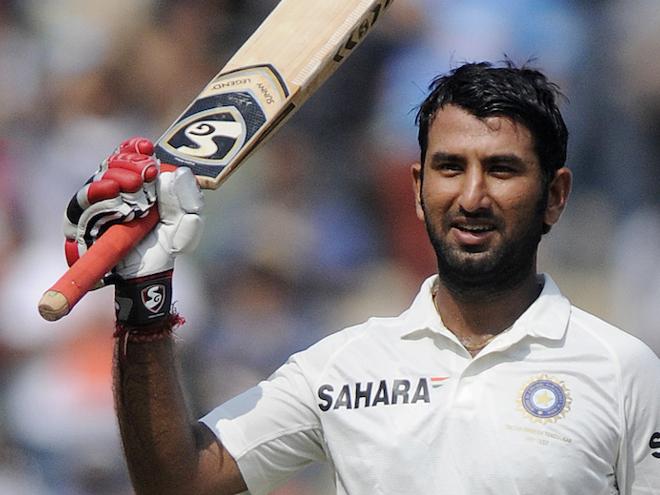 Cheteshwar Arvind Pujara is an Indian cricketer who was born on 25 January 1988 in Rajkot, Gujarat. He is a right-handed batsman who plays for Saurashtra in domestic cricket and for Yorkshire in English County Cricket. He made his Test debut at Bangalore in October 2010. He made a mark for himself in the 5-day format of the game by showcasting his solid technique, temperament, ability and talent when India A toured England in 2010 summers, he was the highest scorer of the tour. Later, he proved himself to be one of the contenders for a spot in India's Test XI when players like Dravid & Laxman were set to retire. He cemented his place after a brilliant century against New Zealand in Aug 2012 and a double hundred against England at Ahmedabad in Nov 2012, followed by another double hundred against the Aussies in March 2013. Later, he became the fastest batsmen to reach 1000 Test runs in just 11 Matches. He also bagged the Emerging Cricketer of the Year title 2013.
Despite of all these brilliant efforts as a growing Test Player, Pujara hasn't found a way to make a spot in the playing XI. Let us now see why India needs him in the Test side for a better future of our Test Cricket.
Calm Temperament
Pujara, just like Dravid and Laxman, believes in composing his innings slowly & gradually by initially getting settled for singles, then striking the old ball for drives and flicks. Many players are struggling  with these basics of Test Cricket due to changing scenario in modern day cricket. IPL has suddenly changed the mindset of many upcoming players in the world. But, this man is blessed with his calm temperament and masterstrokes with the bat.
Fighting Spirit
There are many players who really struggle with the bat under difficult circumstances and tough situations. Handling pressure at times becomes a bit too much for players. But, Pujara has got that ability to stand and deliver for his team, despite many challenges and on different wickets altogether. Recently, against the Sri Lankans, he was the lone man standing throughout the innings. This is a major reason why he fits in that playing XI.
Accepts the Challenge
A batsman becomes a legend when he starts accepting the challenges under tough situations, especially when his team is struggling and needs him the most. Whenever Pujara has got a random call for a Test Match, he has shown his ability and great temperament to come, perform & mould the match in India's way. Against Australia and England, he struck 2 brilliant double hundreds in 2012, which led India to victories in both the matches. Also against Sri Lanka in the 3rd Test, he made a solid start coming back in Indian side and composed a well built century and remained not out till the end.
Adaptability in Longer Format
Cheteshwar Pujara has got a perfect eye set for a test match and is very adaptable in this longer format of the game, especially in the subcontinent. He is not a batsman who just walks in the middle and starts to free his arms. Rather, he takes his own time, get settled smoothly, composes his innings with no hurry and then look to accelerate. He is the one who can bat for the whole day and win sessions for his team, which not only makes him a match winner, but also the best middle-order alternative that India has been looking for after Ganguly, Laxman and Dravid.
Curiosity to Learn More and Ability to Perform Well
Pujara has got that ability as he is technically very strong which is the most important attribute for any batsman to play Test Cricket. He has got all the strokes and drives under his belt which proves his mettle. Moreover, he is such a person who constantly wants to learn more as a cricketer and make himself a better player with more matureness to sooth the Test Cricket Environment. Currently, he is also working very hard in the nets to make a promising name for himself in the ODI's as well.