Cricket
The Ashes 2015: 2nd Test Day 1 Stats and Report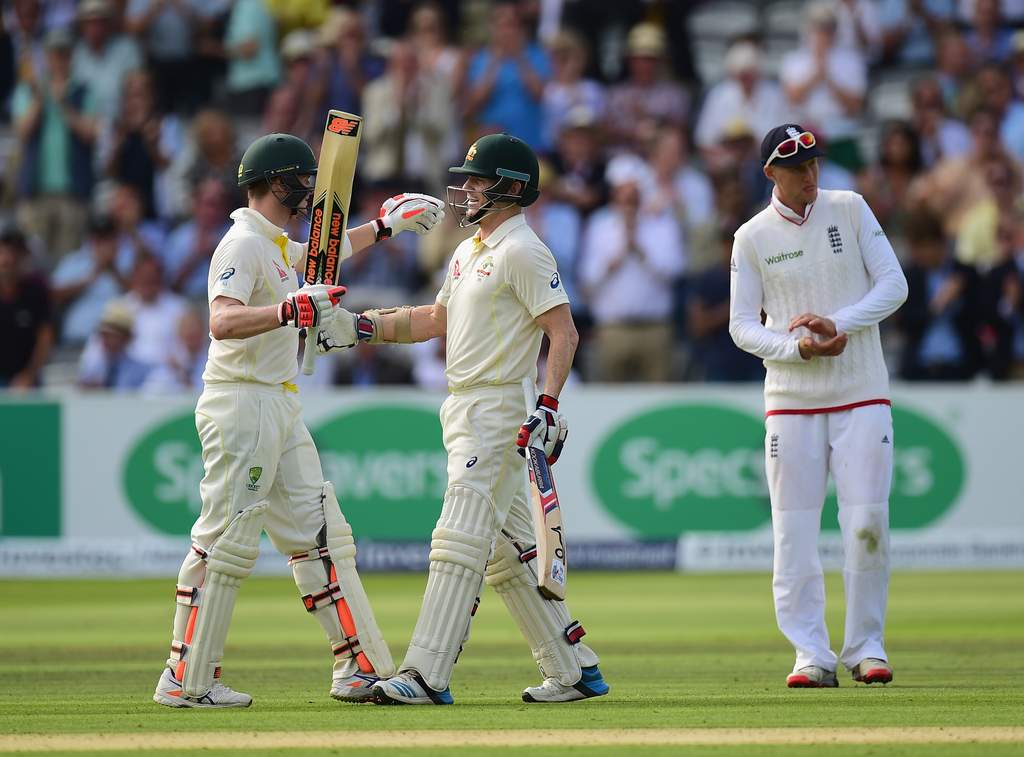 The second test in The Ashes commenced today at the Mecca of cricket, Lords. Surely at stumps England were hoping for a better day after offering a slow pitch. Luck favored Michael Clarke and he won the toss and had no hesitation in batting first. The wicket was a flat one and England bowlers struggled to keep the Aussies in check.
David Warner started his day aggressively, plundering quick boundaries and in no time Australia had reached fifty for no loss. Warner paid the price for being far too aggressive and was removed by Moeen Ali in the 15th over.  After his departure, Steve Smith came to the crease with a purpose. Fortune favors the brave and bold and today it was with Chris Rogers who was dropped on zero by Joe Root. Rogers went on to score a ton and went on to compile his highest score in Tests. He also earned a place on Lords honor board after 5 years since his debut.
On the other hand, Steven Smith, who is having the time of his life went on to score his 10th century in his 30th test. This year has been a Smith year. He top scored in the India series, scored in World Cup and now he is doing it in England. He was unlucky to miss out in the first test but now is more than compensating for it. He was dropped at 2nd slip by Bell of Stokes, which pretty much sums up England's day out in the field.
For England bowlers it was hard work and turmoil. They achieved nothing at the end. The ball wasn't swinging and there wasn't enouh turn. Rogers and Smith milked the bowling around the park and went on to accumulate 259 runs for the 2nd wicket, which is a record partnership for Australia at Lords. England had a couple of chances but both were squandered by Bell and Root.
As for tomorrow England will hope a turn around of fortunes but it might be safe to say that this match is already beyond their grasp. Chris Rogers and/or Smith will step out tomorrow to emulate Don Bradman and Bill Brown, who are the only two Australians to score a double century at Lords. At stumps Day 1, the scores are:
Australia ( 337 for 1; Smith: 129*, Rogers: 158*) | England ( M Ali: 1 wicket for 82)
Aditya Goel is the CEO and Publisher of QuirkyByte. He has 14 different Specializations varying from Mathematics to Computer Programming and has written for various blogs and worked as a freelance writer, programmer and developer on Elance and Freelancer. Very passionate about Technology, Movies, International TV shows especially White Collar and Cricket as a sport.