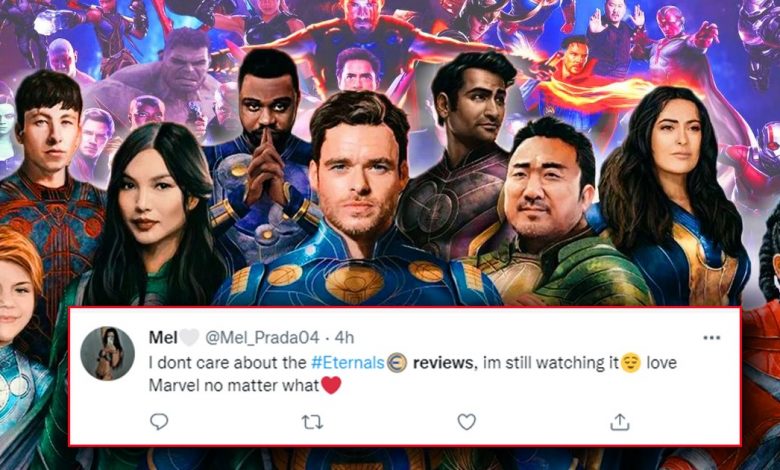 Eternals has always been so hyped up by the fans that all are super excited for the movie to release soon. Recently we had the premiere and we got the fresh critic reviews and those are not as good as the previous MCU movies. Because Eternals is a unique movie, its reviews aren't all the same. So they are making fans angry and here are some of the fan reactions where they didn't like the bad reviews for Eternals:
1. Oops!!
Kevin Feige seeing the Eternals reviews pic.twitter.com/Ek14VxJmNf

— sarah atriedes (@vox7ux) October 24, 2021
2. What's Going On!
What's the deal with all the Eternals reviews rolling in pic.twitter.com/ixHyXkAGGx

— Christian Tizya (@WatsonStPics) October 25, 2021
3. Absolutely Not!
absolutely not gonna trust the eternals reviews bc theyre all from the same people that said shang chi was bad like pic.twitter.com/JLS6RiWxul

— dani (@mikewqters) October 24, 2021
4. So Harsh!
Why the eternals reviews are so harsh pic.twitter.com/dlb9XHEFvM

— athia/kix ۞ (@dilfsstrange) October 24, 2021
5. LOL!!

6. It's About Time!!

7. Okay!!

8. Not Listening!!

9. Still Excited!!

10. Too Conflicting!!

11. Don't Care!!

12. Always!!

13. That's Right!!

14. No Matter What!

15. Exactly!

16. Totally!

17. Bullshit!

18. Hello?

19. What the Heck!

20. We Won't!
How did you react to the bad reviews for Eternals? Let us know in the comments.
Directed by Chloe Zhao directed Eternals stars Gemma Chan as Sersi, Richard Madden as Ikaris, Kumail Nanjiani as Kingo, Lia McHugh as Sprite, Brian Tyree Henry as Phastos, Lauren Ridloff as Makkari, Barry Keoghan as Druig, Don Lee as Gilgamesh, Kit Harington as Dane Whitman, Salma Hayek as Ajak, and Angelina Jolie as Thena.
Follow us on Facebook, Instagram & Twitter for more content.