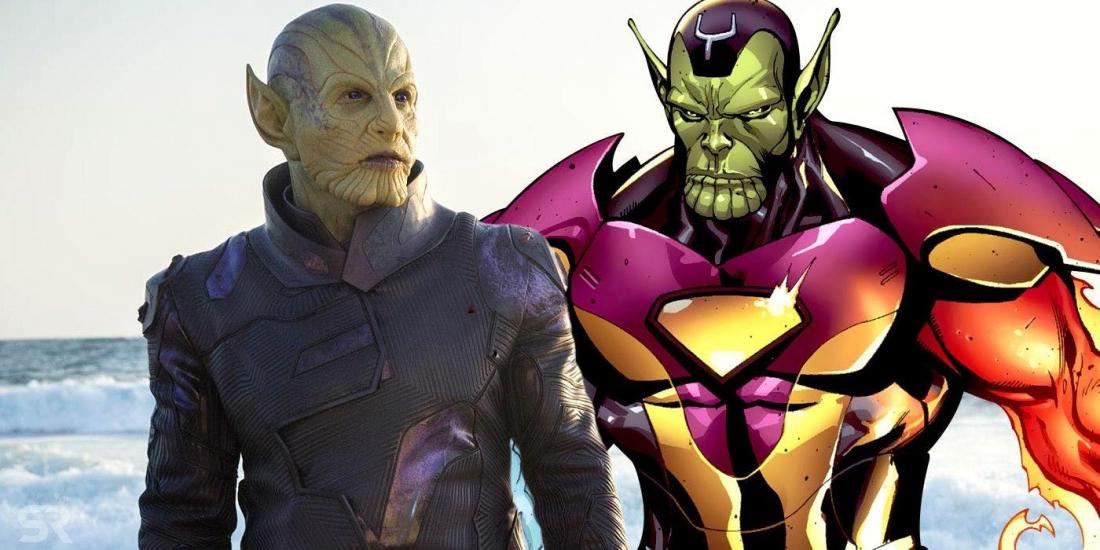 The iconic ridge-chinned, green-skinned Skrulls who have regularly featured in Marvel Comics for several decades, usually as villains bent on invading Earth have been engaged in a prolonged war with extraterrestrial Kree. But in Comics, it's just a vast history and dynasty of Skrulls. A lot has been written in the comics about these villains in green courtesy of the creators – Stan Lee and Jack Kirby. So, as we know that in the upcoming movie of Captain Marvel, these green-villains are going to make an appearance and could play a crucial role in the story. So, today we're going to have a Skrull-Session to know what they're all about. Listed down below are 15 things, important things you should know about the Skrulls. Have a look:
1. THEY ANNOUNCED THEMSELVES TO THE WORLD: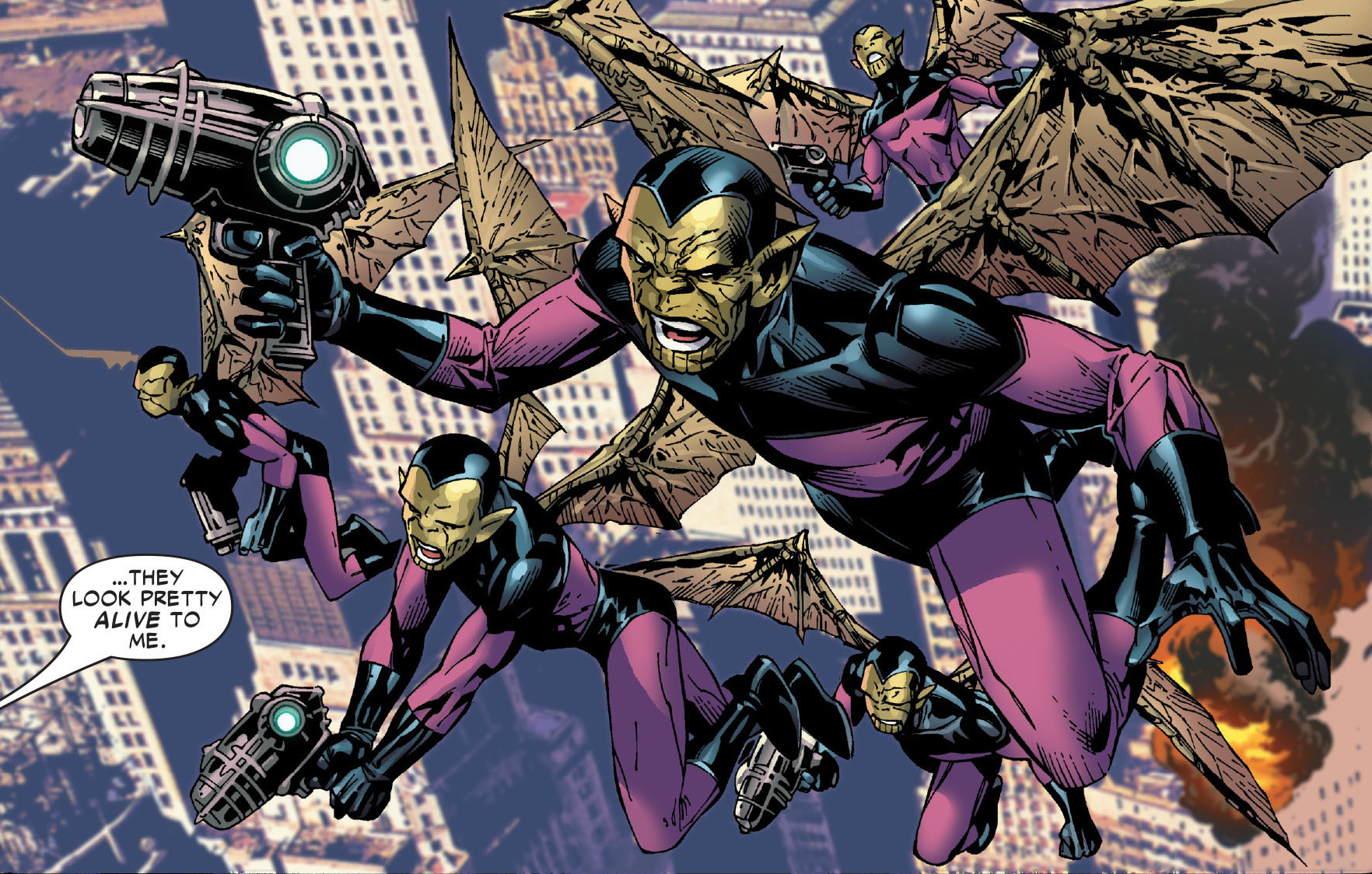 Their entry isn't a normal one and the moment you see them coming and the way they came, you can truly transform into an astrologer and will say that one day this species is going to turn this universe up-side-down. The reason for all this scary warning is that in 1962, Marvel Comics introduced Skrulls to the whole world by making them appear in "Fantastic Four #2: Skrulls from Outer Space!".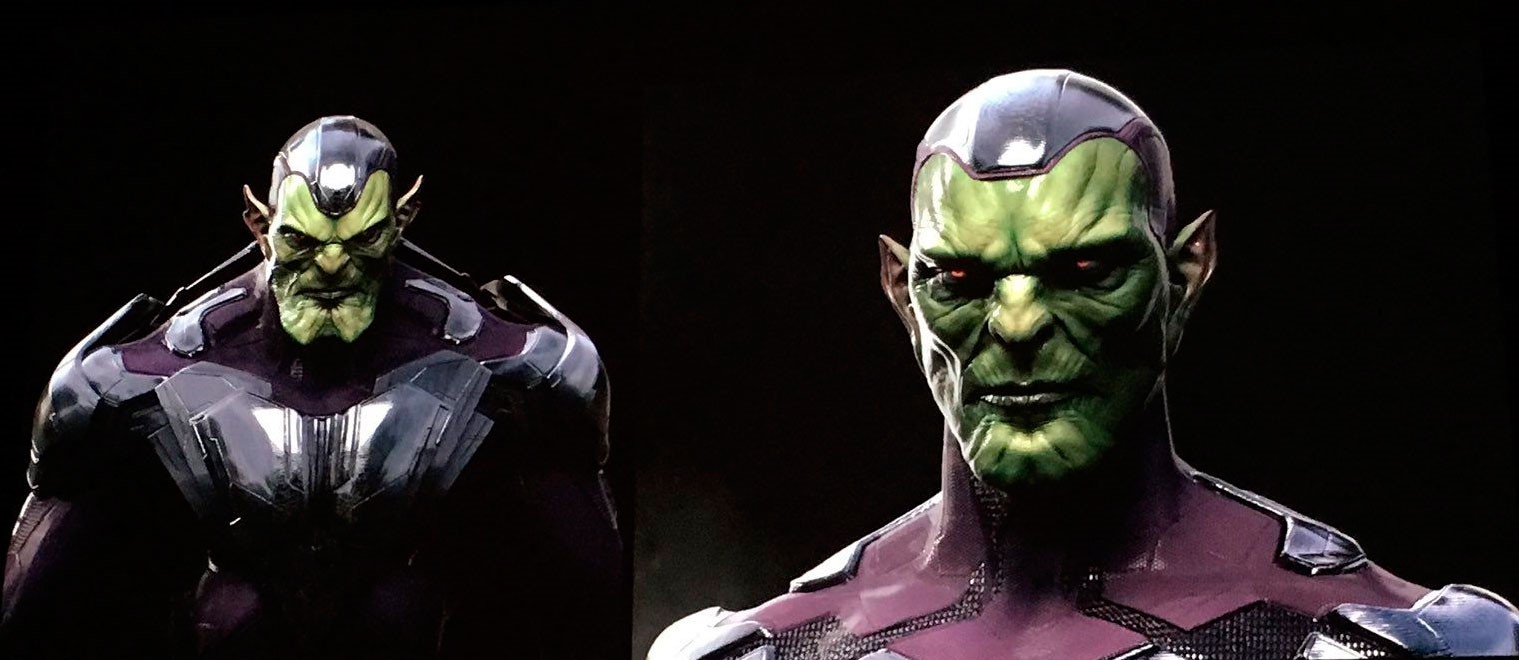 The issue saw all the members of the Fantastic Four team acting differently than usual and the reason for that was they weren't the real ones. Yes, they were Skrulls who showed their ability to mimic anyone's appearance and showed us their deadly ability and the damage they can do by transforming into someone else and can also give some planet-threatening orders.
2. OLDER THAN YOUR OLDEST MEMORY: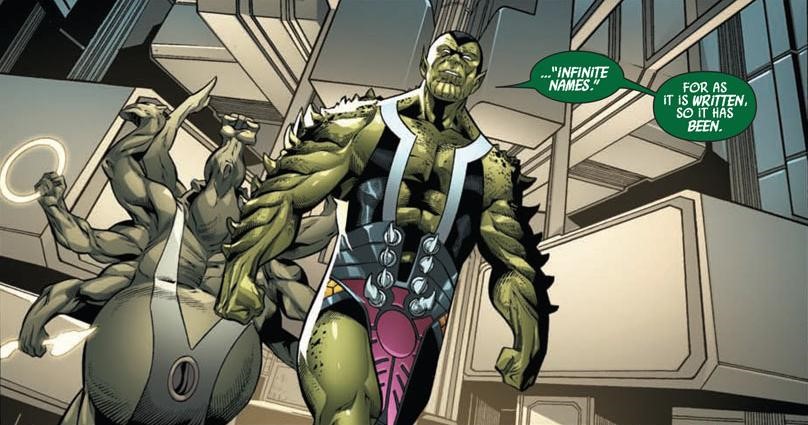 These 'Skrulls' have been in the Universe of Marvel Comics for a very long time and are also considered by many as one of the oldest race in the Universe's history. Not just their appearance but also their behavior and philosophies of living life have changed a lot as their existence goes back a billion years ago.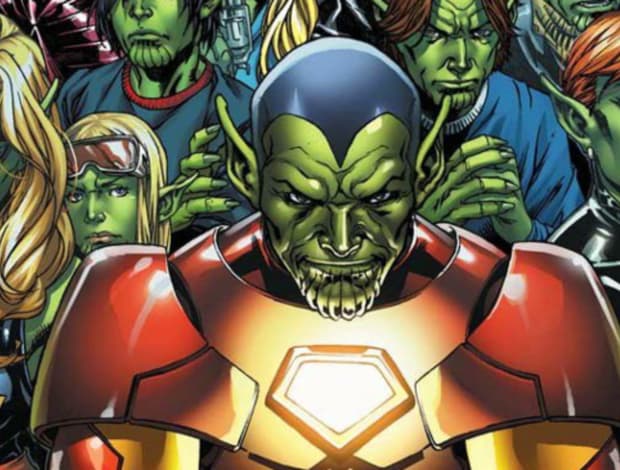 They have a similar story like many big villains as they also started as a peaceful and joyful species but something bad happened to them which changed them into green-monsters who just want to take over on Earth or any other planet in the universe. We still miss those happy and friendly Skrulls in the Comics of 1962.
3. THEIR OBSESSION WITH OUR PLANET: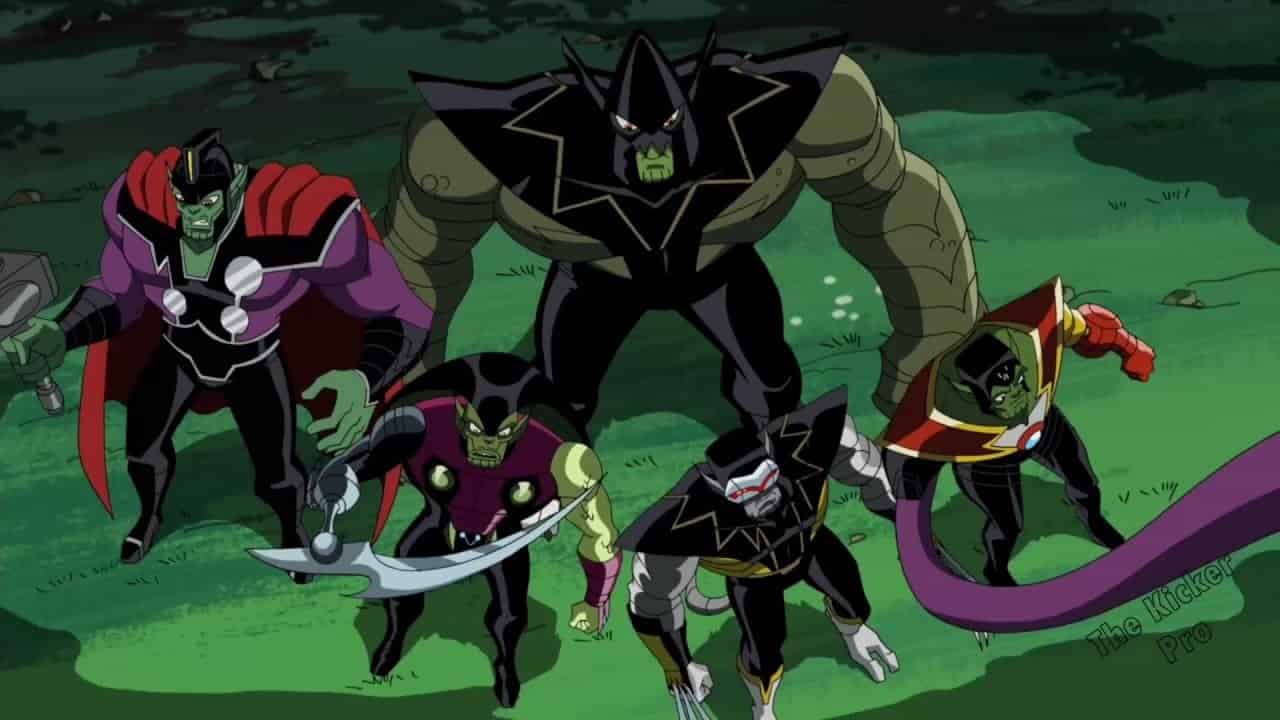 There are many planets in the whole universe, but it's our planet –Earth which is the most favorable or you can say targeted by the Skrulls. The reason behind their obsession for our planet is that they wanted to use our planet for their religious activities and have also claimed that there are signs and sacred texts on earth which show that Earth was theirs before it was ours. That's why they always come again and again to threaten and take control over us.
4. THEY CUT THEMSELVES, TO PROTECT THEMSELVES: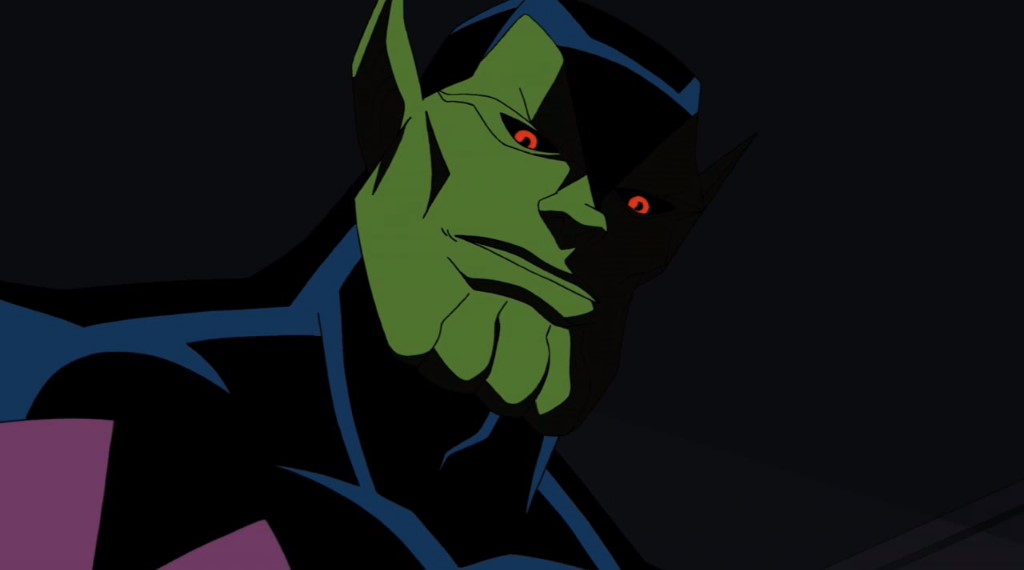 One of the finest and most powerful ability of Skrulls is their shape-shifting ability as they use it to form weapons such as blades, clubs, and many more with parts of their bodies which makes them almost unbeatable in hand-to-hand combats as they can shift their shape to any size, shape, and color at their will.
5. 'WORLD DEVOURER' DEVOURS THRONEWORLD: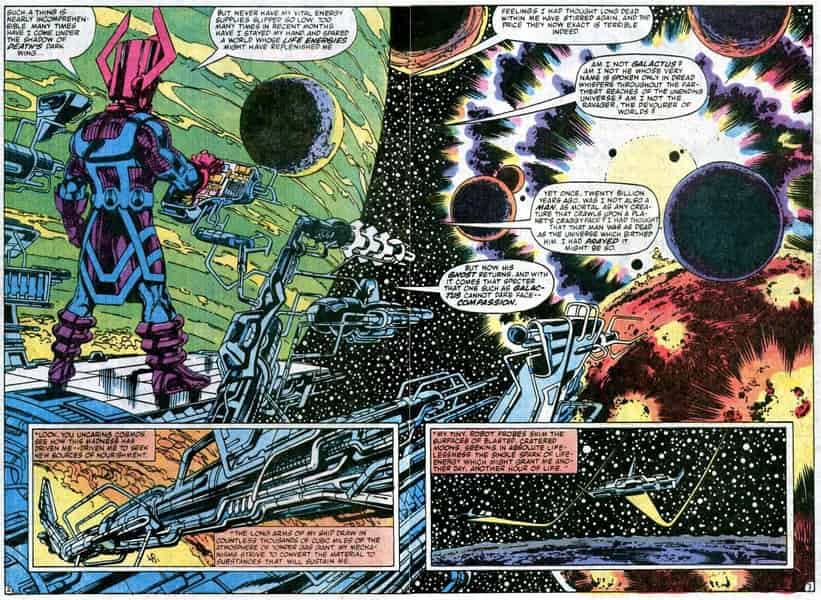 If you're a true Marvel Comic books fan then you probably knew whom we're talking about after reading those two words in the headline above and even if you don't know, it's still cool because Galactus: World Devourer isn't going to eat the planet yet. So, the Galactus devours the planet of Skrulls known as 'Throneworld (TARNAX IV)', killing billions of Skrulls, including R'klll and Princess Anelle.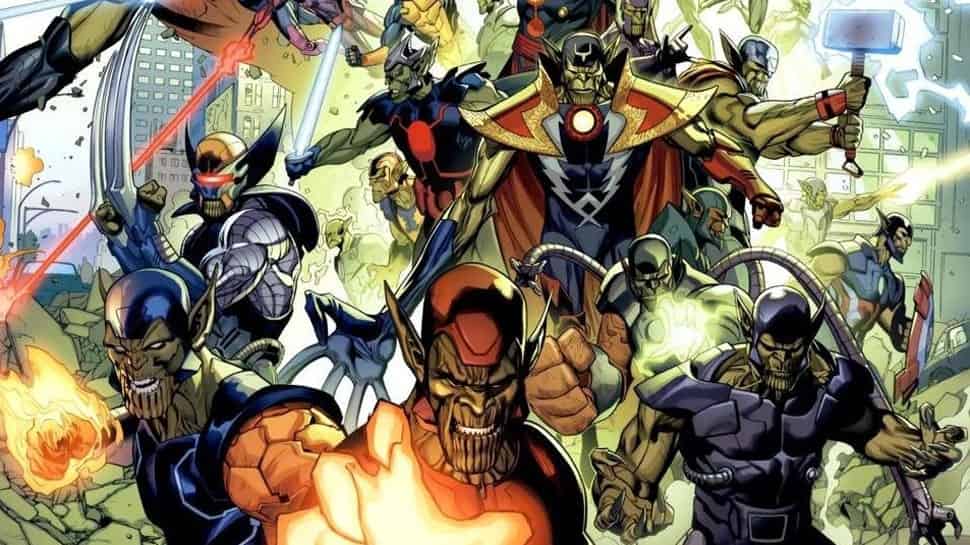 With the destruction of the central government, the Skrull Empire had collapsed into hundreds of bicker factions. Their galaxy was filled with governors who declared them to be the Emperor of the Skrulls and soon a civil war began. The Shi'ar maintained a heavy presence in the former empire as well, constantly dealing with the packets of resistance.
6. THEY DID EVERYTHING TO EXPAND THEIR EMPIRE: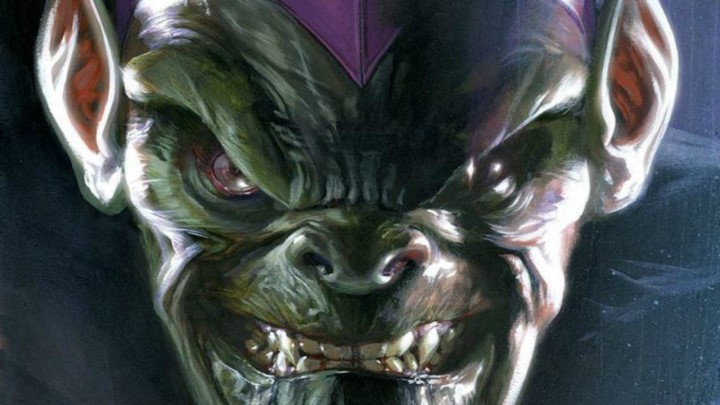 There's only one thing which we should admire about the Skrulls as humans. Their sexual dimorphism is roughly the same as human beings but their sexual orientation is more complex since they can change their genders at will. Indeed Xavin, once casually said that for a Skrull, changing gender is comparable to a human being changing their hair color. In this time of modern age when the LGBTQ community is still not respected by others on Earth, Skrulls had lifted themselves above this thinking of gender inequality millions of years ago when they changed genders for the sake of their empire.
7. K-CLASS DEVIANT SKRULLS: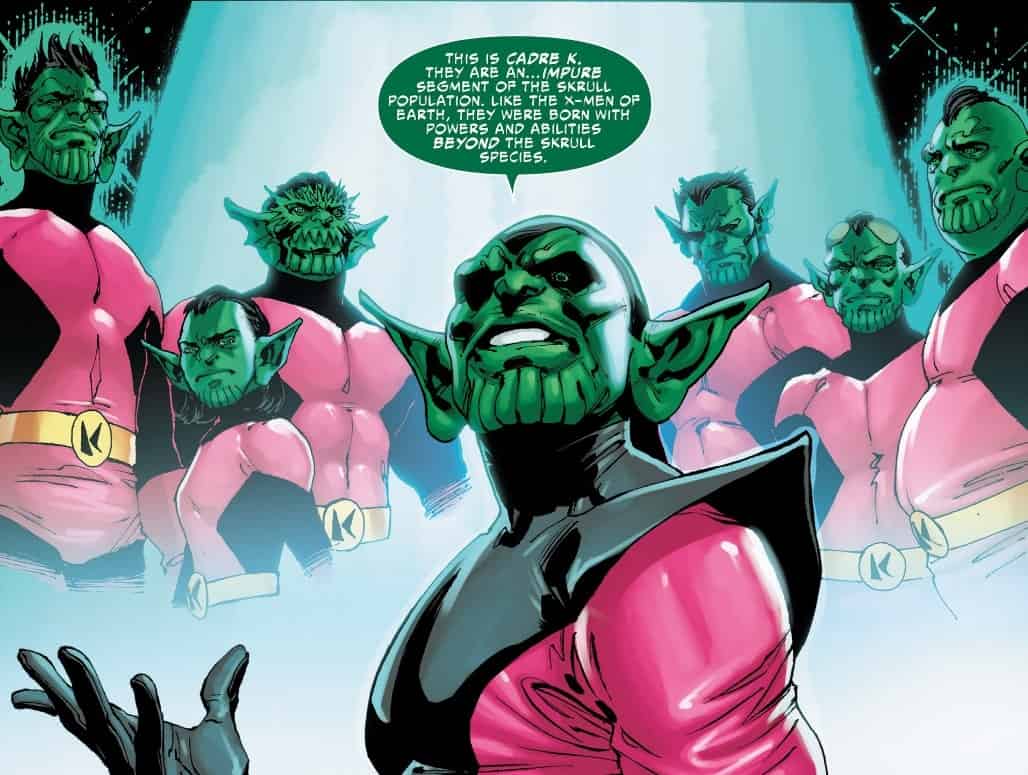 Once a group of Skrulls traveled to Earth where they began plotting the invasion of the planet. They were however at some point approached by Apocalypse who wanted to lure together twelve powerful mutants which he needed to ascend to godhood. At the same time, the body of the Living Monolith, who had been hurled out into the far reaches of space by Thor was found on Earth. On Earth, mutant Skrull named Fiz sneaked into Xavier's mansion to tell him about a disaster which was about to come. But deemed outcasts by other Skrulls, they were hunted by the empire.
8. THEY WANTED TEDDY SMITH TO BE THEIR EMPEROR: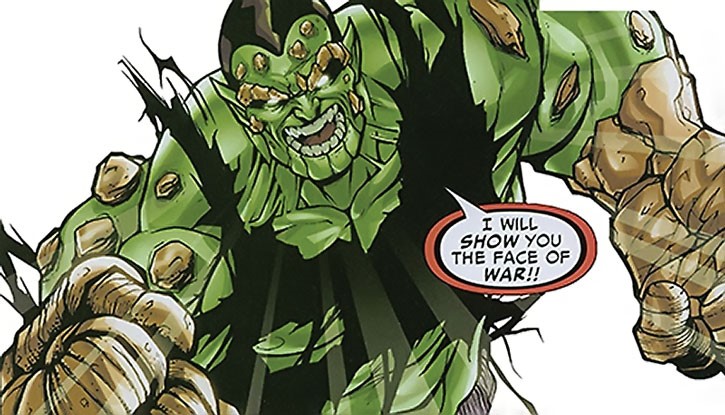 Teddy Smith is also known as Hulkling (Not our Hulk), is a member of the team named 'Young Avengers'. He was the son of Captain Marvel (Not Carol Danvers) and his beloved wife Princess Anelle of Skrulls. It was the time of that big war (Secret Wars) when Skrulls shifted their focus to Hulkling as he was half Kree and half Skrull and could re-unite both the races. But, Hulkling favored staying back on Earth in order to protect it.
9. CELESTIALS: THE REASON FOR THEIR UGLY APPEARANCE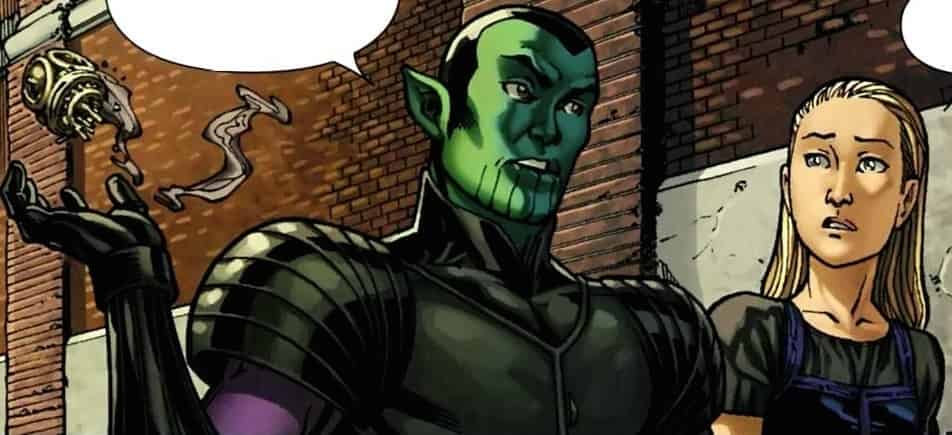 Skrulls are green-skinned reptilian humanoids with large pointed ears, red or green eyes, and chins with several vertical folds in the skin below their mouths. Skrulls are known for genetic-molecular instability and genetic diversity. Due to Celestial experimentation, they split into three branches of Skrulls: The Prime, the Deviants, and the Eternals. After Celestials left the planet, the Deviants killed the other races and were left as the only Skrulls and started using their power of shape-shifting to conquer the planet and hence, have targeted Earth time and again.
10. NICK FURY WAS THERE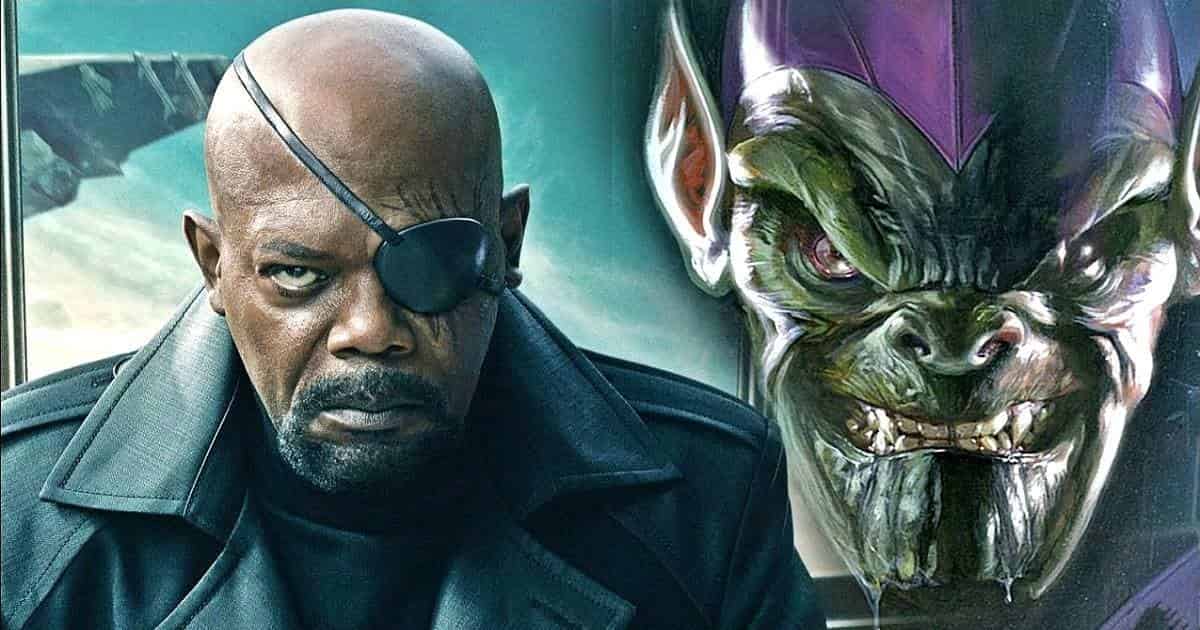 In the story of Secret Invasion, when Skrulls attacked the earth and it becomes almost impossible to stop them, it was then that Nick Fury called Deadpool for killing the Skrulls and to infiltrate their ship. He had also asked Deadpool to upload the whole data about the Queen from the ship of Skrulls and send it to him but later all the data was stolen by Norman Osborn who also killed the Queen in the end.
11. ABILITIES AND POWERS OF THIS POWERFUL RACE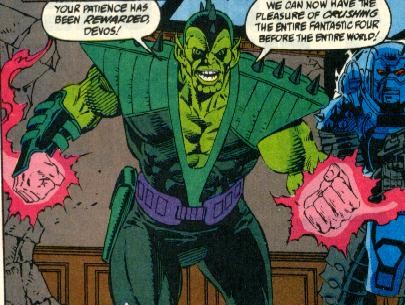 Skrulls are known for genetic and molecular instability, genetic diversity, physical malleability, and ability to shape-shift to any size, color, or shape at will, taking on the appearance but not the characteristic of other beings and objects within a volume range of .75 to 1.5 times the Skrull's original volume. They also have some more technological advanced Super-Skrull and War-Skrull, which is an elite group of powerful Skrulls.
12. A BIG EMPIRE IN THE UNIVERSE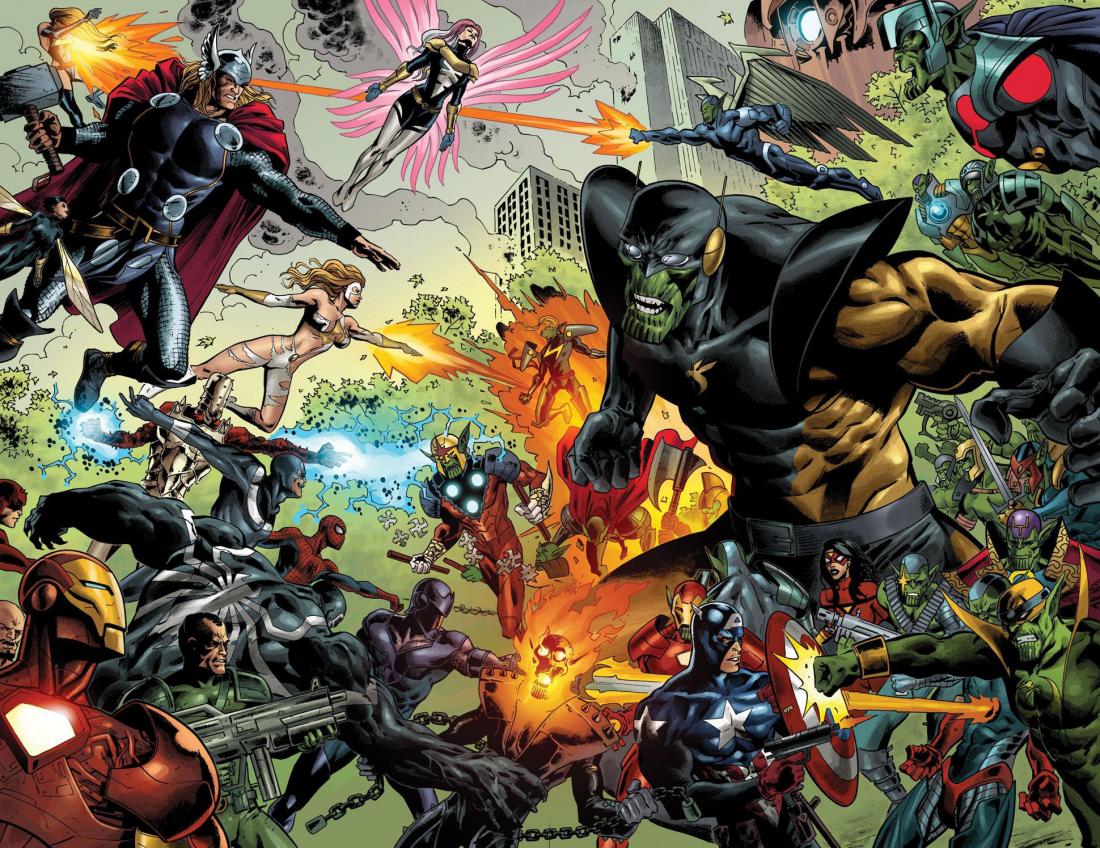 They've been on a mission to extend their race in the universe by going on to different planets and ruling them by defeating them in the war. With time and more fights, they turned into great warriors and started having their empire on the head of many races. With their growing empire on different planets, they were unable to attack any new planet. Not many got the luxury of having a life after some treaties with the Skrulls but there were also some races that fought well against these and their one of the most famous fights has been with Kree and Xandarians.
13. THEY TRIED TO RECLAIM THEIR THRONE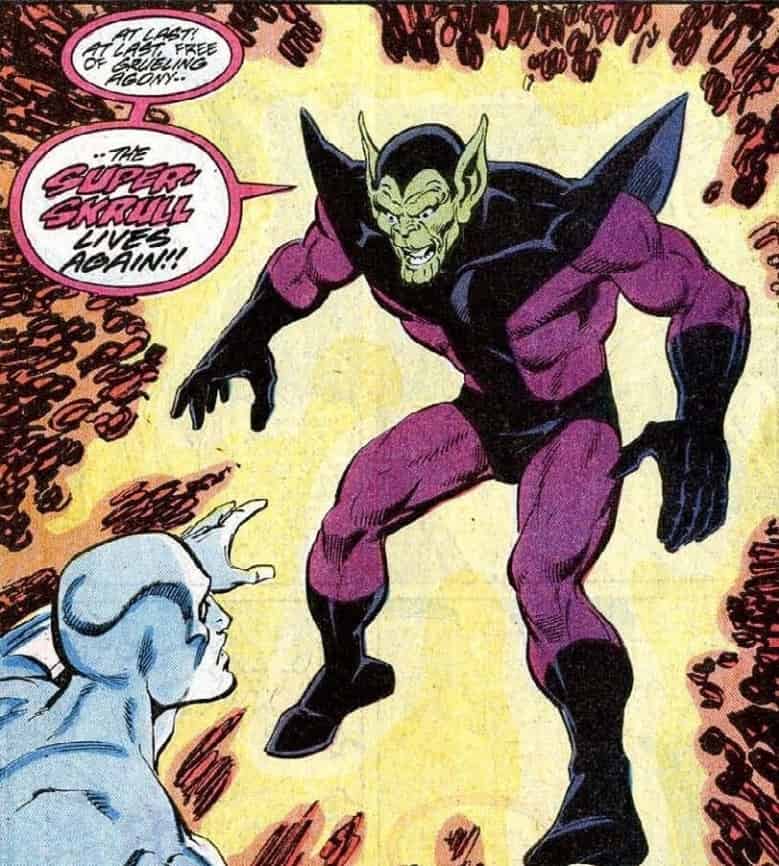 They got beaten very badly in their mission of 'Secret Invasion' and started again to fight for their empire and to gain access to their powers. But it was Builders who came to demolish the planets taken over by the Skrulls. Despite Silver Surfer's help, it became impossible for Skrulls to stop the Builders. But what happened in the Infinity War affected the Skrulls very badly.
14. YOU CAN'T IDENTIFY THEM EASILY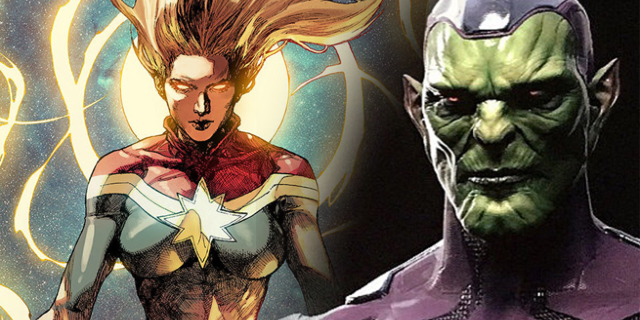 We'll get to see this ability of the Skrulls in the Marvel's upcoming movie, Captain Marvel as we're going to see Skrulls' invasion on Earth and also how Skrulls impersonate the superheroes. With this ability, they can easily create a lot of misunderstanding and distrust among the Earth's mightiest heroes. But Captain Marvel surely needs some helping hands in order to beat these aliens out from the planet Earth.
15. REASON FOR THE FAMOUS KREE-SKRULL WAR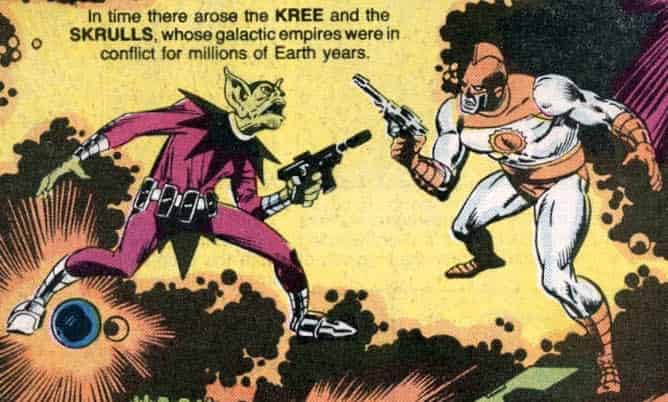 The real reason about one of the most popular alien-wars in the history of Marvel Comics is that Skrulls wanted the two races of Hala to fight with each other and started their mission by being on the side of Cotati and declared a war against Kree. But despite being overlooked by Skrulls and the anger for choosing Cotati over them pushed Kree to steal and take away the technology of Skrulls which then took shape of a Galactic War.