Technology
WhatsApp Latest Update: Everything You Need To Know About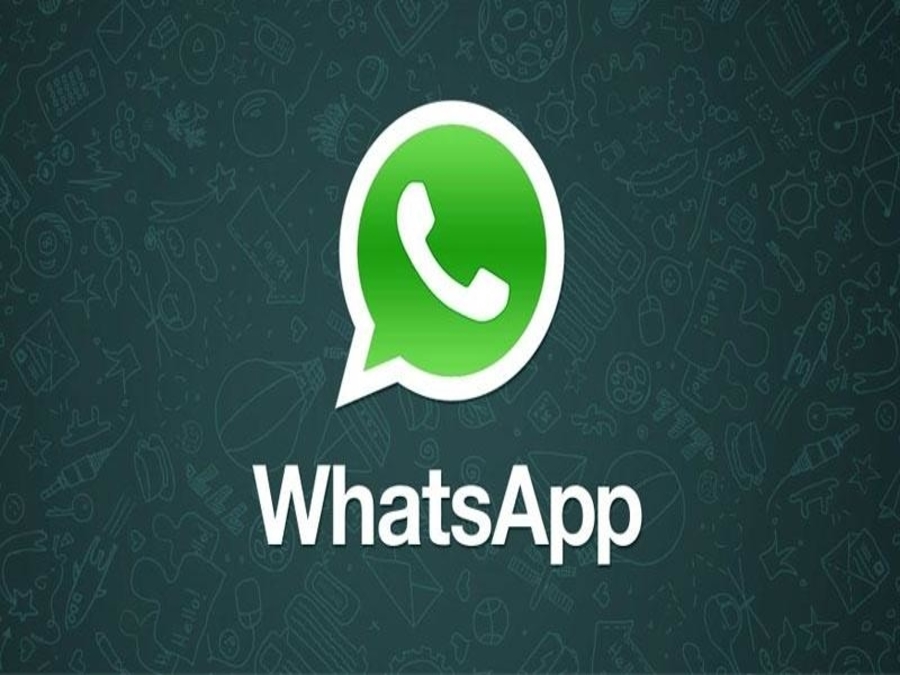 Facebook-owned messaging app- Whatsapp has announced a huge change in its privacy policy, if a user accepts it new T&Cs,  he will start to share some of his data with the parent company which includes ad-targeting purposes. Facebook will show us better friend suggestions and show only relevant ads if someone has an account on it. For example, a person might see an advertisement from the company in which he had worked.
Whatsapp Data will be shared under the new T&Cs which include the phone number a by which he verifies his account and last time when he used that service. Full Privacy Policy is given Below:-
There is an option to opt out for some data sharing- although most users will just tap "I Agree" without even reading to WhatsApp's new T&Cs and realizing for what they are agreeing to it.
Privacy vs Data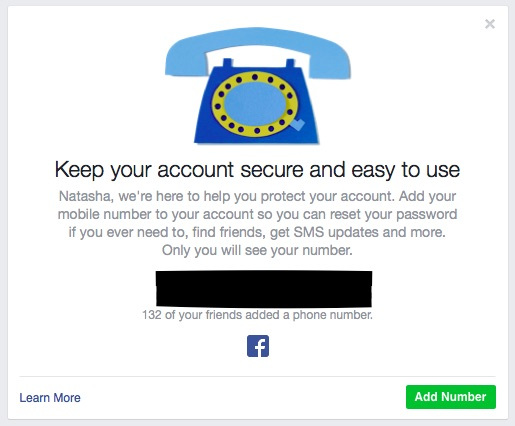 This is a huge step-change for a service that is proud of itself on championing its user privacy, which includes an end-to-end encryption in all its services in beginning on 2016 and was continued its fight with authorities to hand over the data. But once Whatsapp was acquired by facebook in Feb 2014 the writing was on the wall for any pro-privacy  stance.
Fast forward a couple of years and the main principle i.e. Privacy which is not compromised but loosened, with now facebook will now be able to link users  to its social services with Whatsapp users.  It will now be able to track the relative usage and activity on WhatsApp. It seems like WhatsApp is trying "to fill missing mobile numbers with WhatsApp contacts list, it requires the user to supply the number to verify the account, as it is also possible to use facebook without giving your number. Facebook will contact the people who have not given the numbers from their friends who have agreed to share their no.
Partial Opt-Out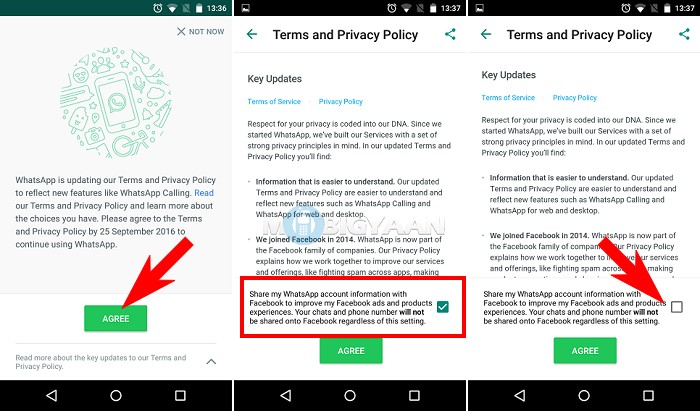 Opting the data entirely is not possible, but there is a chance to partial opt-out especially for facebook's ad targeting ad and other purposes. This data will be used  for purposes like to improve infrastructure, delivery systems and to understand that how their services are used.
As by the information provided by the Whatsapp Official, people who want to opt out of sharing their account information have 30days to opt out after accepting the new T&Cs so that they have their time to choose their choices.
How to opt out Sharing Data for Facebook Ad-Targeting
Whatsapp gives you 2 ways to opt out of sharing your data with facebook.
Firstly, if someone had not agreed on the T&Cs , he can opt out without agreeing on the new T&Cs by tapping to read the full terms and privacy policy and then going to the bottom of the document and untick in the checkbox and then hitting agree…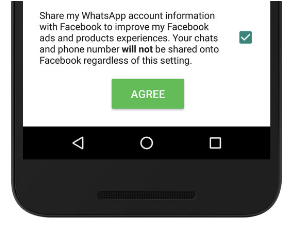 Secondly, if someone has already accepted the new T&Cs without unchecking the box to share information with facebook, Whatsapp is also offering a 30-day window to make their choice by simply going to the setting. To opt out of this Go to Setting>Account>Share my Account info. In the box and also uncheck the box displayed there, which should be done within 30days, but after 30days this partial opt-out option will not be available.