Cricket
India vs West Indies – Expectations vs Reality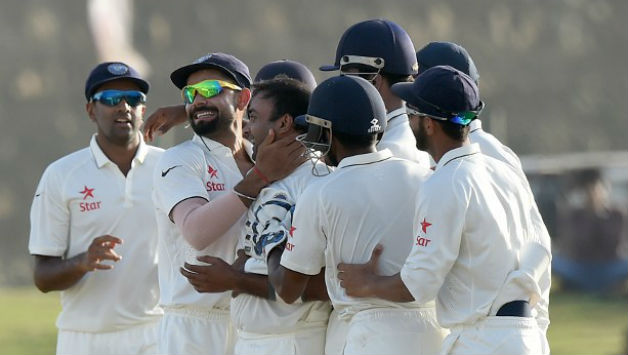 India is in a commanding situation after a three-day play in Antigua. The hosts trail by a mammoth score of 302 at stumps on Day 3. While the West Indies would be itching not to give any more wicket to the opposition, this fight would be a very difficult one to hold on for two days. On the other hand, India will be looking eagerly to wrap up the formalities and start their tour on a winning note. It will be the first win for Anil Kumble as a coach after his appointment as Indian head coach.
Before the start of the first Test match, there were a lot of expectations and anticipations from people and cricket experts after assessing the conditions. However, the results have been very contrasting. Let's put a shadow on some of these:
Seamers and Spinners
The pitch which looked very dry and slow in the first instance provided a good shape and bounce in between and a bit of late swing with the new ball. There were a lot of expectations from the Indian spinners after watching Bishoo's spell and picking up 3 wickets. Though Mishra had a couple in the first innings, Ashwin remained wicketless. Surprisingly, Umesh and Shami both being the seam bowlers took 4 wickets each. The pitch has started to offer late bounce and swing and there is more to come. Ishant, who too remained wicketless in the first innings bowled beautifully and got his reward in the very first over of the second innings.
West Indies Batting at Home
The hosts have a quite depth in their batting but still couldn't deliver what was expected of them. They were bundled out for a mere 243 in reply of India's 566. No doubt there are some young rookies in their team who are still inexperienced and immature for a quality side like India, but not to forget they have some big names as well like Samuels and Bravo. Moreover, they are playing on their own soil. The West Indian batsmen have surprised their fans with such a casual approach to their batting. It could have become a competent battle if one or two batsmen would have stepped up and taken that responsibility.
Virat's aggressive approach and India's disciplined bowling
The Indian skipper Virat Kohli had announced earlier that as always, the team will be playing with a positive intent and aggressive approach. India, after winning the toss straight away decided to bat and played aggressively piling up a mountain for the opposition. However, this approach didn't get reflected in their bowling as much as Virat would like to see. The whole idea was to bowl maidens and put pressure on the opposition. Besides this, West Indies' batsman Kraigg Brathwaite also said that India bowled with a lot of discipline.