Football
Top 6 memorable Kolkata Derbies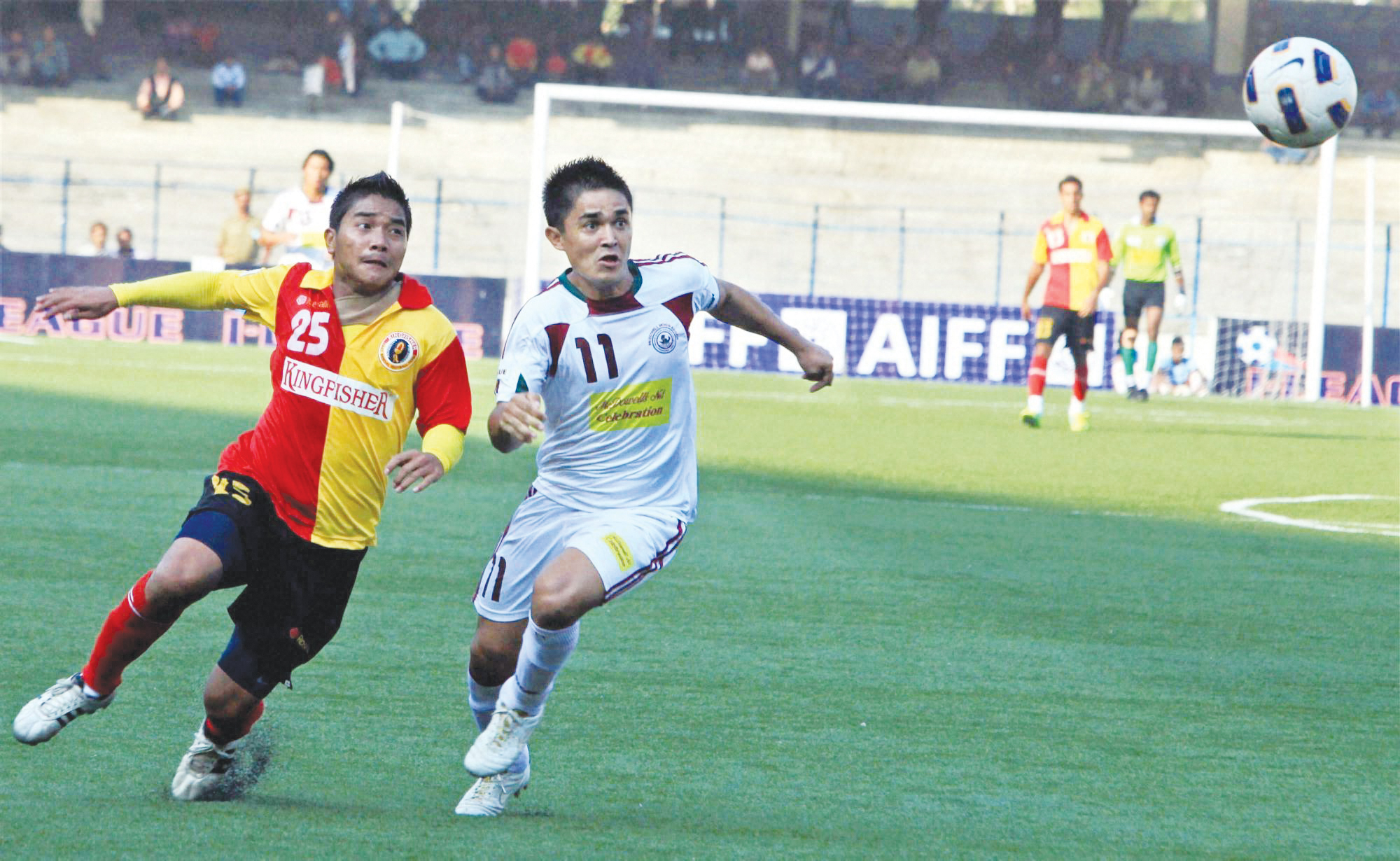 Kolkata-the city of joy is famous for mostly 5 things, Durga puja, Delicious 'Maachher Jhol Bhaat'(Fish curry and rice), 'Rasogolla and Mishti Doi' (Sweet Deserts), Howrah bridge and love for football.
Kolkata, known as the "mecca" of football in India, is famous for its passion and fan following for two neighboring, yet viciously rival clubs, East Bengal FC and Mohun Bagan AC. These two giants of Indian football meet each other several times in a season, and that is known as "Boro match"(The Derby).
In Kolkata derby, a player can turn into a villain. or a hero in a moment's notice. If you are a hero, you will be worshipped; if you are a villain, then your team bus can be stoned after a loss. It is this sharply contrasting degree of emotion that makes Kolkata football unique. The crowd can exert pressure on a player as well as inspire him to do wonderful things. It doesn't matter if the derby is a title decider or not. On a derby day, only the derby matters; everything else pales into oblivion.
Till date 309 competitive matches have been played between these two, and East Bengal has won 117, Mohun Bagan has won 86 and 106 matches have been drawn. Let us take a look at six such memorable derby matches.
Mohun Bagan 3-1 East Bengal (Final, IFA Shield 1969)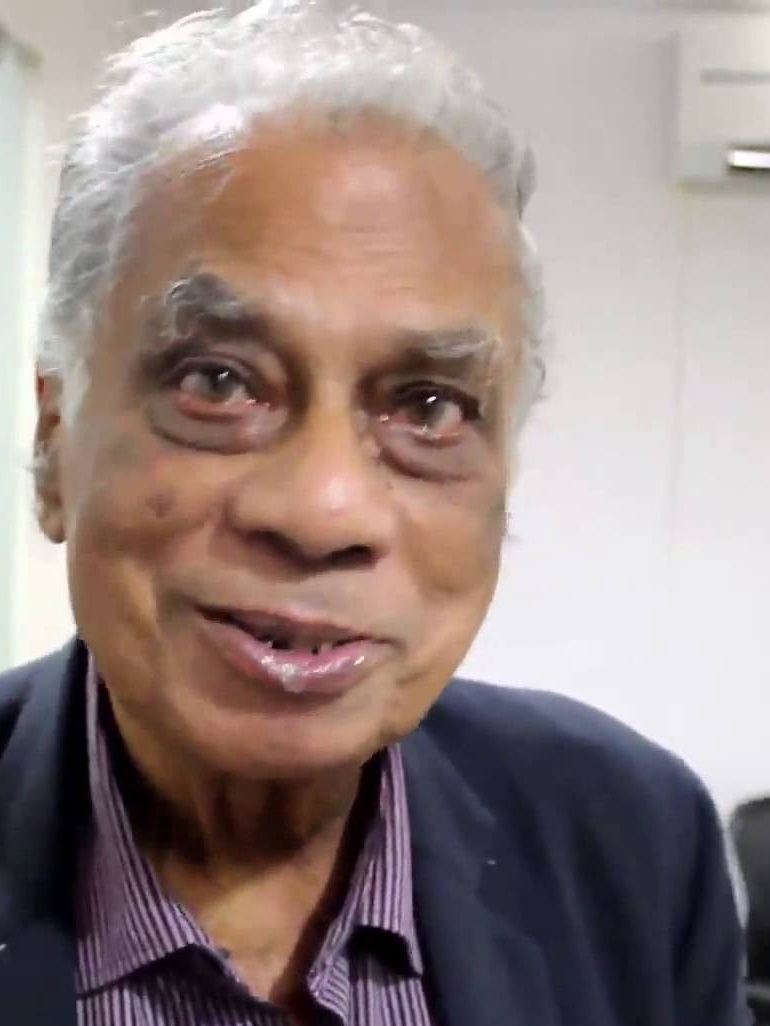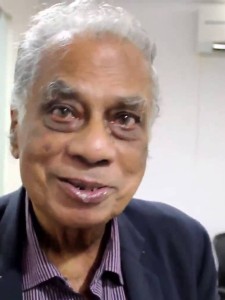 Amal Dutta (present days)
1960s was the golden era for Mohun Bagan. The Bagan team, led by Chuni Goswami and Jarnail Singh, was unstoppable in that decade, winning numerous titles. They faced their rivals in East Bengal ground on 16th September in the prestigious IFA Shield Final. At that time Bagan was under the coaching of a highly educated young coach named Amal Dutta. That season, Dutta had caused a revolution in Kolkata football by started playing with a 4-2-4 system, with overlapping wing-backs. It was a sharp deviation from the commonly used 2-3-5 system. East Bengal was tactically undone in that match.
Pranab Ganguly, a brilliant dribbler of the ball, scored the opener on 15th minute taking full advantage of the inexperience of a greenhorn defender named Sudhir Karmakar (Karmakar eventually became one of Indian football's all time greats in later years). Then in the 27th minute, Sukalyan Ghosh Dastidar made it 2-0 with a well placed shot. Ganguly grabbed his second and the team's third goal five minutes later with a perfectly executed header. Peter Thangaraj was having a nightmare playing in the East Bengal goal on that day.
Kolkata derbies are kingmakers. A good performance in a derby can write a player's name in the fans' memories for eternity. Pranab Ganguly's performance in this match is a prime example of that fact. Amal Dutta was revered as a hero when the match ended and in later years he became one of the most successful coaches in the history of Indian football.
East Bengal 5-0 Mohun Bagan (Final, IFA Shield, 1975)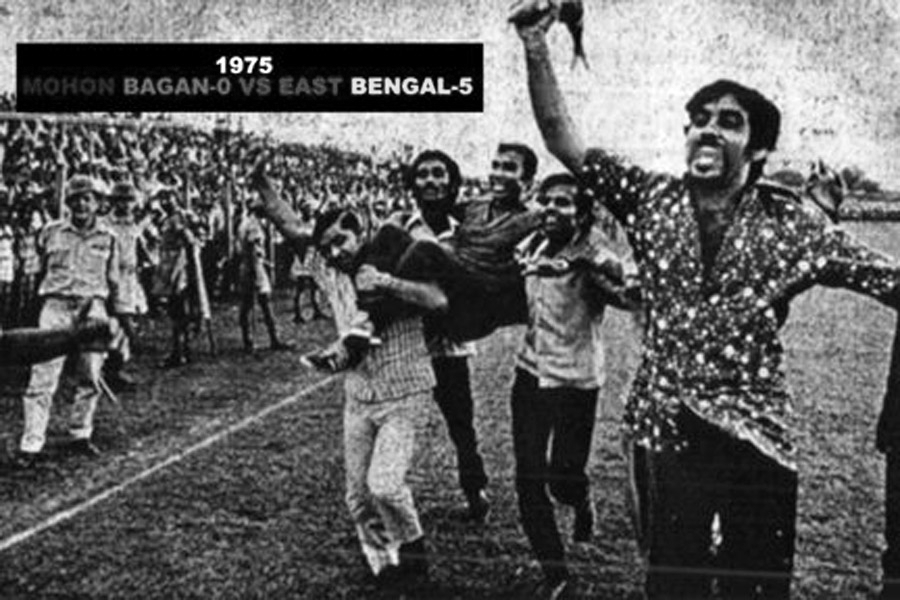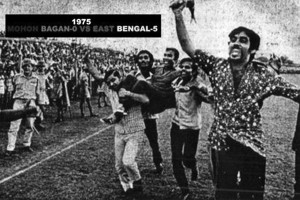 After winning IFA Shield, 1975
In first half of the 70's, East Bengal won every trophy in India with remarkable ease. Most importantly, they didn't lose a single derby match between 1969 and 1975 – for a period of 1932 days. The pinnacle of this run came on 1st October 1975 in IFA shield Final under the coaching of P.K.Banerjee . After winning Calcutta Football League back to back six times in a row, East Bengal was on the verge of a unique record of winning Shield for four back to back seasons.
Surajit Sengupta started the rout, waltzing past two Bagan defenders to score the opening goal after five minutes. Six minutes later, East Bengal was awarded a penalty kick and Shyam Thapa hit his penalty wide of the goal, as East Bengal failed to increase the lead. In the 24th minute, Shyam Thapa made amends for his previous error to make it 2-0 from Subhas Bhowmik's cross. Ranjit Mukherjee's 38th minute goal was perhaps best of the match. After a swift interchange of passes between Sengupta, Thapa and Bhowmik, Mukherjee outfoxed Bagan stopper Nimai Goswami and took an unstoppable shot to make it 3-0. Bagan goal keeper Bhaskar Ganguly spilled a shot from Surajit Sengupta, and Thapa tapped the ball into an open net on the 51st minute to make it 4-0. After the fourth goal Bagan goal keeper Ganguly was substituted by Prashanta Mitra, but even after that Subhankar Sanyal made it 5-0 in the 84th minute.
East Bengal not only created a record of Shield wins, they also made the record of the biggest victory margin in a derby match which is still unbroken. After this devastating loss Bagan fans surrounded the club tent, set some trees on fire; the players were afraid to go out. Popular football players Subrata Bhattacharya and Prasun Banerjee somehow escaped and spent the night on a boat on the Ganges.
Mohun Bagan supporter Umakanta Paladhi committed suicide after seeing his beloved team slump to such a loss. In his suicide note, he wrote that in his next birth he wanted to be born as a Mohun Bagan player and exact revenge for this defeat. This portrays the love and passion of Kolkata football fans for their respective football clubs.
East Bengal 4-1 Mohun Bagan (Semi-Final, Federation Cup, 1997)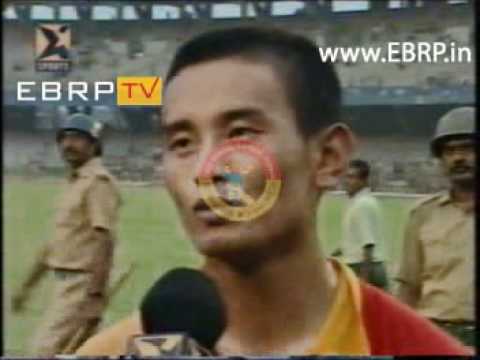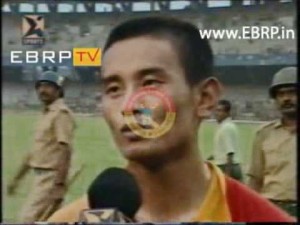 Baichung Bhutia after the match
(Pic courtesy: www.EBRP.in)
The clash in the 1997 Fed Cup semi-final was undoubtedly the most eagerly anticipated match in the all time history of the derby. This was the most intense coaching rivalry of Indian football – P.K Banerjee vs Amal Dutta. P.K is a brilliant man-manager who likes to work with superstars; Dutta on the other hand, is the eccentric tactician who banks on young and unproven players.
Amal Dutta, a pioneer, had introduced a new 3 back Diamond System that season. It was a heavy attacking tactic, which relied on 7-8 players moving into opposition half and raising waves of attacks. Bagan came to play this match after defeating Churchill Brothers by a 6-0 margin in the Fed Cup quarter final. The semi-final was not just a clash of eternal rivals, but also a clash of two tactical minds.
The match was eagerly anticipated and a record 131,000 (still an Asian record) spectator gathered to the Salt Lake stadium, while millions watched from home. Dutta, famous for his colorful pre-match comments, had called Baichung Bhutia as "chung chung" and Samuel Omollo as "omelet" open in the media. Whereas P.K, the shrewd motivator, used these comments to fire up his players.
As expected, Bagan went into first gear from the starting whistle, but East Bengal survived the early pressure and slowly took control of the midfield. Nazimul Haque started the scoring with a wonderful side volley to make it 1-0 for East Bengal.After half-time, the Baichung show began. He leapt brilliantly to connect a corner to make it 2-0. After Cheema made it 2-1, hopes of a Bagan comeback were revived.  But India's finest football player ever Baichung, ensured Bagan's defeat with two more goals in the next twenty minutes. Amal Dutta's strategy of going on all-out attack without defending properly brought about his downfall. Baichung created history by becoming the first player to score a hat-trick in the Kolkata derby.
Mohun Bagan 4-3 East Bengal (Calcutta Football League, 2007)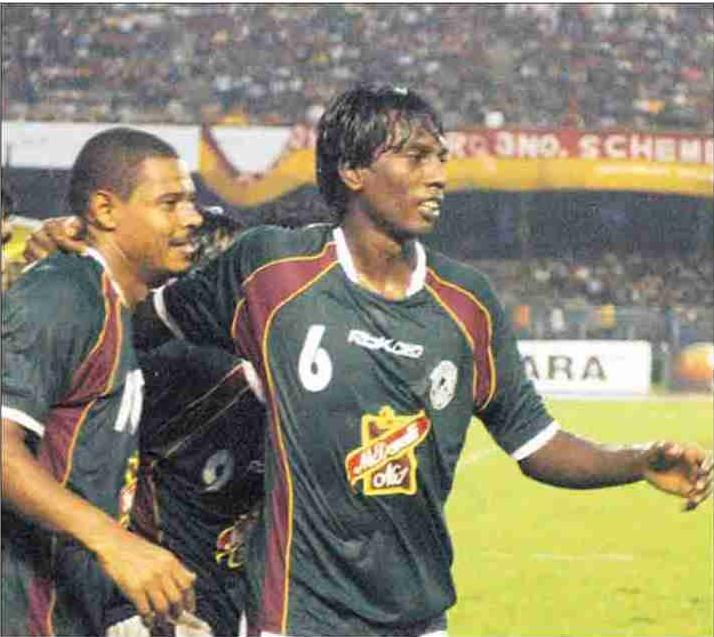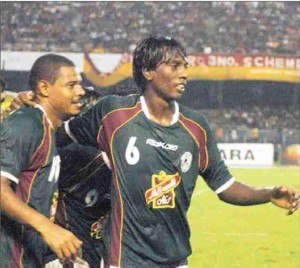 Barreto and Venkatesh during the match
In the start of 2007 season, Subrata Bhattacharya an all time icon player of the Mohun Bagan, shocked the football fraternity in Kolkata by agreeing to coach arch-rivals East Bengal. Many Bagan supporters have still not forgiven him for what they deem was a traitorous act. Ten years after that Fed Cup semi-final, this League match garnered comparable interest among the general public. The man who had been a part of Mohun Bagan for decades would be sitting in their arch-rival's dug out for the first time.
East Bengal started the match on a defensive note. Madhab Das was assigned the job to mark Brazilian icon of Mohun Bagan Jose Ramirez Barreto, but Barreto possessed far too much skill for Das to deal with. Lalampuia scored the first one for Bagan after a wonderful solo run. Barreto, with all his experience, made Madhab Das commit mistake after mistake.Das pulled down Barreto inside the box in the 35th minute, and the Brazilian made no mistake from the spot. Then Venkatesh released a beautiful angular shot to make it 3-0 before half-time. As the teams headed for break, the Bagan fans were anticipating a revenge of the 1975 match. Ironically, Subrata who played in defence in that match, was facing another five goal humiliation as coach.
Things totally changed in the second half. Bhattacharya, renowned for his mettle during his playing days, injected a never say die attitude in his players. East Bengal icon Alvito D'Counha showcased one of the all-time best individual performances in this derby match. He made it 3-1 after just one minute in the second half. Bagan restored the 3-goal advantage with Venkatesh's 2nd goal in the 56th minute, but after the fourth goal, Red and Golds came back into the match when Alvito made it 4-2 with a brilliant drop-shot at the hour mark. Seven minutes later, Brazilian striker Edmilson made it 4-3 from the spot for East Bengal; from there on, the match was heading for a wild, wild finish, but in the end Mohun Bagan hung on to its lead somehow and clinched victory in one of the most memorable encounters.
Mohun Bagan 5-3 East Bengal (I-League, 2009)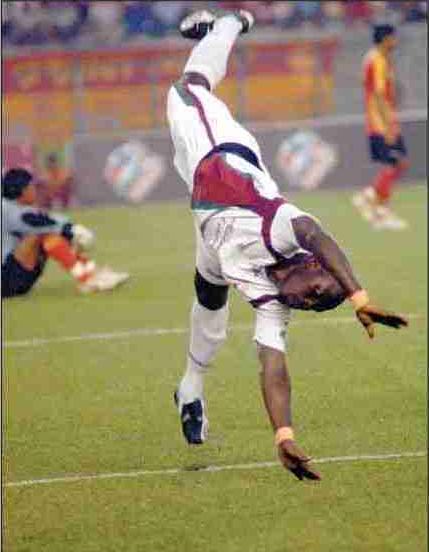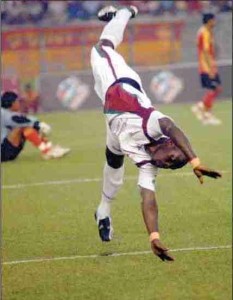 Edeh Chidi celebrating after his hat-trick
For 34 long years, Mohun Bagan fans had carried scar of the 5-0 loss in the Shield Final of 1975. On 25th October, 2009 they finally had a reason to smile. Bagan, for once, had managed to pump 5 goals into East Bengal's net. Edeh Chidi, the man who made this possible walked straight into history books, creating a record that a huge pantheon of superstars never managed to do before.If the match in 1975 was marked by Bagan goal keeper Bhaskar Ganguly's errors, this one in 2009 became a nightmare for both the keepers Shilton Pal and Abhra Mandal, who failed to deal with the pressure of a packed Salt Lake stadium.
Shilton was the first one to concede in the 9th minute – he missed the flight of a corner letting Nirmal Chhetri to make it 1-0 for East Bengal. The lead lasted till 18th minute only. Chidi brushed aside Govin Singh to make it 1-1. Four minutes later, youngster Manish Mathani's long ranger from a Chidi assist made it 2-1 for Bagan. Chidi scored his second goal of the day in the 33rd minute from a cross from Barreto. But their joy stayed no longer. The veteran striker Yusif Yakubu made no mistakes, as East Bengal came back to tie the match at 3-3. Never before in a Kolkata derby have the spectators seen such a score line during half time.
Mohun Bagan coach Bencharifa correctly replaced Shilton Pal with much experienced Sangram Mukherjee in the second half. Mohun Bagan were dealt a severe blow when Jose Barreto had to leave the field due to an injury; Barreto was in tears when he left the field. But undeterred by Barreto's exit, Chidi continued his goal scoring spree.
In the 46th minute, the Nigerian scored from a close range to complete his hattrick. Chidi became the first foreigner to score three goals in a derby clash. It got even better a few minutes later, when the Nigerian headed in a Marcos Perreira free-kick. Chidi became the first player in the history of the derby to score 4 goals in a single encounter. Records tumbled on that fateful day – the most number of goals scored in a derby match, including most goals in the first half.
The biggest irony of the result was the presence of Subhash Bhowmik in East Bengal bench. It was Bhowmik who played a pivotal role in East Bengal's triumphant 5-0 victory 34 years ago. As a coach, he had to bear the ignominy of seeing Bagan overturn that result.
East Bengal 4-0 Mohun Bagan (Calcutta Football League, 2015)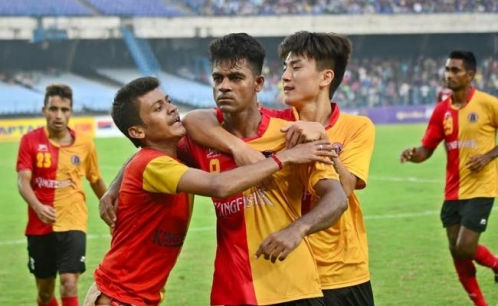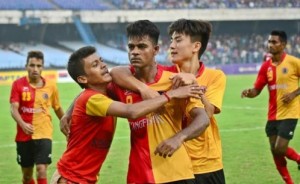 East bengal playes celebrating after 3rd goal
May be not as heroic as the earlier ones, but this match certainly recreated history for East Bengal. On 6th September, 2015 the arch rivals met each other at the Salt Lake Yuva Bharati Krirangan for the 1st derby of the season. Bagan came to this match after winning the I league, most prestigious trophy of Indian football, whereas East Bengal was standing in front of a historic six times back to back Calcutta Football League title. Now a days CFL does not have that much importance or intensity, as most of the important players of both the giants remain busy in either national duty or ISL training camps, but still this is the stage where new talents are tried and tested.
This was the 1st derby for East Bengal's new sensation Do Hyun Dong and this match took him to history. Dong opened the scoring tally in second minute with a swerving free kick from 30 yards distance. He increased the score line to 2-0 again from another free kick before the half time. After half time, things got worse for Bagan, as the Bagan Striker Dudu was shown marching orders. In the 81st minute Rafique increased the lead from header and in the last minute Rahul Bheke added further lead from a corner kick.  East Bengal repeated history of winning CFL back to back 6 times with this victory. Dong won hearts of all East Bengal supporters.