Society
"In Other Words," With Javed Akhtar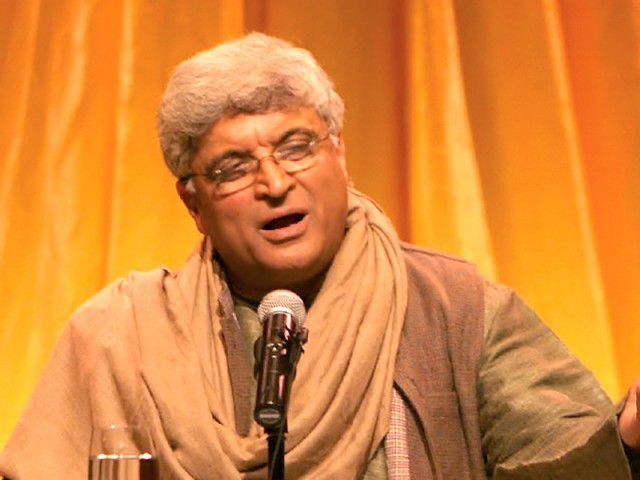 Javed Akhtar was officially named "Jadoo" but was later renamed "Javed" because it was the closest word to "Jadoo" literally meaning magic in Hindi.
He has since been spreading this jadoo in our lives through his work. He is a well renowned and critically acclaimed scriptwriter and lyricist who has been honoring Bollywood by his work. He comes from a family of poets; his father, grandfather and great-grandfather were poets who wrote in Urdu language. He has carried the poetic gene well as he is a poet as well who writes in Urdu as well as Hindi. He is famous for his work in Bollywood but he writes nazms, ghazals, and poems as well. His poetic books include Quiver, Tarkash, and Lava to name a few. All three of these books are well appreciated by poem lovers throughout the country.
His latest book is called "In Other Words". It is a collection of poems and nazms by Javed Akhtar originally written in Urdu but it includes translations in Devanagari script as well as English. A promotional event for the book was kept on 31st of august 2015 at Oxford Bookstore, Connaught Place. Javed Akhtar recited a few poems from his latest book, followed by question and answer session between the audience and the writer. The audience was full of budding writers and poetry lovers. Questions were asked on various topics, ranging from the conflict between India and Pakistan over Kashmir, to how to be a good writer. Nonetheless, the poet gave witty answers which answered the questions as easily as cutting a butter with a knife. The following are some of the questions and answers that I witnessed at the event.
Question: People often say that when a poem or any piece of writing is translated from one language to another it often loses its essence. How much do you agree with that statement?
Answer: I was once told that translating anything from a language to another is like pouring a perfume from one bottle to another. A piece of writing may leave its essence but be thankful that you at least have it. If it was not for translation how would we have known so many great pieces of work.
Question: As a new budding writer, what should I do to grow as a writer?
Answer: Well, there is no crash course for writing. If you want to write then first, you must read. It is important to read if you want to write. Read anything and everything. From great classics to modern to postmodern. Anything from Shakespeare to the book sold at railway stations because no piece pf writing is useless or less than any.
The writers whose books are sold at railway stations may not have content or proper knowledge, but they have the knowledge on how to keep the reader engaged, because they know that the reader may stop reading at any point. The classics however are very strict to their ways. They don't care anymore if anybody reads them or not. So if you want to be a good writer then read.
Question: I am a writer, and as a writer many people who read my work often asks me how much of me is in my work. So to be precise, how much of you is there in your work?
Answer: As a writer, everything that I write is a part of me, whether it may be a princess and prince love story, or a villain. All that I write comes from me.
If I'm writing about a villain, I will write it's character with all the qualities that I think a villain should possess, or the qualities which I don't like. Same if I'm writing about a princess, I'll write it with all the qualities that I think a princess should possess, or qualities that I like.
Question: People often asks artists where did you get your inspiration from? Or how did you come up with this character or idea? But as an artist I don't know how to answer that. How do you answer to such questions?
Answer: There is no such inspiration when I write. I write because I randomly think of it and want to write. It's my choice I write, it's not because I see a man and I'll start writing about a hero based from a man that I saw.
Mostly artists write, or work in a room, there is nothing inspirational in that. Also, I feel telling that a character or anything, is based on such and such thing just lessens its value and creativity. A reader's mind can perceive a thing differently and even much better than what a writer intended it to be.
Question: Do you think that work of artists is effected by the time limits that they are given nowadays?
Answer: I believe there are two types of writing. One is what I want to write for myself. What I want to write. Another type is what I'm writing for another person. It may be commercial. As a lyricist, I get a time limit and even a tune on based of which I have to write lyrics, but as a writer, I can write whatever I want. So it's all about how you manage both of them.