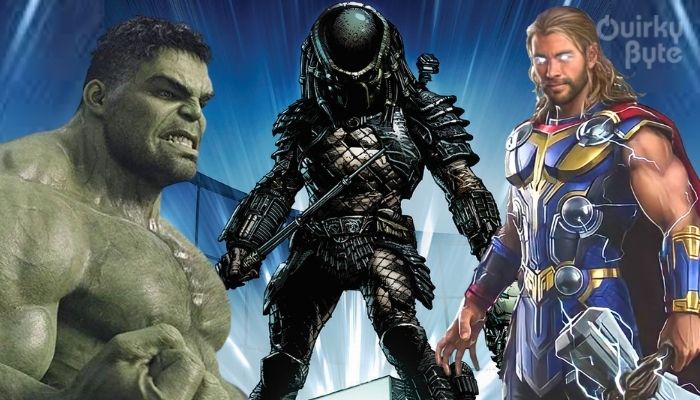 Marvel Comics is a weird place full of wonder and intrigue. The characters have been more eccentric from the very start. Also, the moral compass of Marvel has always been fairly vague. While DC treats 'taking a life' as something that heroes should never do, Marvel doesn't seem to both with the moral problem. It may not be complete insensitivity, it is a bit eccentric, as I previously said. This fact has never been clearer than in the new preview I am about to show you. Predator fights Hulk, Thor, and others in these comic covers in his Marvel debut. Take a look.
Predator Vs Spider-Man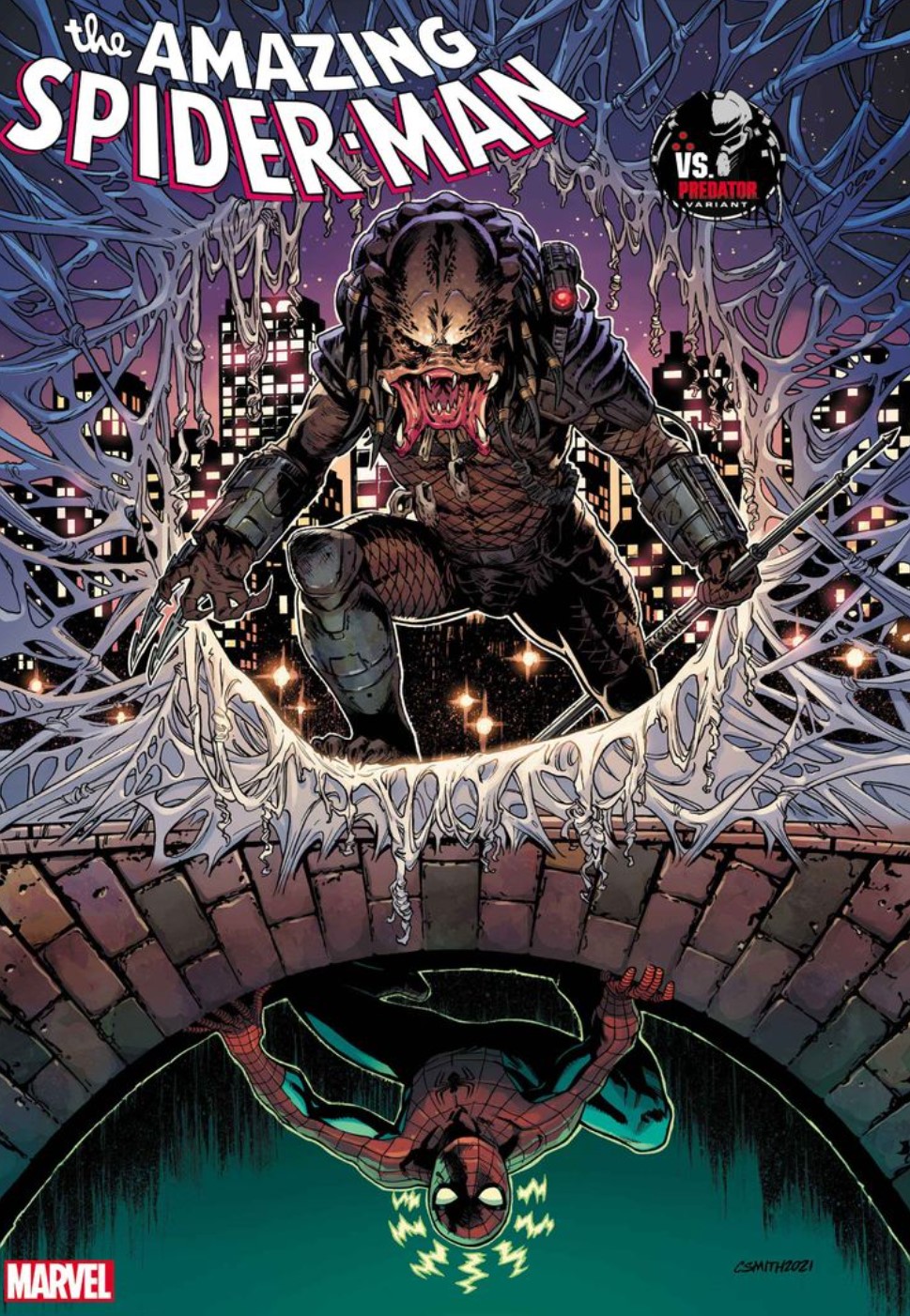 In this variant cover by Cory Smith for The Amazing Spider-Man #7, we can see The Predator stalking the Spider-Man himself. Whether Spider-man will be caught in his net or spin some web of his own remains to be seen. But the Predator seems to have no problem slicing through steel like the webbing of Spider-Man.
Predator Vs Spider-Woman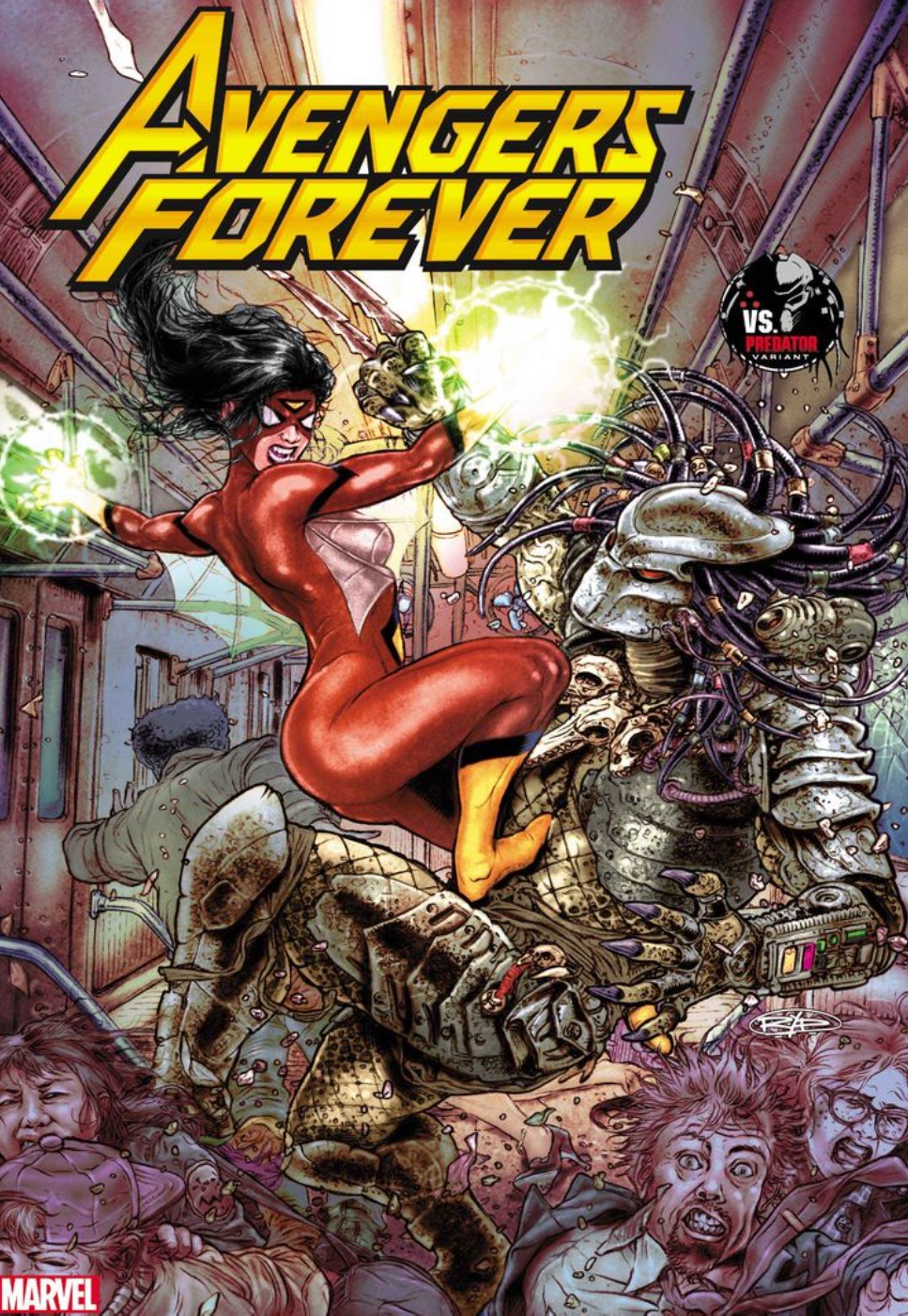 In this variant cover for Avengers Forever #8 by Juan Jose Ryp, we can see Spider-Woman taking on the Predator in the midst of the New York subway. The two seem to be going at it in full force even though there are a lot of innocent people around them. Spider-Woman needs to be more careful about where she picks fights.
Predator Stalks Captain America
In this variant cover by Captain America: Sentinel of Liberty #2 by Iban Coello from Marvel Comics you can see the Predator surfaces from deep within the ocean in a way that would scare everyone out of their minds. Captain America still holds onto his composure and raises his shield to defend against the beast. We wonder what the next panel would look like.
Elektra Takes On The Predator
In an alternate cover for Daredevil #2 from Marvel Comics by Bill Sienkiewicz, we can see a beautiful rendition of Elektra taking on the Predator. It seems to be a jungle setting and Elektra seems to be getting stalked by the Predator himself. The lake and the mountains blend in really well with the figure of The Predator himself.
The First Family Takes On The Predator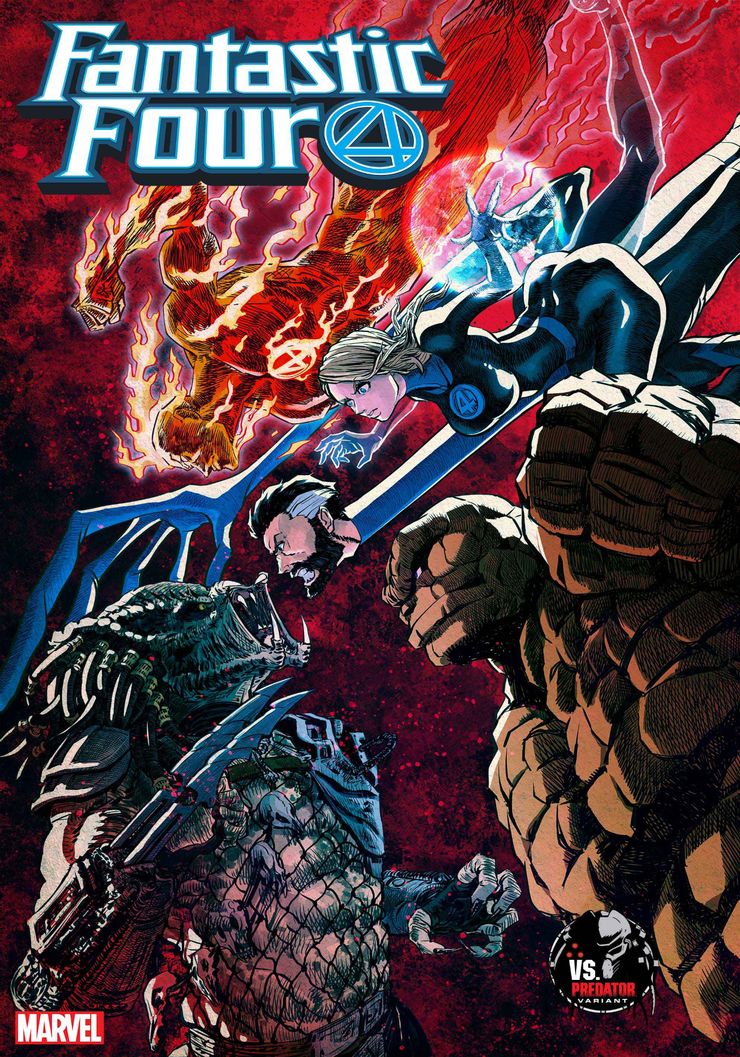 The first family of Marvel takes on the Predator in this alternate cover for Fantastic Four #46 by Superlog. It almost looks like The Fantastic Four are trying to deal with an extraterrestrial threat like they always do. Dare I say that The Predator fits awfully well in The Fantastic Four aesthetic in this incredible art.
Predator Fights Hulk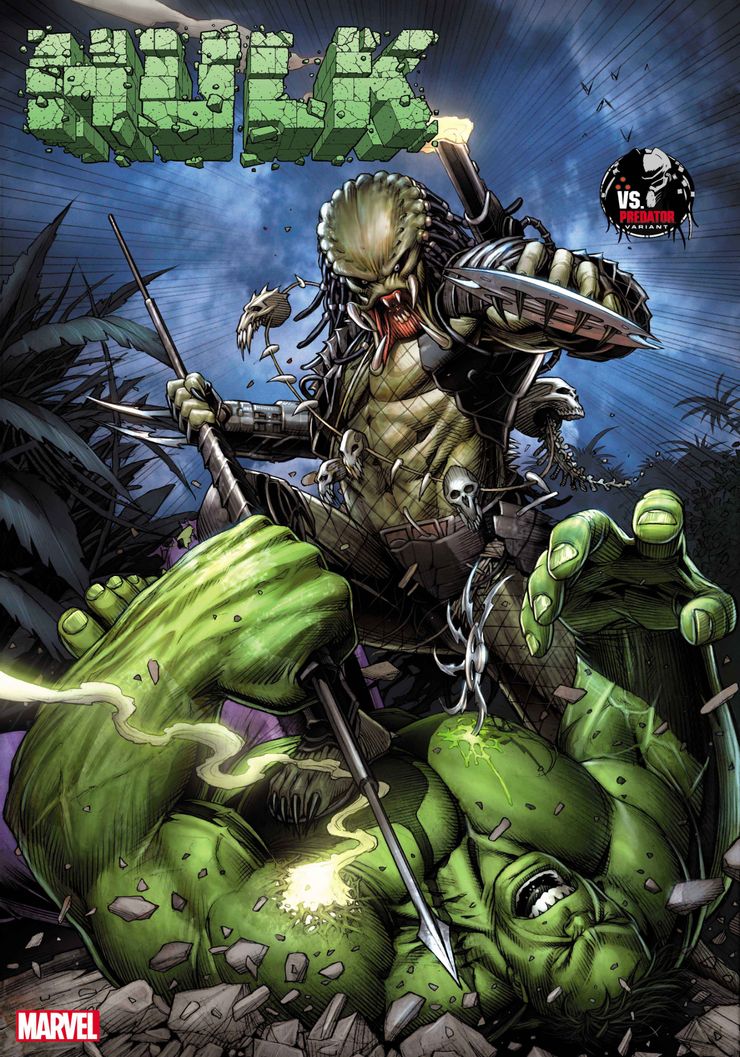 In a new variant cover for Hulk #9 by Dale Keown, we get a rendition of The PRedator knocking down The Hulk while wearing some knuckles. The beast clearly has a lot of raw strength. It is not easy to knock over the green giant after you've already made him mad.
The Mighty Thor Brings Down Her Divine Judgement On The Predator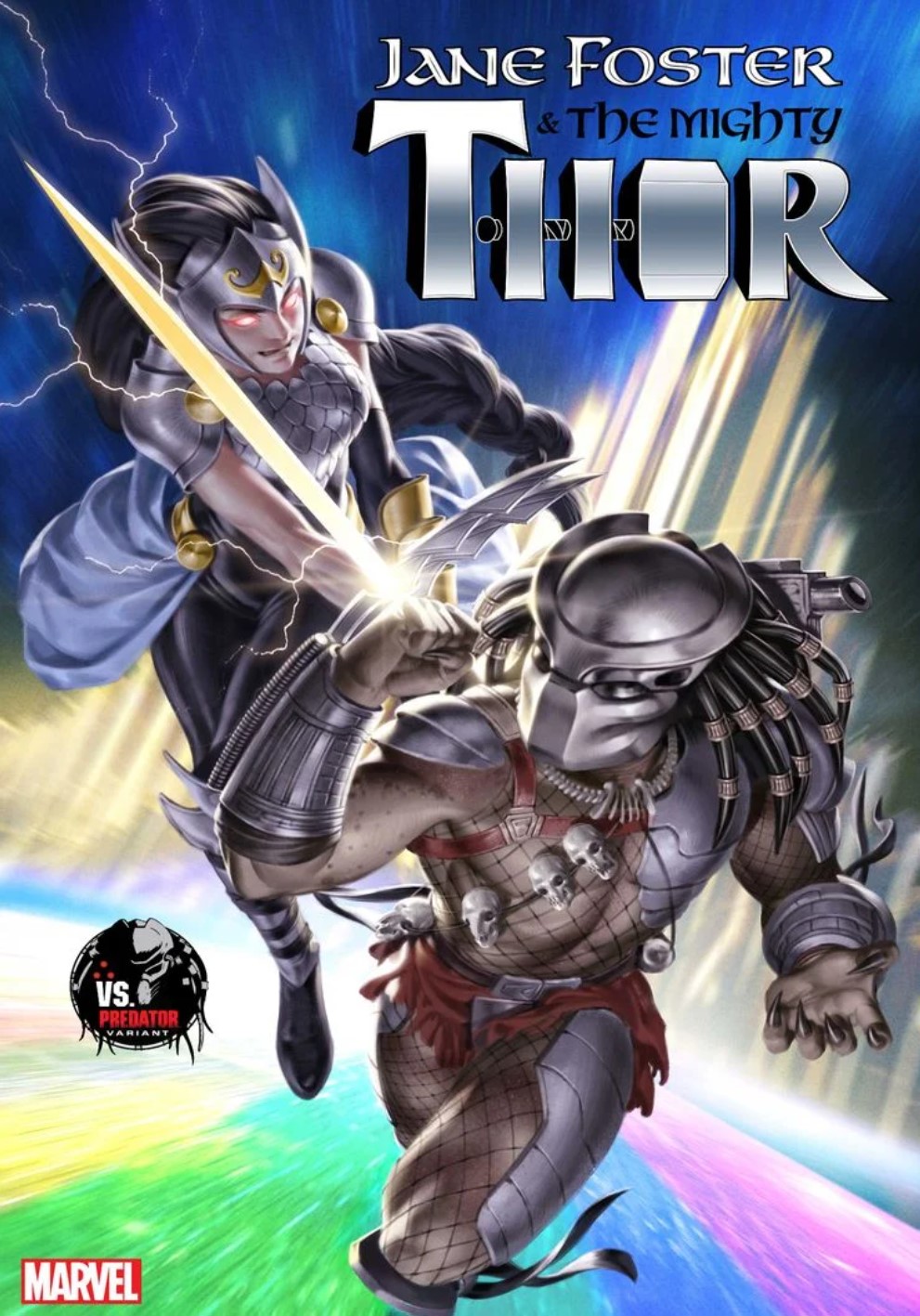 In this alternate cover for  Jane Foster & The Mighty Thor #2 from Marvel Comics by Junggeun Yoon, you can see a fantastic rendition of a fight between The Mighty Thor and The Predator. Both seem to be cruising through outer space while battling with sharp weapons. Jane with her sword and The Predator with his retractable blades.
Miles Morales Vs The Predator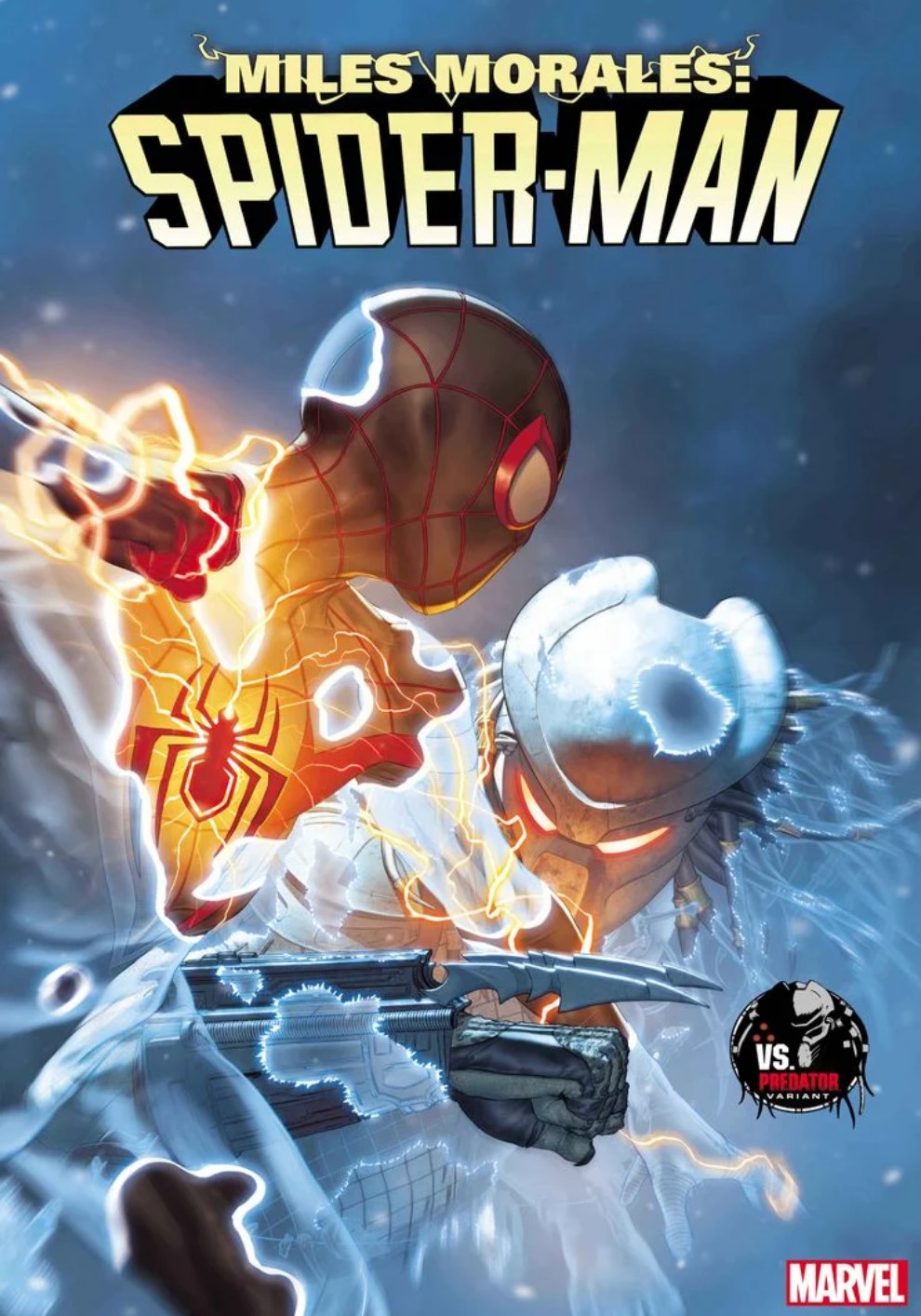 Miles Morales: Spider-Man #40 by Mattia De Iulis showcases a different cover with Miles Morales taking on The Predator. This time both characters are using their stealth abilities and Miles is even charging up a venom punch. If we ever get to see this fight then we would jump out of our seats with excitement.
Black Widow Vs The Predator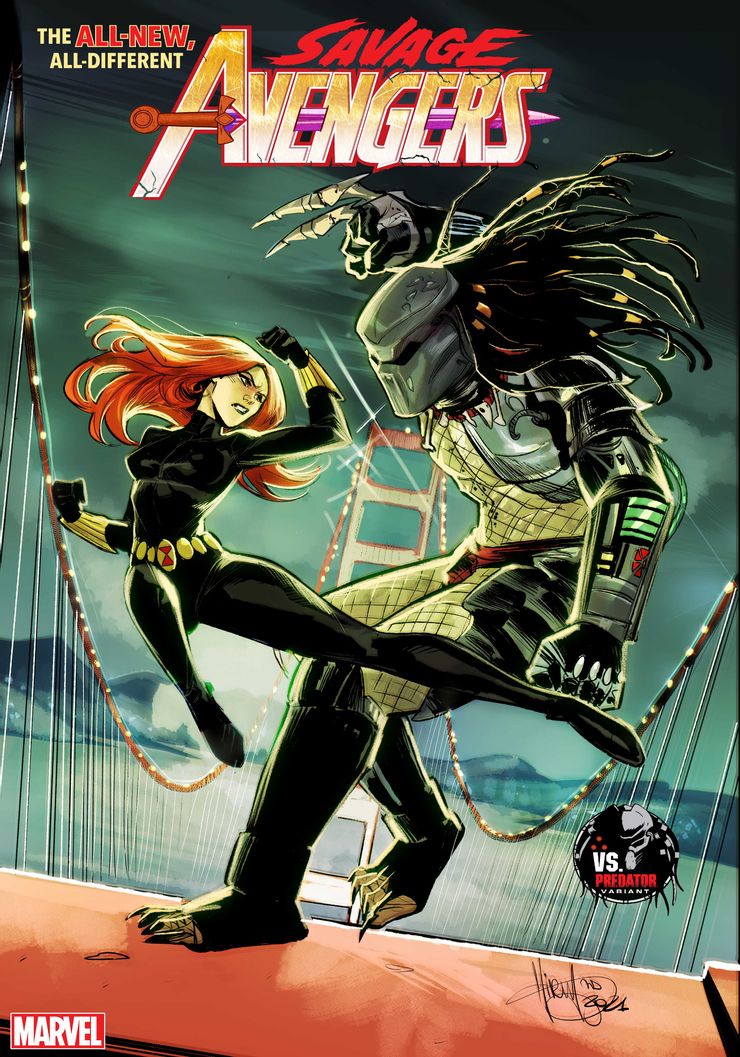 Black Widow is probably the most lethal hand-to-hand combatant in the Marvel Multiverse. Her skills are showcased in their full glory in Mirka Andolfo's cover for Savage Avengers #3 from Marvel Comics as reproduced above. The Widow is even weaning a classic utility belt with her call sign in the belt buckle. The art style is reminiscent of old-school animated shows. Truly amazing.
X-Men Vs The Predator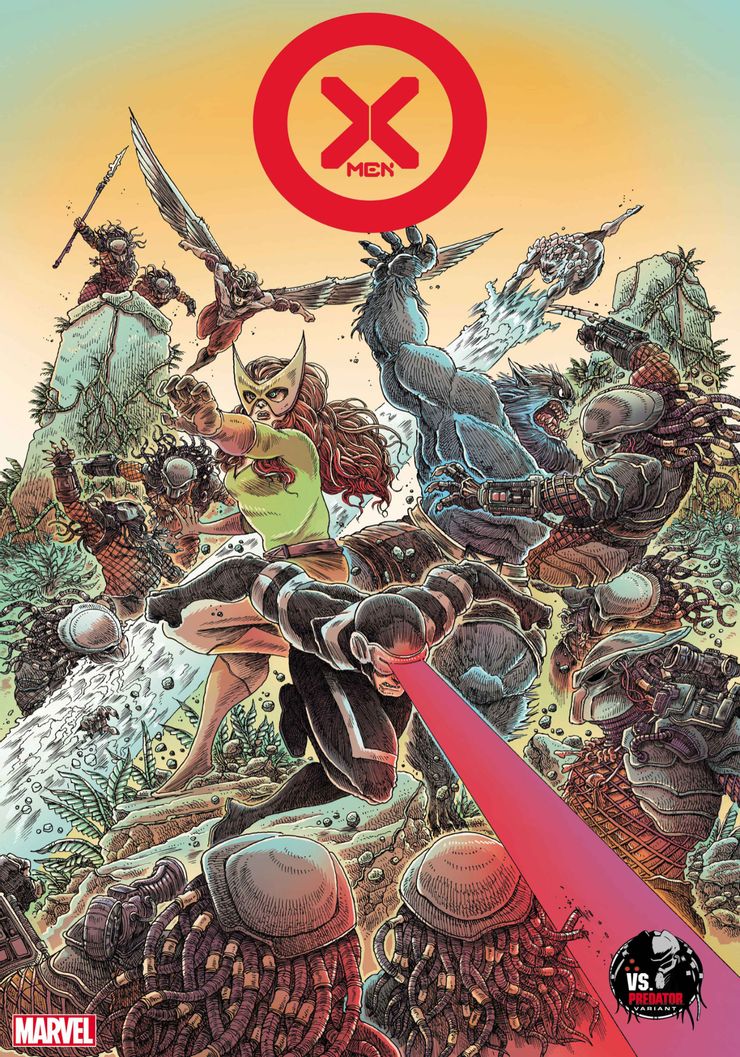 In this new cover from artist James Stokoe for X-Men #13, you can find the X-Men taking on The Predator in a desperate battle for control. It seems like the team is fighting an entire army of Predators that keep crawling out of the woodwork.
Predator fights Hulk, Thor, and others, what are your views on it? Share your views in the comments below.
Follow us on Facebook, Instagram & Twitter for more content.
Also Watch: