News
A Possible Daredevil Connection In Hawkeye Has Been Pointed Out By The Fans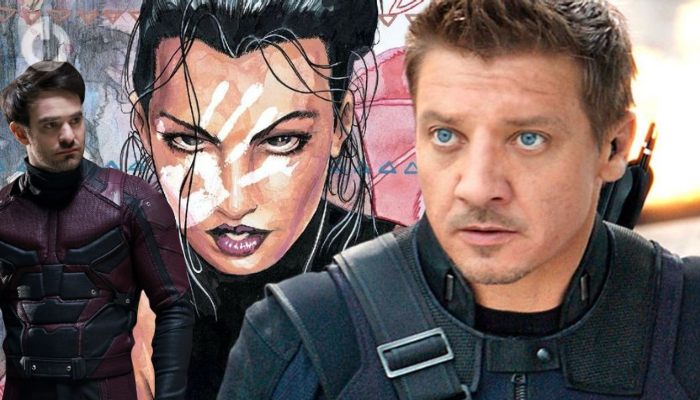 The Marvel Cinematic Universe has come to a point where even the best of the Avengers are being given their own OTT series. It is Marvel getting with the times as they start to Navigate the media world post-pandemic. COVID has changed a lot of things in the industry and a shift from a movie-based universe to an OTT-based one is readily apparent. In this year itself, Marvel has released three series and is now set to release another one with the main Avenger headlining it. Hawkeye is set to hit Disney+ on 24th November, just in time for Christmas. We received a trailer for Hawkeye and now we think that the series is going to be an explosive addition to Marvel's roster. But the most interesting part is that the fandom noticed a Daredevil connection in Hawkeye. Read on to find out more about this.
There is a snippet in the trailer that solidifies this theory about a Daredevil connection. You see, we see the above image in the trailer which is said to be of Alaqua Cox's Echo. Now many of you may not know but Echo is not a character from Hawkeye comics. In fact, she is a supporting character to Daredevil, which is rather interesting. This is because Hawkeye is set in New York, which is Daredevil's playground. There is not much that goes on in Hell's Kitchen without Daredevil finding out about it. The man is possessed with the spirit of justice. He proved as much during his own short series. Now there is a character in the Hawkeye trailer that traces its origins to Daredevil comics. It makes us think that the people at Marvel Studios are trying to bring Murdock back in.
Who is Echo?
Echo is a deaf superhero who works much like Daredevil himself. While our hero has bat-like senses, this particular femme fatale has photographic reflexes. She is deaf by birth but possesses these amazing skills that allow her to ascend any normal human being. She was the daughter of a thug called Crazy Horse (Willie Lopez) who was killed by Wilson Fisk (Kingpin). Her father died leaving a bloody handprint on the deaf girl's face and asked Kingpin to take care of the daughter. The Villain obliged as he came to the conclusion that the girl has incredible skills and gave her the care and the training she needed. Soon she was considered one of the most proficient pianists in the world, a skill she developed just by observing others.
Eventually, she was brought back by Kingpin and sent after Matt Murdock. Wilson Fisk planned on sending his adoptive daughter to expose the weakness of Murdock. This was done by ensuring that Maya Lopez aka Echo believed Fisk to be a good person. Soon Matt and Maya fell in love and started an affair unbeknownst to Kingpin. The crime lord then sent Echo to hunt down Daredevil. His logic was that the gifted girl could outsmart and outmaneuver the vigilante. Fisk was correct in his estimation as Maya learned all of Daredevil's movies from watching a recording of his and Bullseye's fight. Furthermore, she also figured out that the hero could fight better in the darkness. So she lured Daredevil into an arena where his heightened senses were useless.
Daredevil Connection In Hawkeye
This allowed Echo to overpower the hero and claim victory. She would have killed the hero if she did not realize that it is Matt behind the mask. It was an eye-opening moment for the heroine. After this confrontation, Matt was able to correct Maya's misconceptions about Fisk and the pair took down Kingpin together. Maya even blinded the villain with a gunshot to the face. This is all very dramatic, but it also shows the relevance of Echo in the larger story of Daredevil. With such an important character making her debut in Hawkeye it is almost confirmed that Matt will show up sooner or later.
More interestingly, there is said to be an Echo Disney+ series under development which goes to show that Marvel is not done with these characters yet. We may get the triumphant return of Matt Murdock, The Punisher, and Wilson Fisk with the Hawkeye series. What do you think of this Daredevil connection in Hawkeye trailer? Do you believe that Daredevil will return in Hawkeye? Let us know in the comments.
Follow us on Facebook, Instagram & Twitter for more content.
Also Watch: