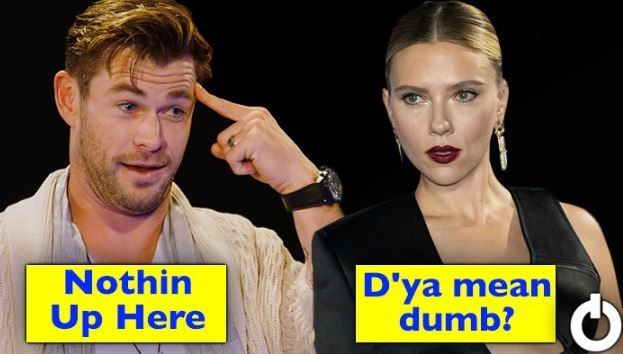 The Marvel Cinematic Universe started 12 years ago. So many years are enough time for actors to form close bonds and almost become like a family. The Avengers stars broke the ice a decade ago and now know one another personally outside the sets as well. These actors are known for their sharp sense of humor as most of the hilarious Avenger moments on the screen are impromptu. They share the same amount of fun and wit off-screen. We have seen glimpses of their bantering and joke in interviews and public events where the actors end up roasting each other. They have learnt a lot about their fellow actors from the sets and use that knowledge to tease each other. Here are 12 times MCU actors trolled each other during interviews.
 1. Scarlett's Christmas Gift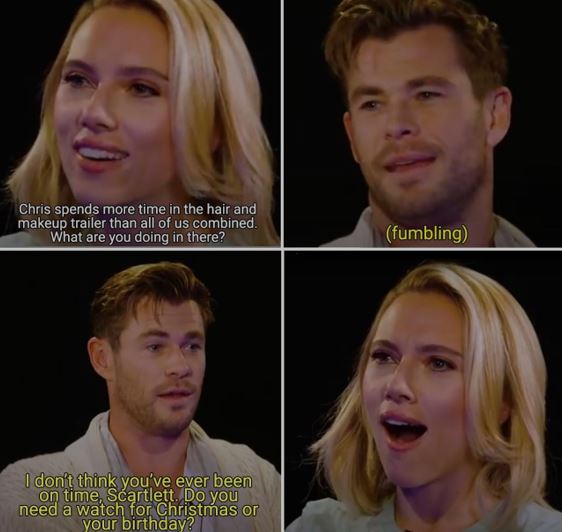 Once Scarlett was telling the interviewer how Chris Hemsworth spent the most time in the trailer, fixing his hair and makeup. The Thor actor gave a savage reply and asked Scarlett if she wanted a watch for Christmas or birthday since she was always late to the sets.
 2. Scarlett Has Lost It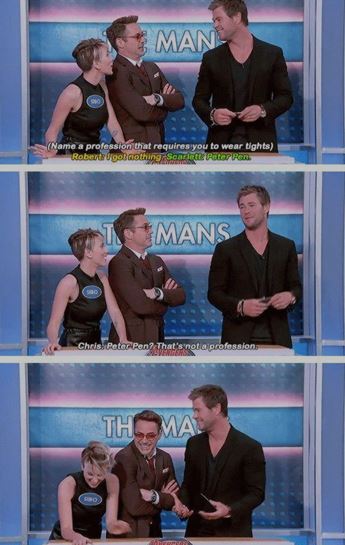 Scarlett Johansson, Robert Downey Jr., and Chris Hemsworth were in a game where they had to name a profession that required people to wear tights. While RDJ gave up, Scarlett confidently said "Peter Pan". To this, Hemsworth responded in shock and asked her "Peter Pan? That's not a profession".
 3. In What Universe Is That RDJ?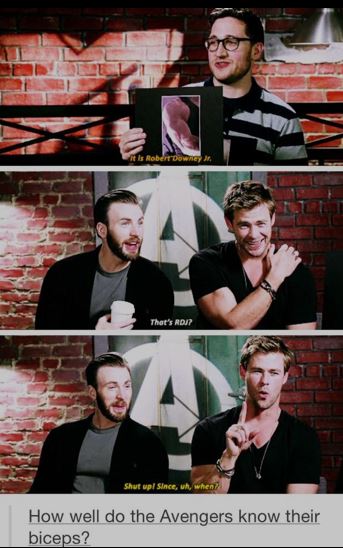 When Chris Hemsworth and Chris Evans were shown a picture of an arm with sharp biceps, the two hunks thought that it was them. Evans was sure it was his arm when he woke up while Hemsworth couldn't picture anyone but himself. But when the interviewer revealed that it was Robert Downey Jr., the stars went for a strong denial. Hemsworth asked straight away "Shut up! Since, uh, when?"
 4. When Hemsworth Questioned Scarlett's Intelligence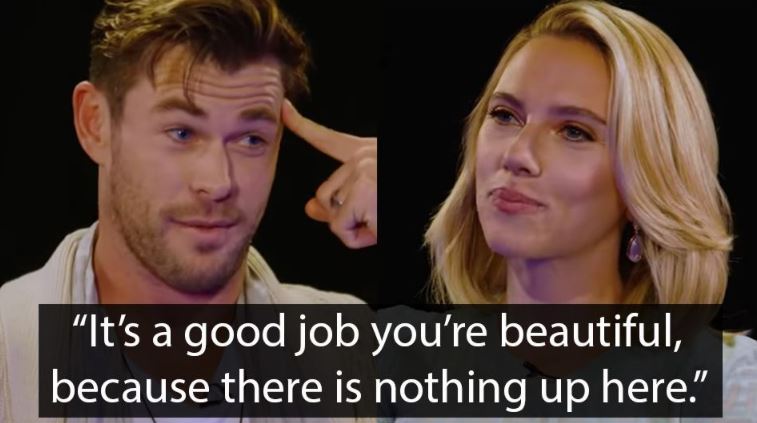 Chris Hemsworth and Scarlett Johansson were supposed to insult each other in an interview. As Scarlett called him ugly, Hemsworth said that he had inner beauty which Scarlett lacked. He also went on to call Scarlett beautiful but added that she had nothing in her head.
 5. Tom Holland Is A Kid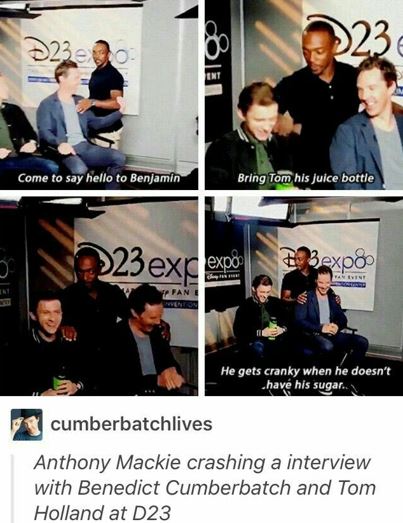 Anthony Mackie and Tom Holland's digs at each other are all over the internet. When asked how it was to work with the Avengers, Mackie said it was all good until Tom Holland showed up with his juice boxes. He added that Holland was a diva with his assistants. As Sebastian jumped in and said that now Holland has upgraded since the new movie, Mackie agreed that he upgraded with two assistants and juice boxes. Mackie also crashed Holland's interview once, only to give him his juice boxes so the kid wouldn't lose his temper.
 6. Spider-Man Vs Falcon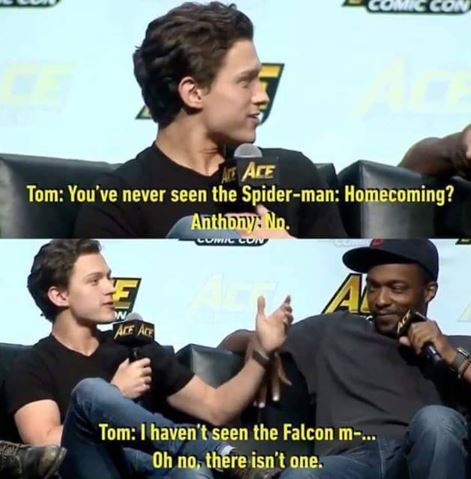 Tom Holland and Anthony Mackie were in an interview when Anthony shocked Tom by coolly confessing that he hadn't seen Spider-Man: Homecoming. Tom takes it lightly but burns Anthony with his comeback. He says "I haven't seen the Falcon movie- oh wait, there isn't one."
 7. Is Chris Evans A Daddy?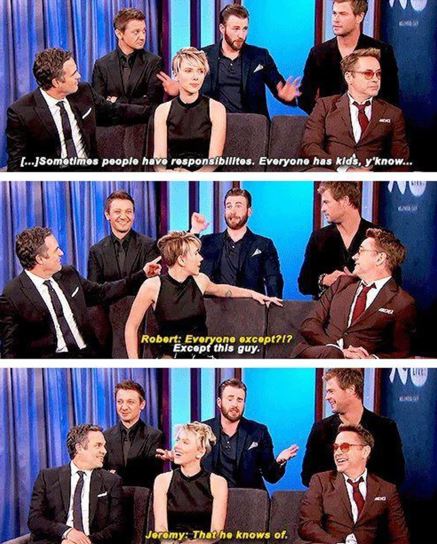 During one of the interviews, Evans indirectly brags about his awesome days as a bachelor without kids. He says that everyone has responsibilities since they have kids. To this RDJ asks "everyone except…..?" and Evans points at himself. But then Jeremy Renner completes the line by adding "That he knows of". Woah! Imagine a surprise Chris Evans baby shows up.
 8. Anthony Didn't Forget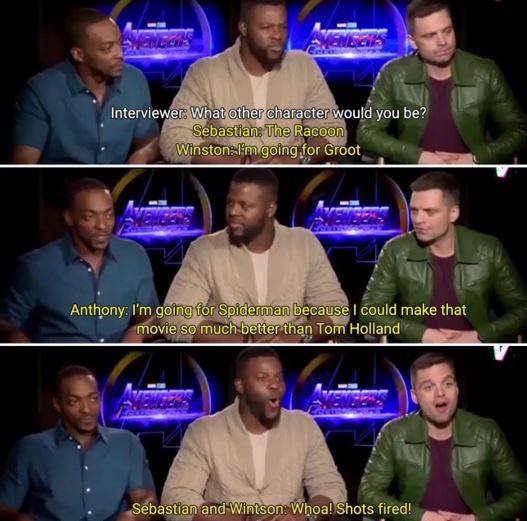 Mackie may not have seen Spider-Man: Homecoming but he clearly envies Tom Holland for that role. Evidently, it isn't Spider-Man but Holland that Anthony isn't a fan of. When Mackie, Sebastian, and Winston were asked which other characters they'd like to play, Sebastian and Winston go for Raccoon and Groot, respectively. But Anthony took it another level and replied Spider-Man because he felt that he "could make that movie so much better than Tom Holland".
 9. No One Will Take Holland Seriously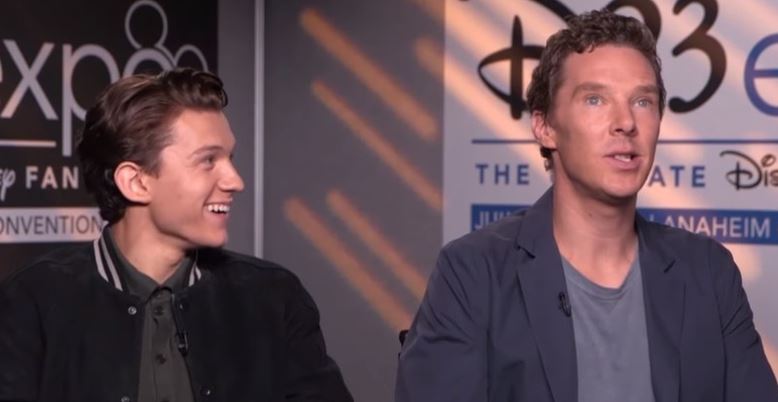 Poor Tom Holland is the most roasted actor in the Avengers team. Everyone treats him like a baby and comes up with new jokes targeting his age. Once, Benedict Cumberbatch said that Holland needed a separate red carpet so he could join the Toy Story 3 premiere.
 10. Guess The Arm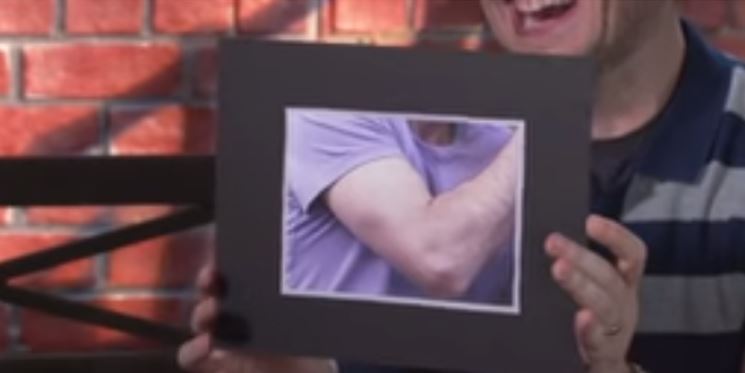 No one could guess RDJ's muscular arm but it didn't take them a second to crack Mark Ruffalo's arm. Most of the Avengers cast said that the hairy arm in purple t-short couldn't belong to anyone but Mark.
 11. Hemsworth Wants To Adopt Evans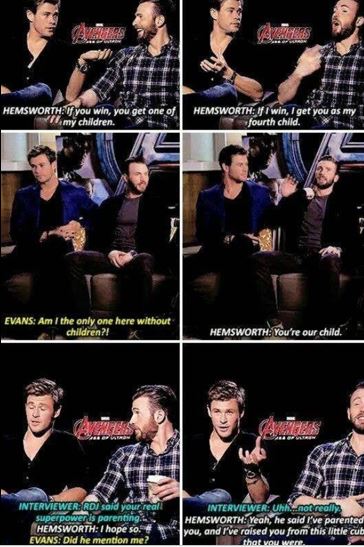 Instead of sharing his surname, Chris Hemsworth's fourth child has his name. Hemsworth has shown interest in adopting Chris Evans in several interviews. Once he told Evans "If you win, you get one of my children, if I win, I get you as my fourth child." In another event when Chris Evans asks out loud if he is "the only one here without children", Hemsworth calls him his child again.
 12. When Evans And Olsen "Secretly" Dated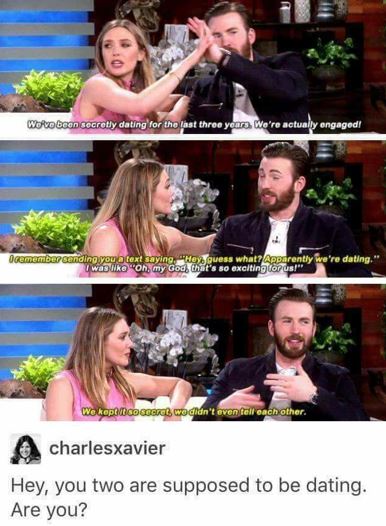 Chris Evans and Elizabeth Olsen hilariously trolled the rumors about them dating each other. They said that it was such a big secret that even they didn't let each other know. They further added that when they heard they were in a relationship form tabloids, the two decided to get engaged.