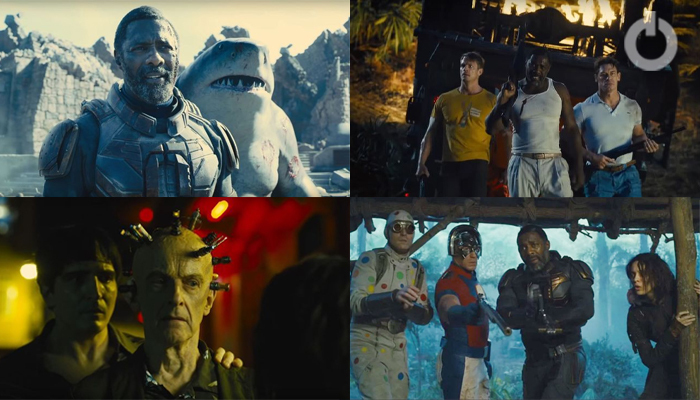 James Gunn's The Suicide Squad is the next big project after Zack Snyder's Justice League. With this, DC becomes more and more promising. The first version of Task Force X debuted in 1959 and was created by Robert Kanigher and Ross Andru. Gunn's new brainchild is not a typical reboot but it is a proper redo. The group was first brought to the screen by David Ayer in the form of 2016's Suicide Squad. But now, it's Gunn's turn. He has impressed us quite a lot with the two trailers. And these two trailers have also confirmed quite a few amazing team-ups amongst all the villains. We've covered 12 squads in the first Volume of this article. So be sure to check that out if you haven't. Here's the second volume of all Team-Ups confirmed for The Suicide Squad:
Polka-Dot Man, Peacemaker, Bloodsport, And Ratcatcher 2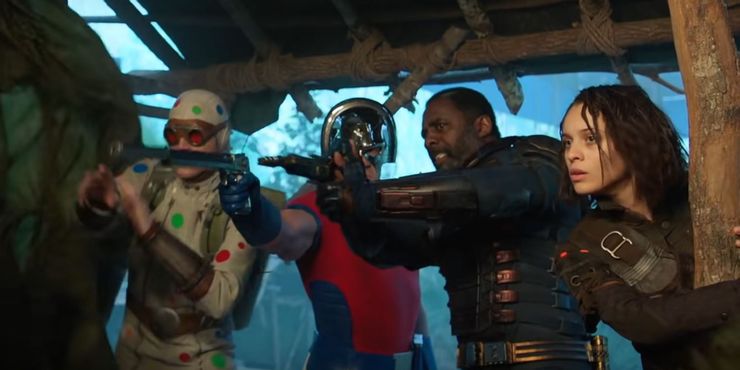 Early on, images hinted that the members of this squad would be a different team. But at the 1:36 mark in the footage, Polka-Dot Man, Peacemaker, Bloodsport, And Ratcatcher 2 are seen together looking as if they're ready for a confrontation. The scene shows Ratcatcher holding the opening of a tent-like structure, while Peacemaker and Bloodsport have their weapons ready to be blasted off. On the other hand, the Polka-Dot Man looks ready to unleash his gadgets too.
Rick Flag And Bloodsport (+ Harley Quinn, Peacemaker, Ratcatcher, Polka-Dot Man, King Shark, And The Thinker)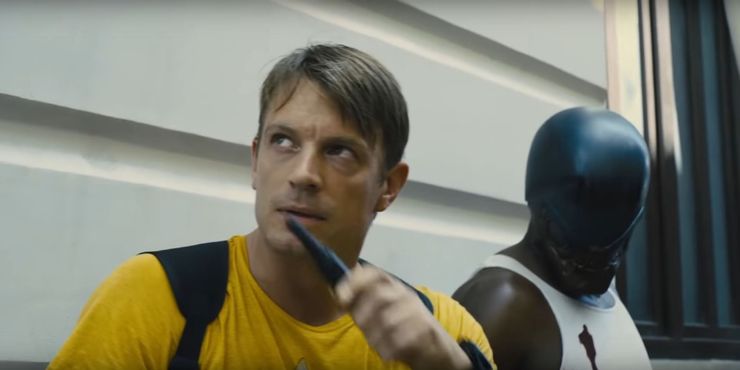 The squad that is assembled is full of misfits and is almost dysfunctional. Something of the same sort was seen in the first trailer as the gang gets ready to rescue Harley Quinn. But Peacemaker suggests otherwise, and Rick Flag is heard saying, "never leave one of their own behind." In this scene, Flag and Bloodshot break off separately to take direct action, meanwhile, Peacemaker, King Shark, Ratcatcher 2, and The Thinker take separation positions providing assistance. But Harley being the freak she is has already rescued herself. This scene proves that Rick Flag is concerned for the team, unlike Amanda Waller.
Ratcatcher 2 And Bloodsport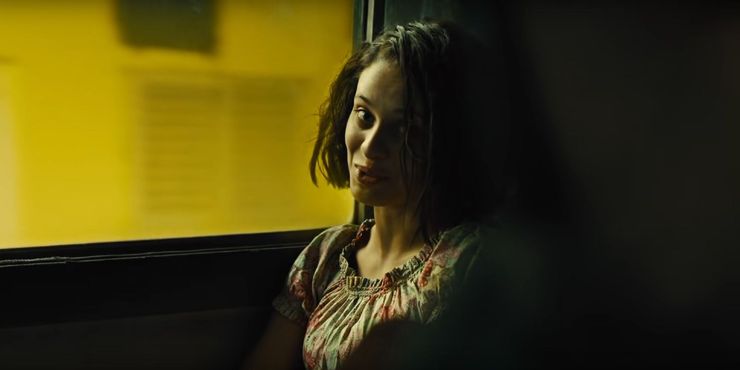 This is an essential scene as it reveals the emotionally heavier side of the movie apart from all the blood, drama, and violence. The scene reveals Ratcatcher and Bloodsport in a bus in really casual attires. So it makes it tough for us to fathom when and why this scene will take place in the movie. Their conversation reveals a lighter side of the movie. This is the moment when Bloodsport vows that he will ensure that Ratcatcher makes it out of the mission alive.
Bloodsport And King Shark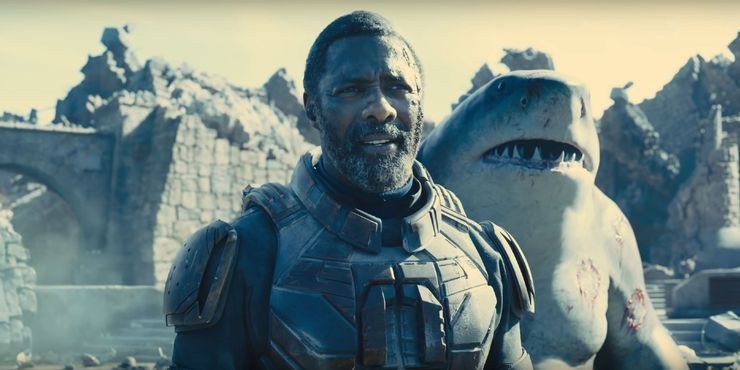 I was really excited to see this scene. In all honesty, I really want to see King Shark's subtle humor flowing through the movie. The unlikely duo of Bloodsport and King Shark enjoy a blink-and-miss-moment at the 1:49 mark. In this scene, King Shark can be seen staring at a giant fish tank breaking open and getting washed down. Behind him, we can spot King Shark. This also suggests that they broke off with the squad's course for a while infiltrating the Project Starfish's facilities on Corto Maltese.
Bloodsport And Peacemaker (+ Ratcatcher 2 And King Shark)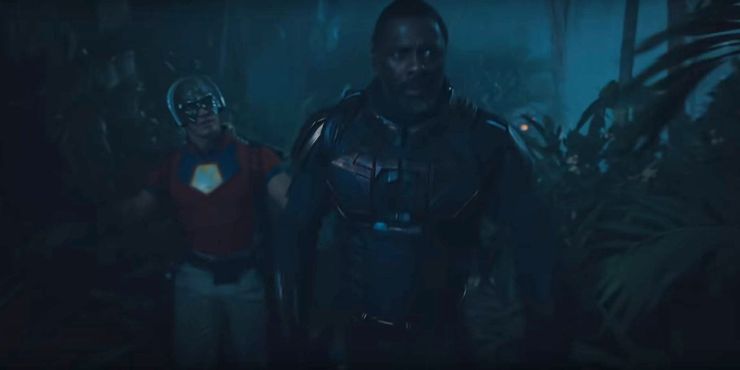 Having two giants in the same scene calls for a verbal spar. This is exactly what we witness between Peacemaker and Bloodsport as the former questions why Bloodsport isn't a more decisive leader. Peacemaker's idea then drags Ratcatcher 2 into the discussion while they trek through the jungles of Corto Maltese. I am so excited to see their banter throughout the movie. This is a callback to my point of James Gunn's unique sense of humor.
Peacemaker And Ratcatcher 2
It's good to see that Gunn's Suicide Squad also includes the anti-heroes squad's chilling time. A quick flash reveals Ratcatcher and Peacemaker enjoying a dance together in a local Corto Maltese club. This may also explain the aforementioned change in the costume of Ratcatcher. While this scene could be purely for some comic relief, it may also hint at some connection between Ratcher and Peacemaker. And of course, every relation made will be seen when on the battlefield.
The Thinker And Polka-Dot Man (+ Ratcatcher 2?)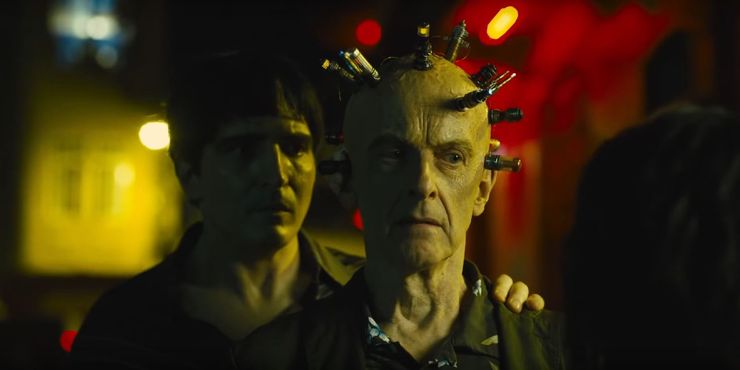 This is one of the lighter scenes in the movie. This is another unlikely duo consisting of the Polka-Dot Man and The Thinker. I personally cannot determine what's going on in the scene, but we can see that the Polka-Dot Man has firmly placed his hand on Thinker's shoulder. Meanwhile, the latter has his eyes fixed on a woman who appears to be Ratcatcher. This is my personal guess. But in actuality, it could be a different character altogether.
Rick Flag, Bloodsport, And Peacemaker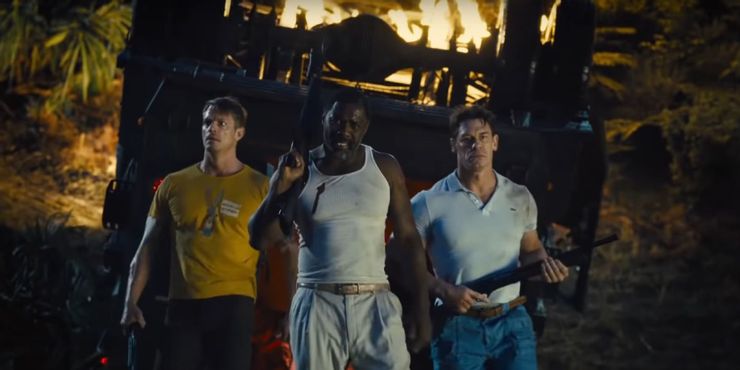 All the three characters in this scene emanate pure charisma and a sense of frustration. In this scene, Bloodsport commands "Let's get it!" as Rick Flag, Peacemaker, and himself march towards like a symphony. There's fire growing behind them assisted with a turned-over vehicle. But it looks like real chaos is about to happen right after this heavy scene. Moreover, the costume could reveal that this happens after they've enjoyed their time at the local club.
Rick Flag, The Thinker, Bloodsport, And Polka-Dot Man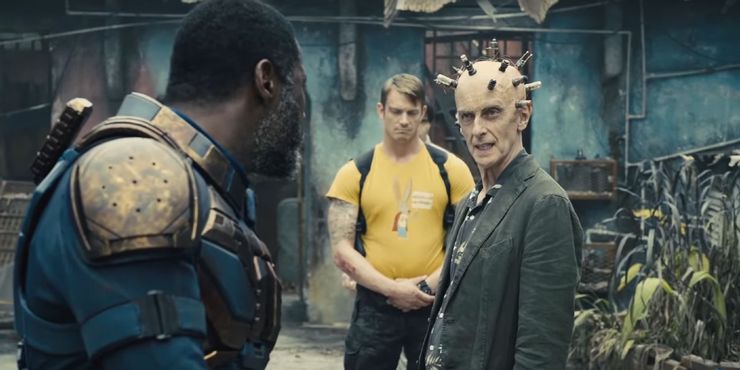 Another appearance of The Thinker was in the second trailer. He is seen talking to Bloodsport saying, "This is suicide." He is obviously referring to the squad's next move. In the background, we can see Rick Flag overhearing the conversation. Rick then responds to The Thinker agreeing with him and saying, "That's kind of our thing". The absence of the rest of the members could mean a lot of things, the prominent one being that they're all dead by this scene.
Ratcatcher 2, Harley Quinn, Bloodsport, King Shark, And Polka-Dot Man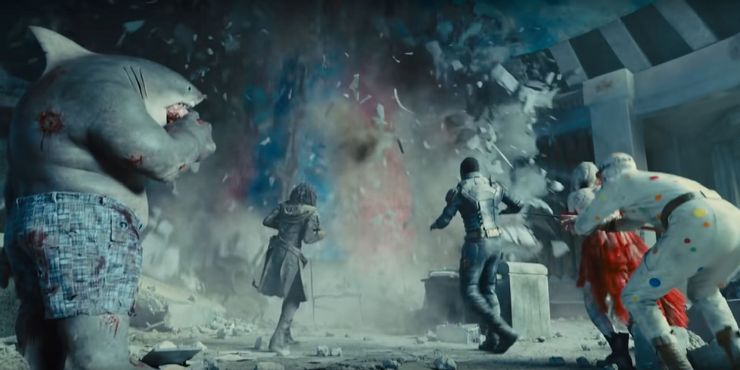 This scene from the first trailer is really vital as it shows the welcoming of the villain Starro from his underground confinement. When exactly this scene takes place in the movie is unclear. Be it death or any other reason, most of the team members are not present. Funnily enough, King Shark is having his lunch. Rest included are Ratcatcher 2, Bloodsport, Harley Quinn, and Polka-Dot Man. The same team is seen later in the second trailer.
Javelin, King Shark, Captain Boomerang, Harley Quinn, TDK, Polka-Dot Man, Rick Flag, And Peacemaker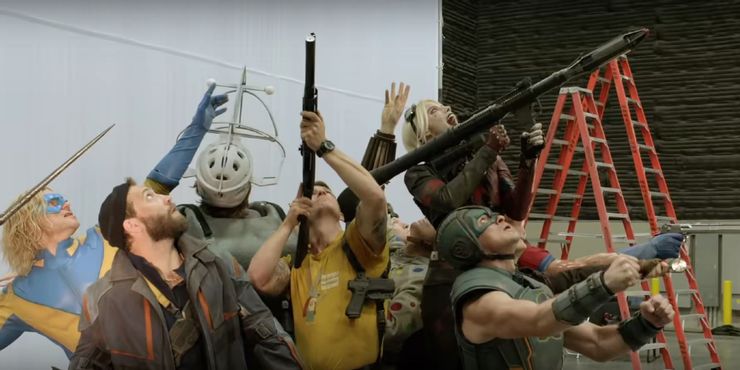 The final glimpse of DC FanDome footage finally showed a more collective view of the squad. This takes place at 1:46 in the first trailer, but then again, some of the members are seemingly absent. The squad that we see include Javelin, King Shark (pre-CGI), Boomerang, Harley Quinn, TDK, Polka-Dot Man, Flag, and Peacemaker. One important detail here is the facial expression as they reveal the nature of everyone's individual personality. For example, Harley Quinn laughs like a maniac as a threat looms over her head.
Ratcatcher 2, Rick Flag, And The Thinker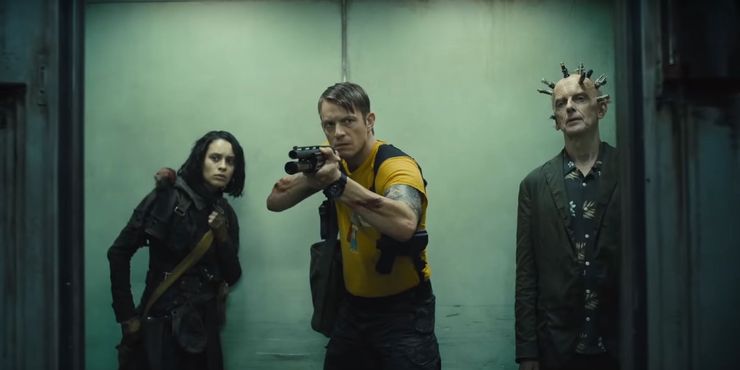 If the infiltration of the Project Starfish facilities was a miss in the first trailer, then the second one definitely covers that up. This scene explains a lot about the members in it – Rick Flag, Ratcatcher 2, and The Thinker. Rick is seen donning his weapon she looks out for danger. Finally, we got to see the patent rodent n Ratchatcher's shoulder. And as usual, The Thinker doesn't seem to care. Three of them are shown together as the lift door opens. The scene is connected to a shot of various people locked in cages, so maybe this is where the lift door opens to.
This is where our list of all team-ups confirmed for The Suicide Squad finally comes to an end.
The Suicide Squad will release on August 6, 2021.
Follow us on Facebook, Instagram & Twitter for more content.