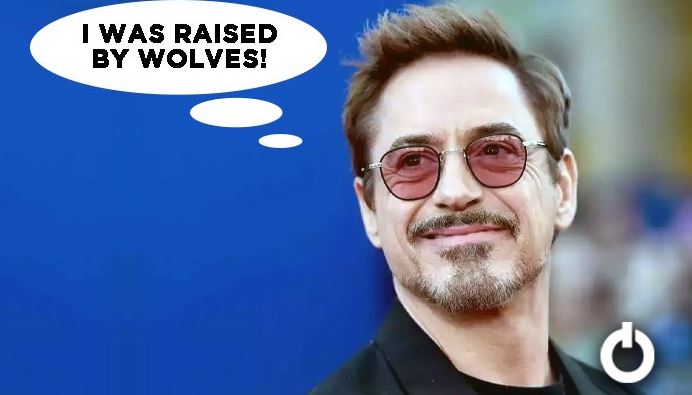 Hilarious Moments of Robert Downey Jr:
Robert Downey Jr. is a world-famous celebrity who popular for his portrayal of Iron Man aka Tony Stark in the MCU. He is a fan favorite actor, for no one but him could fit perfectly in the shoes of Tony Stark. Both of them are often regarded as synonymous with their similarities. This allowed RDJ to be himself at the sets of Iron Man and Avengers movies most of the time. The actor is a delight to watch both on and off-screen for the same wit that he shares with Tony Stark. Find the wittiest and most sarcastic moments of RDJ during interviews.
 1. Typical Tony Stark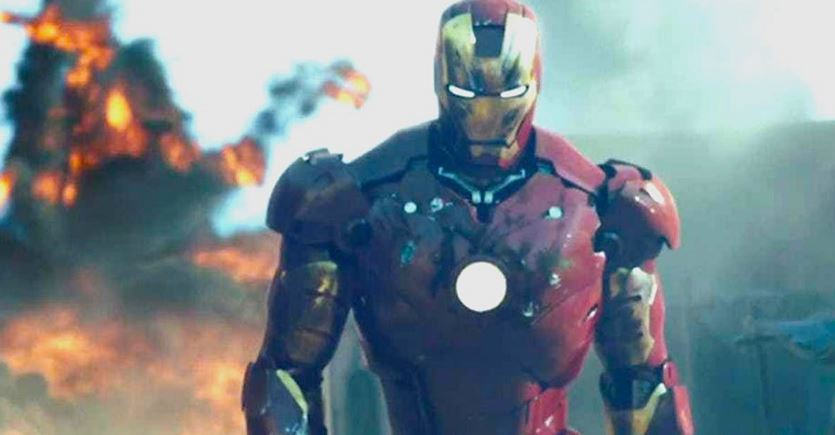 Downey Jr. was on fire with his amazing response when he was asked what he liked the most about returning to Iron Man film after The Avengers. Knowing the character so well, RDJ replied, " If I was Tony, I would say that the thing I enjoyed the most is that I'm the center of attention again."
 2. When RDJ Shared How Iron Man Uses The Washroom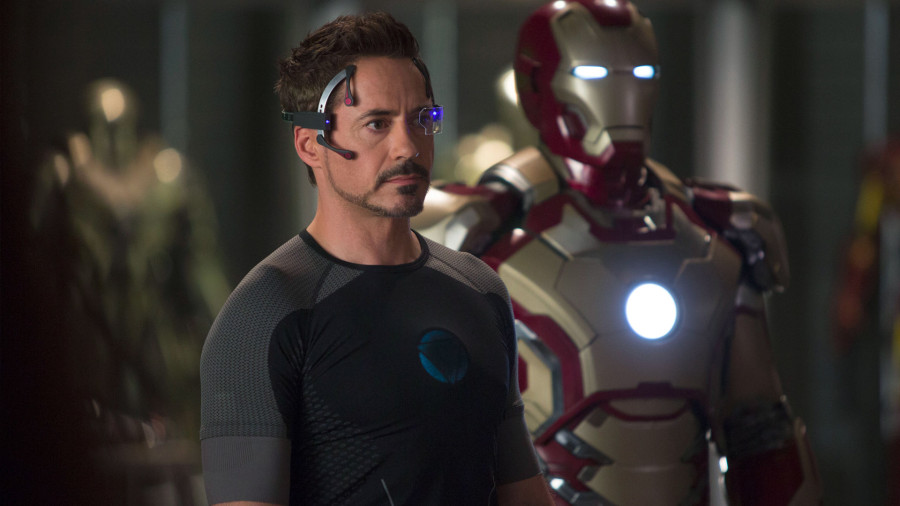 Keeping all the major threats and wars aside, fans often wonder about the common man crisis. Having spent so many hours on the battleground, odd places, and even outer space in a suit without a zipper, where does Iron Man pee? When RDJ was asked this question, he said that Stark has a toiler built in his suit. He further added a sarcastic comment that this was the best interview in the history of interviews.
 3. Charlie Chaplin Settles The Argument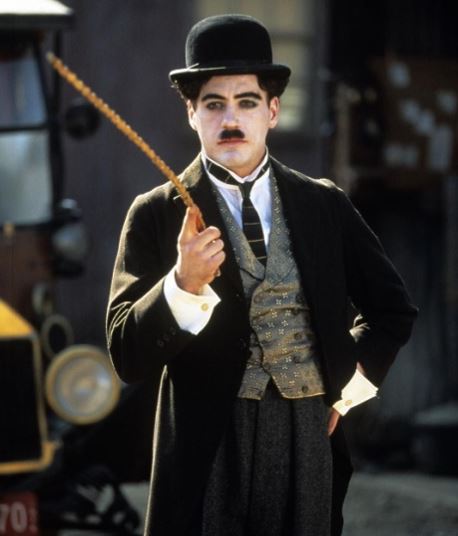 When Robert Downey Jr. was approached by a reporter who claimed that he/she saw him participating in an Iron Man look-alike competition that morning, the actor couldn't be more spontaneous. He said that he came second but didn't mind because even Charlie Chaplin ranked the 2nd position when he went for the Charlie Chaplin lookalike contest in 1992. It was hilarious because RDJ had played Charlie Chaplin in 1992 in Chaplin.
 4. That Face Though!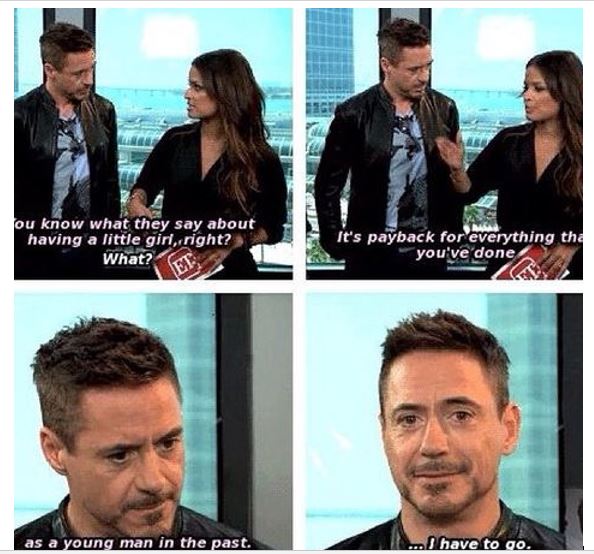 When a journalist told RDJ that having a daughter is usually considered payback for your past action during youth, RDJ's expression was worth a million dollars. He gave a sheepish smile and said that he had to leave.
 5. Trolling Tom Holland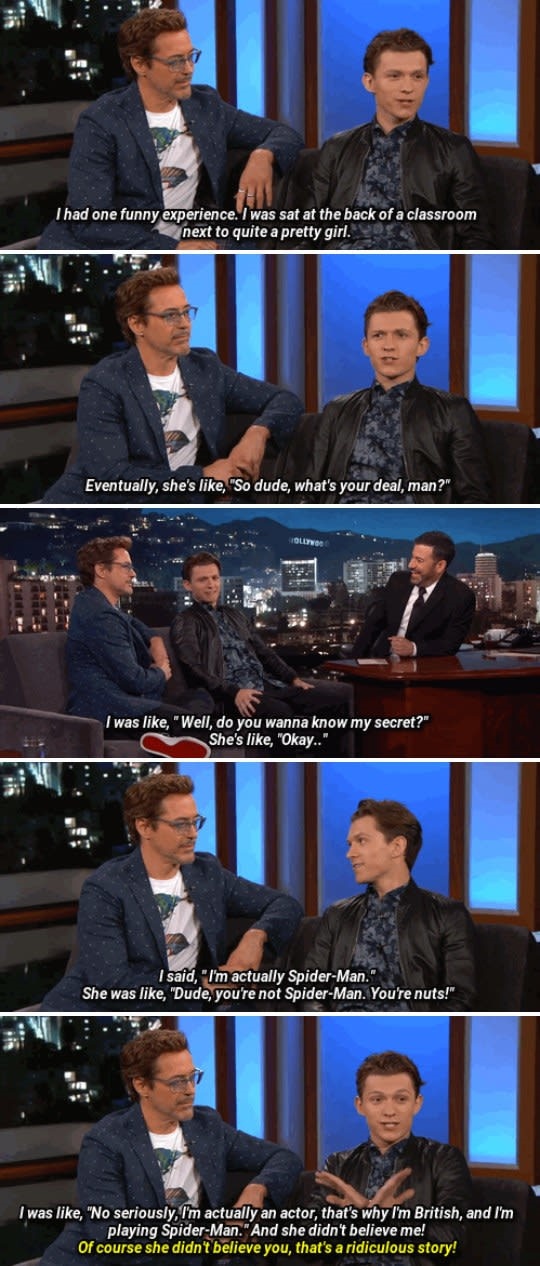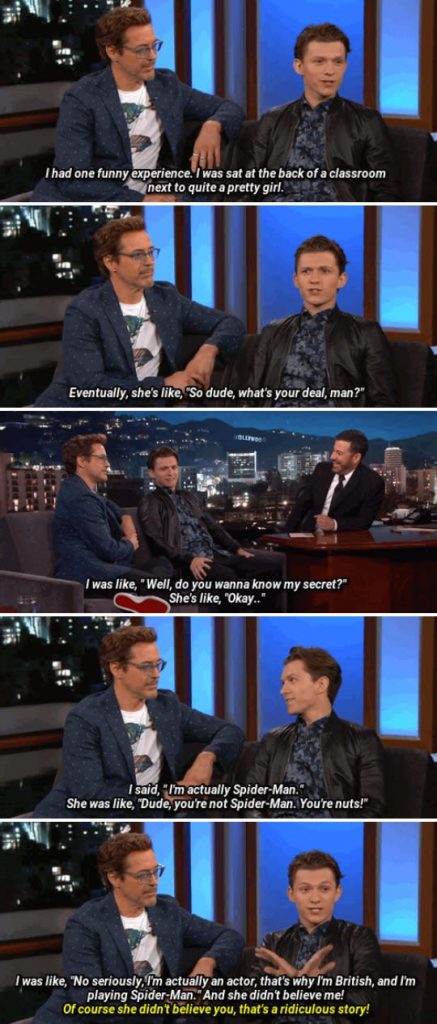 Robert Downey Jr. and Tom Holland's bond is entertaining both on and off-screen. During an interview when Tom Holland shared a real-life experience where he told a girl in his class that he was Spider-Man and that he was an actor who was cast by MCU, but the girl didn't believe him. To this, Robert Downey Jr. replies with his usual confidence and wit " Of course she didn't believe you. That's a ridiculous story!" Within seconds he blew off Holland's teenage swag.
 6. Sneaky!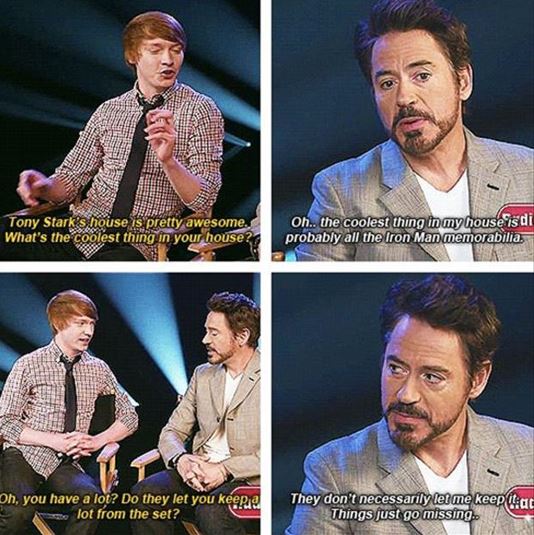 When Robert Downney Jr. was asked about the coolest thing in his house, he confirmed that they were all the Iron Man souvenirs from the set. Amazed and doubtful, the interviewer asked if the productions permitted him to take so much from the set. RDJ replied in sass that they "don't necessarily let me keep it. Things just go missing".
 7. The Best Of Tony Stark and Sherlock Holmes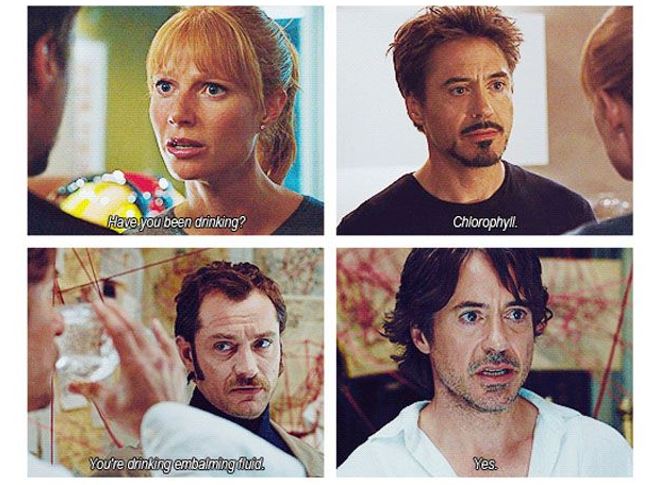 When RDJ was asked how differently he went about playing Sherlock Holmes and Tony Stark, he explained it in the simplest way possible. The differences were laid down in accordance to his wife Susan Downey's perspective.  She claims that when RDJ plays Sherlock Holmes, he thinks that he 'knows' everything but when he is in Tony Stark's character, he starts "believing I 'am' everything". Whether Susan Downey really feels that way or not, RDJ surely knows both his characters well.
 8. No Kidding!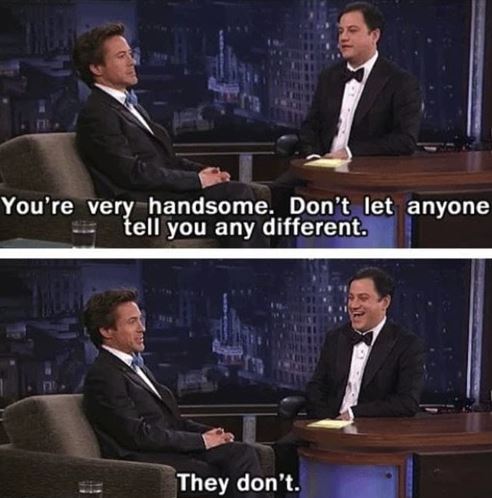 RDJ threw another cheeky moment when he was called handsome by the interviewer. As the person opposite to him told the MCU star that he was handsome and that he shouldn't let anyone tell him any different, to his surprise, RDJ replied with a straight face that "They Don't".
 9. Afterlife Plans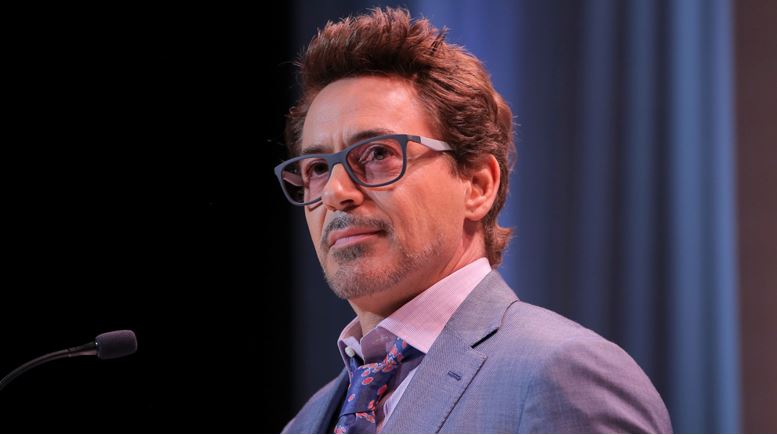 Instead of thinking about heaven or hell, RDJ was more enthusiastic about being a ghost after his death. In fact, he has reasons to support it. He excitedly said that it was more fun to be a ghost and scare people. His plans included, "turn off the lights in the kitchen when you thought you've turned them off, hide under the bed and grab your leg when it dangles off while you're sleeping, sit in the backseat and show up in your rearview mirror when you're driving alone at night". That's one mean and notorious ghost!
 10. Confidence on Fleek
During a press conference when Gwyneth Paltrow got occupied with answering all the questions in French, leaving RDJ blank and stealing his spotlight. But the Iron Man star took it in a good stride and lightened up the press con with his jokes. He said that he would have spoken in French but he was "raised by wolves", unlike Paltrow who went to a nice school and passed out looking fancy. This totally left Paltrow all pink.
Read More:
Robert Downey Jr. Confirms That He Is 100% Done With Marvel Now