The First Evidence of Mutants in MCU Has Been Found in Black Widow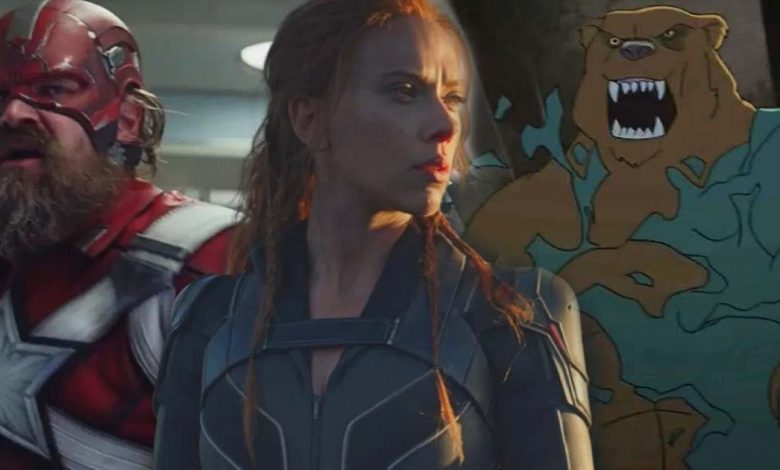 First Evidence of Mutants in MCU: 
The Black Widow movie is going to set up the future of the MCU in a big way. The first trailer hit the net a couple of days ago and everyone has absolutely loved it. We got to see enough footage to get hyped for Phase 4 of the MCU, but the trailer didn't reveal so much and that was the best part about it. Another great aspect of the trailer was the way the background score was blended with the footage that was part espionage thriller & part superhero spectacle. But what's better than all of this is the hidden story details in the trailer. One such detail could actually lead us to mutants and even the Russian Avengers!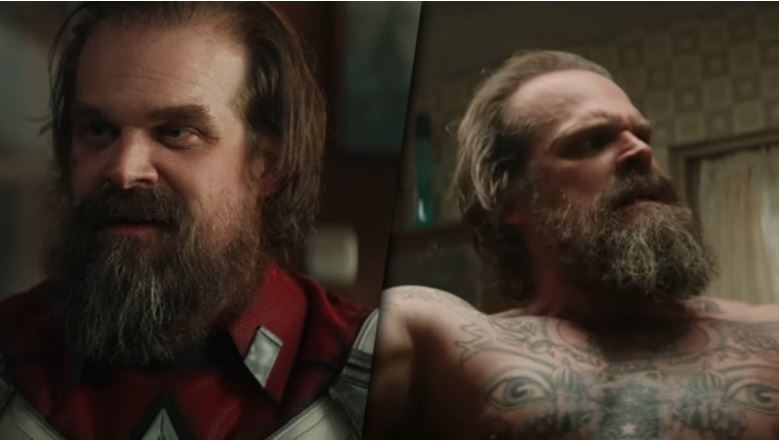 Now don't get confused as Black Widow won't be showing us the X-Men. But, what it will do is bring in a Russian Mutant. The trailer revealed the first look at Alexei Shostakov. We got to know that he hasn't been the Red Guardian for a while and was happy to see that his old suit still fit him. But the first shot of him in the trailer was disguised as him busting down a prison door. But actually, that isn't the case.
We see him in the prison but it isn't him knocking down that door. It's actually his prison inmate Ursa Major, who will be played by Oliver Ritchers. Just after the release of the first trailer of Black Widow, Ritchers who goes by "thedutchgiant" on Instagram posted about the trailer.
https://www.instagram.com/p/B5nnsNrlRmQ/
Oliver Ritchers is 7 Feet tall actor & a bodybuilder. He was supposed to make his Hollywood debut in The King's Man, but since the film has been pushed to release later in 2020, Black Widow will be the film where he makes his debut. His post included this particular image: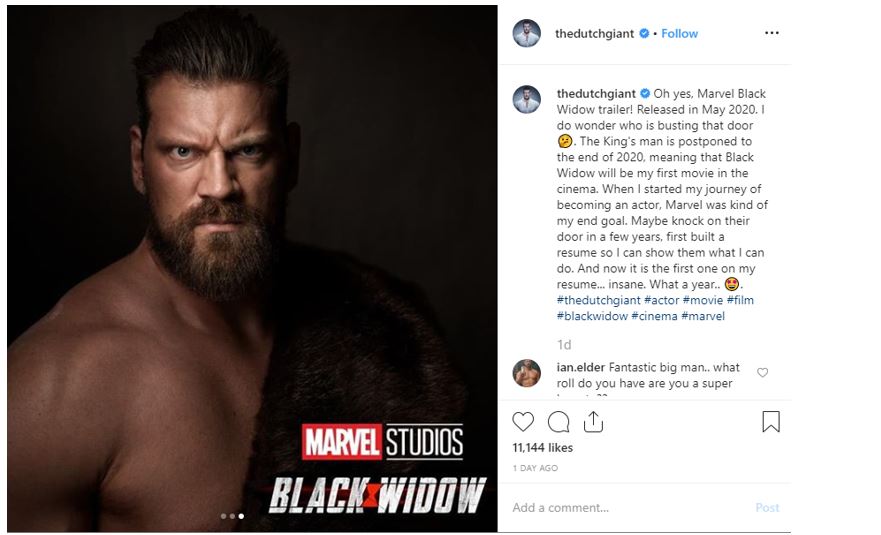 In the post, he teases that he is the one who kicked down the prison door. And along with that he shares an image of himself with what looks like a furry sash on his body. But this probably isn't the sash as the actor seems to be teasing his character here. On IMDb, his character has been stated as "A Gulag Inmate". Gulag is the prison we see here, and it's in Russia. And since Alexei was also in the prison, we've come to decipher that Oliver Ritchers is playing Ursa Major, who is one of Russia's first Mutants. The fur we see on his body could actually be bear fur since Ursa Major has to ability to transform into a giant Bear.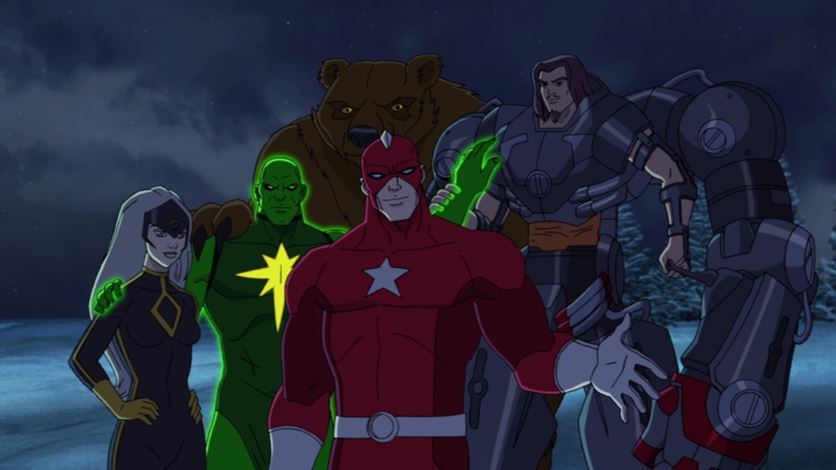 Ursa Major was a part of Russia's Winter Guard. Who else was a part of it? Alexei Shostakov aka Red Guardian. Other members include Crimson Dynamo, Darkstar and the Nuclear Man. This team is the Russian equivalent to America's Avengers. If you look at the team, Red Guardian is Russia's answer to Captain America, Crimson Dynamo – Iron Man, Ursa Major – Hulk & Darkstar – Black Widow. Obviously the powers and abilities of these individuals are different from the Avengers but you get the point. So, Ursa Major's appearance in the film could also lead us to the Russian Avengers, i.e. the Winter Guard.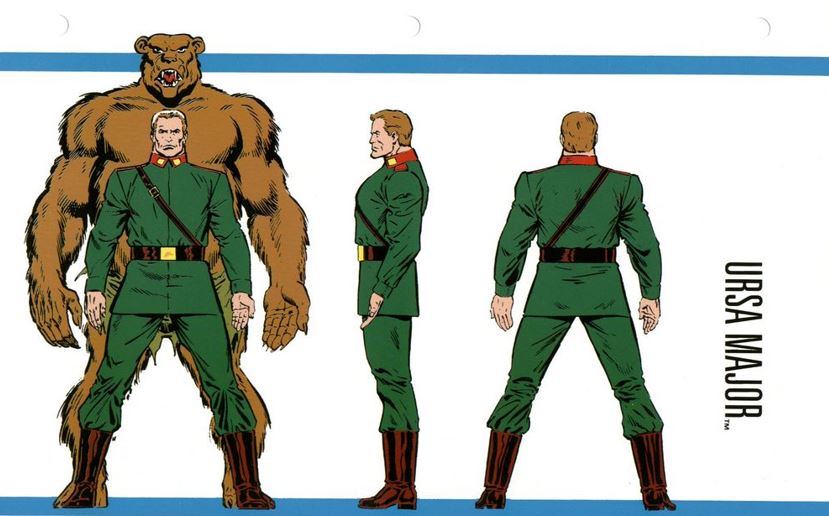 Now we haven't considered one more possibility – since Black Widow takes place in 2017 and we hadn't really seen Mutants in the MCU in that year, it is possible that Ursa Major is not a mutant and is just a product of Russian experiments on a human. That would mean that the mutants could be introduced differently. We'll have to wait and see what it is.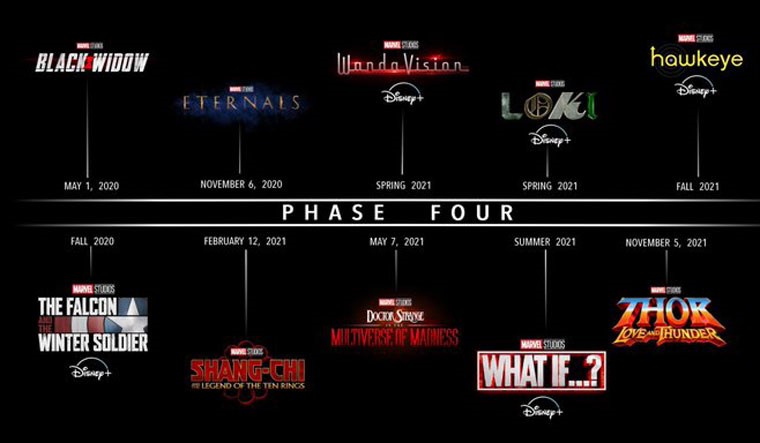 Marvel's future is huge and there's a lot that could happen. Black Widow is going to kick off the future slate on May 1. Here's how the rest of the Phase 4 slate looks like – The Falcon and The Winter Soldier in Fall 2020, The Eternals on November 6, 2020, Shang-Chi and the Legend of the Ten Rings on February 12, 2021, WandaVision in Spring 2021, Loki in Spring 2021, Doctor Strange in the Multiverse of Madness on May 7, 2021, Spider-Man 3 on July 16, 2021, What If? In Summer 2021, Hawkeye in Fall 2021, and Thor: Love and Thunder on November 5, 2021. Following these are Ms. Marvel, Moon Knight and She-Hulk. Black Panther 2 has been scheduled for May 6, 2022.
I just have the biggest passion for everything cinematic! I want to share this passion with everyone through my writing about Hollywood Movies and TV. Other than that, I am a big sports fanatic and enthusiast. I'd like to write about my favorite sports as well some day.