Movies
Spider-Man: Far From Home Set Photos Reveal the First Look at Mysterio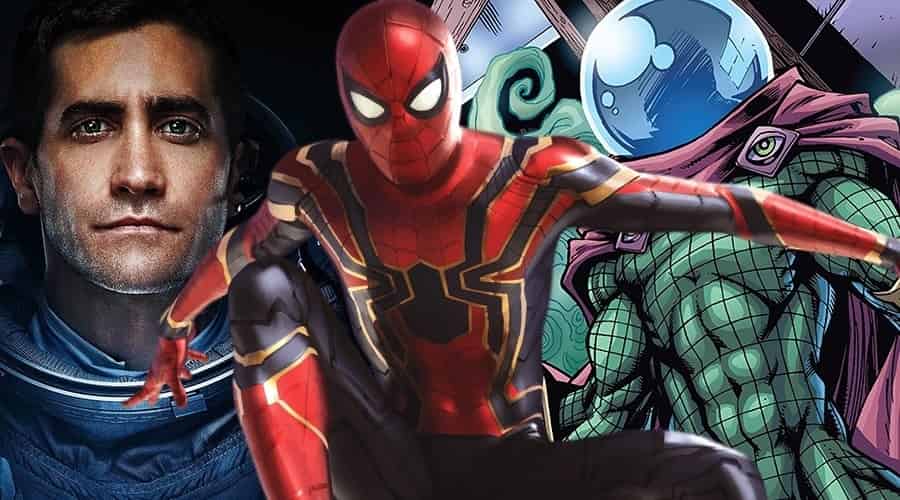 Okay, so it is confirmed that we are going to get the entire movie, without any sort of editing, just through the set photos itself. Spider-Man: Far From Home is going to be a Box Office bomb because the audiences won't turn up to the theatres as they will have already seen the entire film through set photos and videos! While fans could get angry at the fact that the set photos are giving us the unfiltered versions of the film, we could also be happy about the fact that we do not have to wait for months to get reveals from the film as it is all happening simultaneously with the shoot. Now, we've also got Jake Gyllenhaal's Mysterio.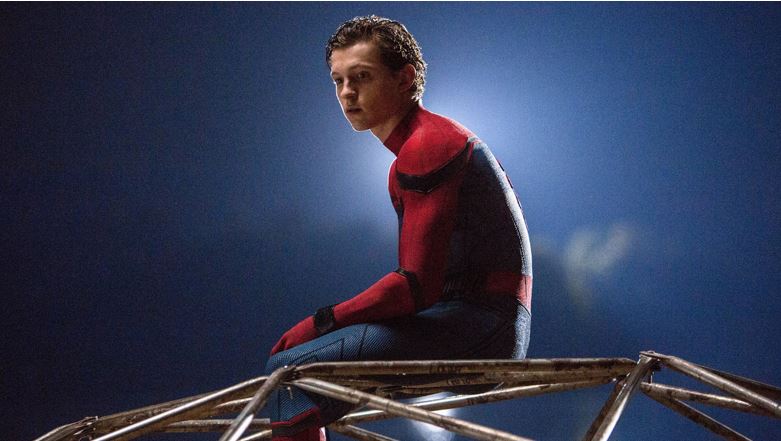 Just imagine, we know more about Spider-Man: Far From Home than we do about Captain Marvel or Avengers 4. For the last week or so, we have been getting photos around a Giant Wheel in Prague as a major action sequence is going to take place over there, involving Spider-Man and Mysterio. We recently got a set video showing Spidey's stealth suit in action around the same giant wheel. Have a look if you haven't:
New video on the set of ' SPIDER MAN FAR FROM HOME '

* SPOILERS* pic.twitter.com/TSyyURQkG5

— Tom Holland Source (@tomhsource) September 28, 2018
Now, what seems to be the follow up of this scene has made its way to the internet and that has given us our very first look at MCU's Mysterio. Also, we can see Spidey wearing the same Black suit. Here you go:
https://twitter.com/CZMARTY7/status/1046474952776519680
It seems that Spider-Man has taken down Mysterio at least once if this is not the final battle of the film. We can also see some law enforcement (probably the one Nick Fury is working with) intervening after Spidey has temporarily beaten Mysterio. Perhaps he will be taken into custody and then things are going to sideways as he will break out causing Mayhem. This scenario could be similar to how Loki got captured in the first Avengers film and then it turned out to be a part of his master plan all along. If you didn't get a clearer look at Mysterio, then here, have fun: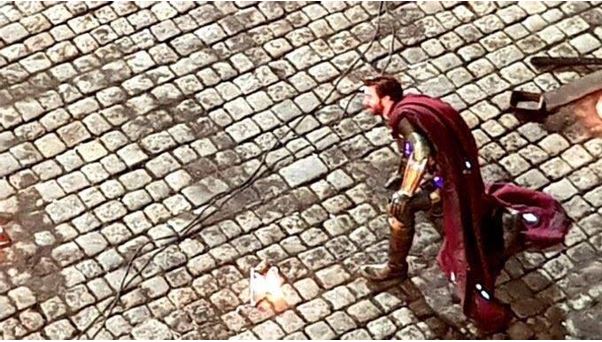 There is no Glass helmet so perhaps that could be added through CGI, or it may have been shattered after the fight that Mysterio had with Spidey. The cap looks to be on point, but it seems that Marvel is going with a little different color pattern for Mysterio's suit. They seem to have added a lot of Gold to the green. The villain looks to be pretty royal.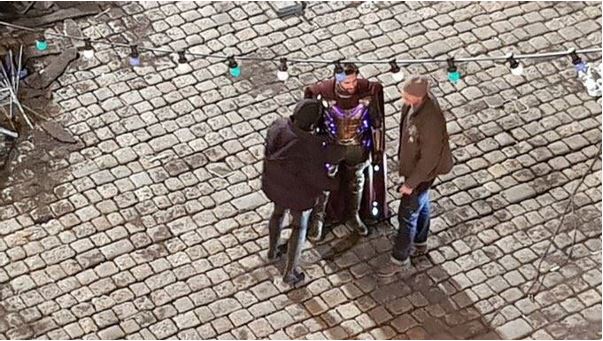 It looks to be a good take at the villain, but we will know for sure once we get an official reveal through a magazine or the first trailer of the film. While Feige and co are not talking a lot about this film, saving the big reveals to come out later, but he did tell Comicbook.com that Spider-Man: Far From Home will be a refreshing film after the insane events of Avengers 4.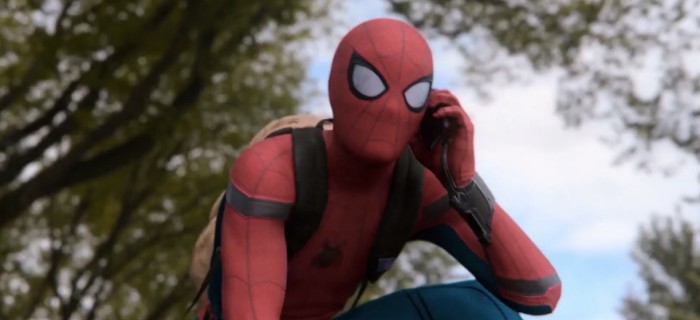 Here's what he said:
"Much like Ant-Man, there are things that people know about that movie, which is a great deal of the movie: the villain of the movie, the storyline of the film, that we're shooting in Europe and that Peter Parker goes on continuing that [Captain America: Civil War] was a big giant super hero class movie. The fall out of that in Homecoming was John Hughes and him going to his high school. So that's what's fun to us about the Spider-Man movies. And again going from Infinity War to Ant-Man and the Wasp, the tonal shift. So, there's a lot of fun stuff. How it connects, where it connects, when it takes place, very similar to Ant-Man and the Wasp in that we're not gonna say right now."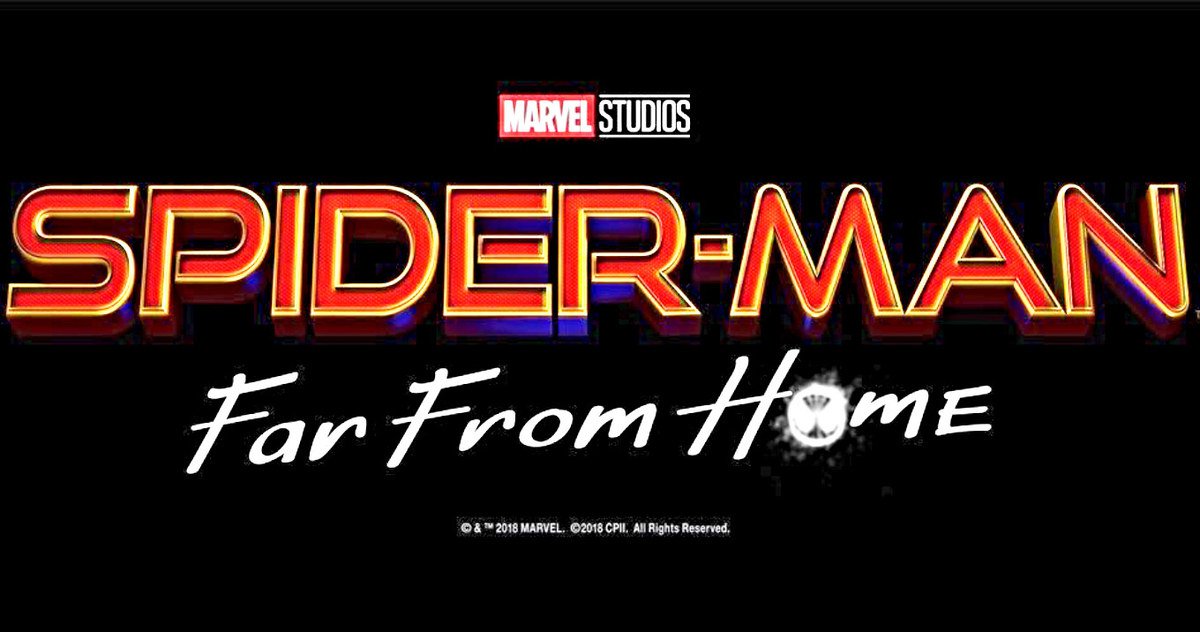 Feige went on to talk about the title of the film and how it will incorporate into the film. He said:
"Well, I mean, sure, let the speculation begin. That's always fun. We like [the title] of course because it ties into Homecoming, not just keeping that word going, which we like and we liked it more than Homecoming 2, but that notion of 'home' is a word that has dual meanings we'd like to continue with this [Marvel Cinematic Universe] version of Spider-Man. So, Far From Home has multiple meanings."
Spider-Man: Far From Home hits the theatres on July 5, 2019.