Movies
Chadwick Boseman Reminds Chris Hemsworth He Should've Gone for the Head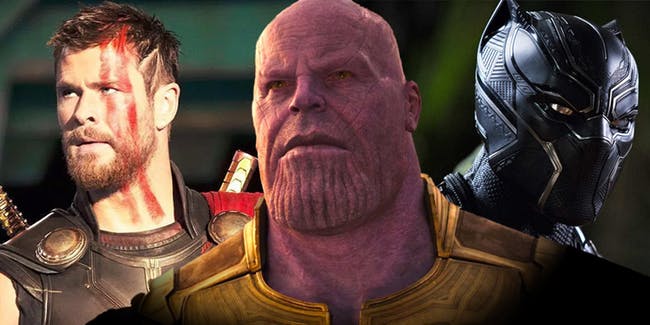 Right after Marvel gave us one of the best MCU movies with Black Panther, they brought us the biggest movie of this year, Avengers: Infinity War. Infinity War was a massive crossover which included veteran MCU actors like Chris Hemsworth, Scarlet Johansson, RDJ and the MCU newbies like Benedict Cumberbatch, Chadwick Boseman and many more. It was the biggest Superhero thriller movie we could ever get and the insane ending of the movie left us all with a big shock.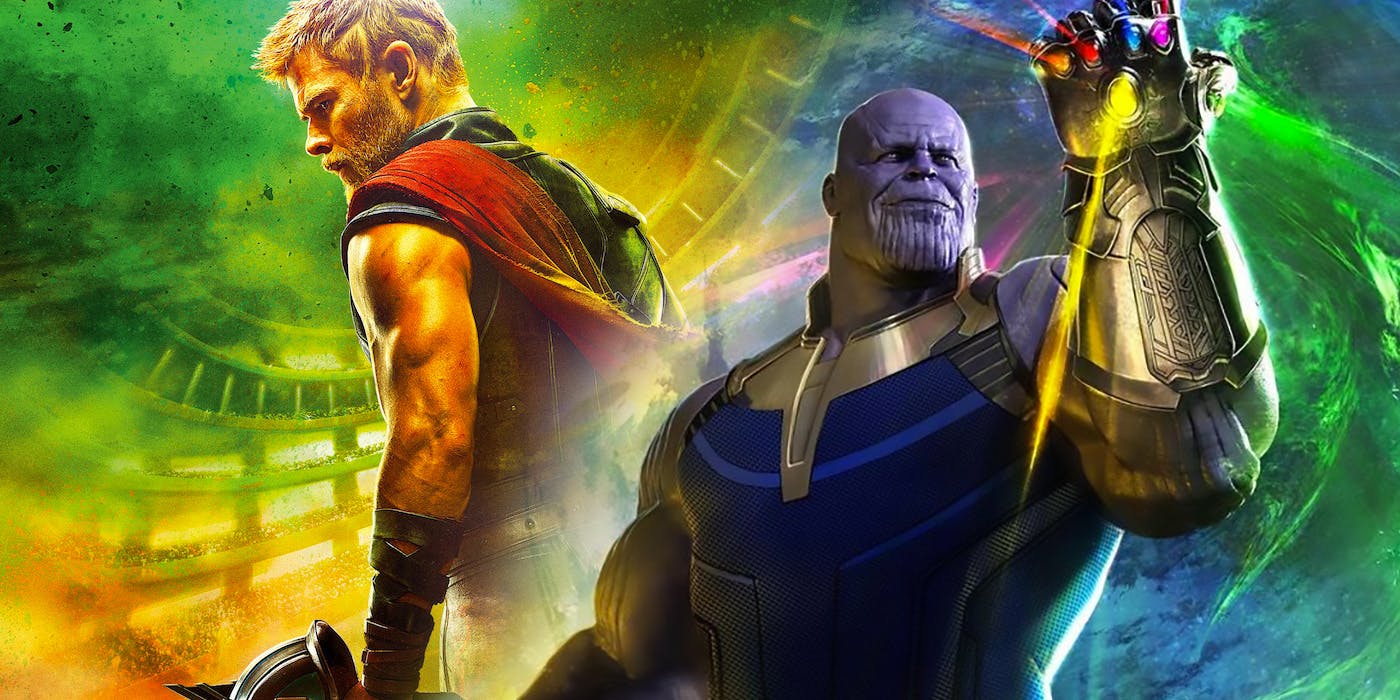 Thanos obviously had the most amount of storytelling to do in the movie as the entire plot revolved around him getting the Infinity Stones whilst explaining his motive. But other than Thanos, this movie was also about Thor as he had the biggest story arc amongst all the Avengers.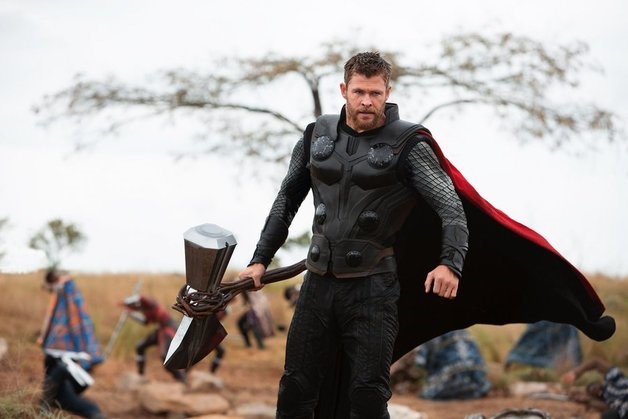 Thor had some of the biggest most amazing moments in the movie and he was at the peak of his strength. From his entrance in Wakanda to him taking down the Outriders and even Thanos, he enjoyed the most amount of screen time.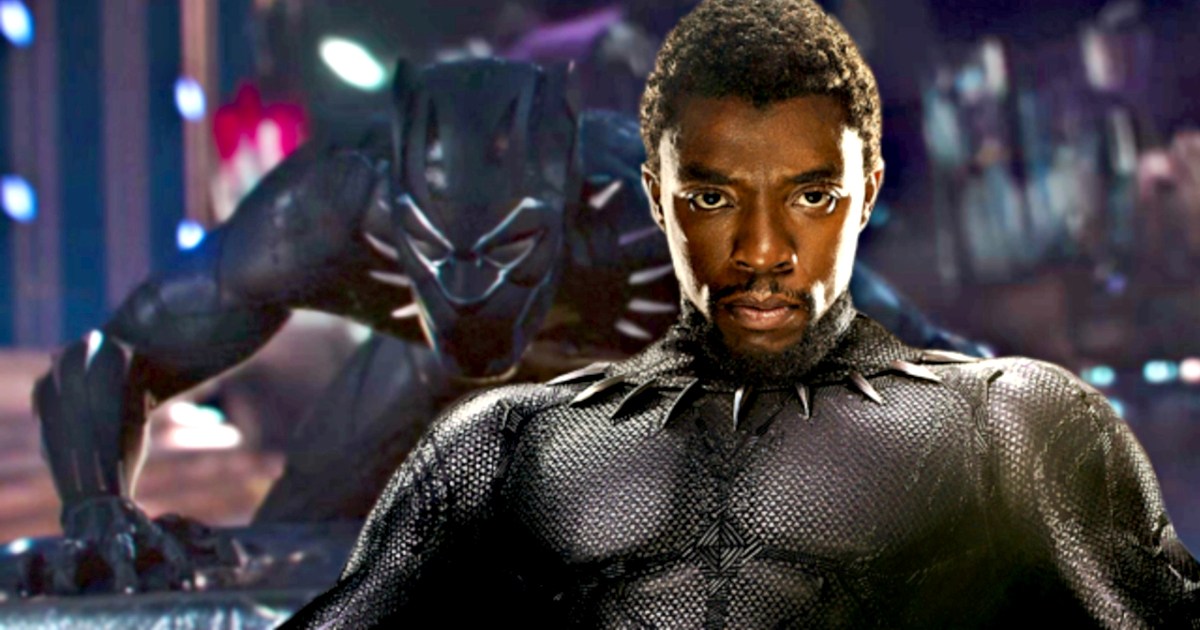 But at the end, Thanos made us feel exactly why Thor should have gone for the head. Infinity War disintegrated star Chadwick Boseman also felt the same as if Thor would have got Thanos right in the head, then not only T'Challa but half of the entire population of the Universe could have been saved from turning to dust.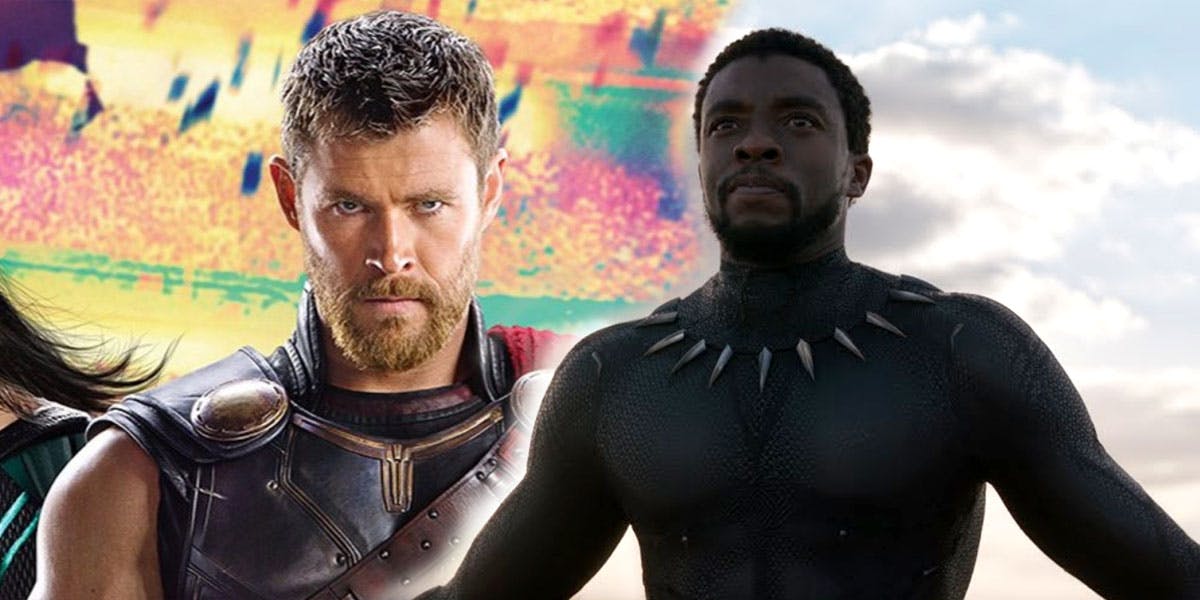 It was Chris Hemsworth's birthday on Saturday, and many of the Hollywood A-Listers from his MCU colleagues to actors from the Worlds of DC wished Hemsworth a very happy birthday. Chadwick Boseman git a little late to do that, but given that his character got disintegrated as Thor could not go for the head, Hemsworth could cut him some slack. Check out what Boseman wrote for Hemsworth: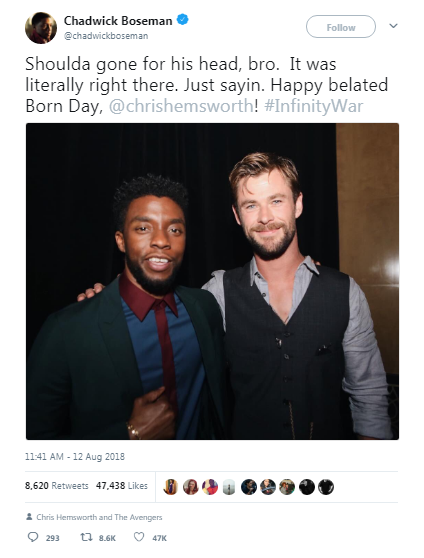 Avengers: Infinity War co-director Joe Russo talked about Thor's final move and why he did what he did. Here's what he said:
"I would argue that the fan base could be equally upset with Thor, who chose to throw that ax into Thanos chest and not his head. Because he wanted to tell Thanos that he got his revenge. Had he gone for a kill shot, that snap would not have happened. These are choices that characters who are feeling immense pain make and hopefully, the audience can learn to empathize with those characters because they can grow through stories. Stories can teach us things and that we should try to see every choice from the perspective of the character that made the choice."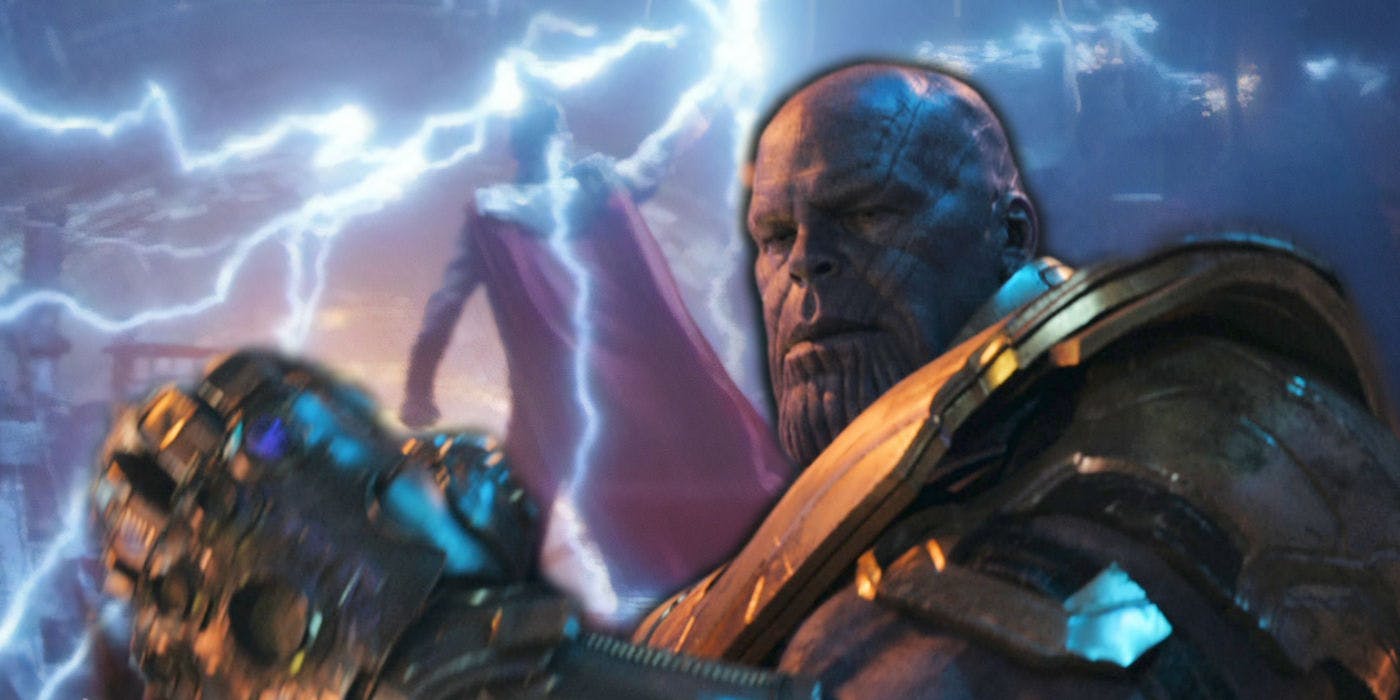 The one responsible for all the chaos in Infinity War, Thanos actor Josh Brolin also sang Hemsworth a happy birthday. This just proves that there is obviously no beef amongst the actors behind the scenes. Check out Brolin's amazing wishes to our very favorite Thor:
https://www.instagram.com/p/BmWr51WhDbM/?utm_source=ig_embed&utm_campaign=embed_loading_state_control
Other MCU people like Chris Pratt also wished Hemsworth "Happy birthday buddy!!!!" and posted the sweet picture of Hemsworth and his wife: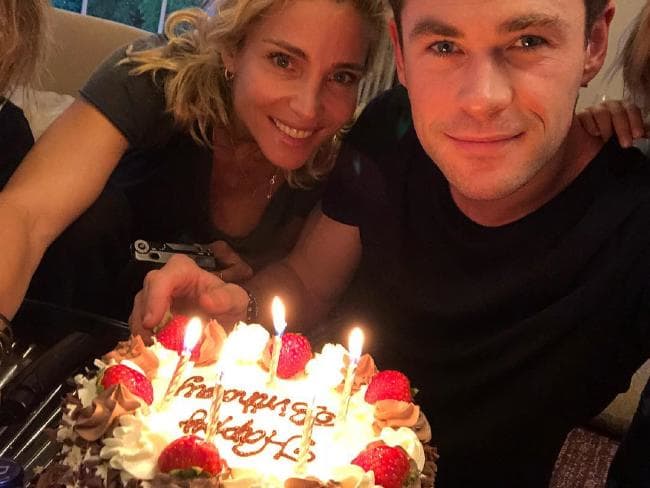 The younger Hemsworth, Liam also posted a photo on his Instagram wishing his elder brother a very happy birthday: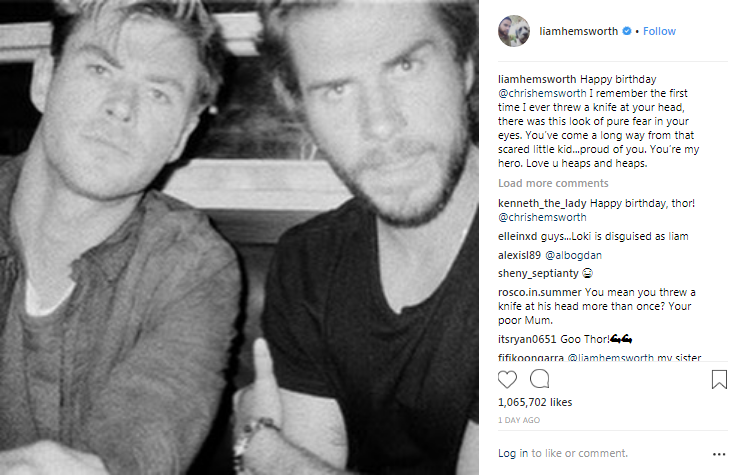 Actors from rival Comic book movie divisions also came in to wish Hemsworth as Gal Gadot (Wonder Woman) wrote "happy happy birthday" and Henry Cavill (Superman) also wrote "happy birthday mate!" But the best of all wishes was surely of the Rock's as he completely trolled Hemsworth with his birthday song. Have a look:
https://www.instagram.com/p/BmXCNR8lCMv/?utm_source=ig_embed&utm_campaign=embed_loading_state_control
Infinity War was a massive event and we surely want more of Thor vs. Thanos in the upcoming Avengers 4. Thor literally proved that he is indeed the Strongest Avenger and the only who could actually take Thanos down. Other big guns of the Avengers also got a shot at the Mad Titan as Captain America, Doctor Strange and Iron Man also had their moments against Thanos.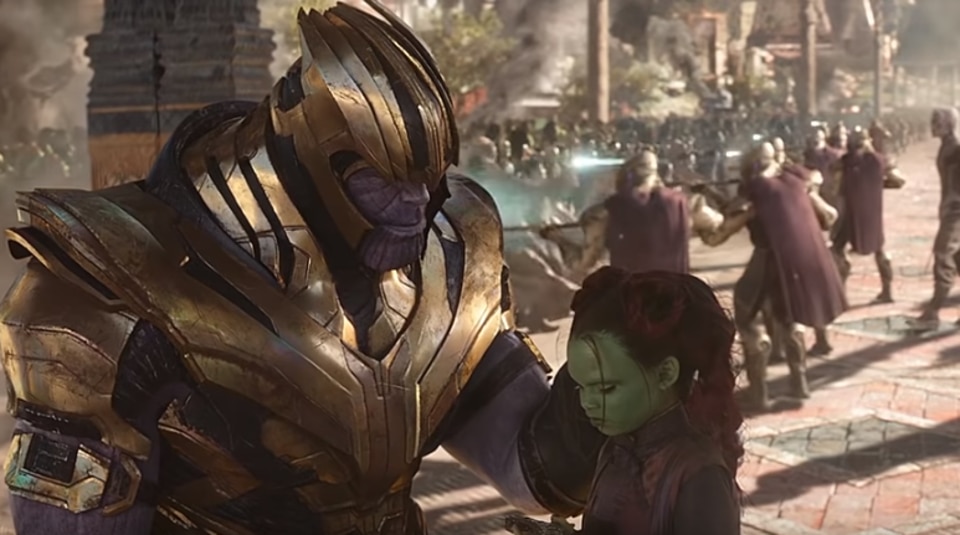 Avengers: Infinity War involved a huge cast which includes Robert Downey Jr., Chris Hemsworth, Mark Ruffalo, Chris Evans, Scarlett Johansson, Benedict Cumberbatch, Don Cheadle, Tom Holland, Chadwick Boseman, Paul Bettany, Elizabeth Olsen, Anthony Mackie, Sebastian Stan, Tom Hiddleston, Idris Elba, Danai Gurira, Peter Dinklage, Benedict Wong, Pom Klementieff, Karen Gillan, Dave Bautista, Zoe Saldana, Vin Diesel, Bradley Cooper, Gwyneth Paltrow, Benicio del Toro, Josh Brolin, and Chris Pratt.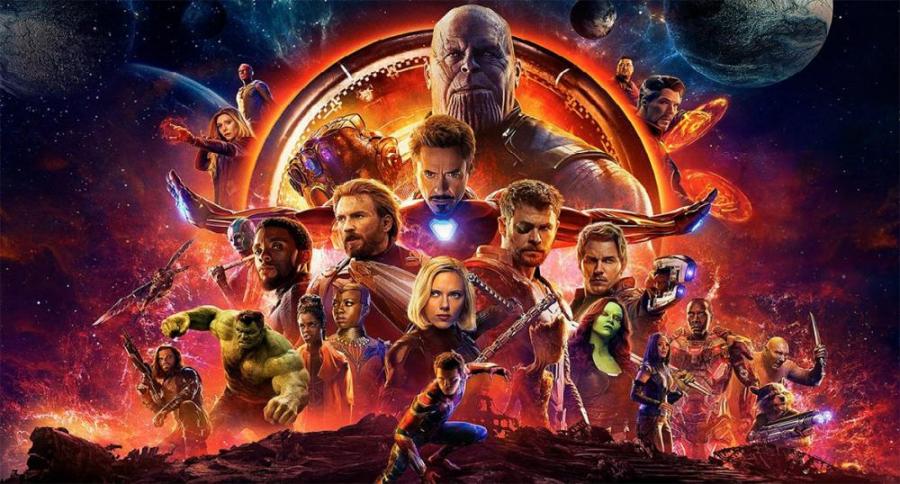 Here's the official Synopsis of Avengers: Infinity War
"As the Avengers and their allies have continued to protect the world from threats too large for any one hero to handle, a new danger has emerged from the cosmic shadows: Thanos. A despot of intergalactic infamy, his goal is to collect all six Infinity Stones, artifacts of unimaginable power, and use them to inflict his twisted will on all of reality. Everything the Avengers have fought for has led up to this moment – the fate of Earth and existence itself has never been more uncertain".