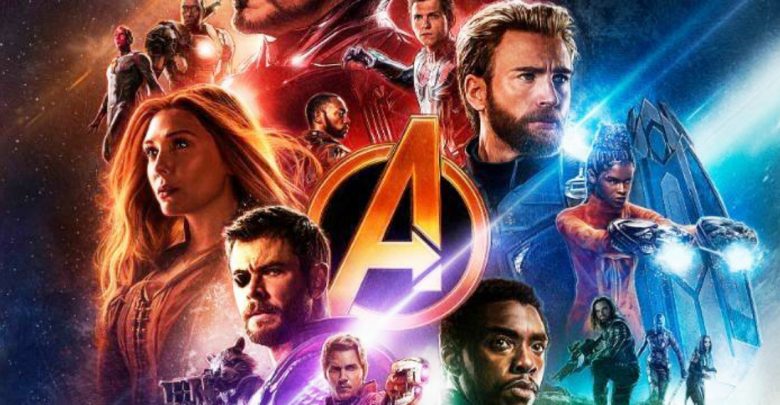 The mother of all superhero movies is finally coming to the Theaters and we couldn't be more excited. Infinity War is going to break the ceiling at the Box Office and Marvel's marketing team is leaving no stone unturned to make that a reality.
Avengers Infinity War has been estimated to be the highest grossing movie of not just the weekend but the entire first week of its release in all the countries it's being released in a week later. It broke previous pre-sales record in just 6 hours. According to Box-office pundits, the movie is tracking insane opening weekend numbers to the tune of $200-250 million worldwide. And if the hype surrounding the movie translates into audience footfalls into the theaters or repeated viewings, it could very well enter $2 Billion territory and becomes the highest grossing movie of all times.
Marvel Studios has already released official trailers corresponding to all these countries. But the Russians have gotten a little extra. The Ruskies got more than they bargained for and we cannot be more envious. Believe it or not folks; the Russian Infinity War trailer contains tons of explosive new footage!!! Take a look:
https://www.youtube.com/watch?v=UsnDPok1ZOU
Thanos is coming to Earth in search of his precious Infinity Stones. Each Stone grants him control over one of the six aspects of the universe corresponding to the Stone's name. Russos have described 'Avengers Infinity War' as a heist movie where every time Thanos steals one of these stones, somebody dies. They said:
"With "Infinity War," the biggest new element to the movie is Thanos and the fact that he's entering the storytelling in a very bold, strong way, to the degree that he's almost one of the leads. We've shaped an interesting narrative around him that in some ways leans heavily on a heist film in the fact that he's going after the infinity stones in a much bolder, successful way than he has in the past. The entire movie has that energy of the bad guy being one step ahead of the heroes. We looked at a lot of movies that had that heist-style energy to them, and that brought some inspiration".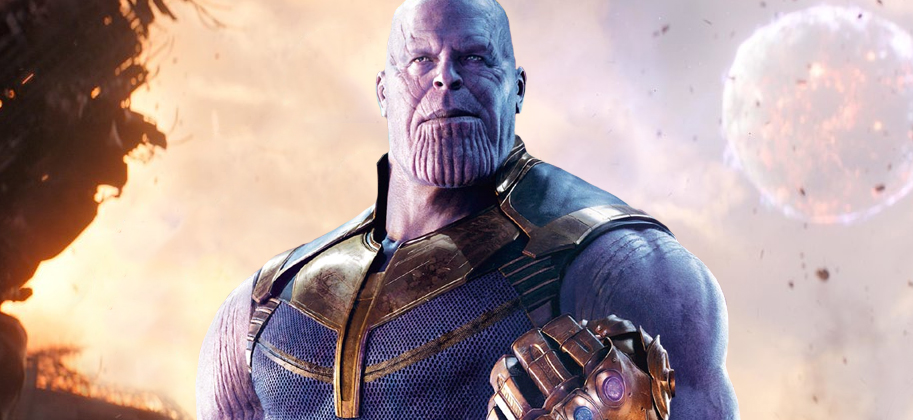 Thanos already has two of them as shown in the trailer namely Power stone (Orb) and Space stone (Tesseract) and most of the remaining Stones are here on Earth. Thanos must have attacked Xandar, destroyed Nova Corps and retrieve Power stone from them. We know Loki will be captured by Black Order and will be forced to give in Space stone he stole from Asgard's vault.
Mind stone is literally embedded on Vision's forehead and the entire Battle of Wakanda will be fought over it. Time stone is with Dr. Strange for which Thanos will send his right hand 'Ebony Maw' to fetch it. Reality stone is with 'The Collector' who is safeguarding it since Thor: The Dark World. The last remaining 'Soul stone' is still hidden somewhere.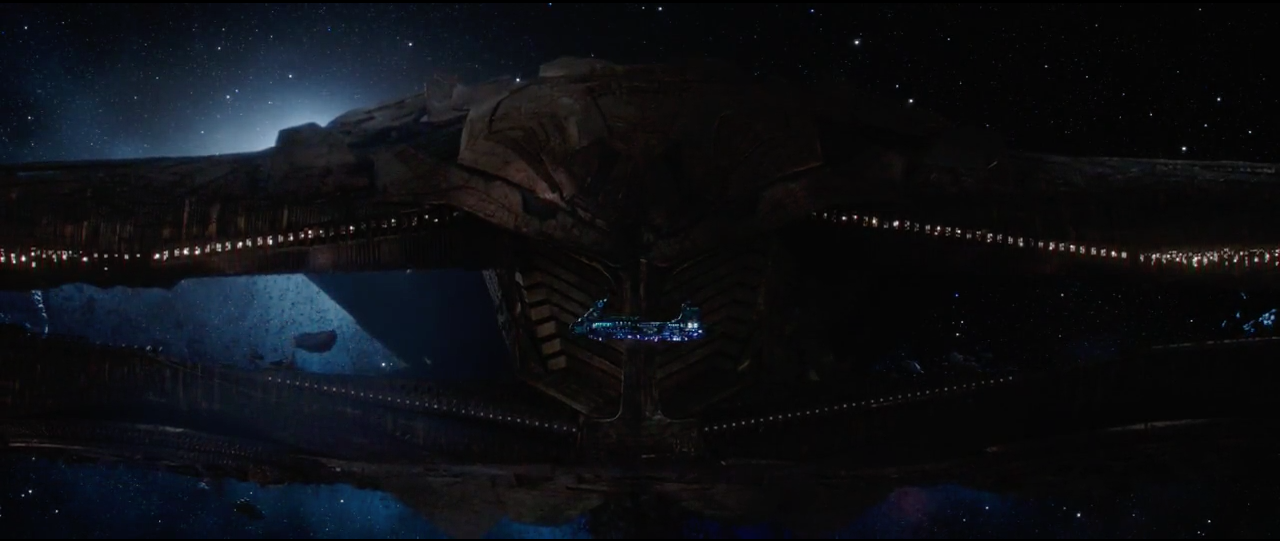 He won't just sit around and wait for the Stones to come to him. He is taking the fight to Earth and his forces are right behind him. In the Russian feature, we could see tether attached to his Q-Ship dangling over the Earth's Surface. The exact purpose of those tethers hasn't been determined yet but they are not here so that Thanos could play Merry Go Round.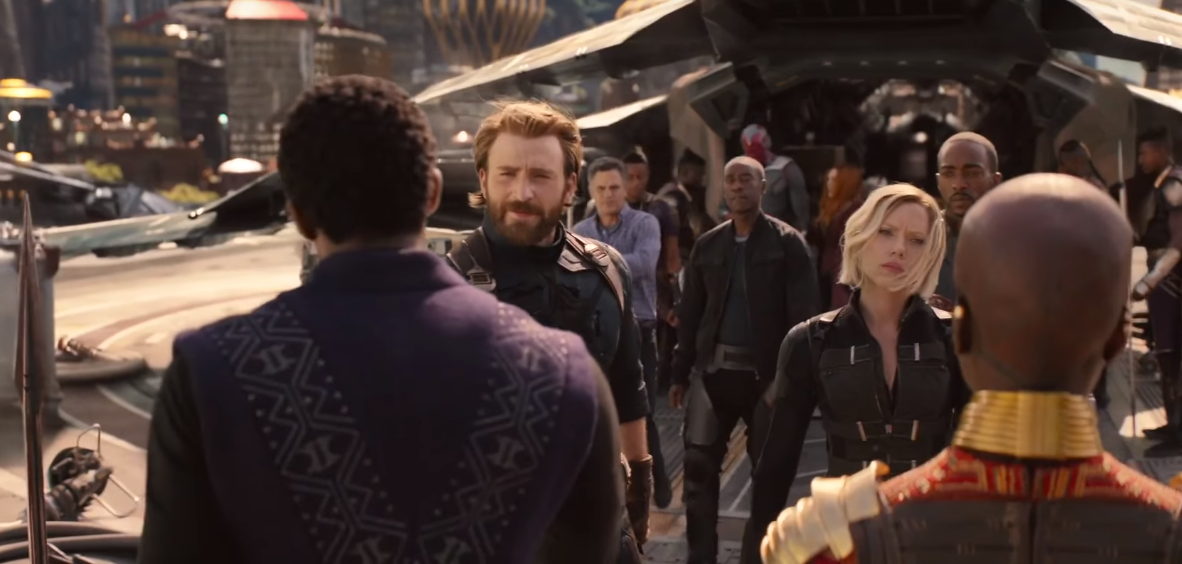 In another new scene, Captain America and the rest of Team Cap come to Wakanda where they are received by King T'Challa. Winter Soldier, the Falcon, War Machine, Bruce Banner and Vision can also be seen in the background. Bruce even bows down to maintain formality which annoys War Machine and T'Challa, who in turn asks that there's no need for formalities anymore, not in this fight at least.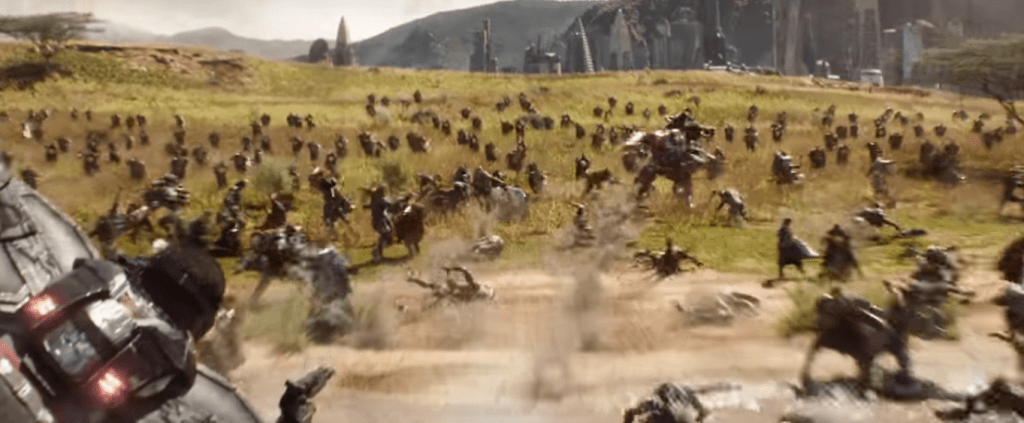 The third and final new scene shows us the incredible Wakandan military in all their might and glory. There are drop ships that drop Wakandan soldiers' right in the middle of the battlefield. There are also energy shields that the soldiers are equipped with.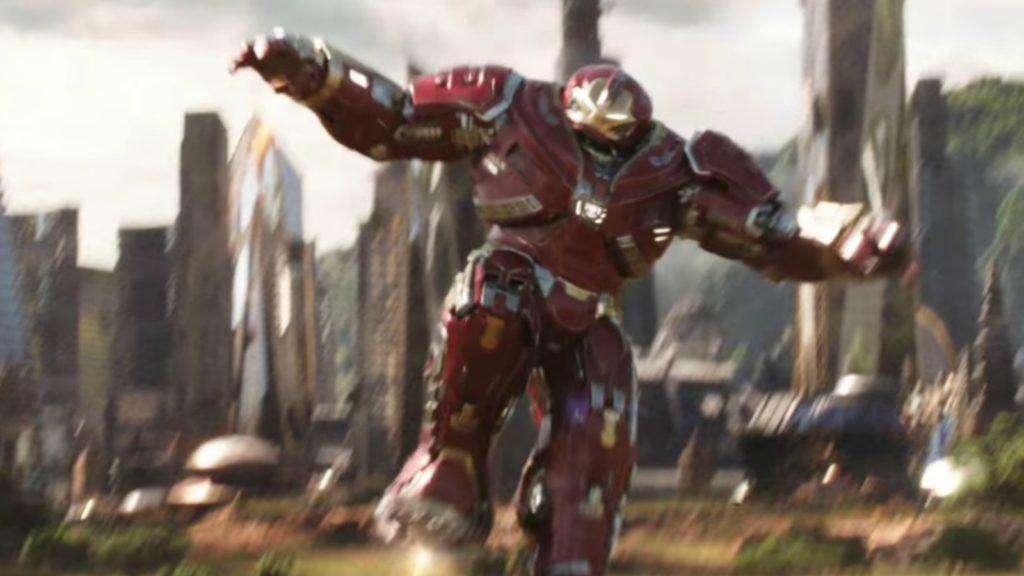 The Hulkbuster Iron Man armor can be seen helping the Wakandan army jack up and protect their rear as the battle rages on up front. War Machine also joins the battle as Rhodey's suit's sensors start to analyze and speculate the battlefield. Black Panther also inspires the Wakandan Military with an African War Chant before the battle commences. All in all, it is a new sight to behold.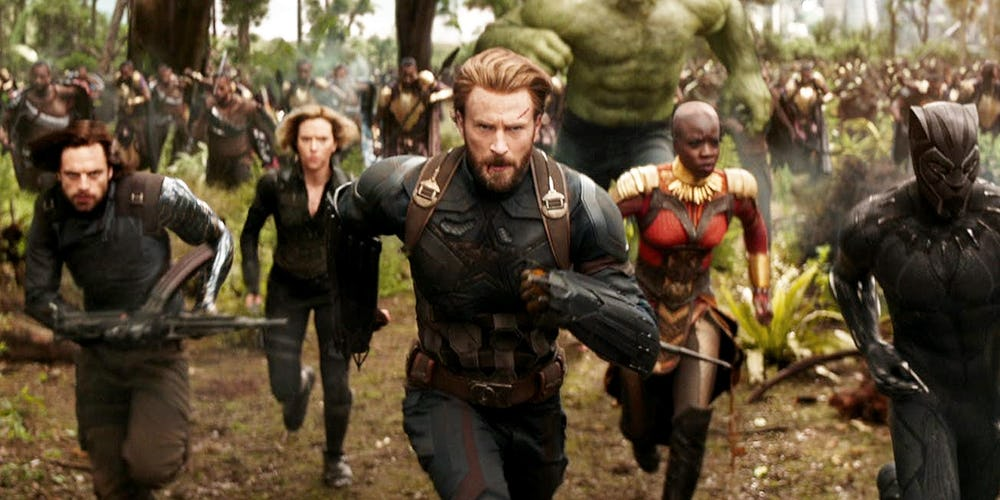 There is going to be tons of new footage as the movie release date nears. Before this, the video clip which caught everyone's attention was Team Cap taking on Black Order members Proxima Midnight and Corvus Glaive. With only a week left, I think it is safe to say you have to be stay tuned for further updates on new Video Clips (which we are sure are going to come pretty soon).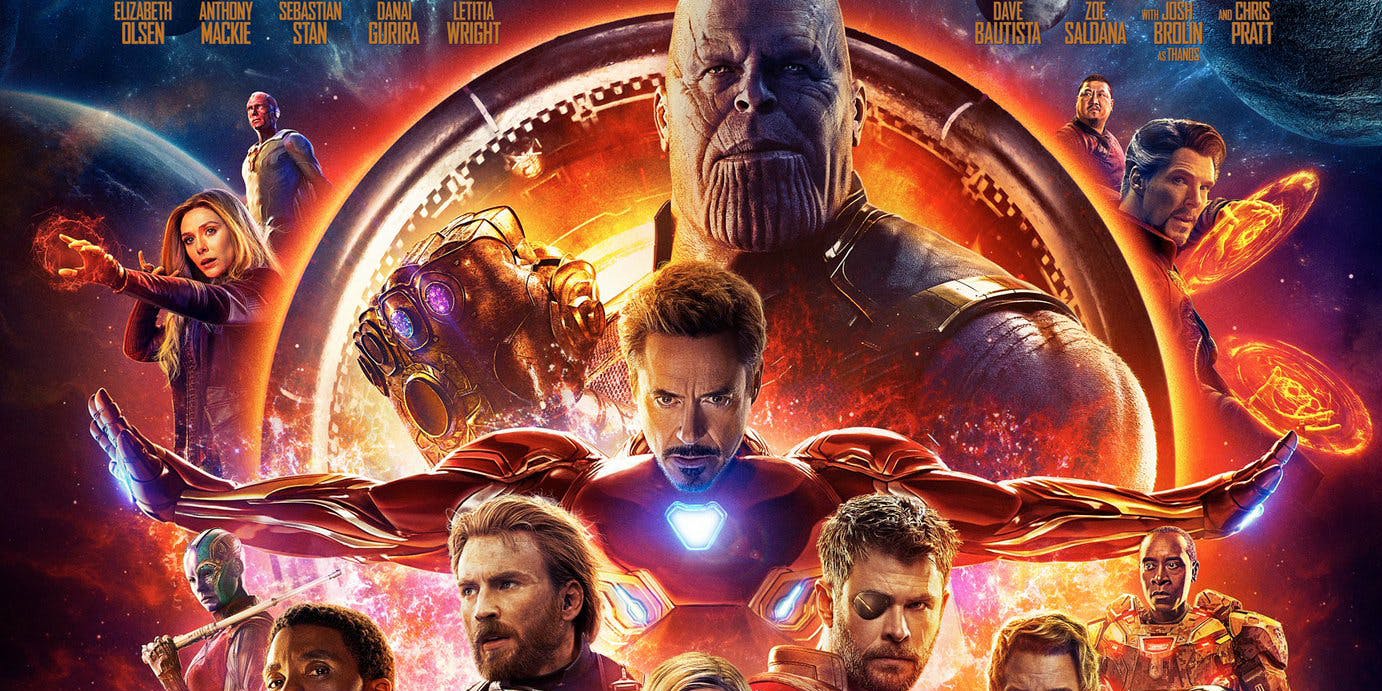 Avengers: Infinity War is slated to be released on April 27th, 2018. Directed by Joe & Anthony Russo aka Russo Brothers who are a masterful duo when it comes to comic-book movies. They have an uncanny knack of handling ensemble cast under one roof, for instance, Captain America: Civil War is their best work. The movie is produced by Kevin Feige and host of executive producers including Louis D'Esposito, Victoria Alonso, Michael Grillo and Stan Lee. The screenplay is written by Christopher Markus and Stephen McFeely.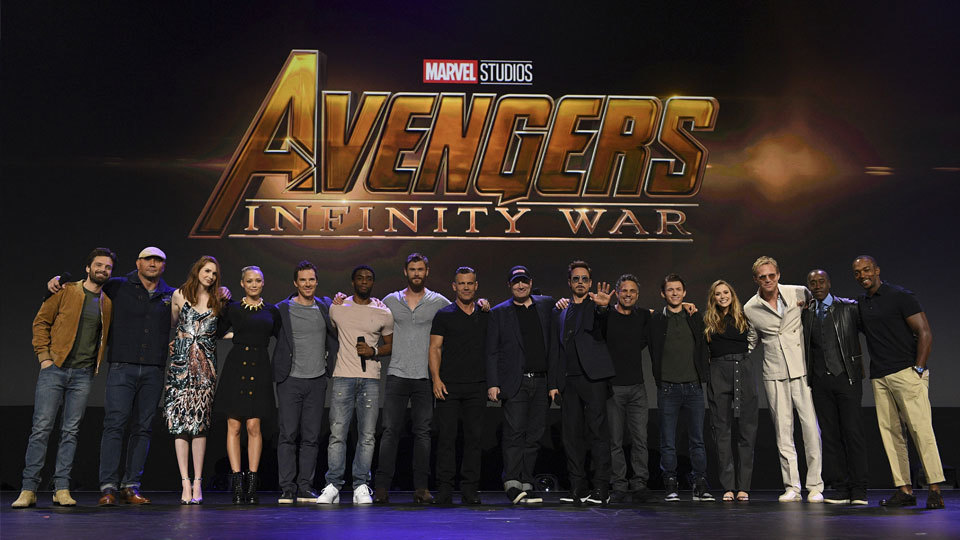 The cast is a matter of envy for other studios as Marvel has brought some of the biggest stars under single roof including Josh Brolin (Thanos), Robert Downey Jr. (Iron Man), Chris Evans (Captain America), Tom Holland (Spiderman), Chris Pratt (Star Lord), Zoe Saldana (Gamora), Sebastian Stan (Winter soldier), Anthony Mackie (Falcon), Chris Hemsworth (Thor), Tom Hiddleston (Loki), Mark Ruffalo (Hulk), Bradley Cooper (Rocket Raccoon), Vin Diesel (Groot), Scarlett Johansson (Black Widow), Jeremy Reiner (Hawkeye), Benedict Cumberbatch (Dr. Strange), Benedict Wong (Wong), Letitia Wright (Shuri), Chadwick Boseman (Black Panther), Paul Rudd (Ant-Man), Elizabeth Olsen (Scarlett Witch), Karen Gillian (Nebula), Pom Klementieff (Mantis), Dave Bautista (Drax), Paul Bettany (Vision).
The official film synopsis reads: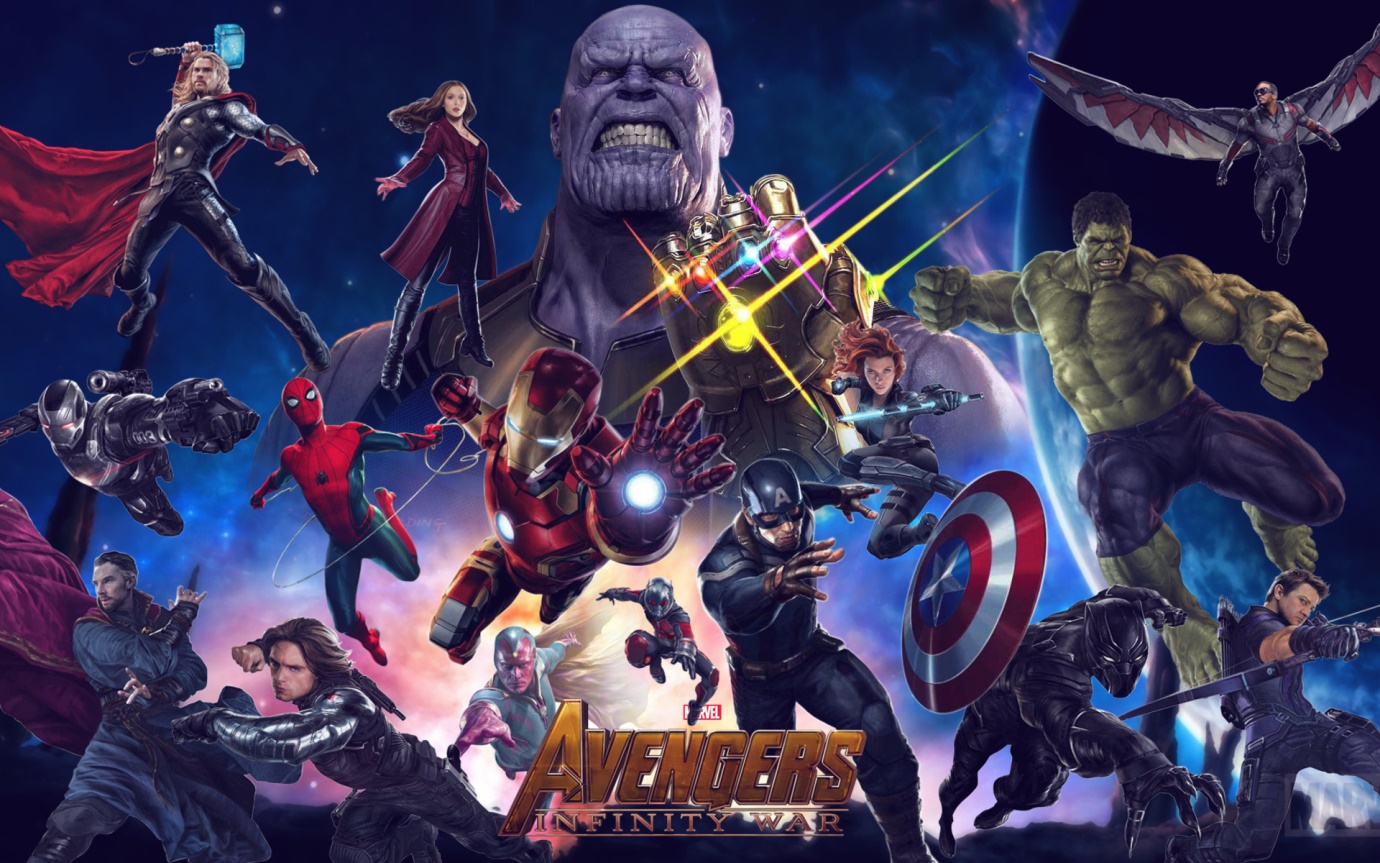 "Iron Man, Thor, the Hulk and the rest of the Avengers unite to battle their most powerful enemy yet — the evil Thanos. On a mission to collect all six Infinity Stones, Thanos plans to use the artifacts to inflict his twisted will on reality. The fate of the planet and existence itself has never been more uncertain as everything the Avengers have fought for has led up to this moment".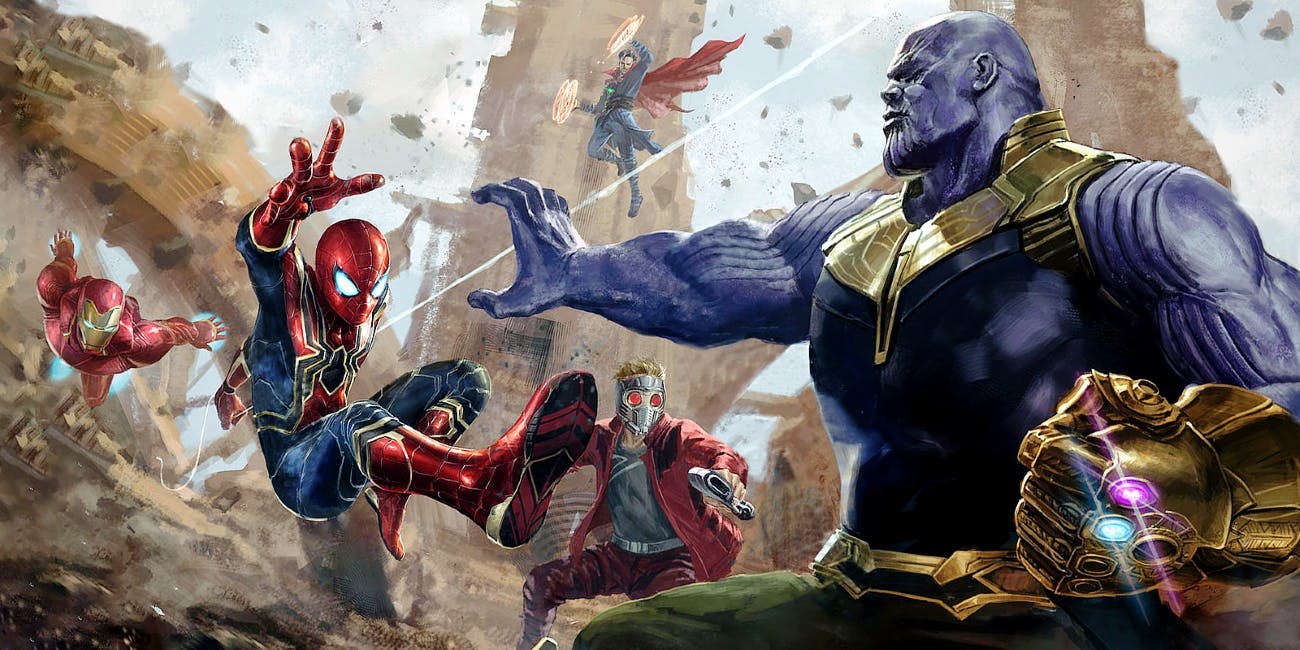 "As the Avengers and their allies have continued to protect the world from threats too large for any one hero to handle, a new danger has emerged from the cosmic shadows: Thanos. A despot of intergalactic infamy, his goal is to collect all six Infinity Stones, artifacts of unimaginable power, and use them to inflict his twisted will on all of reality. Everything the Avengers have fought for has led up to this moment – the fate of Earth and existence itself has never been more uncertain".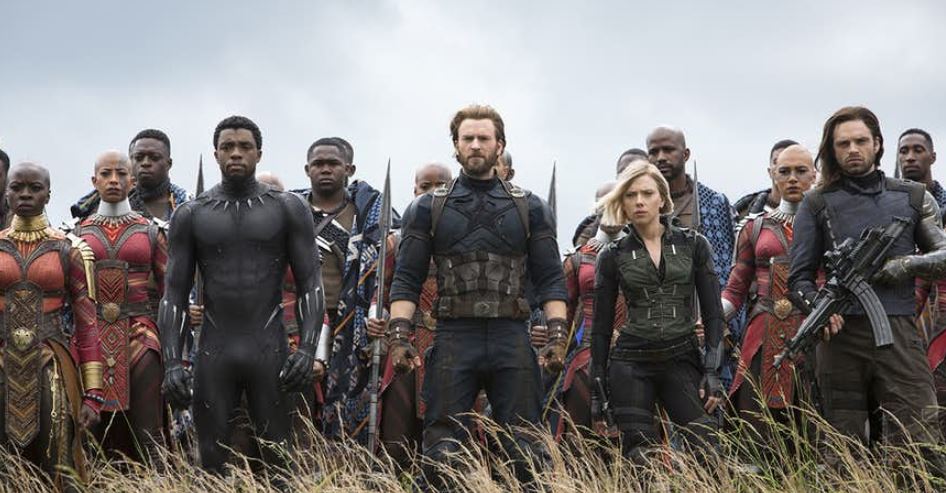 "An unprecedented cinematic journey ten years in the making and spanning the entire Marvel Cinematic Universe, Marvel Studios' "Avengers: Infinity War" brings to the screen the ultimate, deadliest showdown of all time. The Avengers and their Super Hero allies must be willing to sacrifice all in an attempt to defeat the powerful Thanos before his blitz of devastation and ruin puts an end to the universe".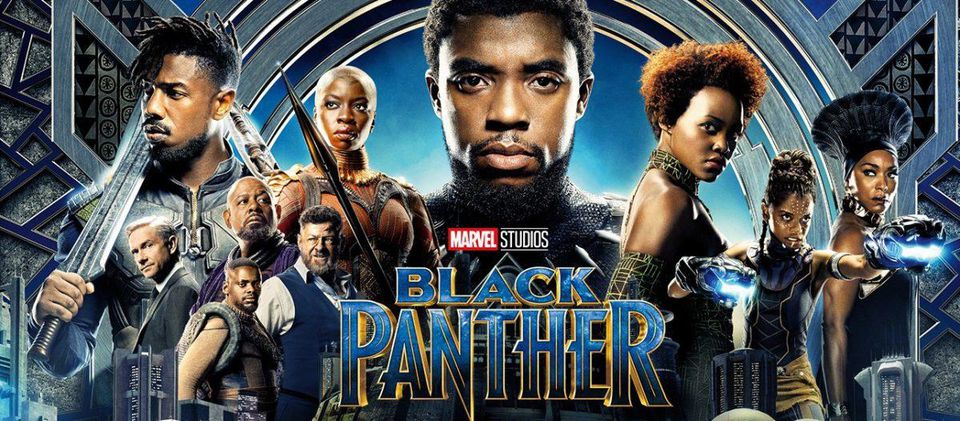 The last movie to join the Marvel roster was Black Panther which was released on January 29, 2018. Black Panther and Wakanda will be a major part of the coming Infinity War saga. The official film synopsis reads:
After the death of his father, T'Challa returns home to the African nation of Wakanda to take his rightful place as king. When a powerful enemy suddenly reappears, T'Challa's mettle as king — and as Black Panther — gets tested when he's drawn into a conflict that puts the fate of Wakanda and the entire world at risk. Faced with treachery and danger, the young king must rally his allies and release the full power of Black Panther to defeat his foes and secure the safety of his people.
Don't Miss: Here's Why Chris Evans Is The Best MCU Casting Ever For Captain America