News
Ant-Man 2 Set Photo Has Revealed New Ant-Man Suit
In 2015, we saw Ant-Man as a reluctant "average joe" Scott Lang who puts on a powerful suit that transformed him into a superhero. Unlike other Marvel superheroes, Ant-Man integrated a more comical tone to the superhero's story, whether it was the situations that Lang landed himself in or his close-knit group of friends that presented the audiences with scenes that were more reminiscent of comic-book sketches.
The sequel to the movie, Ant-Man, and The Wasp which will see a release in 2018 seems to be following the same humor and character focus that we witnessed in the first film. According to Peyton Reed, the upcoming movie will not be going for too many special effects or too many Avengers cameos. The Wasp will be the first superhero to co-headline a Marvel movie. So, the introduction of her into the MCU had to be bang on.
Recently, Marvel revealed the first look of the new suit worn by Ant-Man (Paul Rudd) in the fourth Avengers film. In a new set video to promote #DayofGiving, a movement to help those affected by Hurricane Harvey, Gamora herself, Zoe Saldana asks for fans support by donating anything you can to the American Red Cross while alongside Marvel President Kevin Feige, directors Joe and Anthony Russo, the crew members of the fourth Avengers film, as well as several Marvel stars including Rudd, Evangeline Lilly, and Karen Gillan.
The video shows Paul Rudd standing in support of this great initiative that Marvel is taking. Rudd is actually standing in his new Ant-Man suit that we will surely see in Avengers 4 if not in Infinity War or Ant-Man and The Wasp. Alongside Paul Rudd, we can see Evangeline Lilly standing in her new Wasp costume which was recently revealed and it looks really amazing. It is totally different from the one we saw at the end of the first Ant-Man movie. It seems that the suits shown in the first one was a prototype and this is the finished version as it is totally different in color as well as the patterns. The new one is mostly Black and Red while the old one was more Gold in color.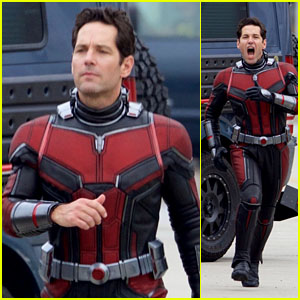 The movie is set after the events of Captain America: Civil War and Scott Lang aka Ant-Man is trying to find a balance between his personal life and superhero life. The entertainment website JustJared.com published on its Twitter account the set images of Paul Rudd in a new costume without a mask. It is a modern suit with tactical capabilities and a huge upgrade from the original suit worn by him in Ant-Man.
Apart from this, Michelle Pfeifer (Catwoman) is playing the role of Janet van Dyne (wife of Hank Pym and mother of Hope van Dyne) finding it difficult to read Ant-Man comics. She said:
"I just started reading them, and I'm having a really hard time. There's so much information on a page, and it's not linear. When I'm skim-reading them it's difficult to know that this part comes after that and who is talking in what bubble."
Ant-Man will be seen in both Avengers Infinity War and Avengers 4 both are  being directed by Joe and Anthony Russo. The cast include Robert Downey Jr., Chris Evans, Chris Hemsworth, Mark Ruffalo, Scarlett Johansson, Jeremy Renner, Paul Bettany, Elizabeth Olsen, Chris Pratt, Zoe Saldana, Dave Bautista, Bradley Cooper, and Vin Diesel as well as Pom Klementieff, Michael Rooker, Karen Gillan, Tom Holland, Sebastian Stan, Chadwick Boseman, Samuel L. Jackson, Tom Hiddleston, Benicio Del Toro and Josh Brolin.
Avengers: Infinity War hits theaters May 4, 2018, and will be followed by Ant-Man and the Wasp on July 6, 2018, and Avengers 4 on May 3, 2019.
Don't Miss: 15 Upcoming Marvel Movies That DCEU Cannot Beat