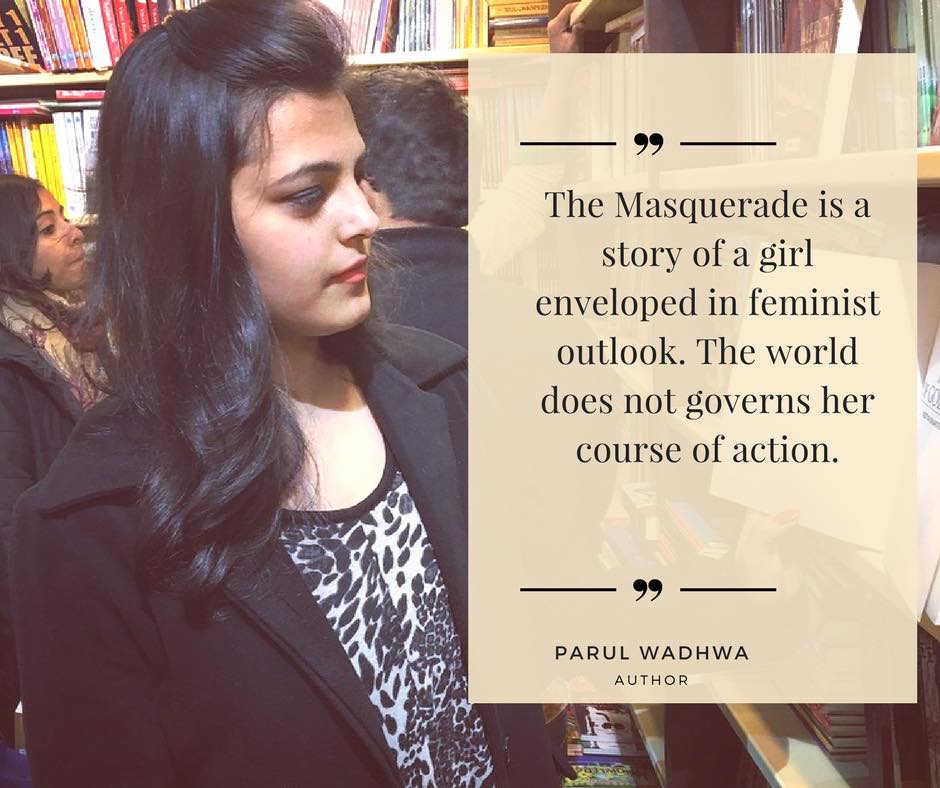 Parul Wadhwa, young author of recently released fiction "The Masquerade" is a confident and an ambitious 22 year old, coming from a middle class family with no history of writers or authors. Parul is raised in Delhi.
From the very childhood she fancied being a doctor and thus everyone in her family believed it too. On the other hand, growing up during her teenage years, she inclined towards literature and loved reading books. Fortunately or unfortunately, her dream of being a doctor never saw light. She was depressed and calls it a tough phase of her life. She says "The day exam results were announced, more than I was shattered my parents were disheartened. A dream saw it's grave waiting to be buried." Losing a purpose and the essence of living was like losing your wings.With heavy heart, she moved on but the pain of failure didn't ever stop hurting. The fire was bright. There were days she lost it and rest she managed just fine. Nothing made sense in life, the arduous reader found comfort in books and befriended pen and paper.
Thus, The Masquerade was born. No, it's not her story but an inspiration,an aspiration penned down in a character that speaks for her. The day she started writing, She didn't know Wattpad would be that amazing and responsive. Over thousand comments and some 12k views, people were already suggesting and encouraging her. A desire refuelled, another purpose found and the novice writer at Wattpad took birth as a published author on March 1, 2017.The Masquerade couldn't wait to come out, it took rounds and rounds of editing & research until the masterpiece was ready to be served.
She adds: "For a year, I saved each penny to raise The Masquerade. It was worth it, even if it took a broken dream to walk over. It sure is not the finest of my works, but will forever be closest to my heart. I have learnt through the entire course that if you encounter a tunnel without light, don't lose hope. Keep faith, the view ahead will be beautiful and there will be nothing to regret because everything happens for a reason." There is a unique blend of practical and reasonable emotions in the characters. That's why it connects to realtime people.
Afterall, it takes something to top the search results but there is always a scope of growth because sky is not the limit anymore. Connect with the author at her official page: https://www.facebook.com/The-Masquerade-136073370257705/ Or write to her at Parulwadhwa63@gmail.com Read The Masquerade, now available at all leading estores. To get your copy from Amazon click here: The Masquerade https://www.amazon.in/dp/1946822930/ref=cm_sw_r_cp_api_i_l.N3ybGF4M8 0Y