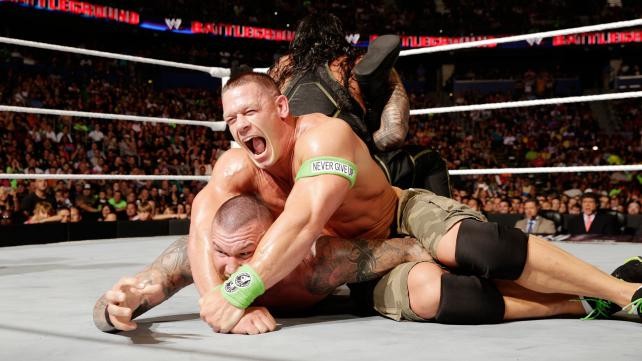 It is not hidden that how much the WWE brand relies on John Cena. He is the face which runs the company, whether it may be carrying the brand on his shoulders, moving forward with championships or doing any promotional stuff for the WWE. Well, now the future of John Cena on WWE might be in a grey area as nothing is certain. After the brand extension of WWE into RAW and SMACKDOWN LIVE, a lot of changes are expected.
So what is the FUTURE OF JOHN CENA on WWE?
John Cena as we all know has been drafted to SMACKDOWN by Shane McMahon and Daniel Bryan. Another person who has been drafted into Smackdown is AJ Styles. Now, considering the on-screen tension between the two we can expect the rivalry to continue. Now, that Styles is without Gallows and Anderson and Cena doesn't have Enzo and Big Cass at his side. (Both the TAG teams have been drafted into RAW)
Another possibility lies in Cena becoming the WWE Champion again. Dean Ambrose, the current WWE Champ, a crowd favorite is unstable. He may end up losing the Championship. Now, two veterans are there- RANDY ORTON and JOHN CENA. We can expect a tussle between these two fighters for the WWE CHAMPIONSHIP. RANDY vs CENA, will be amazing! RKO's and AA's…Woah!!!! Can Cena be 16th time WWE CHAMPION? That would be something.
Well, this is a likely possibility and what most fans wouldn't like it. John Cena is ageing and he is a sensation. He gets many offers from Hollywood. Thus, he might shorten up his in-ring career for those opportunities.
In an inteview Cena told,
I'm going to do this as long as I physically can. There is a definitive end in sight. I'm gonna milk it for all that it's worth. And not like, 'I'm gonna hang on to my spot, man.'…I just want to be involved, I want to be able to contribute because the noise and the appreciation, like that is such wonderful psychology to be able to manipulate.
He also tweeted the following,
I have not "earned" a slower schedule, I have "earned" an opportunity to challenge the limits of work capacity. #NeverGiveUp#HUSTLE

— John Cena (@JohnCena) July 9, 2016
This, end of Cena in the ring might not be too near but it isn't too far also by the very looks of it.
What lies ahead is fairly uncertain, just like the future of John Cena on WWE, which holds a retirement from ring, sooner or later!
But as Cena says, NEVER GIVE UP!