Fitness
5 Fitness Friendly Hotel Chains
Back in the day, if you had a job that required you to be on the road, it was sometimes difficult to find a hotel that offered a fitness facility. Maybe there were a couple of treadmills, or if you were lucky, there was an old universal machine.
But thankfully, those days are over. The hotel industry has recognized that it's customers are eager to continue their workout regimes even when they are travelling away from home.
53% of road warriors say they always or often exercise on the road, with 52% calling the hotel gym their preferred workout locale, according to a TripAdvisor survey conducted in 2013.
Her are five fitness friendly hotel chains that allow you to stay in shape while you are away from the gym.
TRYP by Wyndham
For a little extra money, you can get fitness in the privacy of your room, you can exercise whenever you feel like it. Just book a signature Fitness Room at any one of the 100-plus TRYP locations around the world, and your room will come stocked with an exercise machine (like a stationary bike, elliptical machine or treadmill) and complimentary exercise clothing.
EVEN Hotels
You have to stay motivated to stay in shape while on the road. EVEN Hotels, are a wellness lifestyle hotel chain that opened its first four properties (two in New York City and one each in Maryland and Connecticut) in early 2014.
They have healthy menus and rooms designed with sleep in mind. There are also a variety of fitness options. All of the locations feature a gym, as well as a "flex room" with TV- and staff-led classes.
In-room equipment like yoga mats, foam rollers and exercise balls are standard in every room, and a "wellness wall" will list information about wellness options in and near the hotel, workout guides and staff recommendations for staying healthy on the road.
Hyatt Hotels and Resorts
It's all about staying fit when you stay at a Hyatt. The chain's StayFit program promises state-of-the-art fitness facilities, plus YogaAway, a system that allows you to "order" a yoga workout from an in-room entertainment unit.
Most of the hotels also have a fitness concierge who can help you get workout gear (like swim goggles) and give you maps with designated running and walking routes.
Some can even provide GPS watches so you don't have to worry about getting lost when you jog off the beaten path. They also offer healthy cuisine from the StayFit menu.
Sheraton Hotels and Resorts
You call the front desk at a Sheraton and ask for the complimentary Gym-In-A-Bag. You'll get a book packed with exercises, mat, resistance band, massage stick and foam roller.
Turn on the TV and head to the in-room, on-demand fitness videos and online training programs from "Core Performance," a company that designs programs for athletes of all levels.
If you have to order room service, Sheraton's "Color Your Plate" program features meals generally under 500 calories with a minimum of three colors from fruits and veggies, whole grains, lean proteins and healthy fats.
Four Seasons Hotels and Resorts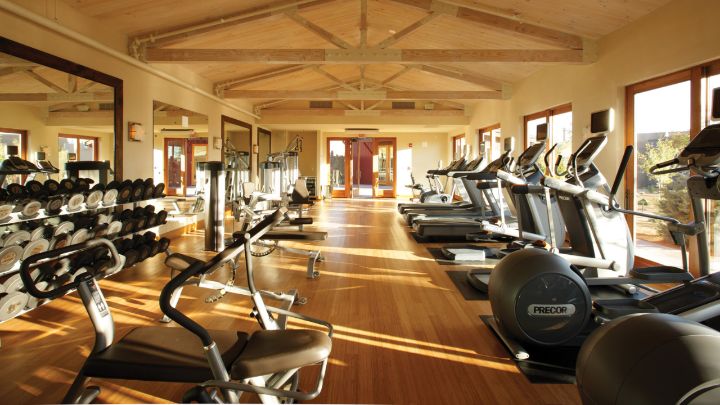 This luxury brand stands out not only because of company wide fitness offerings — most Four Seasons have state-of-the-art gyms with classes and personal trainers — but because of individual touches at its different locations.
Take advantage of guided hikes, free bike washing stations, tuning kits and storage. ski concierge etc.
Too busy to work out? Use the custom personal training app on your in-room iPad.
Going for a morning run in Boston? Get some workout gear, running shoes and a jogging map on your way out, and get a towel and water when you return.
Four Seasons hotels will even lend you workout clothes, so you don't have to wash those sweaty socks in the tub while traveling.
I personally have spent a lot of time in hotel rooms, and if I wasn't too tired from work, I was often disappointed in the workout facilities. Usually I just resorted to body weight exercises or used bands.
Both are extremely effective by the way, but I think it is good to know that some major hotel chains are getting with the program and providing quality training facilities and options through their organizations.