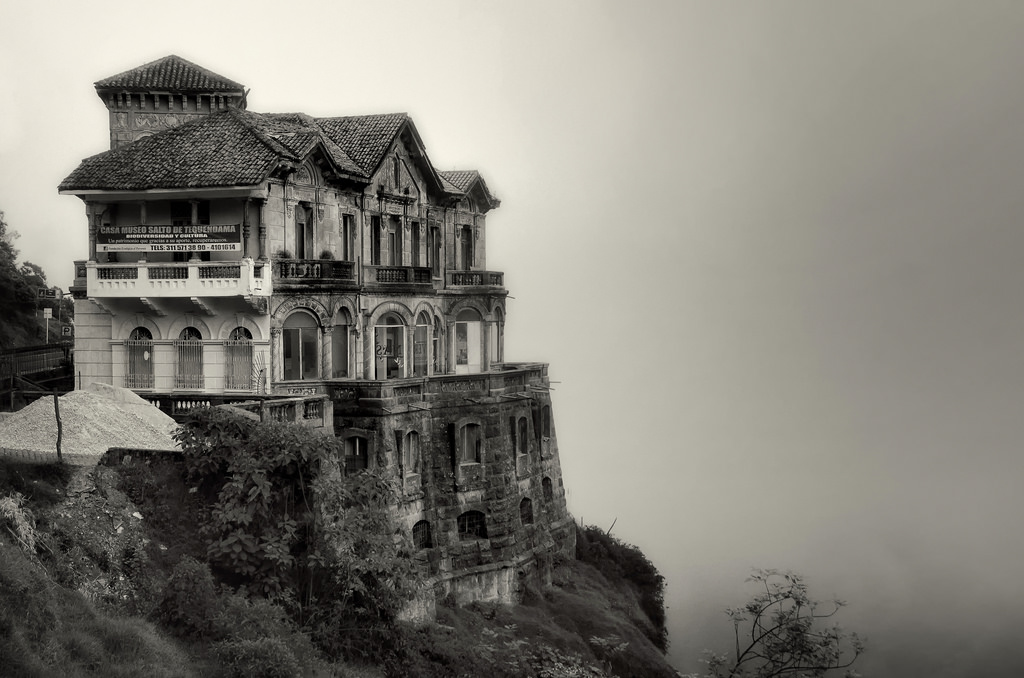 Why do humans construct things, then mysteriously walk away from them as if they never existed? Financial, societal, or the presence of something we can't explain, all are reasons that attribute to the demise of these 7 mysterious structures. Check them out.
1) San Zhi City, UFO Pods, Taiwan
Taiwan's other-worldly "ruins of the future" are a set of pod-like buildings built in 1978 as a vacation resort. However, two years later the project collapsed due to financial problems and a number of deaths during construction. Deserted for 28 years, demolition finally began in 2008.
2)  Hashima Island, Japan
Hashima island in Japan has a wide array of nicknames, including Battleship Island (for its shape) and Ghost Island. From the late 1800s to late 1900s, the island was populated because of the access it granted to undersea coal mines.
However, when Japan switched from coal to petroleum, the mines (and the buildings that sprung up around them to support their workers) closed down, leaving an isolated ghost town.
3) Abandoned Military Hospital in Beelitz, Germany
A rotting carcass of deserted corridors and empty patient wards, this military hospital once housed German and Soviet soldiers but has been largely unused since the late 1990s.
Derelict it may be, it has not been entirely abandoned; empty bottles and garbage scattered on the ground, hint at the  groups of opportunistic looters, weekend wanderers,  and  photographers who are drawn to the decayed feeling given off of this morbid site.
4) Salto Hotel, Colombia
The Hotel De Salto opened in 1928 near Tequendama Falls in Colombia to serve tourists who were drawn by the 157-meter tall waterfall. It closed down in the early 90s after interest in the waterfall declined.
5) Michigan Central Station in Detroit, U.S.A.
Michigan Central Station was built in 1913 in Detroit to create a new public transportation hub. Several planning oversights and mistakes, however, led to its gradual decline and closing in 1988.
The building's fate is still being decided, but in the meantime, the station has appeared in several films and videos, including Eminem's "8 Mile" film and "Beautiful" music video.
6)  Presidio Modelo, Cuba
Empty since 1967, this "Model Prison" still radiates desperation and paranoia. Inspired by the Panopticon, its oppressive architecture was designed to create a sense of constant, invisible fear.
Commissioned in 1926 by dictator Gerardo Machado, the prison's inmates once included Fidel Castro. However, under Castro's government, the population ballooned to over 6,000 "enemies" of the state. Now a museum, visitors can experience the forbidding atmosphere still present in the echoing corridors and vacant cells.
7) Overtoun Bridge, Scotland
In my opinion, this is the most mysterious structure of them all. 50 dogs in the last 50 years have jumped off the Overtoun Bridge in Dumbarton, Scotland. They met their death on jagged rocks 40ft below the historic location. The most recorded were five dogs in just a six month period.
All of the tragic incidents took place at the same spot; on the right-hand side between the last two parapets. The Scottish Society for the Prevention of Cruelty to Animals labelled the phenomenon a "heartbreaking mystery".
Many believe the bridge is haunted by an incident in 1994 when a man named Kevin Moy threw his baby boy to his death from the bridge; as he believed the infant was the anti-Christ. He then tried to kill himself but was unsuccessful and when asked why he committed such a heinous crime, he confessed the bridge had made him do it, saying, "it had a powerful effect on him."