News
Making the World a Little Smaller With Music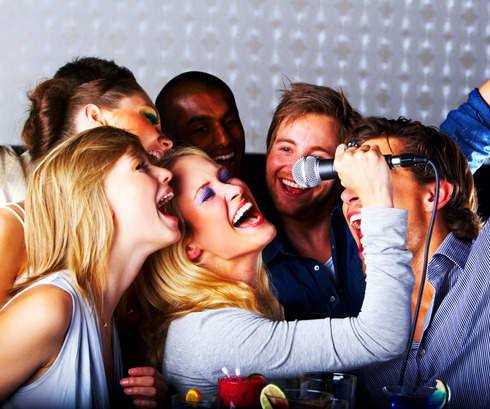 Music is the universal social network. I can't think of any culture that hasn't used the rhythm of a drum, or the melody of an instrument to aid in their communication of messages and emotions to each other and the Gods they worship.
People all over the world sing when they are celebrating and they sing when they feel sorrow. Mothers sing their little ones to sleep. We sing in our cars and we sing in the shower. Though it may sound differently from culture to culture, genre to genre, music is undeniably recognized instantly by everyone who hears it.
While many people are content to never be heard by others, I think that deep down we all want to share that little part of ourselves that gets released when we play or sing music. But how or where can we do this? Perhaps we join a school chorus, or church choir, maybe we get some friends together and start a band, or we might go out to the local karaoke club to let loose once a month.
For those that have either done this and moved on, and those that simply wanted to reach a wider audience and community from the privacy of their home but didn't know how to go about doing that, a solution came along in 2008.
Seven years ago, founders Jeff Smith and Stanford Assistant Professor Dr. Ge Wang introduced the world to Smule. Smule is an American mobile app developer that specializes in social- music making apps for iOS, Android, and Amazon.com Kindle Fire.
On their web page smule.com, their opening  statement reads as follows, "Smule's mission is to connect the world through music." Well it seems that they  have done just that. Over 125 million people world-wide have used their apps to sing, play, smile and connect with each other on a daily basis.
Dr. Wang was quoted as saying, "The goal of the app was to draw users in and by the time they realize they are making music, it's too late – they're already having fun."
To date, Smule has made 21 different apps that have ranged from guitar and piano avenues, to "Sing! Karaoke" which was released on August 8, 2012. The Sing! app allows users to interact, connect and sing together on a variety of different musical genres and styles. This kind of collaboration opportunity has led to many different groups and communities, one of which being "SmuleNesians" on Facebook.
The SmuleNesians Community  was created on January 14, 2013 and is the official Indonesian community of Sing! They became the first and biggest Nation-based community in the app. One thing that is unique about SmuleNesians, is that they host several sub-groups. They have an under 19 age group, a SN VIP for non-Indonesian members, and what I personally think is the best idea, sub-groups based on different genres of music.
Working from what members affectionately call their "smudios," which can be their cars, bedrooms, closets, whatever,  people can sing to their heart's content, either in solo performances, or in duets, or groups with other Sing! users.
This is a closed group, but all you have to do to join is fill out a short application form and join the SmuleNesians FB lounge group. It seems that there is a true sense of community. With members from all over Indonesia and its surrounding areas getting a chance to share their songs, personal stories and situations, and support one another, both musically and on a personal level.
Here is a SmuleNesians video taken from their FB site. It features Florencia Maura doing an awesome rendition of "Stay" by Rihanna, check it out!
So, if there is a song in your heart that needs to get out, or you just want to make new friends with people across the globe that have the same passions as yourself, check out the Smule apps.
If you find that this is something you really enjoy, and you happen to be Indonesian, be sure to check out the SmuleNesians page on FB, it might be one of the most self-satisfying things you could ever do for yourself. May the music move you my friends.