Death is inevitable. Irrespective of the how precious the presence of a person is, one cannot help but to lose them, at some or the other point of time. Amidst the list of extremely prestigious presidents who served our country, a name shines brightly, Avul Pakir Jainulabdeen Abdul Kalam popularly known as A P J Abdul Kalam. His was a personality deserved to be called charismatic.
Unfortunately, we lost this gem on 27th July 2015.
Academics wasn't the only domain he excelled in, there were some surreal things about his personality which made him People's President.
Since some of us might be reading about Kalam Sir for the first time, I want you to know more about him than just his brilliance.
Want to live your life Kalam's way? Read these 10 points.
Do what it takes.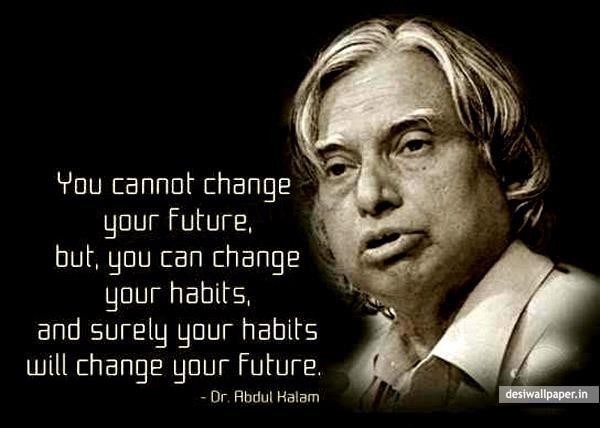 He was born to Jainulabdeen and Ashiamma in Rameshwaram on October 15, 1931. His family wasn't financially sound. Kalam took up any job he could, like delivering newspapers in his childhood to support his family but he never gave up on his education.
The start is sometimes small, but never insignificant.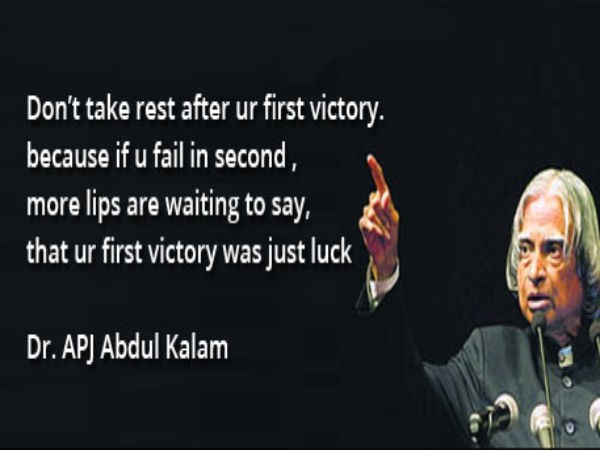 He started his career by designing a small helicopter for the Indian Army. Later in 1969, he was transferred to the Indian Space Research Organization (ISRO) where he was the project director of India's first Satellite Launch Vehicle (SLV-III) which successfully deployed the Rohini satellite in near-earth orbit in July 1980. His contributions are distinguished enough to make him Missile Man. And rest as we know, is history.
Kids had Kalam's heart.
Rashtrapati Bhawan has witnessed Kalam Sir meeting the kids in his personal chambers, spending time sharing their ideas. He kept the doors of his heart and mind open to the future of nation. He gifted some precious things, his time and attention.
There is near-miss for everyone.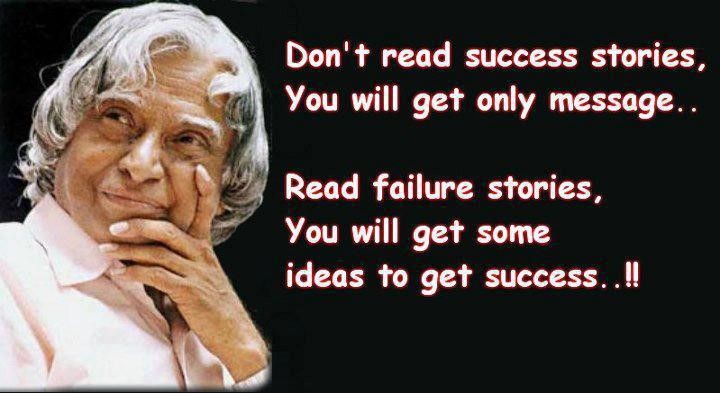 You still mourning over an exam cut-off you missed by few marks? Or an opportunity you missed? His point was who hasn't? Even he had narrowly missed achieving his dream of becoming a fighter pilot, as he placed ninth in qualifiers, and only eight positions were available in the IAF.
Technology can't paralyze intentions.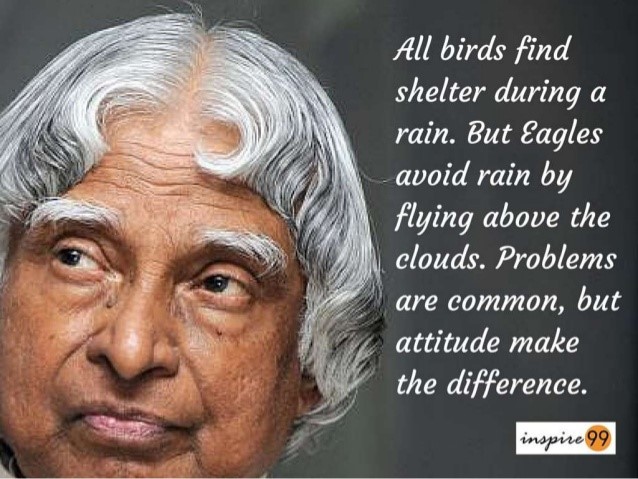 After he was declared next President, he was delivering a speech at a modest school. While speaking to around 400 students, there was a power cut. Dr. Kalam ensured the power cut didn't cause any interruption. He walked right in the middle of the crowd and asked the students to surround him. He then spoke to 400 students with his bare voice. Nothing stops you from doing what you want to do, if you really want to.
Be careful next time you blame technology for loosing connection with loved ones!
Being President was just one jewel in his crown.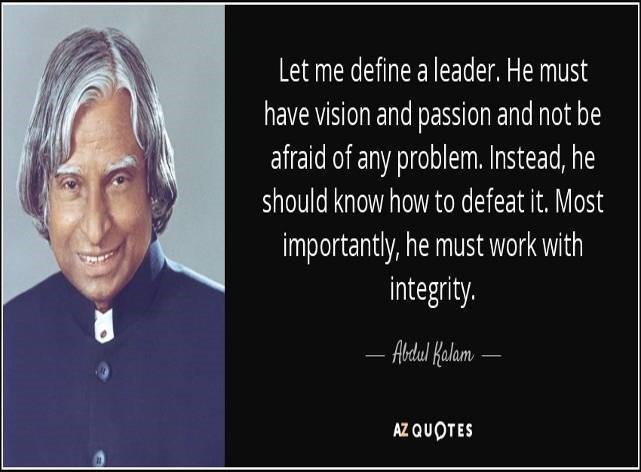 Kalam was the third President of India to have been honored with a Bharat Ratna, India's highest civilian honor, before becoming the President. Dr Sarvepalli Radhakrishnan (1954) and Dr Zakir Hussain(1963) were the earlier recipients of Bharat Ratna. He was also the first scientist and the first bachelor to occupy Rashtrapati Bhawan. Want to know which award was dearest? Being People's President.
Movements start at heart.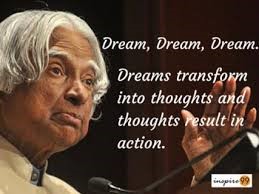 In May 2012, Kalam launched a program for the youth of India called the What Can I Give Movement, with a central theme of defeating corruption. He believed in people, people believed in him. A bond he nurtured all his life.
The end is inevitable.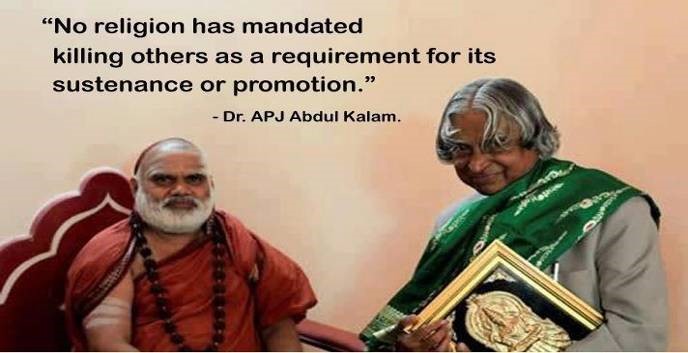 We are mortals, but we can try to contribute society in a way that it brings good to people, whether we live to see it or not. Thinking of how to start doing so? Well start with loving. He loved not just the human beings, evident by an incident when he did not support placing glass pieces on the wall saying 'If we do that, birds will not be able to perch on the wall.
A strong person strengthens not just him, but many.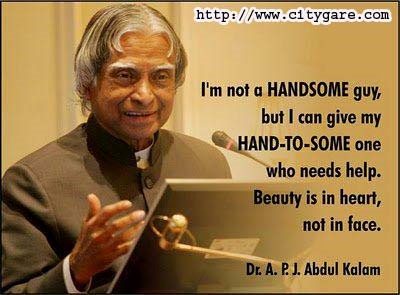 Probably something like this must have been in his mind when he said, "Now that I have become the President of India, the government is going to look after me till I am living; so what can I do with my savings and salary?", while giving his savings to the trust PURA (Providing Urban Amenities to Rural Areas).
Want to be something? Be Capable.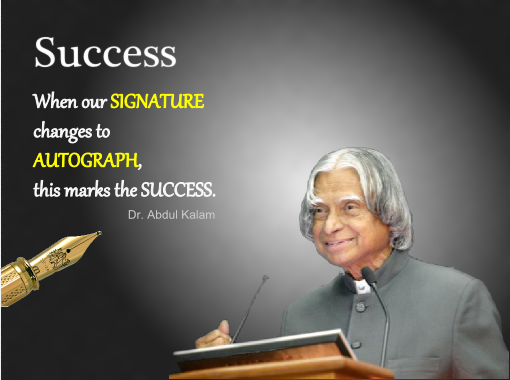 Choose a skill, a domain, one or many, and pursue it till it becomes your tool to serve. Choose words and make yourself capable of writing your imagination. Choose knowledge and be a medium for it to flow from you to those who seek it. Be capable of something other than living aimlessly.
Kalam Sir had a way with words. Amongst all his books, "India 2020" was the widely read and appreciated one. It forecasted an action plan which advocated India turning into a knowledge superpower and as one of the developed nations of the world by the year 2020. His other books include, "Ignited Minds", "Mission India", "Inspiring Thoughts" and "The Luminous Sparks".
How does a civilian feel about the death of people of national importance?
Had it been for any one else than Kalam Sir, I would have highlighted how indifferent an issue it is for a common man. We pay condolences, pray for them, get a day off work, without feeling any connection. But that's the difference in his case. I am writing with such a heavy heart, that I couldn't help writing his name without Sir. I have been lucky to greet him when he visited our school.
This loss seeps deep into hearts, of me and millions.