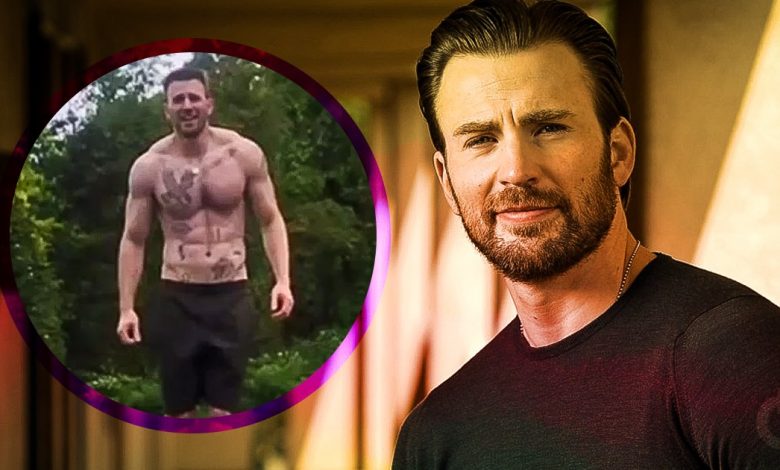 Chris Evans Chest Tattoos:
Chris Evans is just perfect in many ways. With so many blockbusters and accolades under his name, he's easily one of the most successful actors there are. Our very own Steve Rogers, aka Captain America, has sadly left the Marvel Cinematic Universe. But that doesn't mean that he is not going to break the internet still. His very presence in Hollywood is bliss to many. And recently, Chris Evans has done it again.
This happened while Chris was talking to ACE Universe over video chat, and he wore a tank-top shirt with an open button-down draped over it. The outfit cut was just low enough at the chest to reveal the multiple tattoos that Evans has. And by surprise, most people weren't even aware of the fact that Evans Has tattoos on his chest. Look at how people reacted and went gaga over it:
I need to cleanse my timeline.

Can you all SPAM me with Gifs or pICs of whoever you are fanning whether in outlander fandom or beyond.

After the onslaught that is Ontario politics I can barely remember #ChrisEvans tattoos from yesterday

Help a fangirl thrive pic.twitter.com/s2gapPTkZv

— Skimminy Cricket (@kim45607978) March 25, 2021
It's so amazing to see people adore Evan's personality!
https://twitter.com/amandaazar/status/1374828068846587904?s=19
The fandom is crazy.
https://twitter.com/itsIaurenmae/status/1375091516369219591?s=19
Having a hard time there!
Chris Evans has chest tattoos?!? pic.twitter.com/10h9f5Rudn

— poulet compote frites stan account (@MarsSailor_) March 25, 2021
Undoubtedly one of the best reactions.
People who didn't previously know @ChrisEvans had tattoos are NOT WORTHY

— Andiamo Fratello (@herebytheocean) March 25, 2021
Tell me, are you worthy?
While the internet is going crazy for Chris Evans, let us see the movies that Evans will be appearing in. Don't Look Up is set to release in 2021. Lightyear will release on June 17, 2022. Evans is rumored to play a big role in the Little Shop of Horrors remake. Chris will team up again with the Russo Bros. alongside Ryan Gosling for The Gray Man, which will stream exclusively on Netflix. The budget for The Gray Man is $200 million, making it Netflix's biggest budget movie yet. He is also circling the lead role in Bermuda.
Chris Evans has been one of the most prominent members of the Marvel Cinematic Universe. Evans has played two roles in the MCU, beginning with Human Torch in the Fantastic Four story arc. That was his first Marvel stint. After a fair break, Marvel decides to bring him back as Steve Rogers, Captain America, in Captain America: The First Avenge in 2011. He bid farewell to his role of Steve Rogers in Avengers: Endgame. Steve went back in time to reunite with his love, Peggy and passed on Captain America's legacy to Sam Wilson. This set up The Falcon and The Winter Soldier in which we see Sam and Bucky facing new challenges and finally stepping out of Steve Roger's shadow. The Falcon and The Winter Soldier is currently streaming on Disney+.
We love Chris Evan! What about you? Let us know in the comments below!