Elizabeth Olsen is one of the sisters of the famous Olsen Twins- Mary-Kate and Ashley Olsen. While the twins earned stardom since they were babies, their younger sister, Elizabeth is the one under the spotlight now. She rose to fame after starring in "Avengers: Age of Ultron" as one of the superheroes, Wanda. Today, Elizabeth is a huge part of the powerful franchise, MCU, and also a frontrunner in the league of superheroes. She has also appeared in other movies where her work was admired by her fans and critics. Here are the 10 must-watch movies of Elizabeth Olsen outside MCU.
Liberal Arts
The beloved actor from "How I Met Your Mother", Josh Radnor stars opposite the talented, Elizabeth Olsen in this romantic-comedy. Josh is an alumnus of a New York college who returns to his alma mater for the retirement party of his favorite professor. This trip takes him down the road of nostalgia as he meets Elizabeth's character and realizes how his grownup life has treated him all along. Elizabeth Olsen portrays her character with so many emotions and passion that it feels realistic and relatable.
Ingrid Goes West
Elizabeth plays a social-media influencer in this comedy, who is followed by her obsessed fan. "Ingrid Goes West" is a mockery of the present culture that communicates via emojis and gets attracted to superficial and temporary things. This movie blends thriller with comedy and tries to wake up the ones who live on social media.
Wind River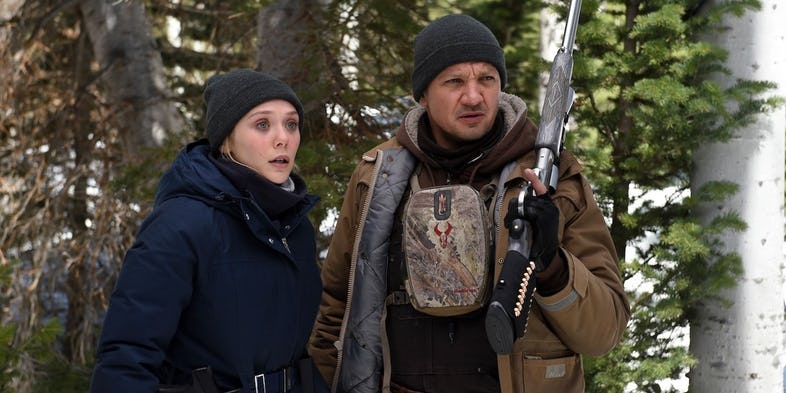 Elizabeth Olsen shares the screen again with her MCU costar, Jeremy Renner in this mystery-thriller, "Wind River". Jeremy plays a wildlife officer and Elizabeth plays an FBI agent, who team up to investigate the murder of an 18-year old woman, whose body was found in the snow. But the closer they get to solve the case; the more life-threatening dangers start to follow them. The actors' performances keep you engaged throughout this mind-boggling mystery.
Sorry for Your Loss
This drama is a highly underrated series that deserves more attention. Elizabeth plays a widow whose bond with everyone transforms drastically after her husband passes away. This is by far one of the best performances by the actress who transcends us to a whole new world through her eyes. It gives us an insight into the sorrows and pain of homes that have lost a family member. Elizabeth makes you feel what her character goes through with her powerful performance.
Martha Marcy May Marlene
Elizabeth plays a shattering role, similar to Wanda, in this thriller. The movie depicts the haunted life of Elizabeth's Martha, who grows up in a cult where she fell victim to torture and abuse. As she finally makes her great escape and starts living with her sister, Martha is pulled down by the traumas of her past. Every day is a battle for Martha, who is trying to treat her bruises and join her broken self.
Oldboy
Elizabeth Olsen has worked with Josh Brolin, widely known for playing Thanos before they met again in "Avengers: Infinity War". "Oldboy" is based on a Korean thriller where an advertising agent,  Josh Brolin, gets abducted one night and is held in captivity for years, away from his daughter. When he is suddenly released after 20 years, Josh goes on a mission to find the kidnapper and the motive behind his confinement. What role does Elizabeth have in this film? You need to find that out by watching this twisted and dark thriller.
Godzilla
You must have watched plenty of versions of the classic Godzilla. Some were successful while some tanked horribly. Elizabeth also starred in one of the Godzilla movies in 2014. In this reboot, Godzilla comes out of the shadows when obscure giant creatures begin to threaten the world. This is one of the most loved Godzilla movies by fans.
Very Good Girls
Elizabeth shares the screen with Dakota Fanning in this Indie film named "Very Good Girls". The story is about two best friends, played by Olsen and Dakota, who make a pact to lose their virginity before leaving for college. Things get complicated and their friendship is put to test as both the young women end up falling for the same guy. Directed by Naomi Foner Gyllenhaal, this film feels unique and out-of-the-box as compared to the conventional genre of films. It received mixed reviews as the critics gave low scores but the audience applauded it in full appreciation.
Silent House
Olsen has experience in superhero, comedy, drama, as well as horror movies. She plays a young woman who renovates houses with her dad and uncle for sale. This time, they come across an old house that has been vacant for a long time. They are forced to rely on battery torches and lanterns to renovate the house as it had no utilities. Lost in work, Elizabeth gets trapped in a cabin and slowly loses contact with anyone outside. Things start to get spooky as the cabin is consumed by ominous terrors.
"Kodachrome" is a warm story of a son who finds out about his father's terminal illness and decides to join him on a road trip to deliver Kodachrome film rolls. This beautiful journey invokes all the emotions in us as the cast captures every moment. Every actor, including Jason Sudeikis, Ed Harris, and Elizabeth Olsen did an incredible job.