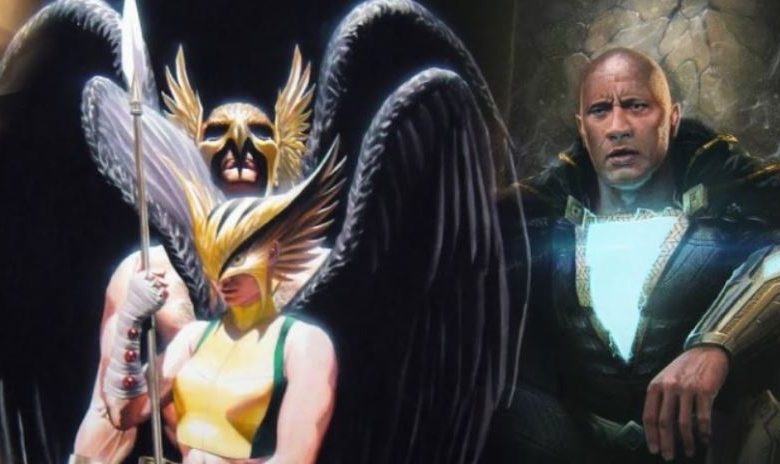 Hawkgirl in Black Adam:
We're still overwhelmed with everything that was revealed at the DC FanDome event. One of the bigger panels at the Dome was led by Dwayne Johnson. He narrated everything that we're supposed to know about his upcoming Black Adam movie. We got a look into Black Adam's origin, and we got to know every about JSA member who will appear in the movie. Here's the JSA trailer that was revealed at the Dome:
So clearly, the new iteration of the team will include Hawkman, Doctor Fate, Cyclone & Atom Smasher. Noah Centineo made a special appearance in the panel as he had already been announced as Atom Smasher in the past. But, Johnson kept the cast of the rest of the team members a mystery. But another mystery that got cooked up in our minds was regarding the absence of Hawkgirl. People have been curious as to why Hawkgirl was not seen in the teaser that revealed the JSA members of Black Adam. Well, Dwayne Johnson has cleared one thing for us. When asked by a fan, the Rock replied: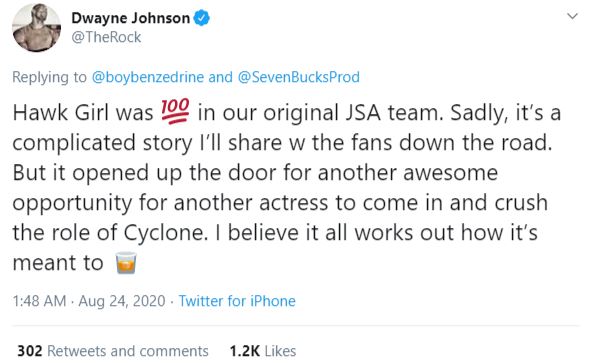 So, this is a confirmation that Hawkman's love interest will not be in the Black Adam movie. Her absence is what made the way for Cyclone. With Cyclone, we will get to see a unique new character. As for Hawkgirl, Johnson has confirmed that he will later reveal the real reason for her absence from the film. It sounds like something happened BTS, and Hawkgirl wasn't allowed to appear in the movie. But it's unclear what could have held her back. It shouldn't be an issue of rights for the character because she did appear in the Arrowverse on The CW network. Maybe her absence is a part of Hawkman's story and will be addressed in the film. Even if she won't appear in Black Adam, her arrival in a future DC film could still be set up quite easily. We'll have to wait and see what the real deal is.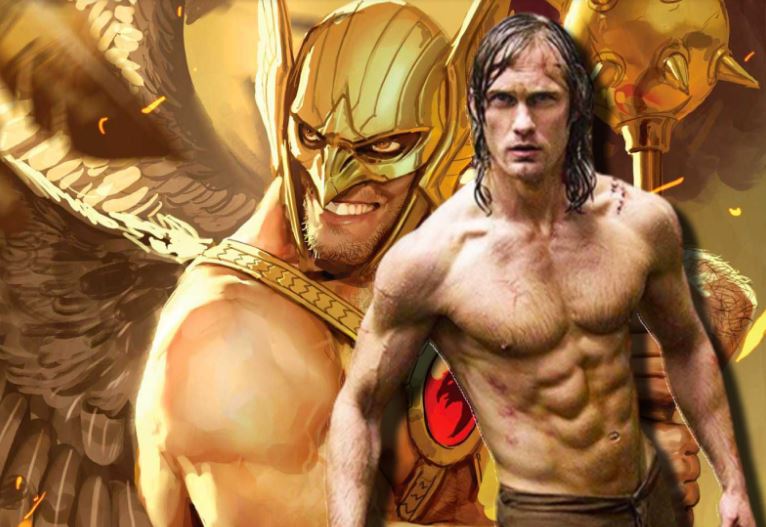 A recent report from The Illuminderi stated that Alexander Skarsgard is being eyed for Hawkman. This casting may or may not have been finalized yet. But it will surely be confirmed in a few months when Black Adam goes under production. The reason we're excited about this film is because Black Adam is a character who doesn't hold back. He has his own sense of justice and we'd probably see him laying waste to the JSA, or any other opponents that he may face. He won't be afraid to go for the kill.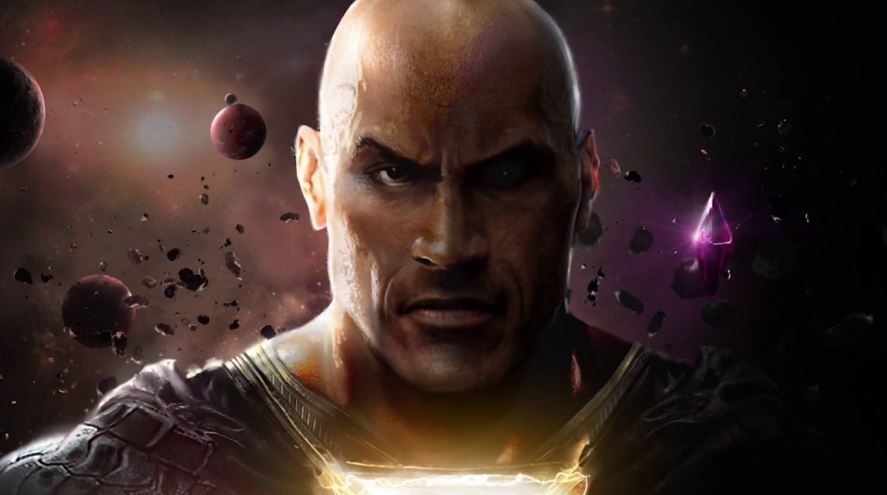 During the panel, Johnson talked about the true strength of Black Adam. He said:
"As we all know, Black Adam is one of the most powerful superheroes anti-heroes villains. Whatever you want to call Black Adam he is one of the most powerful in the DC universe but as we all know, the superheroes, they have to exhibit a little bit of restraint when it comes to taking care of the bad guys if you will, or taking care of the people who are opposite them, who are opposing them who are in their way. But this idea that you could take all of black Adams powers, and he does not practice restraint. That makes for a really powerful combination, and one that's explosive one that's very dangerous, and one that is ultimately, I think, very likable, to me at least."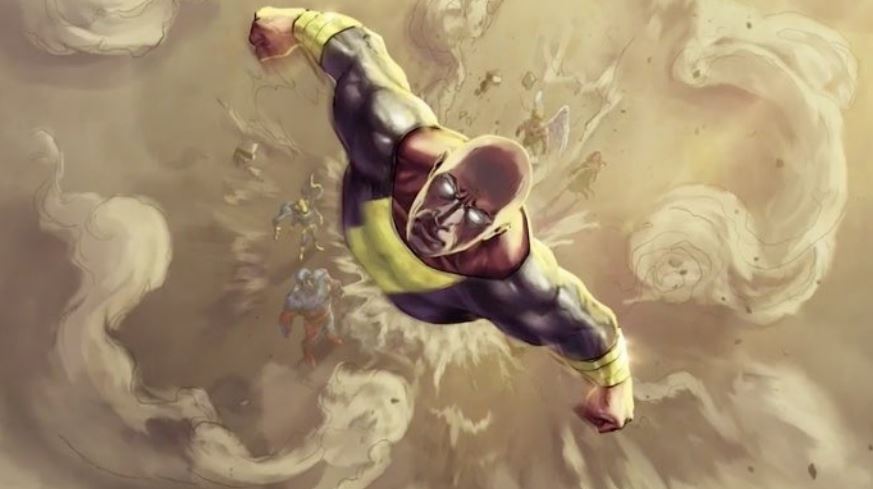 He ended the Black Adam panel by giving out a warning:
"Flash. Aquaman. Wonder Woman. Batman and Superman. Let's let them know something. Things will never be the same. Because the hierarchy of power in the DC Universe is about to change."
It is only a matter of his arrival. Once he makes his debut, the future of the DC Universe will open up in a much bigger way. It'd be interesting to see the other movies in which Adam could appear besides Shazam. Black Adam arrives on December 17, 2021 (hopefully).