News
Marvel Asks Fans Who They Want As The Next Big Villain
Who do you want as the next big villain in Marvel?
The Infinity Saga saw many powerful villains but Thanos was the big bad that made the avengers bleed. The Mad Titan was able to defeat the Avengers and became the hero of his own story. He used the infinity stones and snapped half the universe out of existence. He was the villain with a motive and that's what makes him one of the best villains of all time.
Now that he's gone and the next phase of MCU is about to get started, fans have been wondering who'd be the next big villain in Marvel Studios films that our heroes would face in the future. There have been many theories and speculations that it'd be Kang the Conquerer or Doctor Doom. Some are even wanting to see Galactus but it's been more than a year now, and there's no big news or update around this topic. All we have are the release dates for some upcoming MCU projects. Many fans are even wanting to see Thanos once again but he's done for now in the Marvel movies.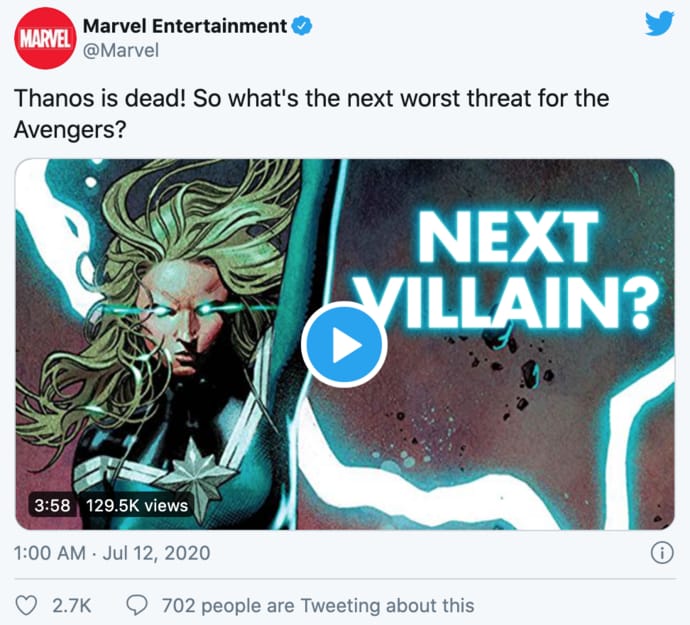 But in the meanwhile, Marvel Entertainment has asked the fans who they think is the next worst threat for the Avengers through their Twitter handle and have received many suggestions. Ranging from Kang to Beyonder. Let's have a look:
The most famous ones:
Doctor Doom.

— Héctor Mallet (@Hector_Mallet) July 11, 2020
Get Galactus in and do him properly unlike in Fantastic Four 2

— Nick Gornall (@NickGornall93) July 11, 2020
Kang the Conqueror…there is a consequence for messing with time. pic.twitter.com/nBMiYNnCvy

— Drew Jackson (@oldhickory1313) July 11, 2020
The Beyonder. Just update his wardrobe. pic.twitter.com/K3qPqVyHG7

— The Mike Johnson (@TheMikeJ) July 13, 2020
The craziest one:
Donald Trump and the Republicans

— Brian Johnson (@sheliason1231) July 11, 2020
The next film in line is Black Widow which got delayed because of the corona pandemic. We are yet to see what happens with Natasha and her family. It will arrive on Nov 6, 2020. Here's the official synopsis of the film:
At birth the Black Widow (aka Natasha Romanova) is given to the KGB, which grooms her to become its ultimate operative. When the U.S.S.R. breaks up, the government tries to kill her as the action moves to present-day New York, where she is a freelance operative.