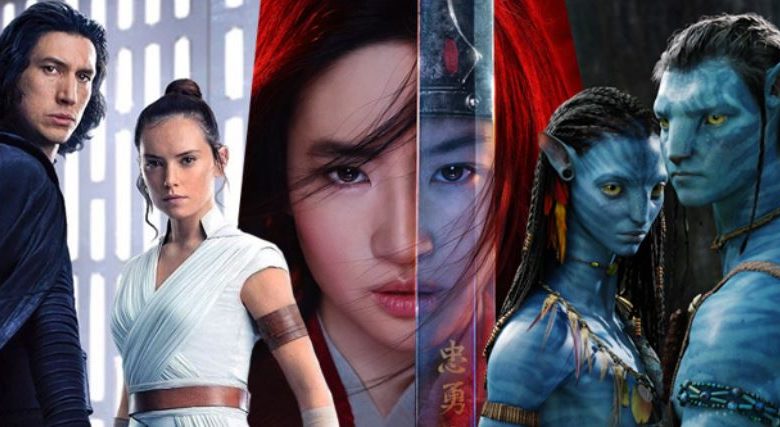 These are funny times. Where every studio is delaying their 2020 movies, Disney has begun delaying their late 2021 & 2022 movies as all Avatar Sequels & Star Wars films have been pushed by a year each. First of all, Mulan needed immediate attention from Disney. It was first scheduled to arrive in March. But COVID-19 pushed it to July 24, and later to August 21. Since theatres will not be opening next month either, Disney has taken a decision to delay Mulan indefinitely, like WB has done with Tenet.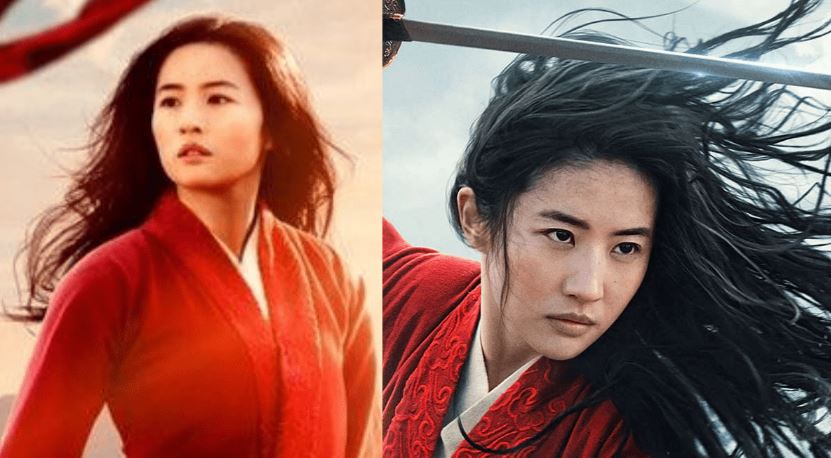 Here's what Disney's spokesperson told Variety:
"Over the last few months, it's become clear that nothing can be set in stone when it comes to how we release films during this global health crisis, and today that means pausing our release plans for 'Mulan' as we assess how we can most effectively bring this film to audiences around the world."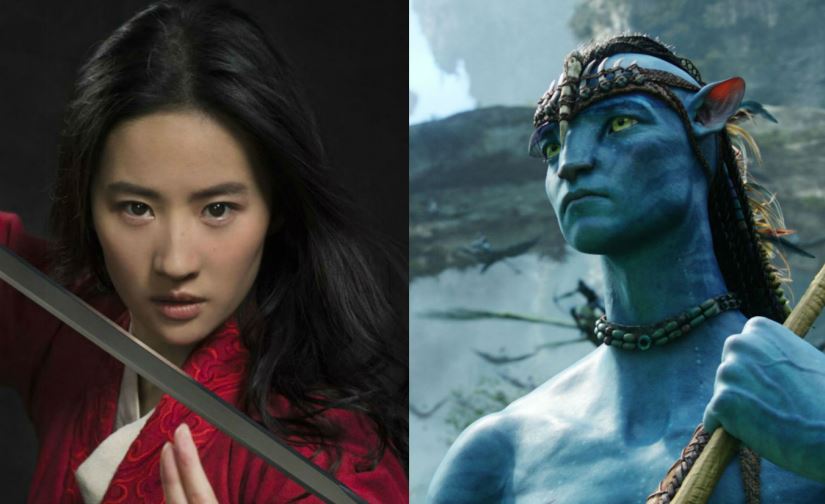 It is obvious that Mulan won't be arriving on Disney+ or VOD. Disney is looking for a theatrical release, and it will happen when the situation is feasible & theatres all around the world reopen. That could mean that Mulan will hit theatres in 2021. So, let's wait and watch. As for the Avatar sequels & Star Wars films, the production halt that COVID-19 caused for Avatar 2 has led Disney to delay their entire release schedule regarding those films. The Avatar sequels and Star Wars films were supposed to arrive in December in alternate years starting with Avatar 2.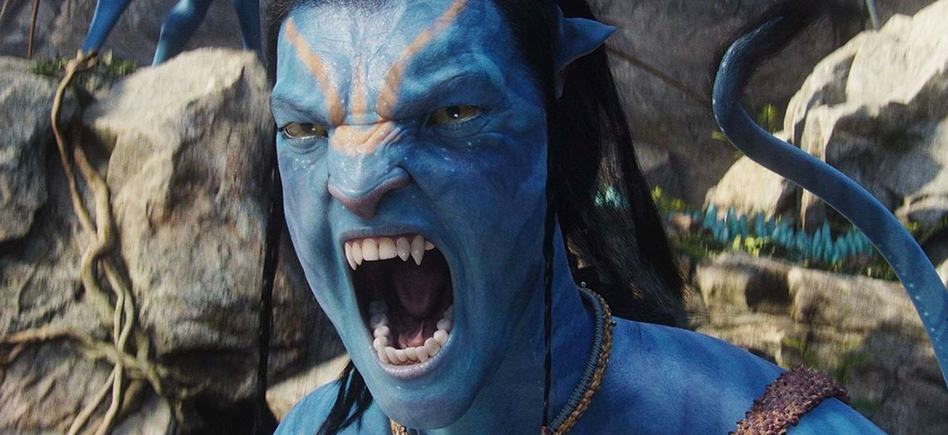 Avatar 2 was going to hit theatres in December 2021, Avatar 3 in December 2023, Avatar 4 in December 2025, and Avatar 5 in December 2027. In between, 3 untitled Star Wars movie would've opened in December 2022, December 2025 & December 2026. But now, all these films have been pushed back by a year due to the delay in Avatar 2's production. James Cameron has issued an official statement announcing the delay: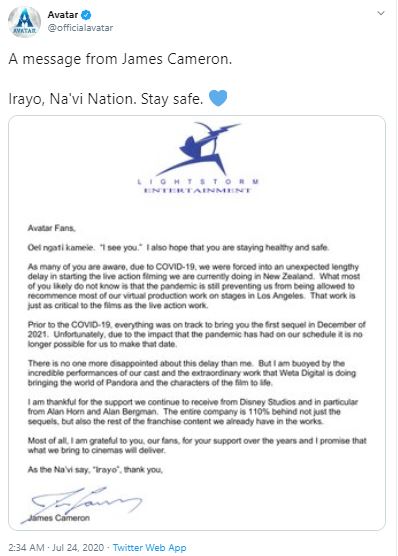 Here's the new release schedule of Avatar 2, 3, 4, & 5:
– AVATAR 2 (20th) previously dated on 12/17/21 will arrive on 12/16/22
– AVATAR 3 (20th) previously dated on 12/22/23 will arrive on 12/20/24
– AVATAR 4 (20th) previously dated on 12/19/25 will arrive on 12/18/26
– AVATAR 5 (20th) previously dated on 12/17/27 will arrive on 12/22/28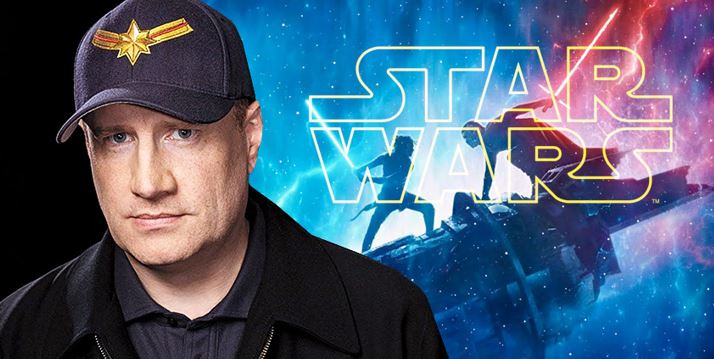 And the schedule for Star Wars films is as follows:
– Untitled Star Wars previously dated December 16, 2022, will arrive on December 22, 2023
– Untitled Star Wars previously dated December 20, 2024, will arrive on December 19, 2025
– Untitled Star Wars previously dated December 18, 2026, will arrive on December 17, 2027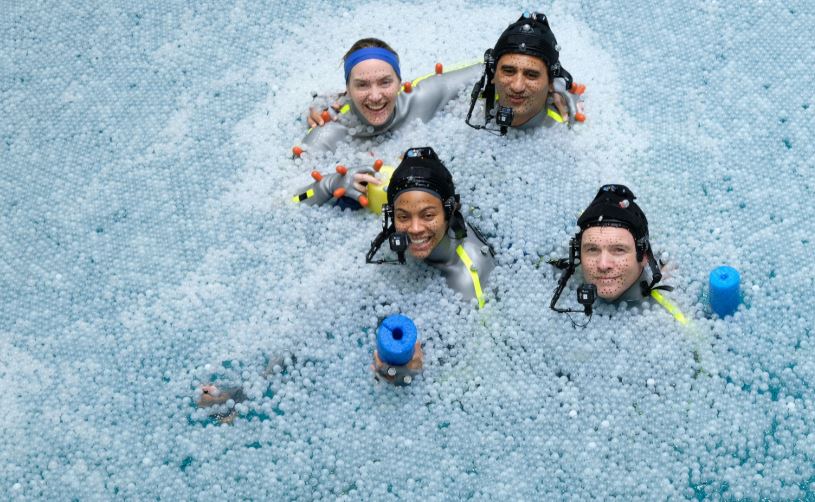 It's quite intriguing that Avatar 2 has been delayed because of a COVID-19 halt. We thought that this movie couldn't have been delayed because it had already been given an extra year. Under Fox, Avatar 2 & 3 were going to arrive in December 2020 & December 2021 respectively. Avatar 4 & 5 would've followed in 2024 & 2025. Avatar 2 was the first film to restart production in New Zealand when the rest of the world was still in lockdown. Furthermore, actors have been working on the film since 2017. Back then, they did the performance capture for Avatar 2 & 3. And in 2019, the live-action filming began. So, it's surprising that just a little over a couple of months of delay caused Avatar's entire schedule to shift by a year. Just how much work do these films actually need? James Cameron & co have got a budget of $1 Billion for all 4 Avatar sequels. The visual effects works might totally be off the charts. Which is why these films are taking so much time.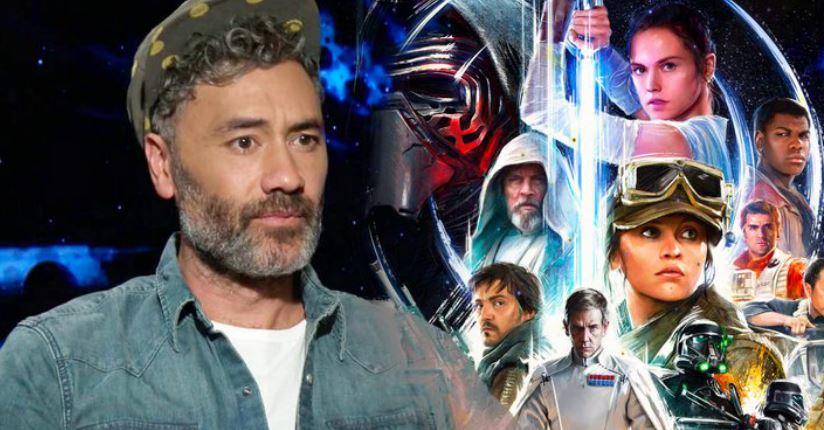 Talking about Star Wars, Taika Waititi will certainly be happy since he has got more time on his hands for his Star Wars movie. The scripting for his film has already begun on his film. Kevin Feige is also supposed to produce a Star Wars movie. So, his film has got more time as well. Director Rian Johnson will also be working on a trilogy, so let's see how that fits into Disney's release schedule.
Despite Avatar's delay, 2021 is still a big year for movies because it will be bringing a mix of films from 2020 & 2021.
Read More: