Movies
Endgame Directors Share Final Onset Moments of Chris Evans, Robert Downey Jr. & More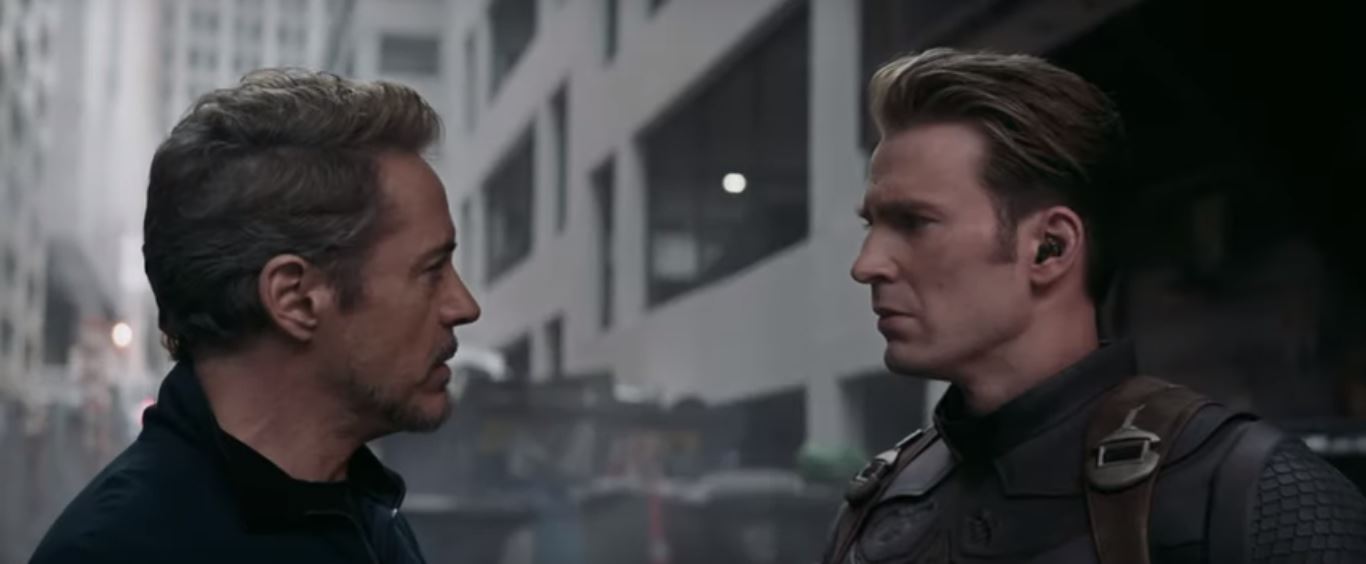 Avengers: Endgame was a pretty special movie for us. At this time last year, we were all mesmerized by Endgame. Right now it seems that we're actually in Endgame in the real world. Staying at home, we've got time to remember how awesome things were last year during the last week of April. We were all left in awe of the amazing performances that Chris Evans, Robert Downey Jr., Jeremy Renner, Mark Ruffalo & Scarlett Johansson had given us. Comicbook.com held a Quarantine Watch Party of Avengers: Endgame and we got plenty of new revelations from it. Along with that, the Russo Brothers have shared a lot of onset BTS moments of Endgame. Here, take a look at a few of those:
Chris Evans' Final Day
This is from @ChrisEvans's last day of playing Captain America, ever. Much love and respect to you sir. What an amazing run. #AvengersAssemble pic.twitter.com/LreTlM2JrZ

— Russo Brothers (@Russo_Brothers) April 28, 2020
We're sure that this very moment on the set of Endgame would've been pretty special. It was obviously the day when the reshoots were wrapped. Evans had written a heartfelt message for the rest of the world saying his final goodbye to Captain America. He wrote:
"Playing this role over the last 8 years has been an honor. To everyone in front of the camera, behind the camera, and in the audience, thank you for the memories! Eternally grateful."
RDJ's Final Day
Downey's last day on set after shooting the "I am Iron Man" moment. The very definition of a legend. We love this man 3000. @RobertDowneyJr #AvengersAssemble pic.twitter.com/wIiQ5AwsDJ

— Russo Brothers (@Russo_Brothers) April 28, 2020
Robert Downey Jr. got massive applause on his last day playing Tony Stark. We've loved his portrayal of Iron Man more than any other actor playing their character. So, it was surely an emotional day when he shot his final moment. There are talks of him returning to the MCU someday. But for now, let's just feel good about what he has done for us playing Iron Man for over 10 years.
The Wrap on Endgame
BTS of Tony, Cap and Ant Man in NY…#AvengersAssemble pic.twitter.com/aZMLsOlp2p

— Russo Brothers (@Russo_Brothers) April 28, 2020
It seems that this was the initial wrap of shooting before the reshoots because based on Evan's final day of shooting that we've seen above, he wasn't wearing his Avengers suit. So, it could've either been a wrap for production in New York. Or it could've been a wrap before the reshoots. Anyway, Marvel had achieved so much by just ending production on this film, so it would've indeed been a special moment for everyone on set, let alone just the directors, Robert Downey Jr., Chris Evans & Paul Rudd.
Brie Larson's first day
This was @brielarson's first day ever as Captain Marvel… And here's a quick video of her greeting the cast for the first time. #AvengersAssemble pic.twitter.com/ewMLDqgVGk

— Russo Brothers (@Russo_Brothers) April 27, 2020
Right from day 1, Brie Larson got to wear her Captain Marvel suit. Obviously, her suit is the same one from Captain Marvel here as the one we saw in the final cut was completely CGI. But still, it would've felt good for Larson to have worn her suit right from the start.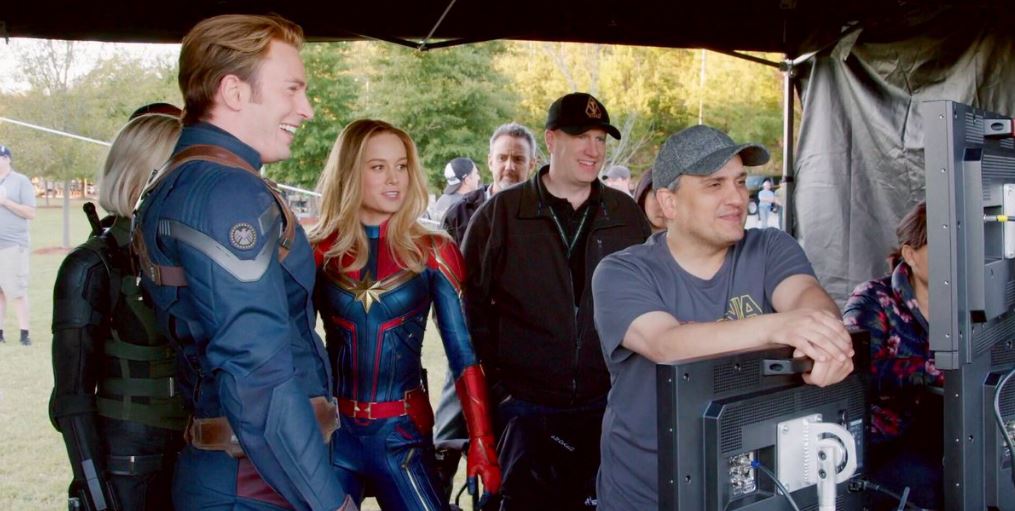 Larson united with the MCU veterans as they were shooting the Avengers leaving Earth scene. So that's pretty awesome to say the least. It is obvious that Chris Hemsworth, Don Cheadle, Mark Ruffalo & Sean Gunn would've also been present on set during Larson's first day since they were also present in this scene.
Here are a few other amazing BTS moments the Russos have shared, commemorating Avengers: Endgame:
We've got some more Russo family cameo's here. That's Joe's daughter, Lia, Anth's son, Julian, and our nephew, Augie. Lia loved the memes of her dabbing when this first came out… well, maybe love is a strong word… #AvengersAssemble pic.twitter.com/ggT5LBVE0M

— Russo Brothers (@Russo_Brothers) April 27, 2020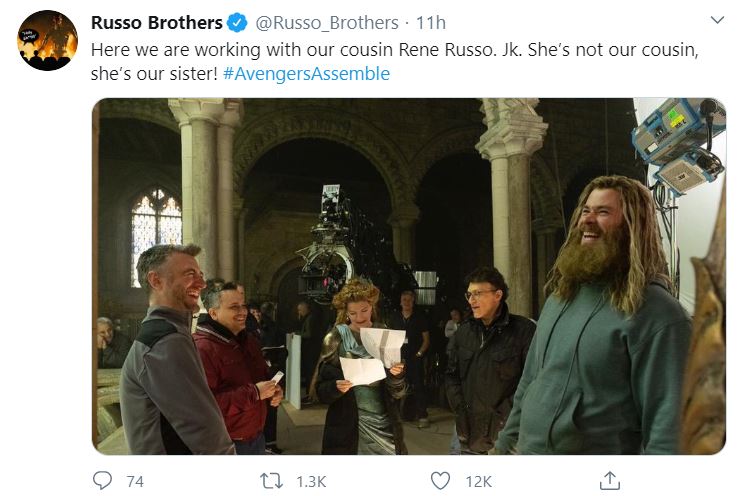 See…he's not that old…@ChrisEvans #AvengersAssemble pic.twitter.com/8yBoGUp9Zr

— Russo Brothers (@Russo_Brothers) April 28, 2020
Check out the twitter page of the Russo Brothers for more awesome Endgame moments. Avengers: Endgame turned out to be the biggest movie of all time. Its record at the Box Office cannot be broken due to various factors like the Coronavirus harming the several businesses, the upcoming rise of the Streaming Services, and the general hype that no other film could ever create in the future. It is possible that even Marvel will not be able to recreate such an event or do something even bigger because three major characters responsible for what happened are not a part of the MCU anymore. Avengers: Endgame truly was special in every way.