Celebs
Justin Bieber Challenges Tom Cruise to a Fight & the Internet Loses its Mind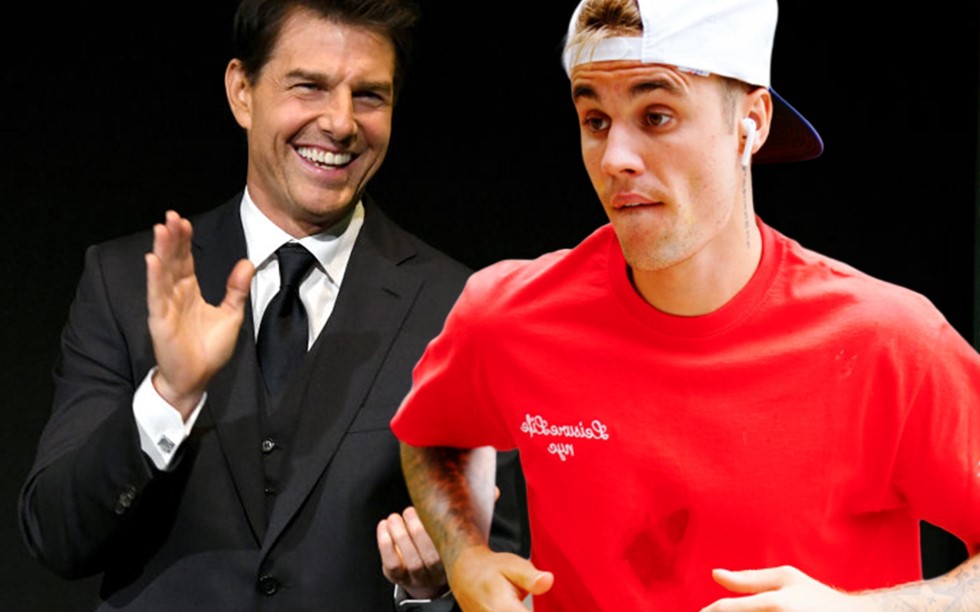 Well, Tom Cruise isn't making any headlines this year as he is working upon projects that will arrive from the next year. From what we know so far, Cruise will be starring in the Top Gun sequel next year and after that, he is attached to 2 more Mission: Impossible movies and an Edge of Tomorrow sequel. But there's nothing coming out this year. So how would you imagine him making a headline? Apparently, he has and he didn't have to do anything for it. All of it happened as a courtesy of Justin Bieber.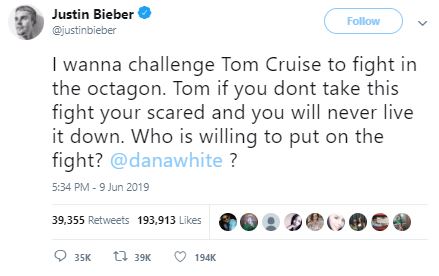 It's really funny when certain things happen out of nowhere. Nobody asked for it, and Justin Bieber just called the coolest bad-ass for a real fight. The 25-year-old Singer has challenged a 56-year-old actor for a fight that no one really wants to see. But everyone is pretty sure that Tom Cruise is going to kick the Bieber Ass if it came to that. What's amusing is that none of these celebs have been involved in a real fight ever in their life, and still we'd bet on a 56-year-old man brutally beating up a 25-year-old guy who is taller and in his prime!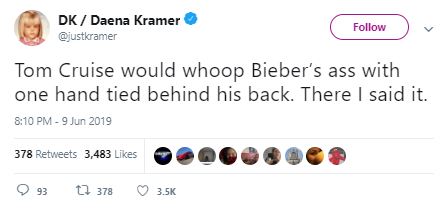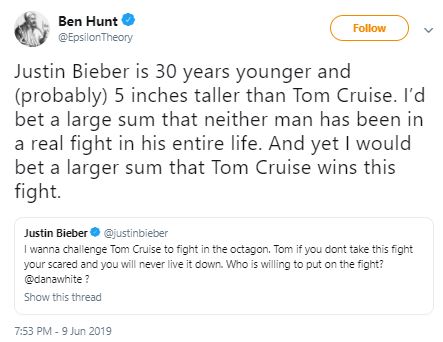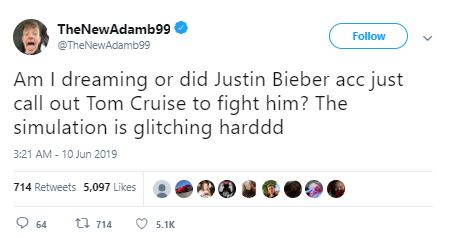 Some fan reactions have been over the top & even Celebs are interested to see this match up happen. UFC Canada wants it and Connor McGregor himself has offered to host the match.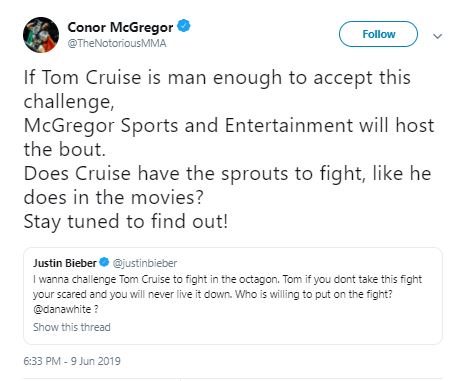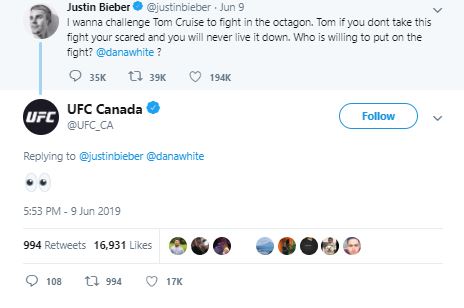 What's even more interesting is that McGregor has used this opportunity to bring back his own challenge from the past. He has invited Mark Wahlberg for a fight. So, Wahlberg better get back in great shape!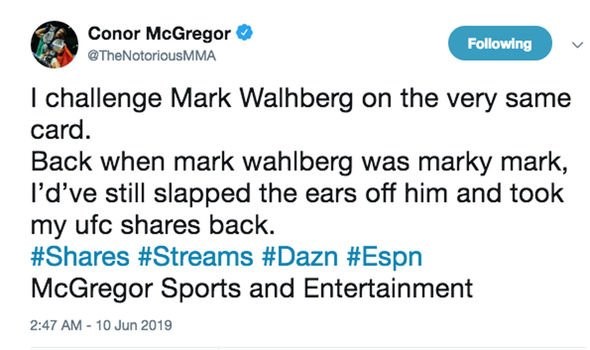 Which fight would be more interesting to see? McGreggor is a fighter that we've already and know about. But Tom Cruise is someone who might know how to fight since he has done it time and time again over the years. Justin Bieber still is, and always will be the BABY Boy! So that's the fight that we'd actually love to have.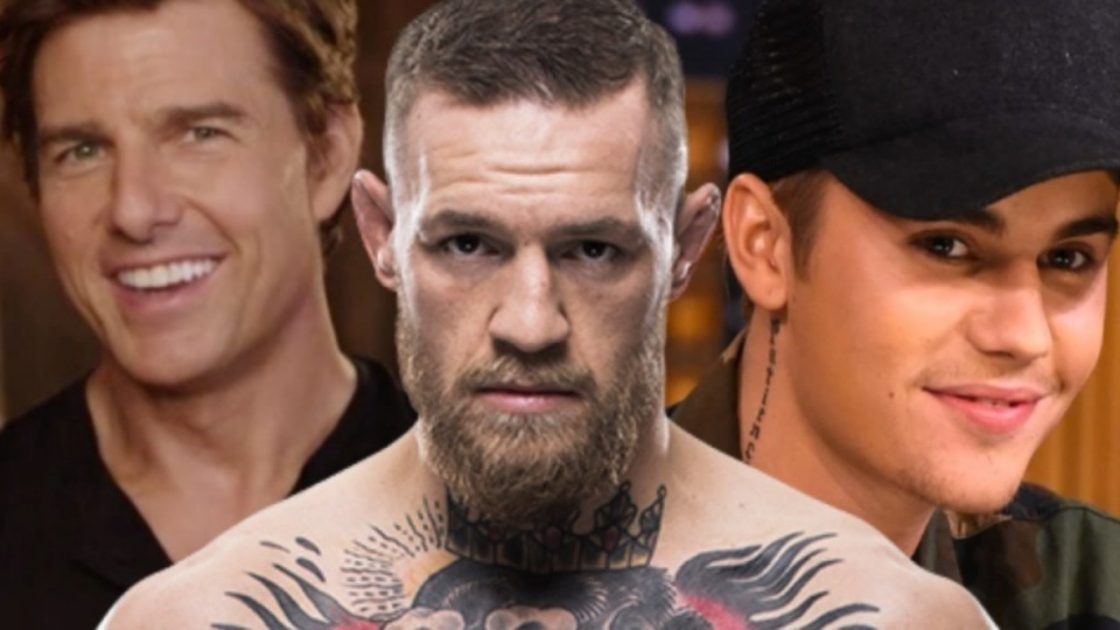 The only question that remains now is that will Cruise be a baby and accept this challenge, or will he be as smart as we think he is and continue doing to the great work? The answer should be the latter option. He is a busy guy and surely won't need to engage with this attention seeking crap.
The movies that he is working on are way more intriguing than this little bout. He is currently shooting Top Gun: Maverick and Deadline recently reported that he is finally going to be back for Edge of Tomorrow (2013) sequel.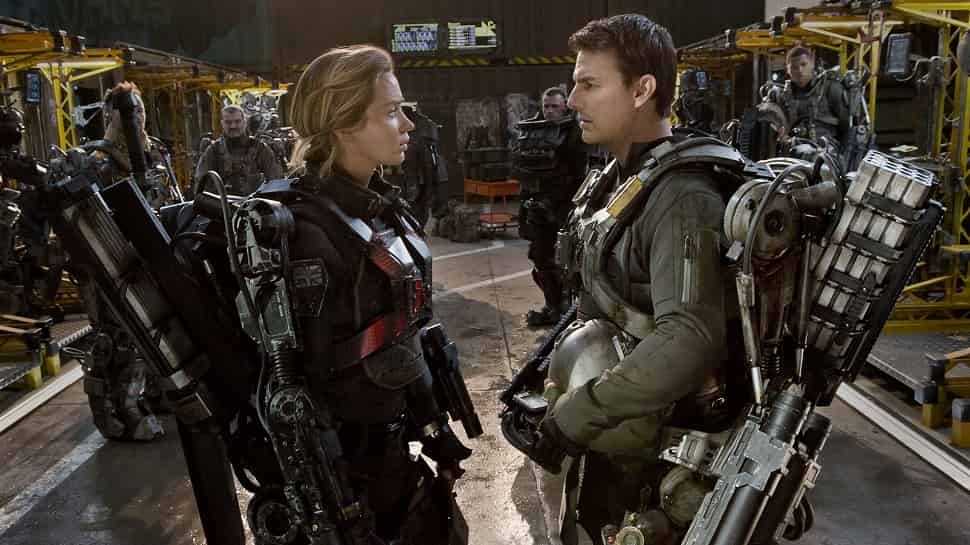 The first film was inspired by a Japanese Novel 'All You Need is Kill,' which was written by Hiroshi Sakurazaka with illustrations provided by Yoshitoshi Abe –
"When Earth falls under attack from invincible aliens, no military unit in the world is able to beat them. Maj. William Cage (Cruise), an officer who has never seen combat, is assigned to a suicide mission. Killed within moments, Cage finds himself thrown into a time loop, in which he relives the same brutal fight — and his death — over and over again. However, Cage's fighting skills improve with each encore, bringing him and a comrade (Blunt) ever closer to defeating the aliens."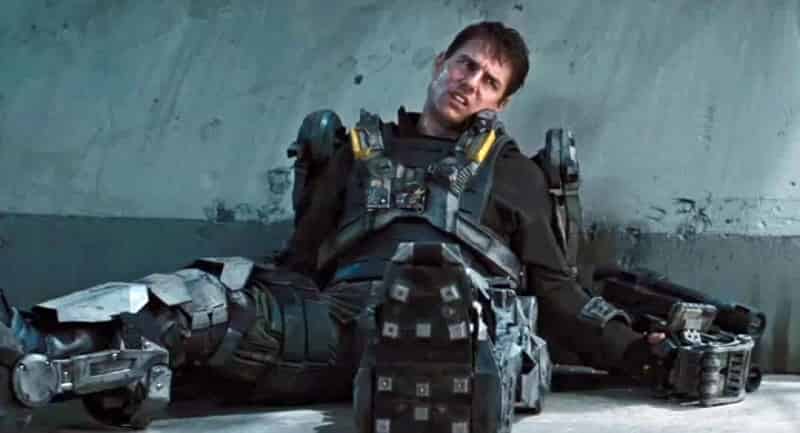 Director Doug Liman previously talked about the fact that they were trying to find the right script and that would be the whole key to getting this sequel made. Here's what he said back in September 2018 talking to Collider:
"We're just working on the script… [We're no longer working on scheduling issues], now it's down to we have a window where we could go do it, and we're frantically working on the script," Liman shared with Collider. "It's one of those movies that we'll only go make if we love the script. It's not one of those things where the studio is pushing us to make it and they don't really care if it's good or not. If the movie happens, it will be because Emily Blunt, Tom Cruise and myself are passionate about making it, which is a great place to be. She doesn't need this movie, he doesn't need this movie, and I don't need it. We're gonna make it if we really believe in it. We have story that the three of us love, so we're working hard on the script… It has the possibility of being my next film."
So, be excited for these upcoming films and not the Tom & Berry bout that Bieber wants!