Movies
Every Non-MCU & Missing MCU Poster Paying Tribute to Avengers: Endgame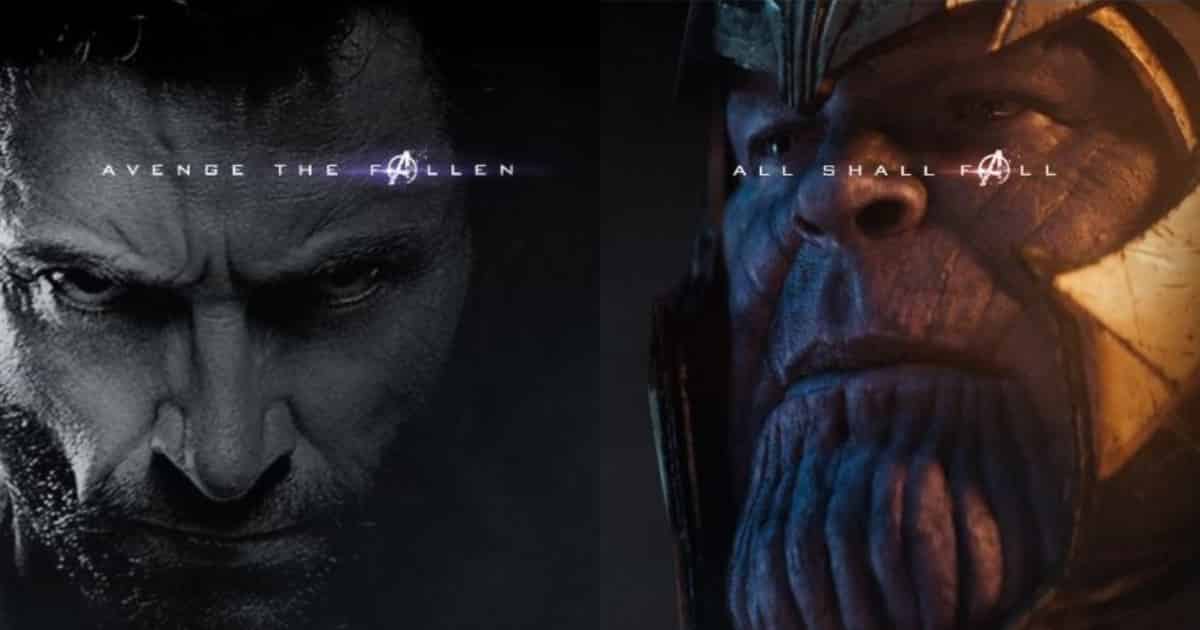 Today is a big day for Avengers: Endgame as Marvel has given us 32 new posters of all the characters that are going to appear in the movie. Along with that, we have got a new featurette where the cast of the Avengers talks about losing against Thanos. There are a few characters that did not get their own individual posters but will be appearing in the film. Those include M'Baku, Maria Hill, Janet Van Dyne, Hank Pym and many more.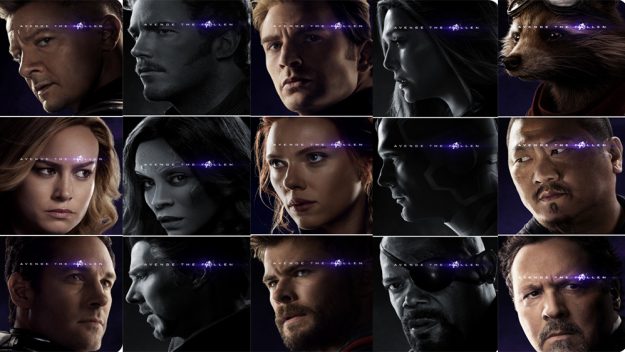 What's interesting is that the fans have also joined in this "Avenge the fallen" movement as we've got other movie characters also paying tribute to Avengers: Endgame. First of all, we've got a John Wick: Chapter 3 – Parabellum poster in Avengers: Endgame style. It is probably the coolest poster you'd see besides all other MCU characters. Have a look: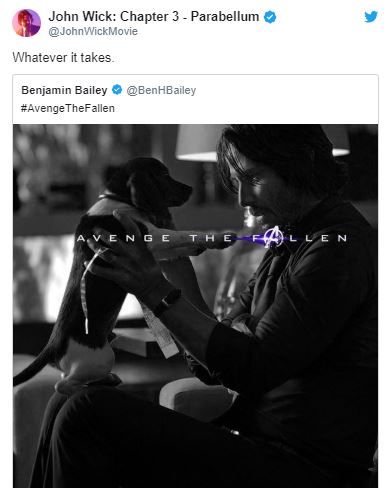 It all started with the death of the dog in the John Wick saga. So this poster is totally appropriate. Next up we've got Boss Logic getting into action by giving us a variety of posters that we would have surely wished to see along with the ones that were launched today. Here's a peek: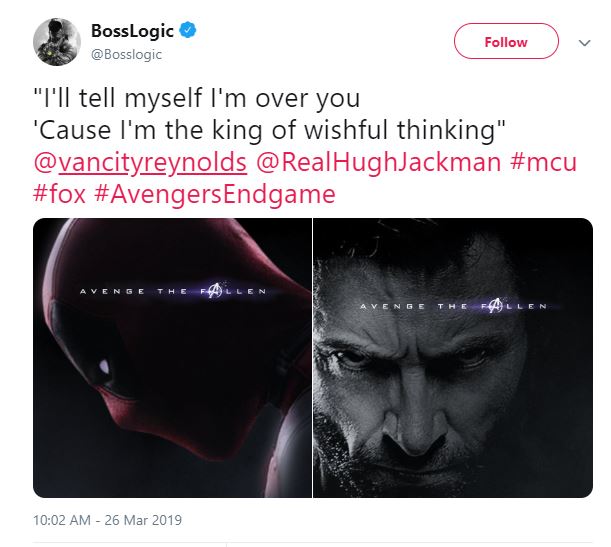 Well, we only wish that Deadpool and Logan would have got the opportunity to join the MCU sooner. They are back to Marvel, but they aren't going to appear in Avengers: Endgame. Still, this poster does make us imagine something extremely fun, i.e. the idea of Ryan Reynolds' Deadpool and Hugh Jackman's Wolverine joining the ranks of Robert Downey Jr., Chris Hemsworth, Chris Evans, Mark Ruffalo, and others.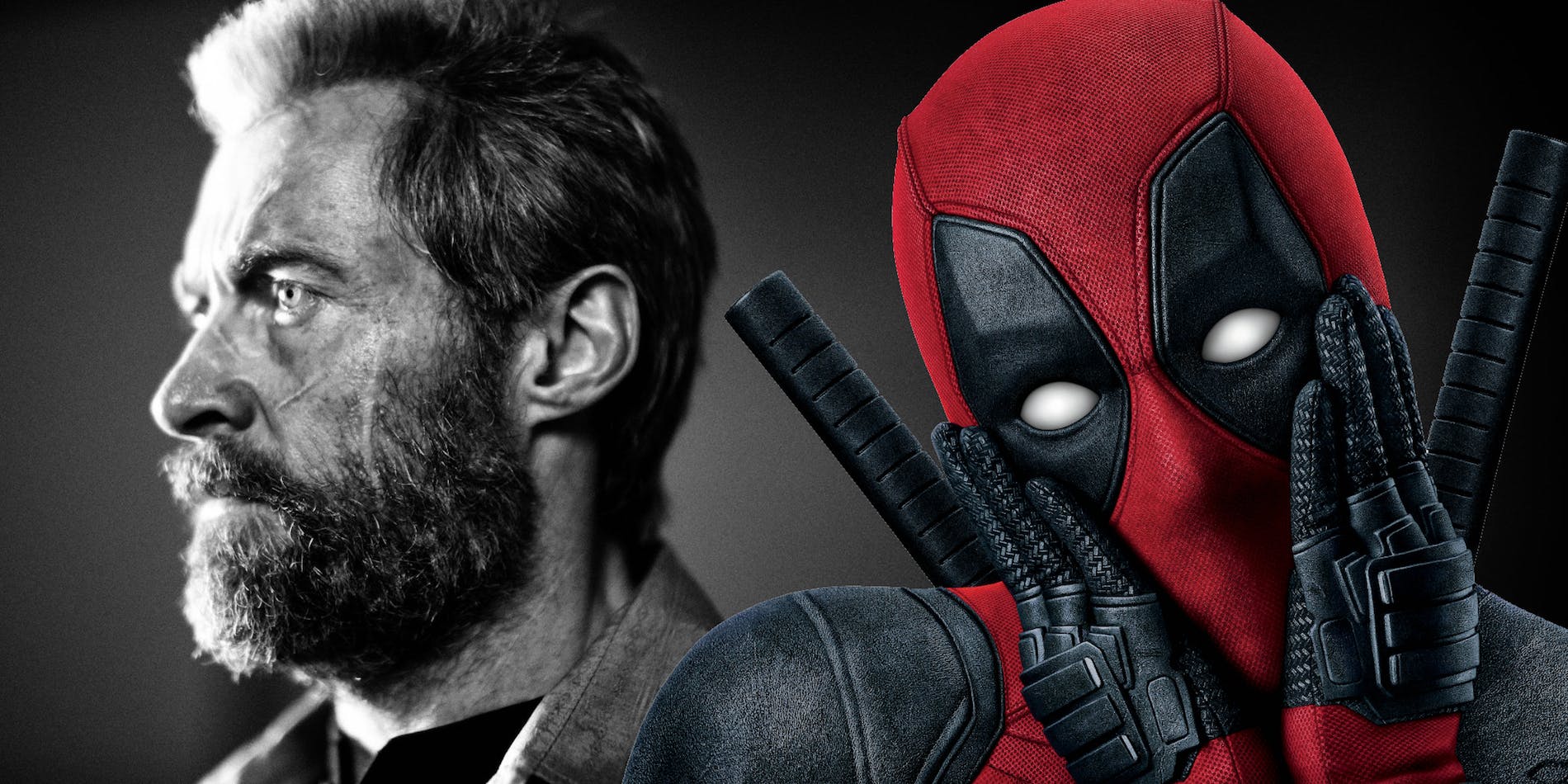 These two posters are also along the color pattern followed by the Marvel posters where Deadpool who is alive has a colored poster and Wolverine's got a Black & White one. Next up there's Goose: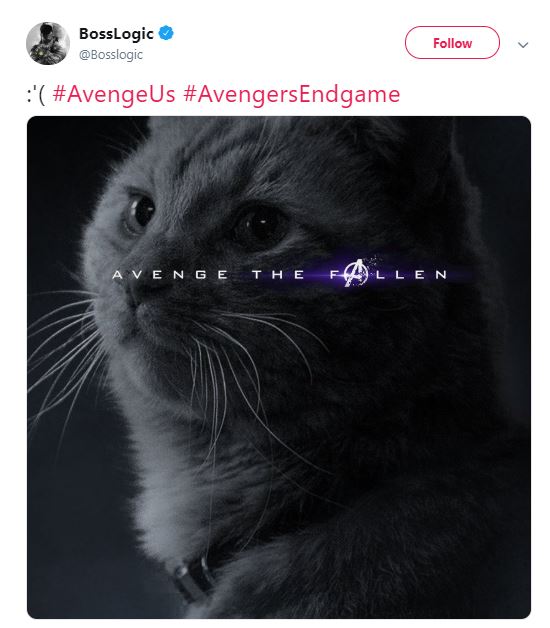 Goose the Flerken cat turned out to be the biggest surprise of Captain Marvel. Meow Meow, Mew Mew Mew. Sorry, my cat took over the keyboard for a second. What he meant was, "Avenge us, whatever it takes." We don't know the fate of Goose as he has been missing since 1995. But as Boss Logic suggests, Goose could have also turned to dust. Next up we have the Titan who's responsible for everything. Boss Logic has come up with a Thanos poster, and it says "Valar Morghulis."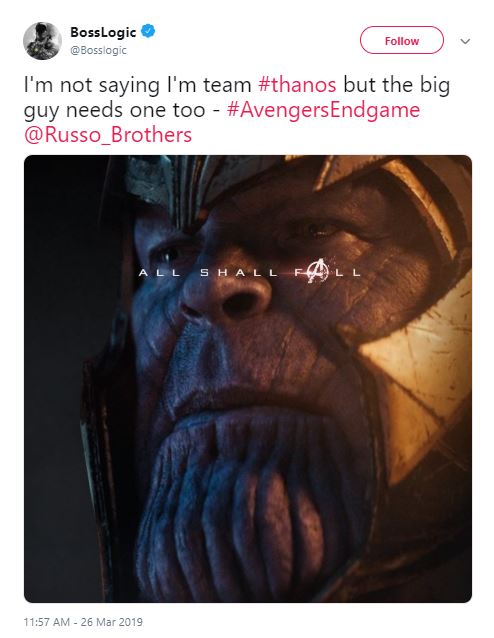 "All Shall Fall." That's deep man. Well, the correct phrase as many fans have suggested should be – "Half shall fall." Amidst all this, how can we forget the dude who started it all? From next year on, the MCU movies are not going to include Stan Lee. So here's a tribute to him:
A tribute to the Man who started it all ❤️ from marvelstudios
Directed by Joe & Anthony Russo, Avengers: Endgame will open on April 26, and it'll presumably star Robert Downey Jr., Chris Hemsworth, Mark Ruffalo, Chris Evans, Scarlett Johansson, Benedict Cumberbatch, Jeremy Renner Don Cheadle, Tom Holland, Chadwick Boseman, Paul Bettany, Tom Hiddleston, Idris Elba, Danai Gurira, Peter Dinklage, Benedict Wong, Elizabeth Olsen, Anthony Mackie, Sebastian Stan, Gwyneth Paltrow, Benicio del Toro, Josh Brolin, Pom Klementieff, Karen Gillan, Dave Bautista, Zoe Saldana, Vin Diesel, Bradley Cooper, Chris Pratt, Paul Rudd, Samuel L. Jackson, Cobie Smulders, Tessa Thompson, Evangeline Lilly, Aaron Taylor Johnson, Cate Blanchett, Michelle Pfeiffer, Michael Douglas, Tilda Swinton, Jeff Goldblum, Katherine Langford, Stellan Skarsgard, Ava Russo and Brie Larson.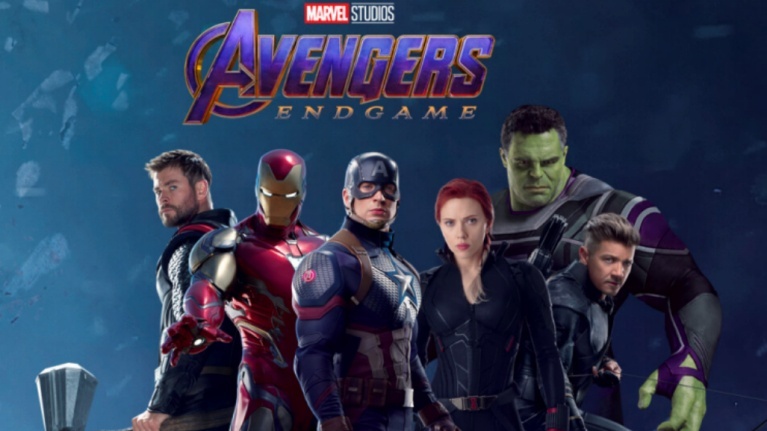 Here's the new synopsis of Avengers: Endgame:
"Thanos snapped his fingers in Avengers: Infinity War, and half the life in the universe instantly dissolved. Now a ragged group of surviving warriors, including Captain America, Black Widow, Iron Man, Thor, and the Hulk works to counteract the Mad Titan's genocidal action.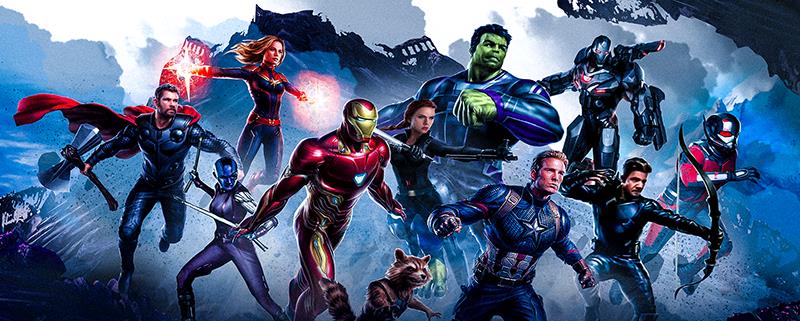 Since our heroes couldn't stop Thanos the first time, what makes them think they can win in a rematch? The answer may be in overwhelming power, thanks to Captain Marvel, or in the tiniest spaces between atoms accessible to Ant-Man. Avengers: Endgame will rewrite the Marvel Cinematic Universe as we know it. When it's all over, nothing will be the same."