Movies
Marvel Fans Can't Hold it Together With Robert Downey Jr.'s Contract Getting Expired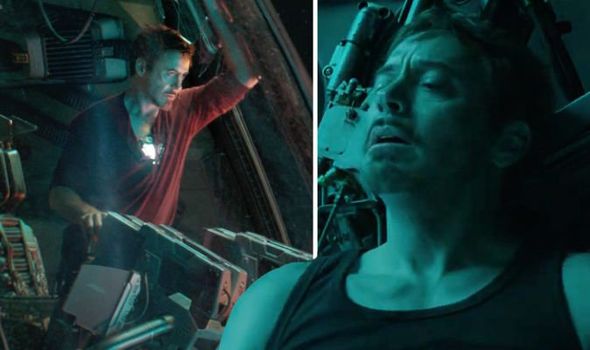 With Avengers: Endgame bringing the end of the Marvel Cinematic Universe as we know it, there are a lot of characters who are going to be out of the MCU post this film. Almost all the original Avengers have had their contracts expired. Some of those with the likes of Scarlet Johansson and Chris Hemsworth will probably get their contracts renewed, but we know it for a fact that this will not be the case with Chris Evans and Robert Downey Jr.
It has been known to us for a while that the MCU contracts of both the leaders of the Avengers, Chris Evans and Robert Downey Jr. will be exhausted after Avengers: Endgame. Both of them have claimed the fact that they are not willing to return to the MCU, and already have a future planned ahead of the biggest brand in Hollywood.
Losing Chris Evans will be awful, but the big pain will come from the fact that Robert Downey Jr. is not going to appear as Tony Stark anymore. It will be the end of an era.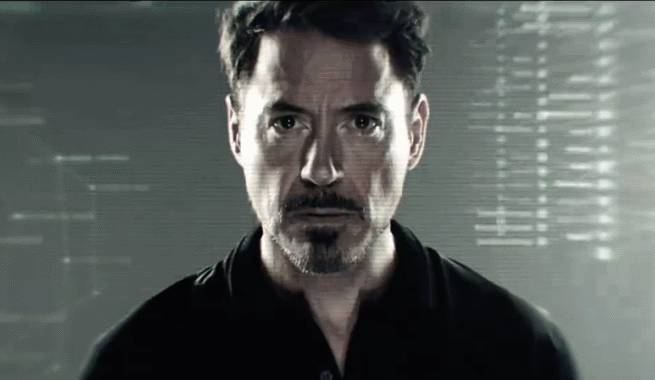 Robert Downey Jr. has had the longest stay in the MCU, and after Avengers: Endgame, he will have the most number of appearances in the Avengers movies. In the last 11 years, he will have appeared in a total of 10 MCU films. Both Evans and Hemsworth will end their stay with 9 appearances, but because Downey is the center of the Universe, he gets an extra one.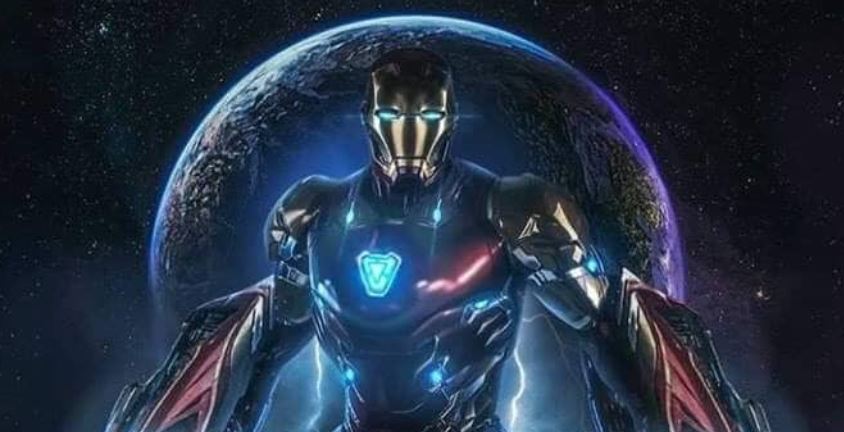 He is the Godfather of Marvel Cinematic Universe, and we surely are going to miss him. There was a big moment in Avengers: Infinity War, where we almost saw Tony Stark get killed off. That indeed was the most intense scene in the entire film, and it was even a step ahead of all the death and destruction in the end. We have connected to Iron Man for the longest period of time, so losing someone else comes nowhere close to losing him!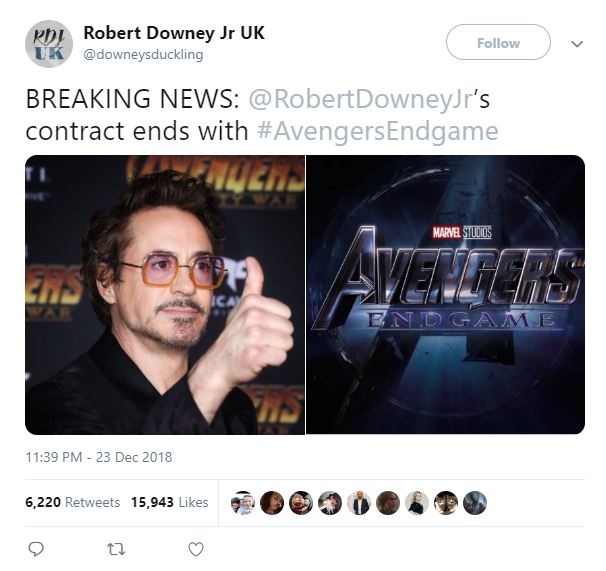 Keeping in mind, the fact that this is going to be the final movie with Iron Man in it, Marvel fans just haven't been able to keep it together. Out of nowhere, a whole lot of emotion has hit everyone, and it has been flooding twitter most recently. Imagine what will happen if Tony Stark ends up dying in Avengers: Endgame. The Internet will explode!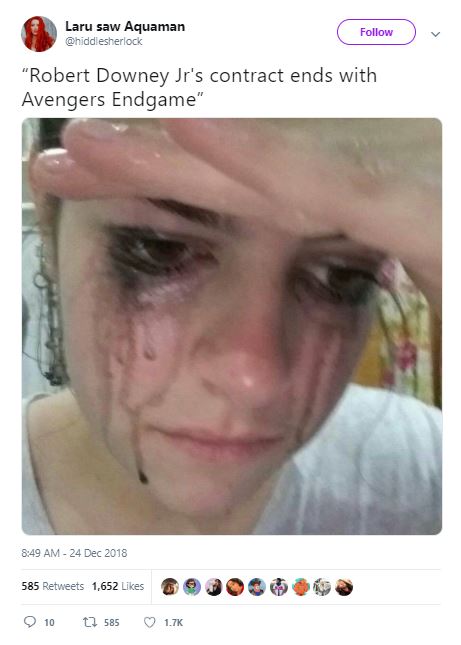 People just aren't willing to let go of Robert Downey Jr.'s Iron Man. even Indian Actress Taapsee Pannu has expressed her ingratitude towards the news. We sure have seen him quite a lot, but with Robert Downey Jr. it will always stay "Never say Never." He is welcome to appear in as many more films as he wants.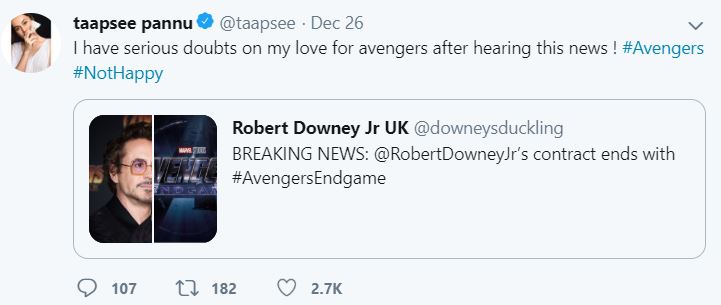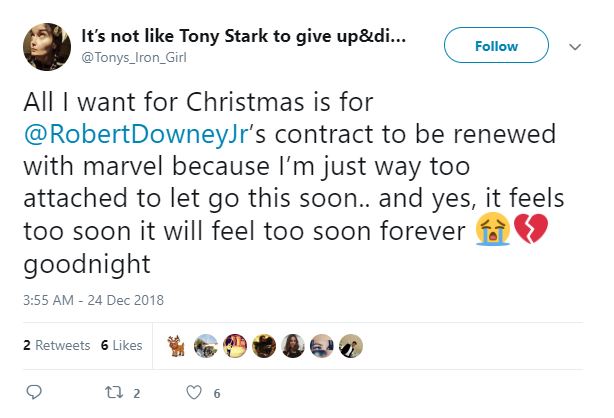 Since Tony Stark is the biggest MCU figure, he will probably not be killed off, and rather be retired Paul Walker style. Marvel could always use him for more surprising cameos. His fandom is so huge that only a little news of his cameo could pull people in to watch a particular film. Let's hope that Iron Man goes out with a bang.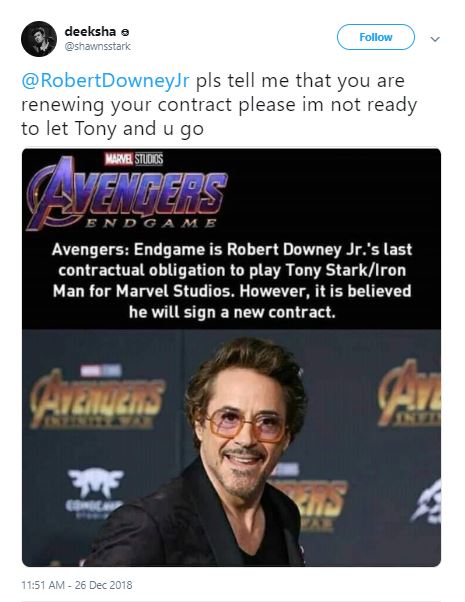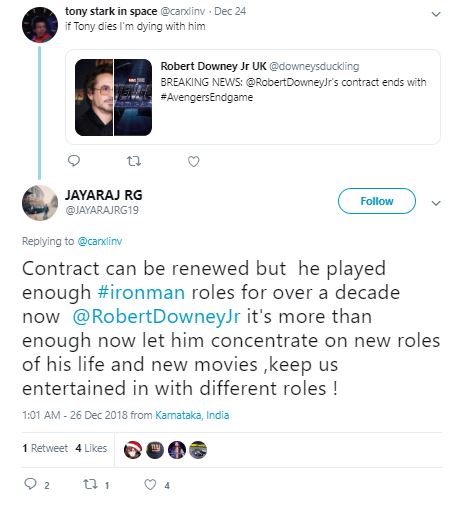 Avengers: Endgame comes out on April 26. Here's the official Synopsis of the movie:
"A culmination of 22 interconnected films the fourth installment of the Avengers saga will draw audiences to witness the turning point of this epic journey. Our beloved heroes will truly understand how fragile this reality is and the sacrifices that must be made to uphold it."