Movies
Avengers 4 & Spider-Man: Far From Home Trailer Release Dates Finalized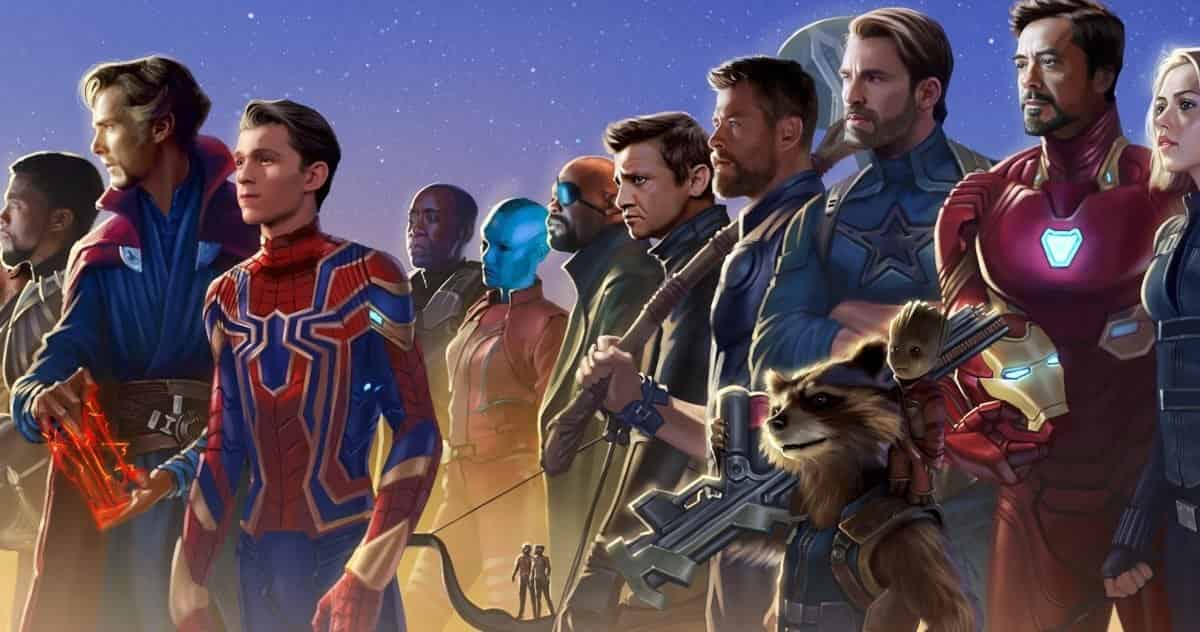 People have been on the edge of their seats trying to figure out when the Avengers 4 trailer will come out. The whole last week had bun full of rumors as the earliest release date was believed to be November 28 which kept on shifting a day as the trailer did not hit the internet every day that passed. But now we finally have a confirmed release date for not just the Avengers 4 trailer, but also Spider-Man: Far From Home trailer along with it!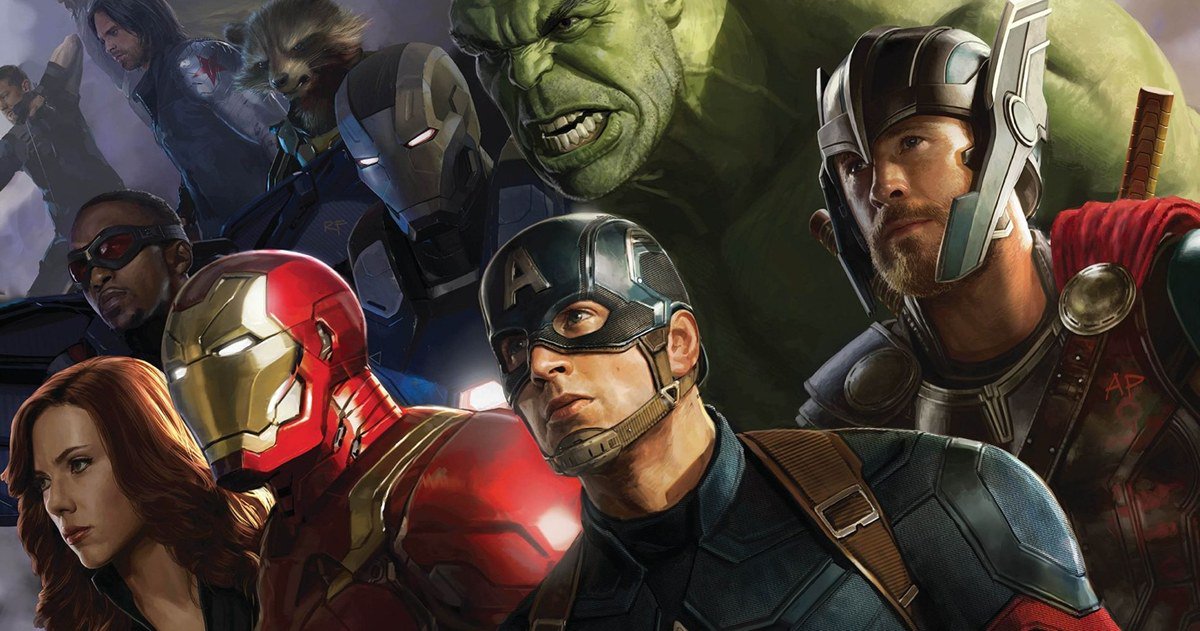 The Avengers 4 trailer was supposed to debut today, but today has been announced as the National Mourning day for George H.W. Bush. All the networks will be covering that, so Marvel has delayed the trailer a bit more.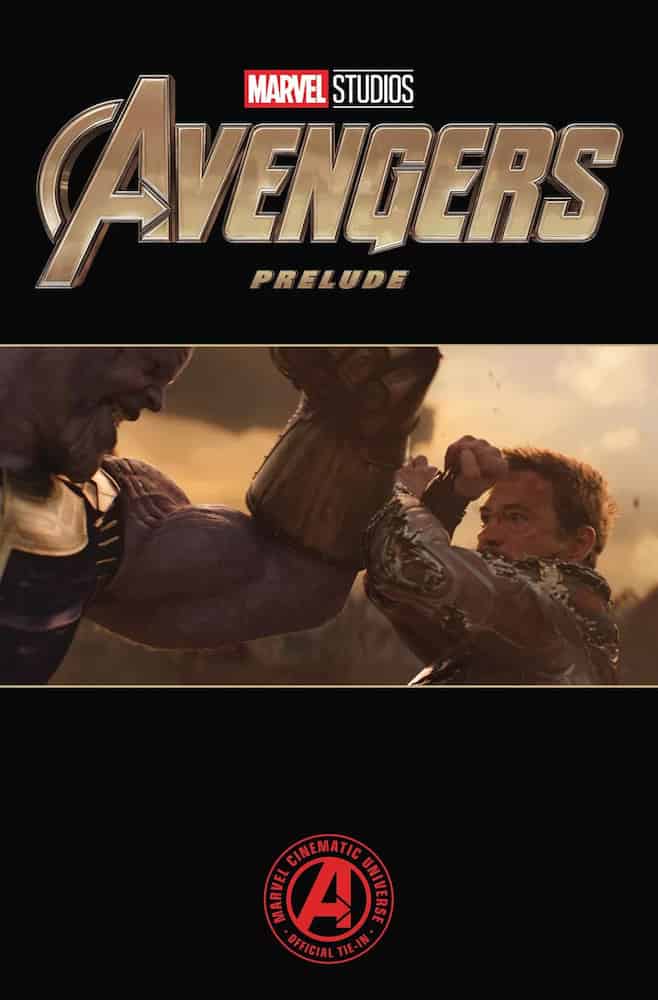 People believed that it made more sense for the trailer to come out today because the Avengers 4 Prelude comic is getting its launch today. But it seems that whatever gets revealed in the Prelude is not having a lot of ties with the trailer, so there is probably nothing to spoil pertaining to the trailer.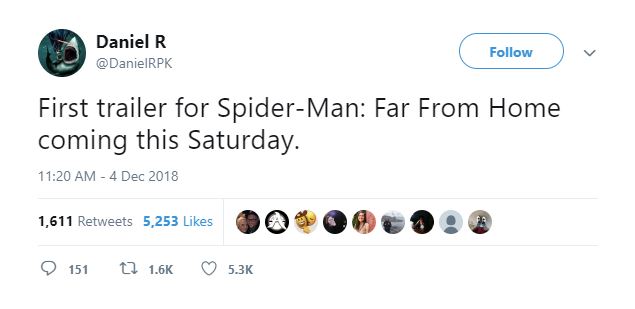 Now, as Daniel RPK, a popular Hollywood scooper who has been right about his Intel countless times has given us the trailer dates for both Avengers 4 and Spider-Man: Far From Home. As you can see above, he took it to twitter to announce the Spider-Man: Far From Home trailer which is coming out this Saturday, the 8th. Now there is no way that the Avengers 4 trailer could come after this, so yes you guessed it right. The big trailer is going to make its debut on Friday, the 7th.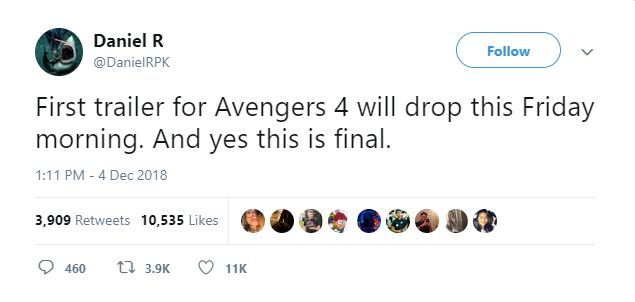 Along with this Daniel R confirmed that there will be no TV outlet where the trailer will premiere first. It will launch straight to Youtube somewhere around 9 AM EST. For our Indian Audience, you don't need to go out and calculate the time as it will be out around 7:30 PM (19:30) IST. So get your trailer pants ready 'cause it's on!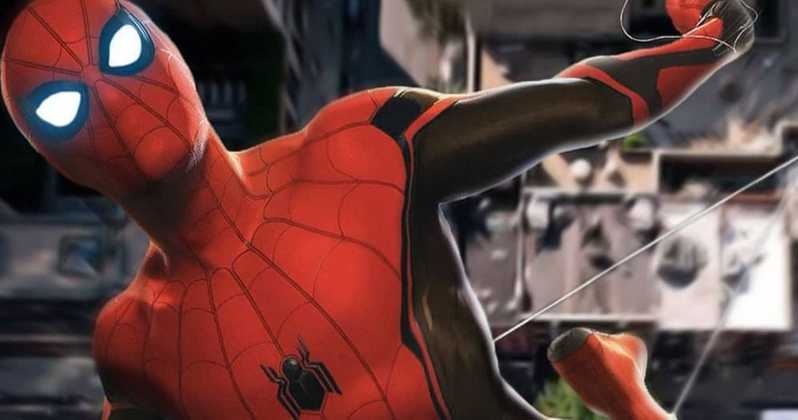 This week is huge for Marvel fans because all three MCU movies are debuting their trailers within the same week, and then we have the Avengers 4 Prelude comic as well. It is a little early for Sony to launch the Spider-Man: Far From Home trailer, but it makes total sense for them to do this.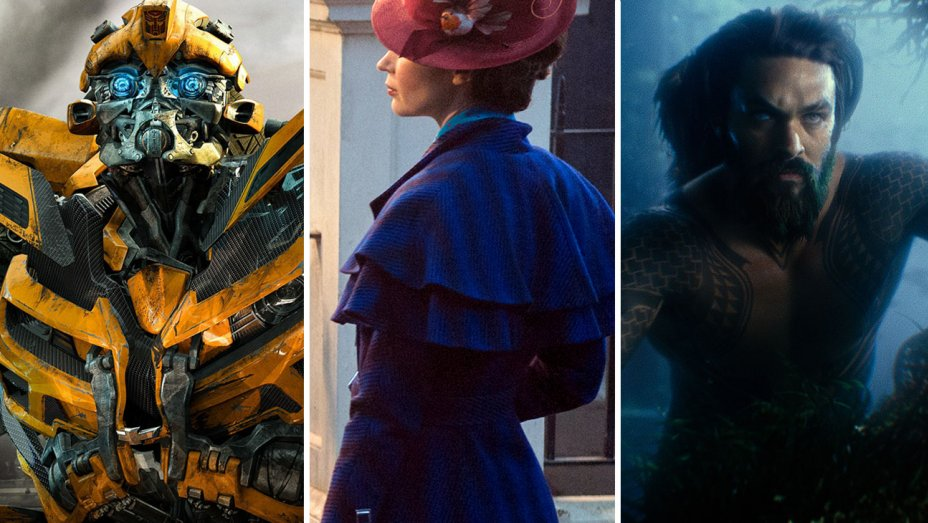 There are 4 big blockbuster films coming out within 2 weeks and there is no big movie coming until March after that, so if the trailer comes out now then it could play along with the likes of Spider-Man: Into the Spider-Verse, Aquaman, Bumblebee, Mortal Engines, and Mary Poppins.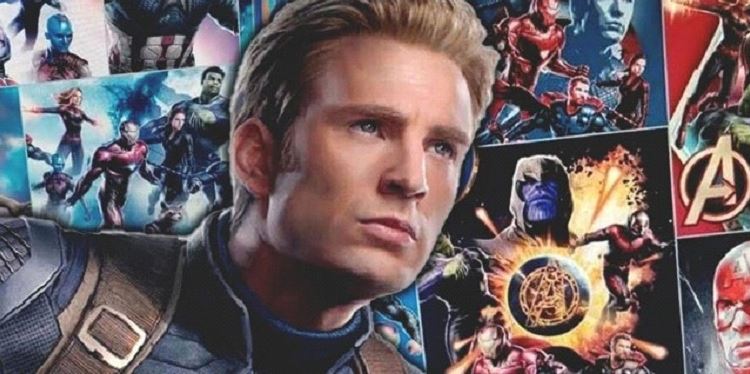 It's great how every big studio in Hollywood except Fox are putting out their films at the very same time. The competition is going to be huge! But it is all great for us because not only are we getting 5 huge movies, but 3 huge Marvel trailers right before them!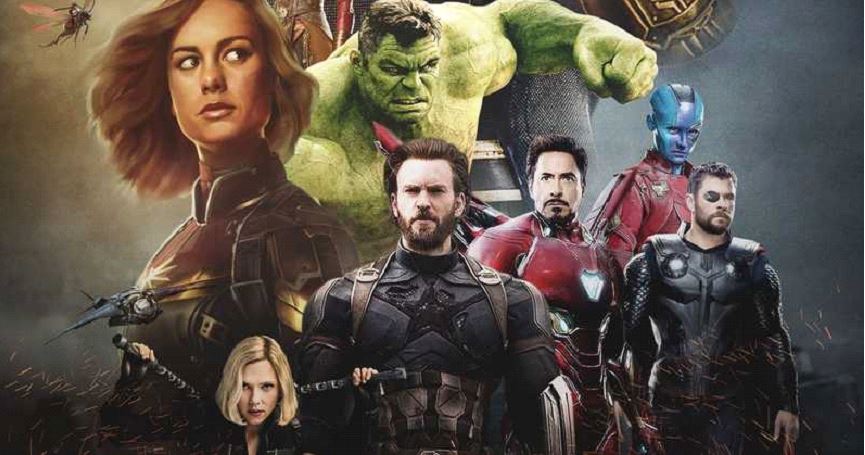 The Avengers 4 trailer has to be the biggest of all as the fan anticipation has blown through multiple roofs and skyrocketed to Space! Don't expect any disintegrated characters to show up in the trailer as it is going to focus on the ones that survived. Rest we will find out on Friday. Here's the official Synopsis: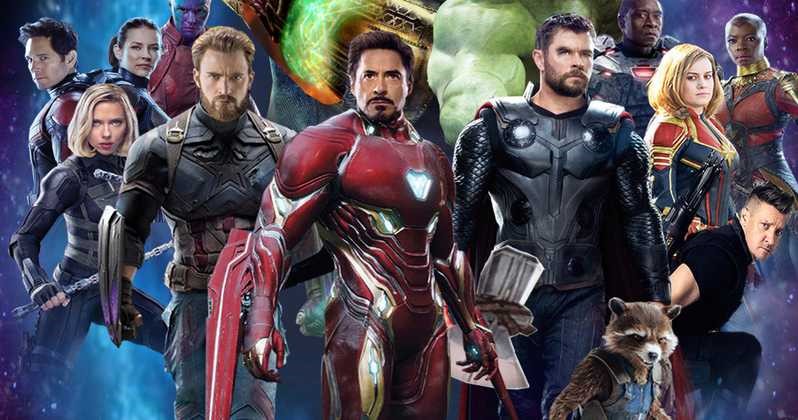 "A culmination of 22 interconnected films the fourth installment of the Avengers saga will draw audiences to witness the turning point of this epic journey. Our beloved heroes will truly understand how fragile this reality is and the sacrifices that must be made to uphold it."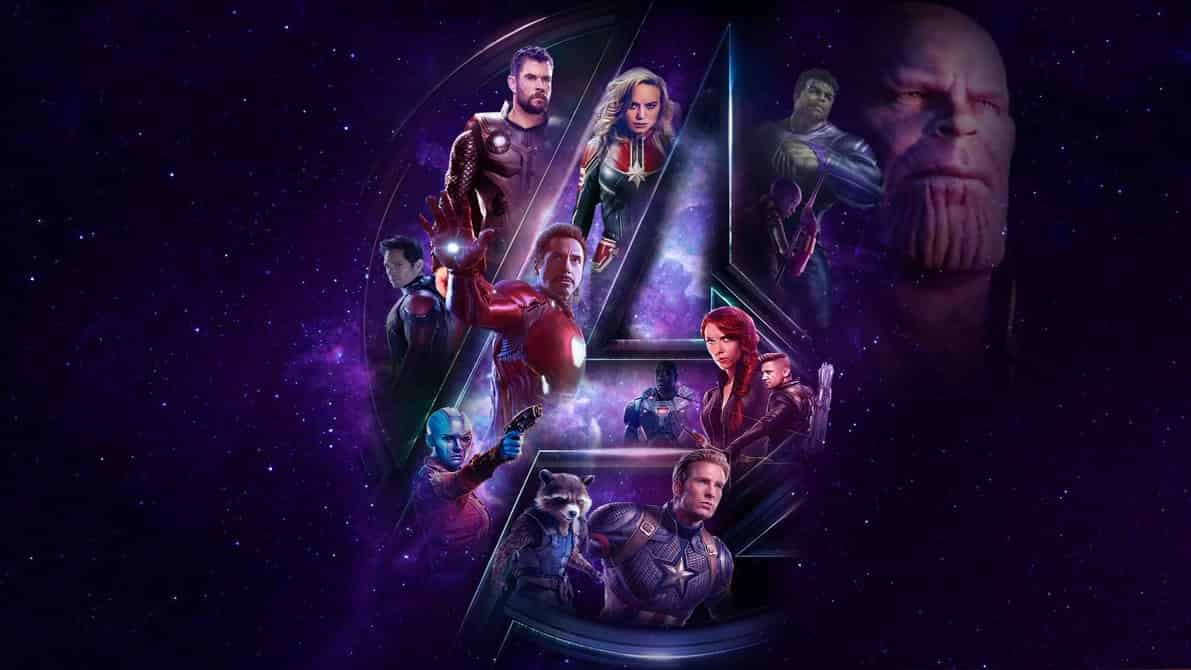 Avengers 4 comes out on May 3 and it will presumably star Robert Downey Jr., Chris Hemsworth, Mark Ruffalo, Chris Evans, Scarlett Johansson, Benedict Cumberbatch, Jeremy Renner Don Cheadle, Tom Holland, Chadwick Boseman, Paul Bettany, Tom Hiddleston, Idris Elba, Danai Gurira, Peter Dinklage, Benedict Wong, Elizabeth Olsen, Anthony Mackie, Sebastian Stan, Gwyneth Paltrow, Benicio del Toro, Josh Brolin, Pom Klementieff, Karen Gillan, Dave Bautista, Zoe Saldana, Vin Diesel, Bradley Cooper, Chris Pratt, Paul Rudd, Samuel L. Jackson, Cobie Smulders, Tessa Thompson, Evangeline Lilly, Aaron Taylor Johnson, Cate Blanchett, Michelle Pfeiffer, Michael Douglas, Tilda Swinton, Jeff Goldblum, Katherine Langford, Stellan Skarsgard and Brie Larson.