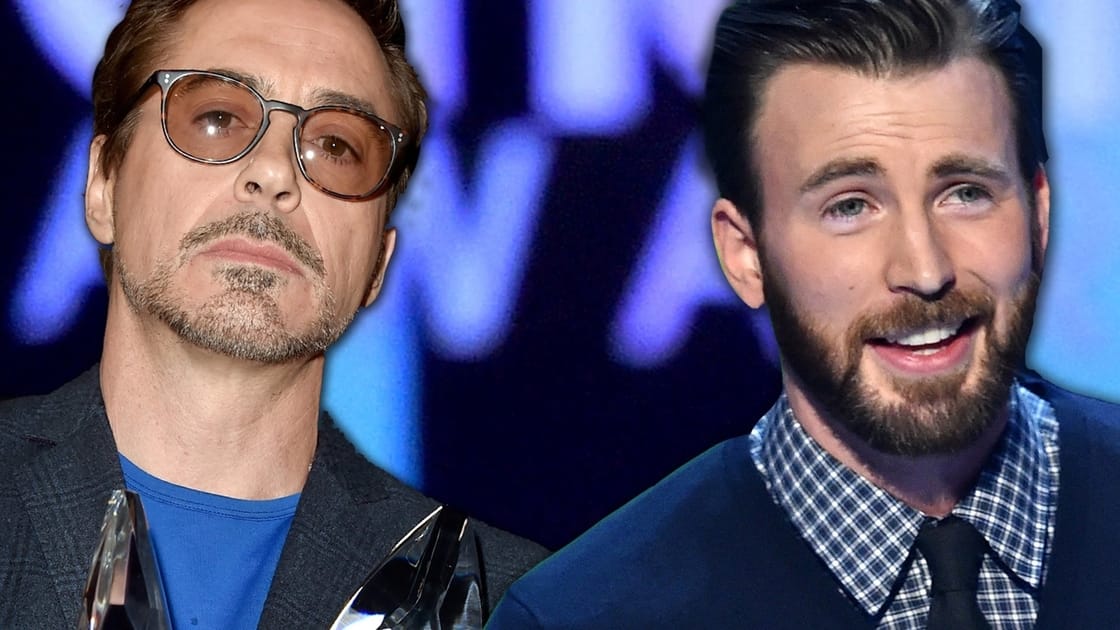 Avengers 4 is in the news lately for its re-shoots to lend final touches to some of the scenes. Recently, Chris Evans aka Captain America posted an emotional tweet on his timeline thanking everyone for their support as this will be the last time we will ever see him as the beloved Super Soldier.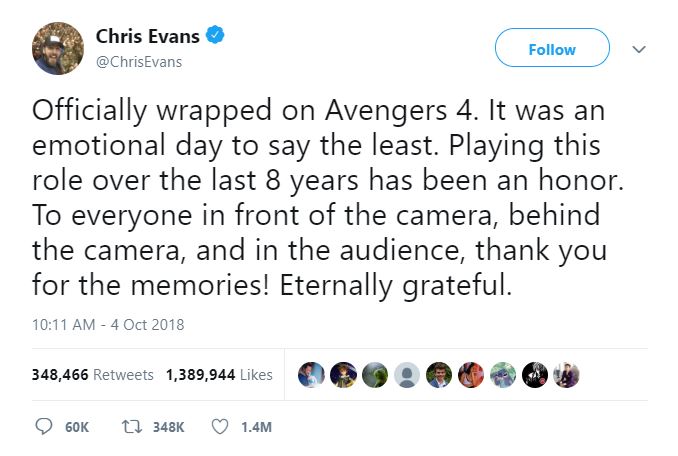 But more than Evans, it's Robert Downey Jr. who is even more emotional as his contract with the MCU shall also expire with Avengers 4. He recently bought a personalized chair for the entire crew of Avengers: Infinity War to show his love and appreciation for their hard work and dedication.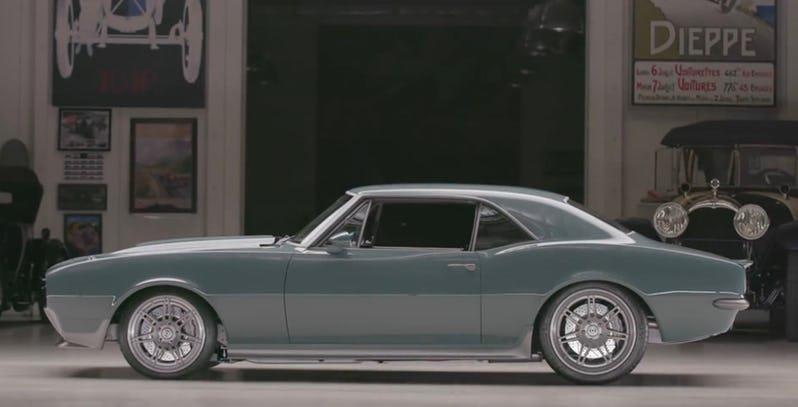 Further, he gifted a custom-made car 'Camaro' based on Captain America theme to Chris Evans which is truly generous of him. Downey Jr. certainly has the money to buy just about anything for himself or co-stars. It's not incredibly rare in Hollywood for actors to give each other expensive gifts but Downey Jr. has actually spent time in designing the car.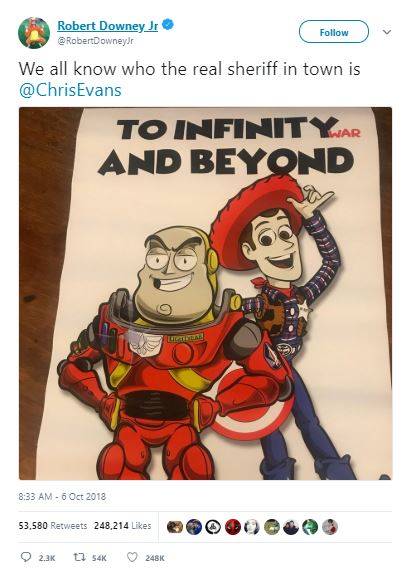 Robert Downey Jr. subsequently responded to Chris's emotional tweet by saying "We all know who the real sheriff in town is" with an image of Woody and Buzz from Toy Story with 'Infinity War & Beyond' written at the top. To this Chris Evans responded like this: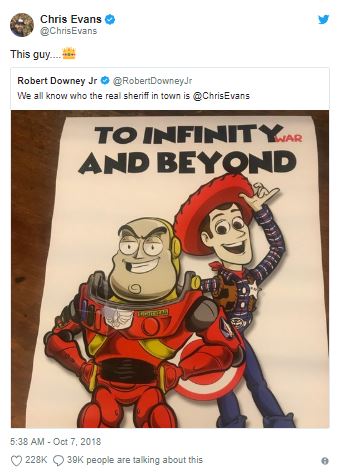 Both Iron Man and Captain America have been the two most important Avengers since the beginning. They are often termed as the heart and soul of the MCU. It's almost impossible to imagine anybody else to play these iconic comic-book characters onscreen but their journeys have come to an end.
From the days of 'The Avengers', they have had opposing views which sometimes even resulted in a full-blown confrontation in Civil War over Sokovia Accords. As a result, the Avengers split up into two groups – Cap's Secret Avengers and Official Team Avengers.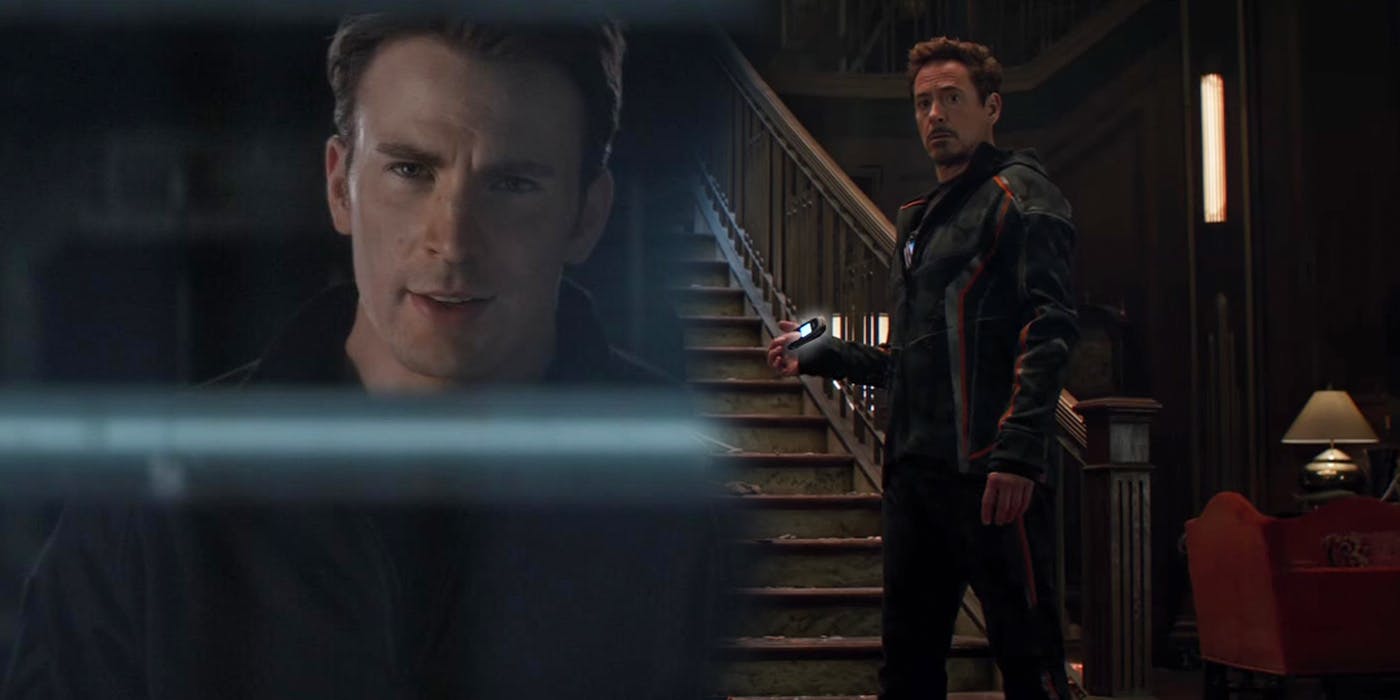 In Avengers: Infinity War, it took Banner's convincing for Tony to call Cap as Thanos was coming for Infinity Stones. He was the only person who could have protected Vision and Mind stone from Thanos' Black Order. It's likely that either one or both will die in Avengers 4 as their contracts are set to expire.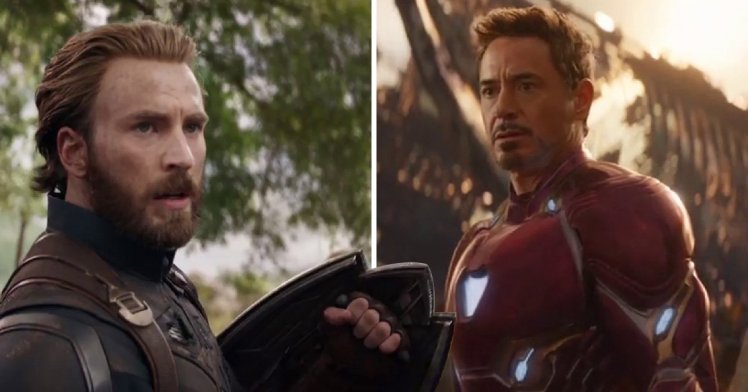 But hold, we will see them fighting alongside one last time in Avengers 4 before we let them go. They survived the big snap and it's upto them to first figure out how to save their friends and humanity from extinction and then destroy Thanos for good.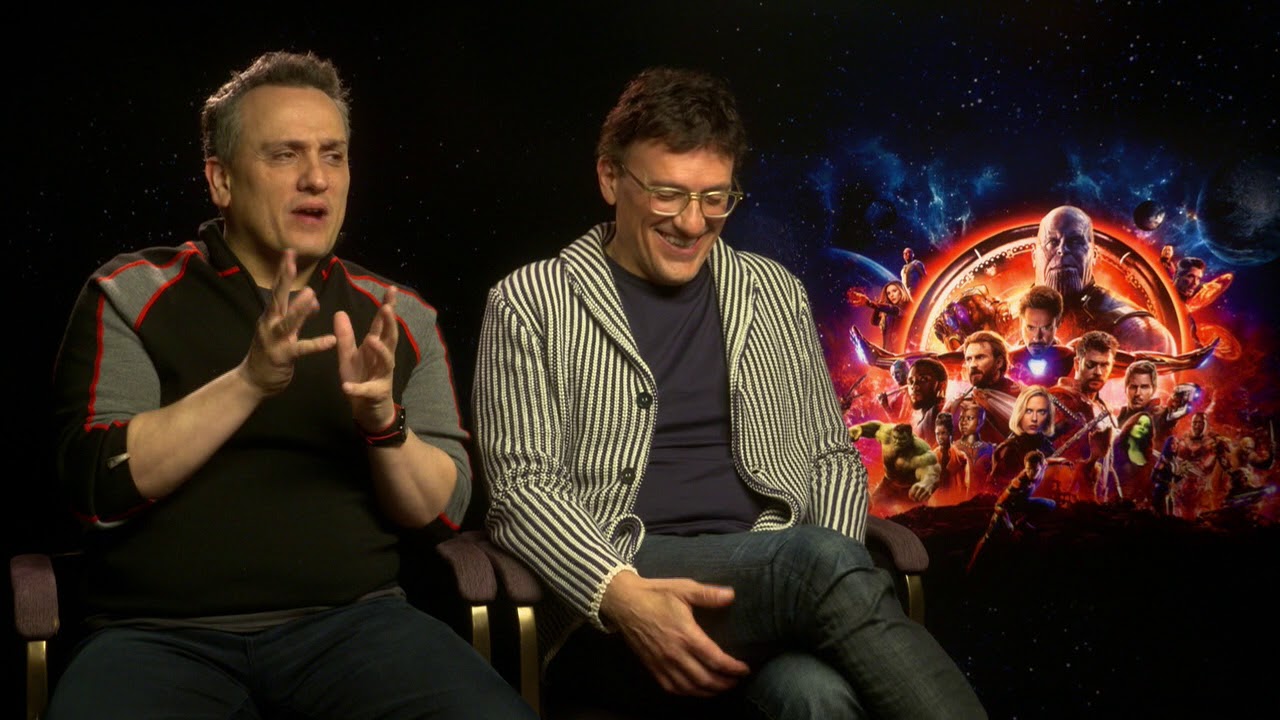 "I feel like with Avengers 4, because it was made before there was any response to Avengers 3, it's really pure in that regard. The storytelling is very pure. It's without any sort of external noise creeping in at," Joe Russo told Deadline during SDCC 2018.

He added: "We've been in post-production on [Avengers 4] since the release of Infinity War and we've got some additional photography that we're doing in a month or so."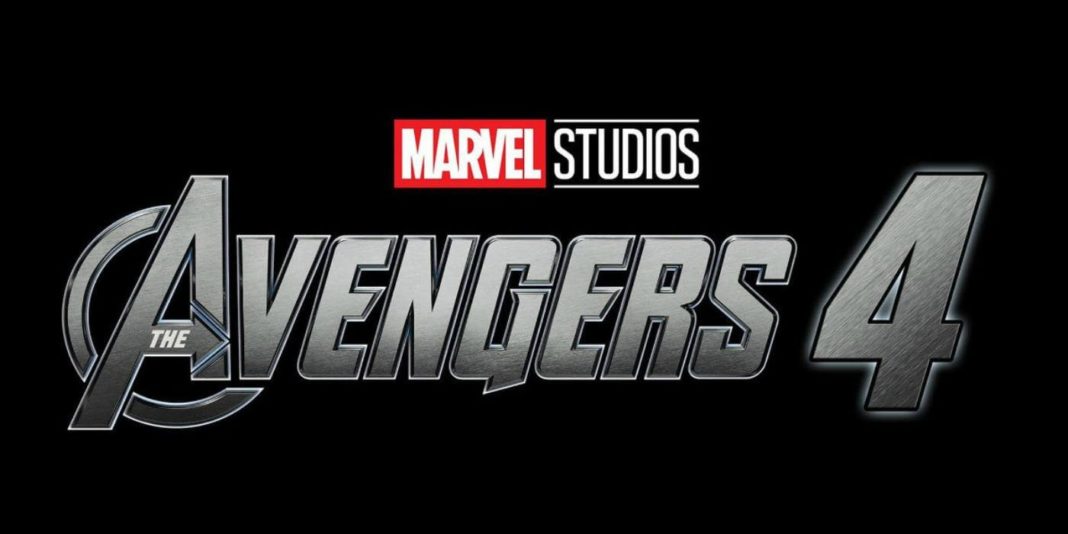 "You know, we're very proud of it. I think ultimately Avengers 4 may be our best work for Marvel. I think we've grown with every movie that we've made there. We've grown with the characters. We've grown with the cast. As filmmakers we're very happy and very excited with the movie."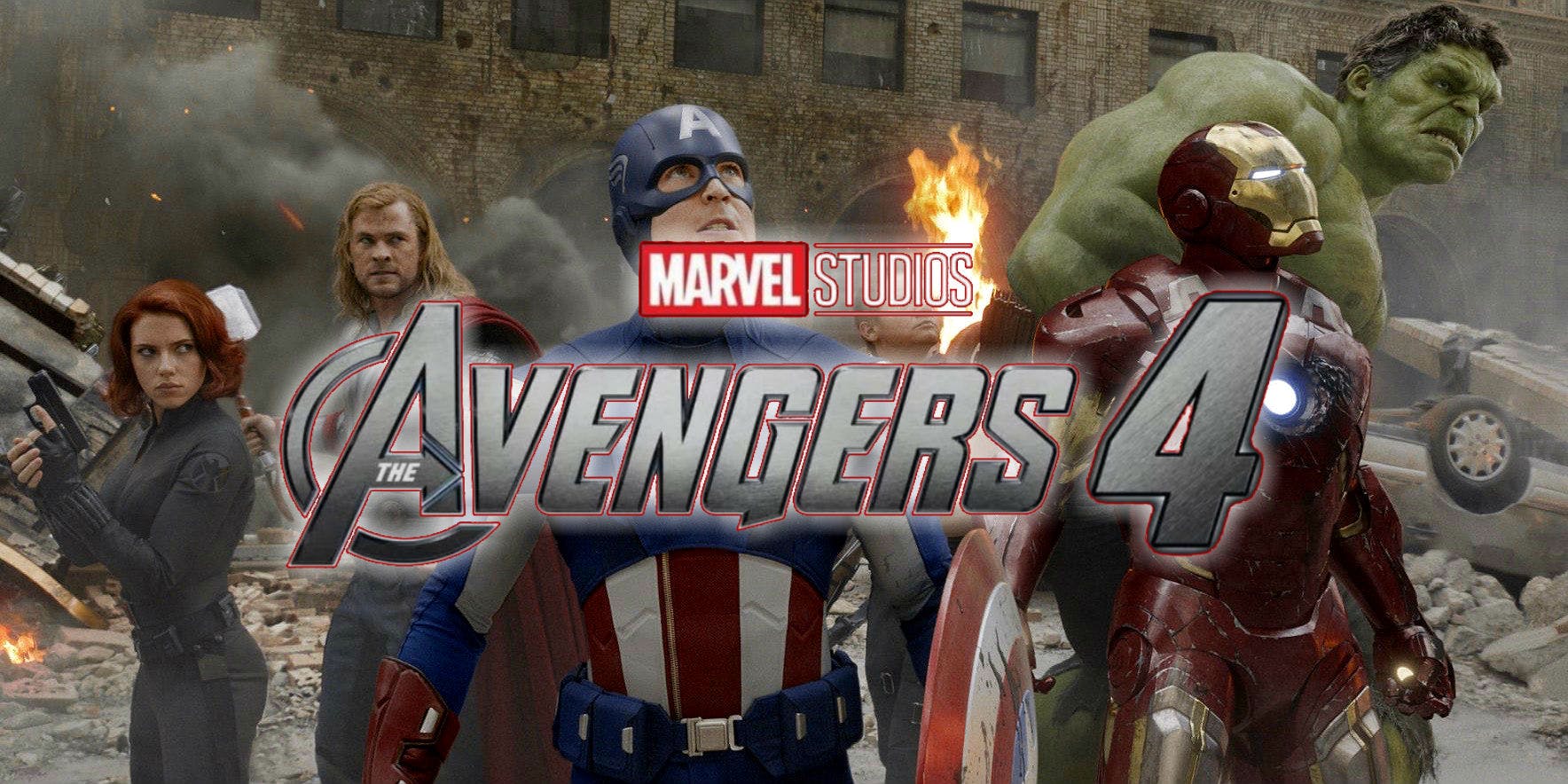 The ensemble cast of Avengers 4 has some of the biggest stars brought by Marvel under one roof including Josh Brolin (Thanos), Robert Downey Jr. (Iron Man), Chris Evans (Captain America), Scarlett Johansson (Black Widow), Chris Pratt (Star-Lord), Zoe Saldana (Gamora), Mark Ruffalo (Hulk), Sebastian Stan (Winter Soldier), Anthony Mackie (Falcon), Chris Hemsworth (Thor), Tom Hiddleston (Loki), Bradley Cooper (Rocket Raccoon), Vin Diesel (Groot), Jeremy Reiner (Hawkeye), Benedict Cumberbatch (Dr. Strange), Benedict Wong (Wong), Tom Holland (Spiderman), Letitia Wright (Shuri), Chadwick Boseman (Black Panther), Paul Rudd (Ant-Man), Elizabeth Olsen (Scarlett Witch), Karen Gillian (Nebula), Pom Klementieff (Mantis), Dave Bautista (Drax), Paul Bettany (Vision), Tessa Thompson (Valkyrie), Brie Larson (Captain Marvel).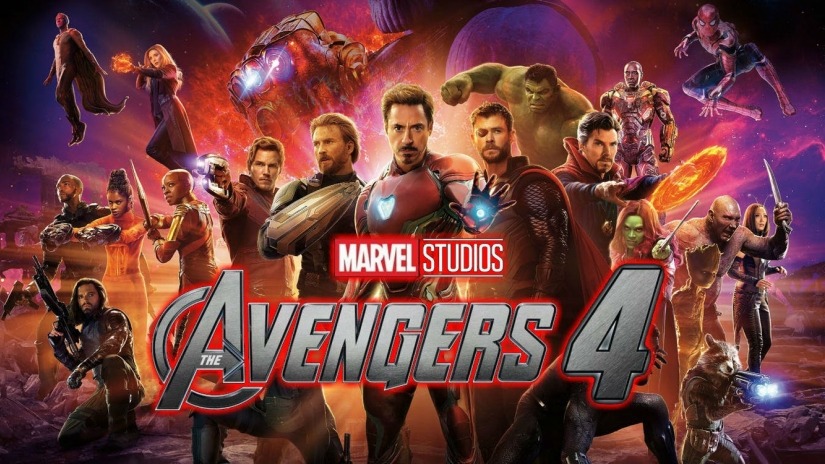 The brief synopsis of Avengers 4 is as follows:
"A culmination of 22 interconnected films, the fourth installment of the Avengers saga will draw audiences to witness the turning point of this epic journey. Our beloved heroes will truly understand how fragile this reality is and the sacrifices that must be made to uphold it."