Movies
Fans Want Mark Ruffalo to Reveal Avengers 4 Title Since He is Still Fired!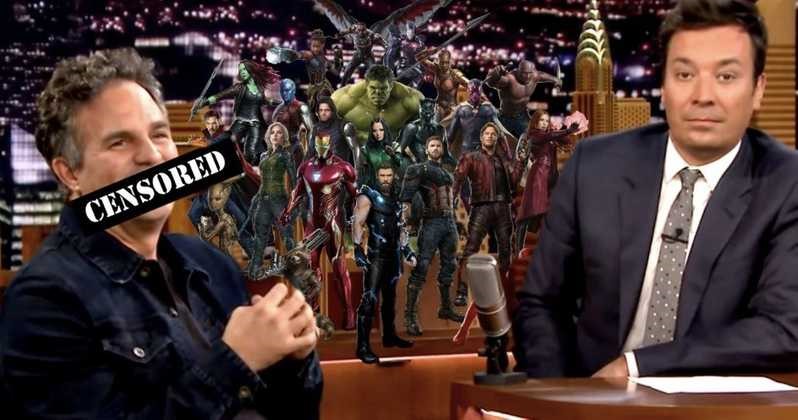 The Avengers 4 title is still a blur! The movie is not far away and we still don't know what to call it. The original title of the film was supposed to be Infinity War II but then it was changed due to the two films being totally different from each other. Marvel kept the title a secret because it would have been a major spoiler for Avengers: Infinity War. But now that we are done and dusted with Infinity War, we are ready to know the official title of the film. What's crazy is that the MCU fans want Marvel's Spoiler King Mark Ruffalo to reveal the title.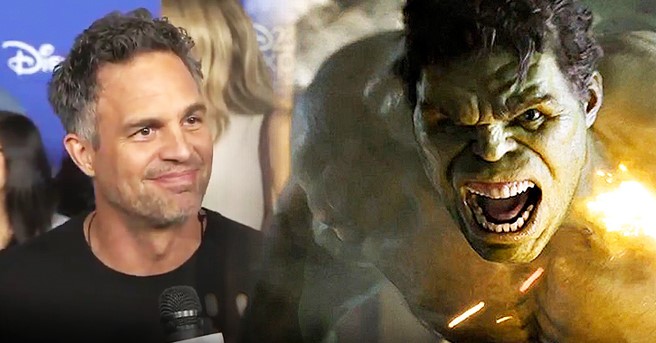 Ruffalo has had instances of revealing spoilers about the films that he is in. He revealed the massive ending of Infinity War during a press tour along with Don Cheadle. Before that during the premiere of Thor: Ragnarok he gave away the first 15 minutes of the film through Facebook live as he switched it on by mistake and the phone was in his pocket the entire time. So, people actually got to hear the first 15 minutes of the movie during the premiere, way before the theatrical release!
mark is really out here spoiling everything pic.twitter.com/9Z3gjt4hzk

— ashley (@ragnamurdock) October 6, 2018
In case you did not know, Ruffalo recently pulled a major stint at the Tonight Show with Jimmy Fallon where he did what he does best, i.e. revealing a bunch of spoilers. For starters, he began with revealing the title of the film and then went on to describe a major scene from the film involving the Hulk. He actually lost control and went full on into the Spoiler smash mode! Only after watching this video, you will know for a fact that everything that was revealed was staged and meant for publicity!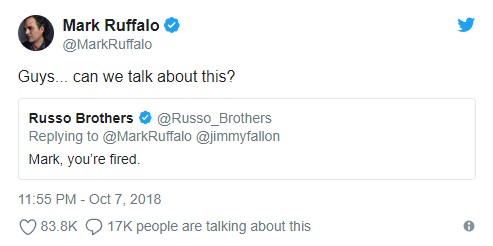 But still, it did cause the Russos to fire the gullible Hulk. He has obviously wrapped production for Avengers 4 so firing him was pointless, but still, it was done playfully and that caught the eye of the MCU fans. What's worse is that The Russos haven't forgiven him for the stunt he pulled. As the Russos posted another mystery photo in a tweet, Ruffalo tried to get back at them for firing him. But what's done is done, and it looks like the Russos won't change their decision.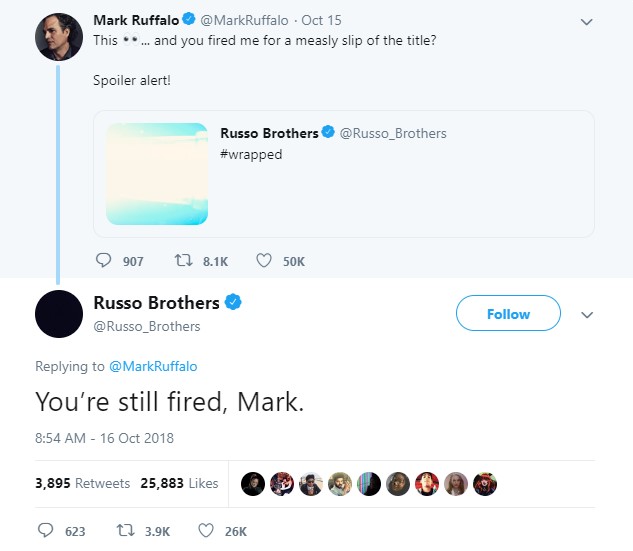 Now, that Ruffalo is still fired, the MCU fans actually don't want to wait anymore and they are literally demanding Mark to reveal the title of the upcoming mega finale! Not just that, people are asking him to reveal other tidbits like who's gonna be the one to really die permanently in the MCU.
Well, there's surely a point in doing that! To see more fan demands, you can check out Comicbook.com.

This is what's great about the MCU. Everyone gets to have their fun! Marvel is not revealing anything and even the big mouthed Hulk is not giving out anything more. What he said on the Tonight Show was beeped but decryption of the video and the constant tries to read the lip sync let us come to a conclusion that Ruffalo actually said "The Last Avengers." But since all that was staged, it is unlikely that this is the real title of the film. It will make a lot of sense if this is, in fact, the title, but we can't know for sure! Only the Russos can reveal the title now, and I have a feeling that it will happen towards the end of this month or early November.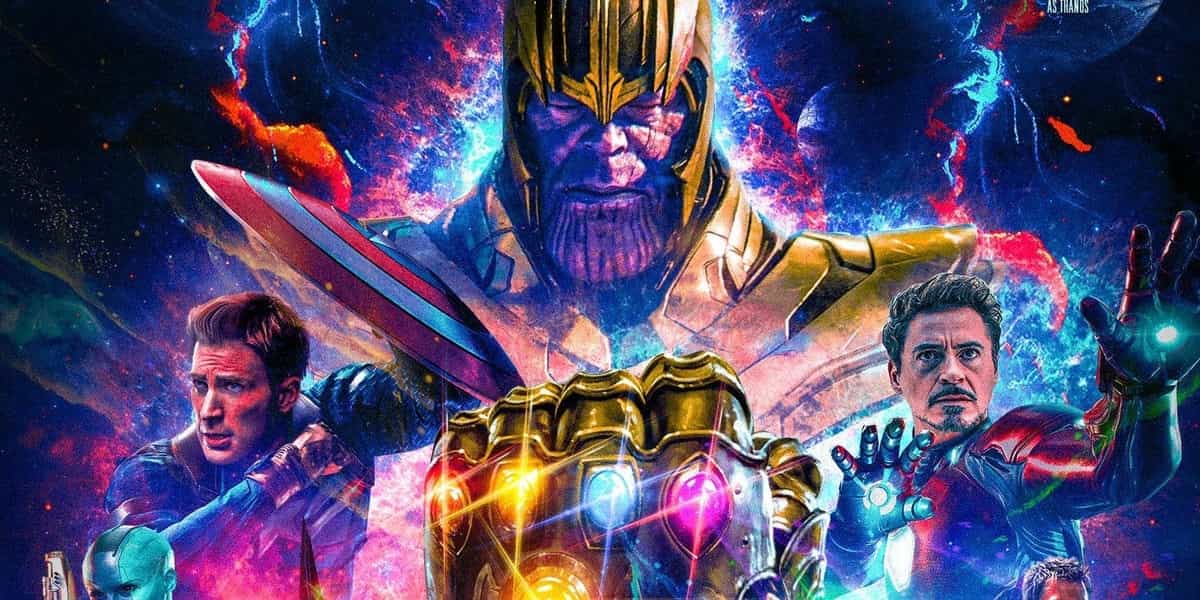 Avengers 4 comes out on May 3 and it will presumably star Robert Downey Jr., Chris Hemsworth, Mark Ruffalo, Chris Evans, Scarlett Johansson, Benedict Cumberbatch, Jeremy Renner Don Cheadle, Tom Holland, Chadwick Boseman, Paul Bettany, Tom Hiddleston, Idris Elba, Danai Gurira, Peter Dinklage, Benedict Wong, Elizabeth Olsen, Anthony Mackie, Sebastian Stan, Gwyneth Paltrow, Benicio del Toro, Josh Brolin, Pom Klementieff, Karen Gillan, Dave Bautista, Zoe Saldana, Vin Diesel, Bradley Cooper, Chris Pratt, Paul Rudd, Samuel L. Jackson, Cobie Smulders, Tessa Thompson, Evangeline Lilly, Aaron Taylor Johnson, Cate Blanchett, Michelle Pfeiffer, Michael Douglas, Tilda Swinton, Jeff Goldblum and Brie Larson.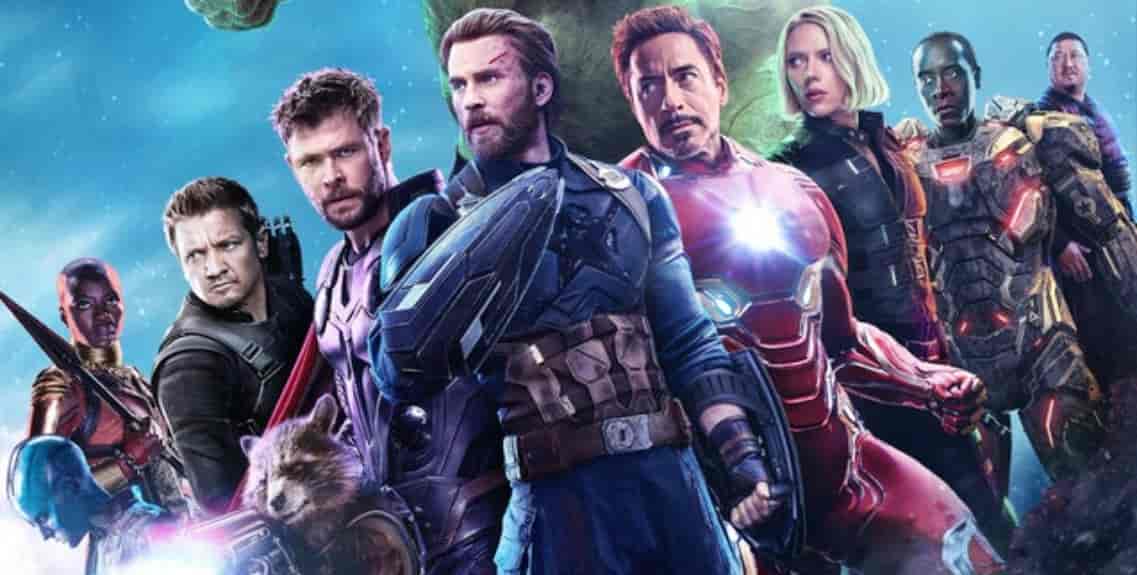 Here's the official Synopsis:
"A culmination of 22 interconnected films the fourth installment of the Avengers saga will draw audiences to witness the turning point of this epic journey. Our beloved heroes will truly understand how fragile this reality is and the sacrifices that must be made to uphold it."