Jeremy Renner has given a lot of work to the headline makers and to the fans also as a tweet from American Actor aka Hawkeye has lightened up the eyes of the Marvel fans. The amazing thing about the tweet is that there wasn't any clear mention of things but it was the art of hashtags which Renner just perfected in that tweet. The moment he sent that tweet out, the fans and the media across the world are just giving their predictions on Hawkeye's return in Avengers 4.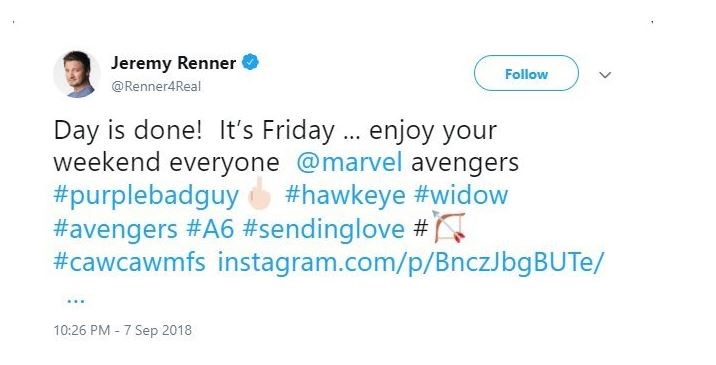 Many media houses and sources have also claimed that the reshoot has begun and Renner is going to come back in the Avengers 4 because of the love and fan following he has in the world of Marvel fans. Also, he's a strong character with a good history with Avengers and it was quite strange not to see him in Avengers: Infinity War.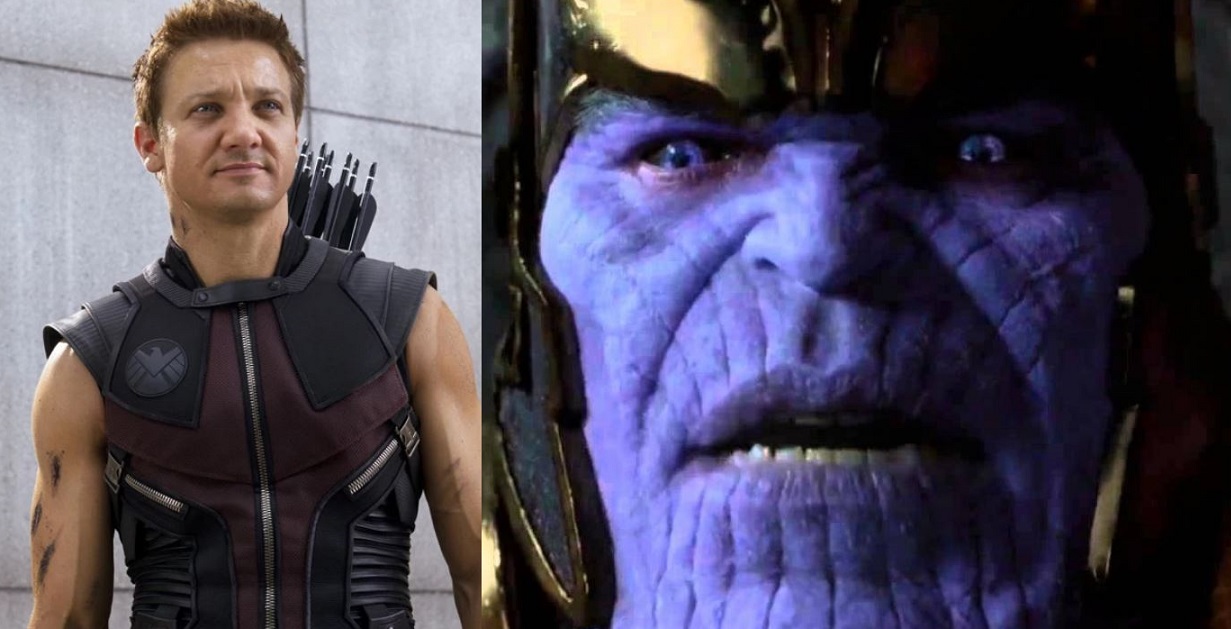 Now, if we talk about the most talked elements of his tweet which gave birth to all these rumors and speculations are the 4 hashtags. Starting from the first one and the most eye-catching one was #purplebadguy which we all know refers to the Mad-Titan Thanos (Josh Brolin) and we all know we're going to witness the madness of Thanos in Avengers 4.
Moving from it, the second hashtag was the name of his character #hawkeye in the Marvel movies but it was the third hashtag #widow, which turned heads a little more and that was of his great on-screen partner-in-crime Black Widow (Scarlett Johansson). Now, we all know the partnership these two characters of Marvel possess as Hawkeye and Black Widow were partners in S.H.I.E.L.D but in first Avengers, Hawkeye suggested that he helped Widow from escaping from the Red Room and thus, maybe in Avengers 4 they'll team up again for a mission.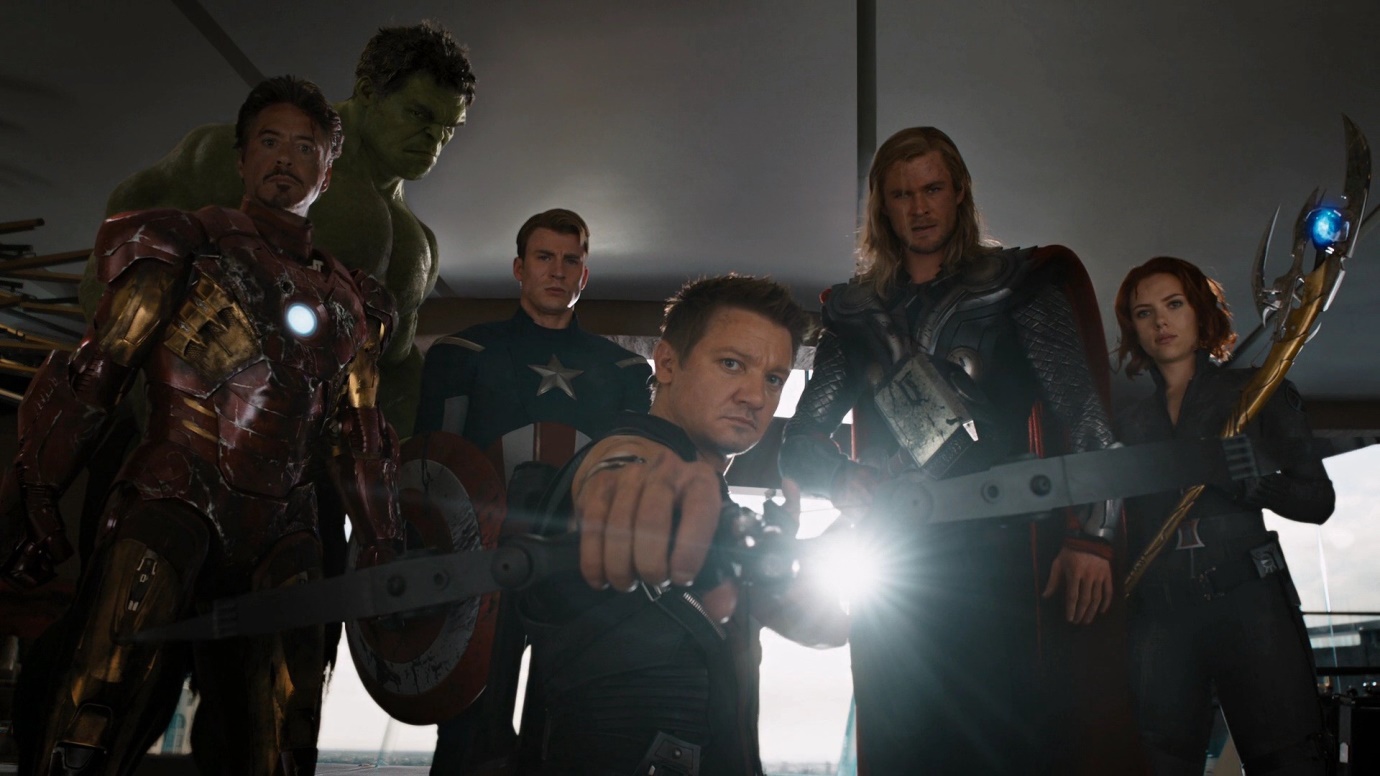 The last hashtag was enigmatic and left people scratching their heads as it was #A6. We all know that there were 6 members who were the first Avengers. The first 6 superheroes that came together and joined their hands and became the part of the Avenger's Initiative, those were Hawkeye, Black Widow, Thor (Chris Hemsworth), Iron Man (Robert Downing Jr.), Captain America (Chris Evans), and Hulk (Mark Ruffalo).
Maybe it's the last time we're going to witness all these superheroes together with the end of Marvel Cinematic Universe's Phase 3 because all these 6 original Avengers survived the snap of Thanos in the Infinity War, with many actors also coming to the end of their respective contracts. Those original six Avengers have immortalized their heroic status with matching "A6" tattoos.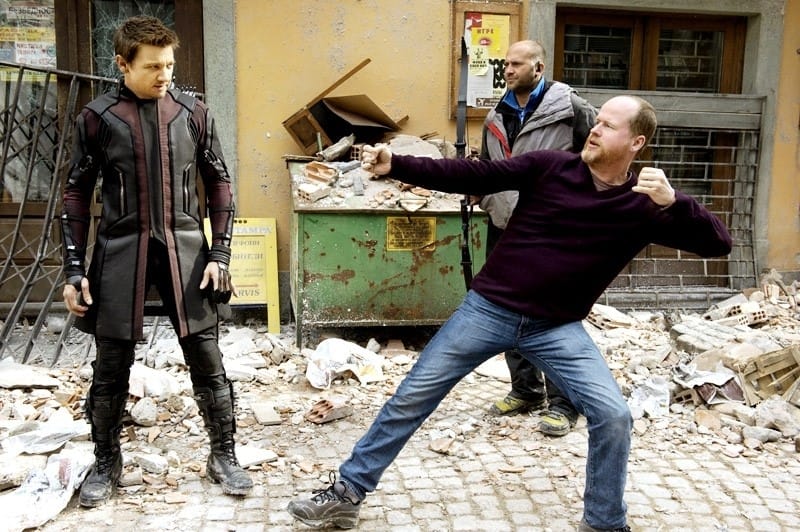 Marvel Studios' President, Kevin Feige has also expressed his thoughts on the ongoing speculations as he stated,
"We (at Marvel) love Hawkeye. There are big, big story things coming up for Hawkeye and Jeremy Renner is as strong as an actor as anyone in the MCU and an awesome as this character. But, 'the guy with the bow and arrow jokes', right? There are a lot of 'Guys with bow and arrow jokes.' He even makes 'Guy with a bow and arrow' jokes in some movies. So I love people go from 'Oh, Hawkeye is just lucky to be there,' to 'oh, where is he? He's not there? What's going to happen? We need Hawkeye, We want more Hawkeye.' I love it. It's the best."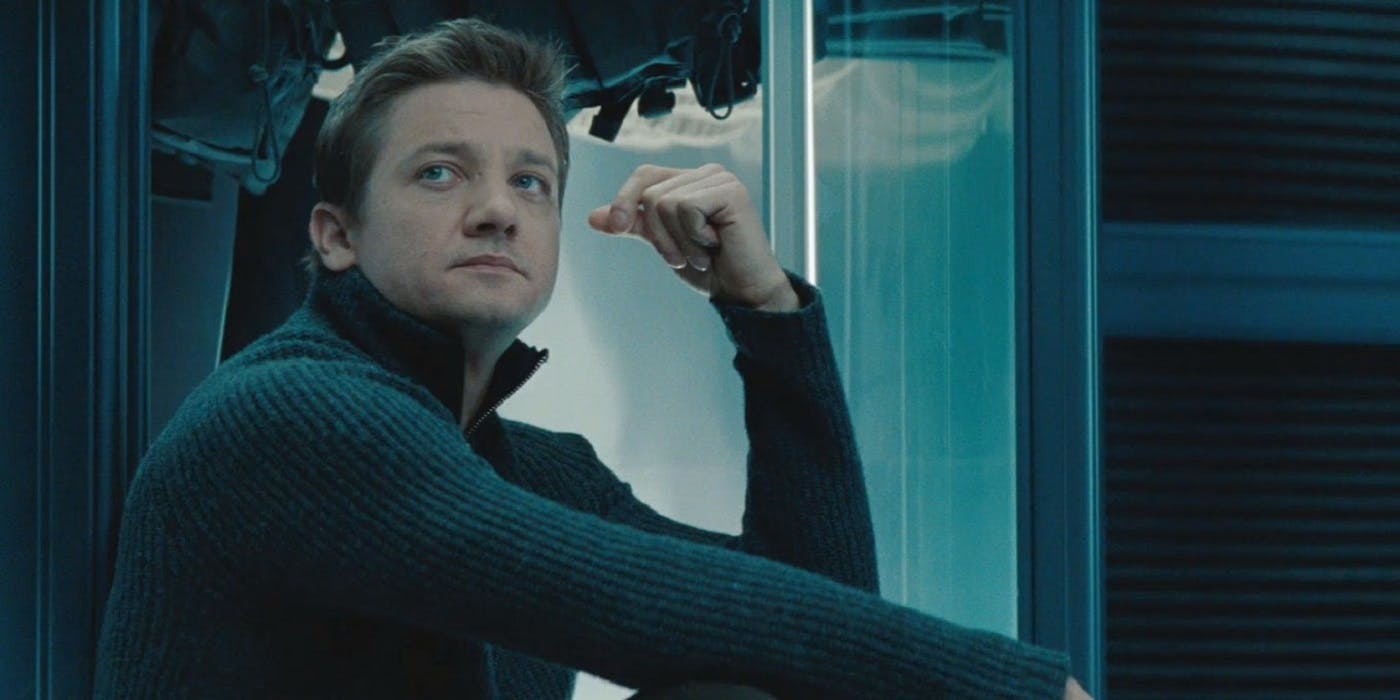 So, these are the things we try to interpret from Renner's tweet. Renner will next appear in Avengers 4.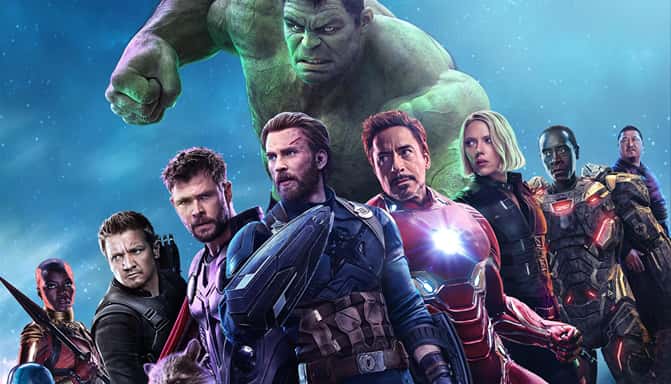 Here is the official synopsis of Avengers 4 which is slated to hit the theatres on May 3, 2019.
"A culmination of 22 interconnected films, the fourth installment of the Avengers saga will draw audiences to witness the turning point of this epic journey. Our beloved heroes will truly understand how fragile this reality is and the sacrifices that must be made to uphold it."
Is there any anything you want to add or tell us? If yes, then comment down your views on this.
"Writing is one of my strengths and all I can say is that I observe things and try my best in order to convert them into words without the pressure of satisfying people's demands."