WB and DC are slowly trying to build themselves back into the game after they faced yet another failure with Justice League. That was their big team-up movie and WB was going all guns blazing with that, but those turned out to be nothing but water guns as they managed to only make a little to no impact with DC's biggest heroes coming together. Having seen three team-up movies fail critically and somewhat financially, DC is now focussing mostly on the solo movies which is why Aquaman, Shazam! and Wonder Woman: 1984 are the next three movies to come out.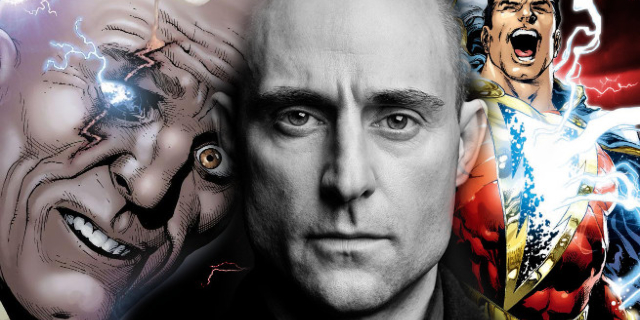 WB has put plenty of DC movies under development but not all will be hitting the theatres soon as DC seems to be putting their priorities on just 6 movies after these three mentioned above are done till the very next year.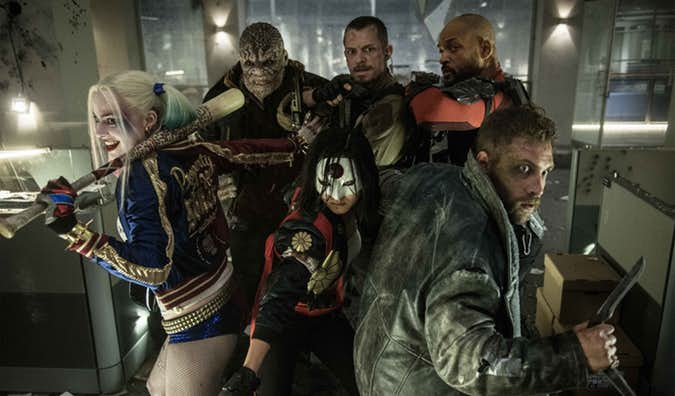 Suicide Squad has Gavin O'Conner attached to it and that movie is said to begin production next year. The two Flash directors have also mentioned that if everything goes right, we will get to see the movie in 2020, which means that it will also start shooting next year.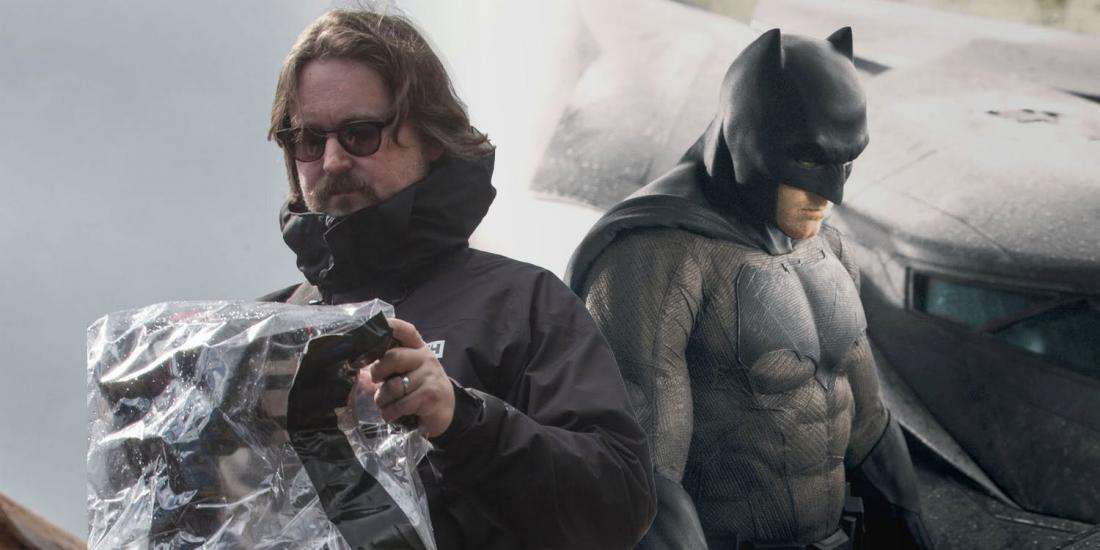 Matt Reeves has mentioned that The Batman script is progressing, and his solo movie will also start production in 2019. Recent reports have suggested that the Birds of Prey movie which is under Cathy Yan has been confirmed to start shooting in January by Margot Robbie. The Joker Origins movie with Joaquin Phoenix has also been confirmed to begin production very soon.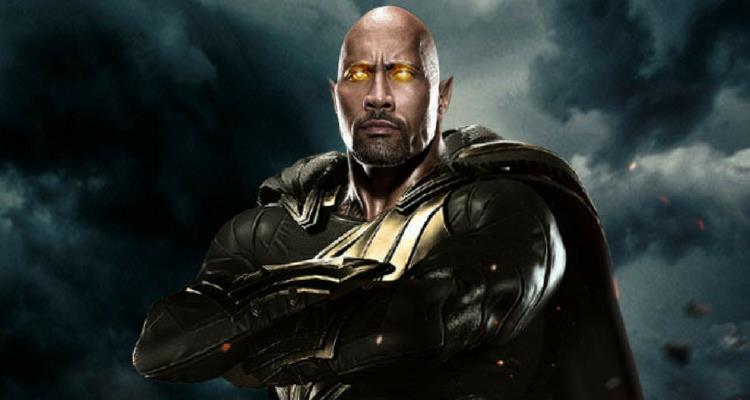 Also, Dwayne Johnson recently confirmed that his own Black Adam script has come along and shooting is going to begin the very next year as it is a part of the reconfiguration which DC and WB are upon currently. Here's what The Rock said:
"Black Adam is coming along. The script is coming along. I'm very happy with it. That's a project that obviously you want to take your time [with]. I think it's in a very exciting time now, with DC, because there's some rejiggering going on. There's reconfiguration going on. There's looking at the macro map of the DC universe. And I know those guys are working diligently at DC and Warner Bros too, working closely with our producers too, to see how Black Adam unfolds in the universe. But yeah. I mean, I'm excited about it. It's just coming along and being written."
Shazam! on the other hand, has finished production but we still haven't had much at the marketing stage as we have not seen even an officially released photo except for many of the Set Photos of Zachary Levi in a suit. Well, we are in luck today as the first official look at Shazam! has been released, courtesy of Entertainment Weekly. Have a look: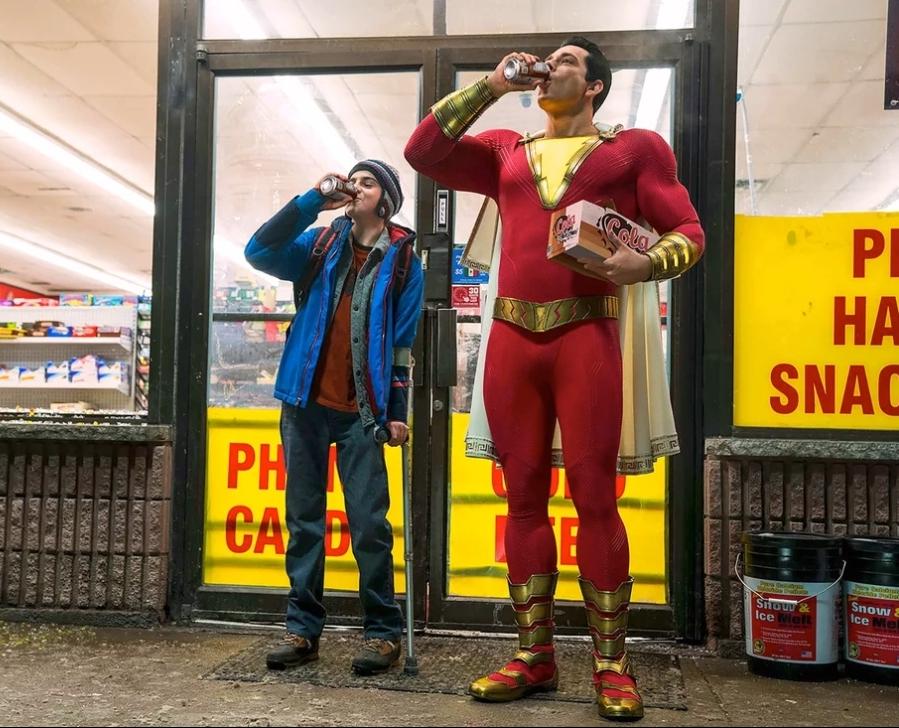 This is the first official reveal at the full suit of Shazam. It is not a poster or anything but just Shazam drinking a can of Cola along with a kid. This exactly personifies who Shazam is and what could be expected of him.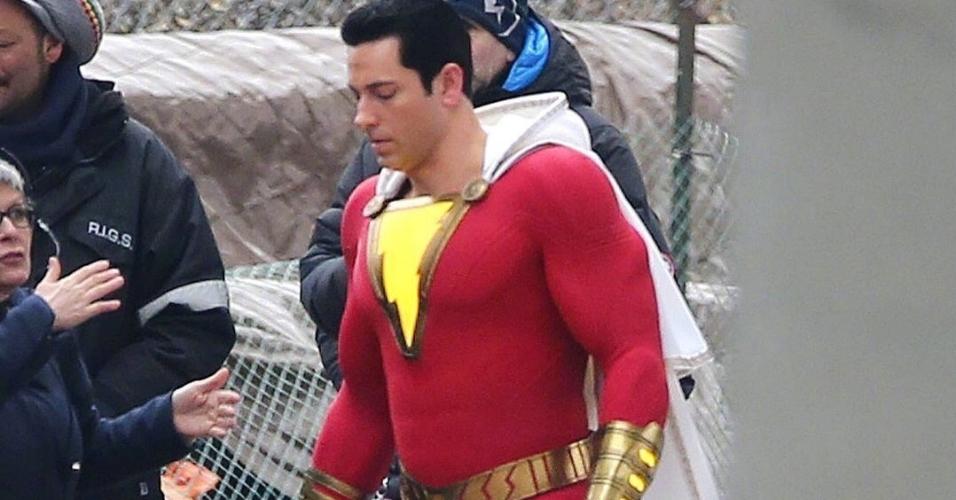 The padding on the suit did not look good in the set photos as the body looked extremely fake (At least that is what people complained about). But seeing this image, the suit looks fine even though it is a little Man of Steel-ish with the under-padded west and everything.
Many people are complaining about the cape being small, but that is how Shazam is supposed to be. That bit has been taken directly from the comics and even though we can't see a hood in this image, we do know that it is there as seen in the Set Photos. Hopefully, we also get to see a trailer for the movie at San Diego Comic-Con.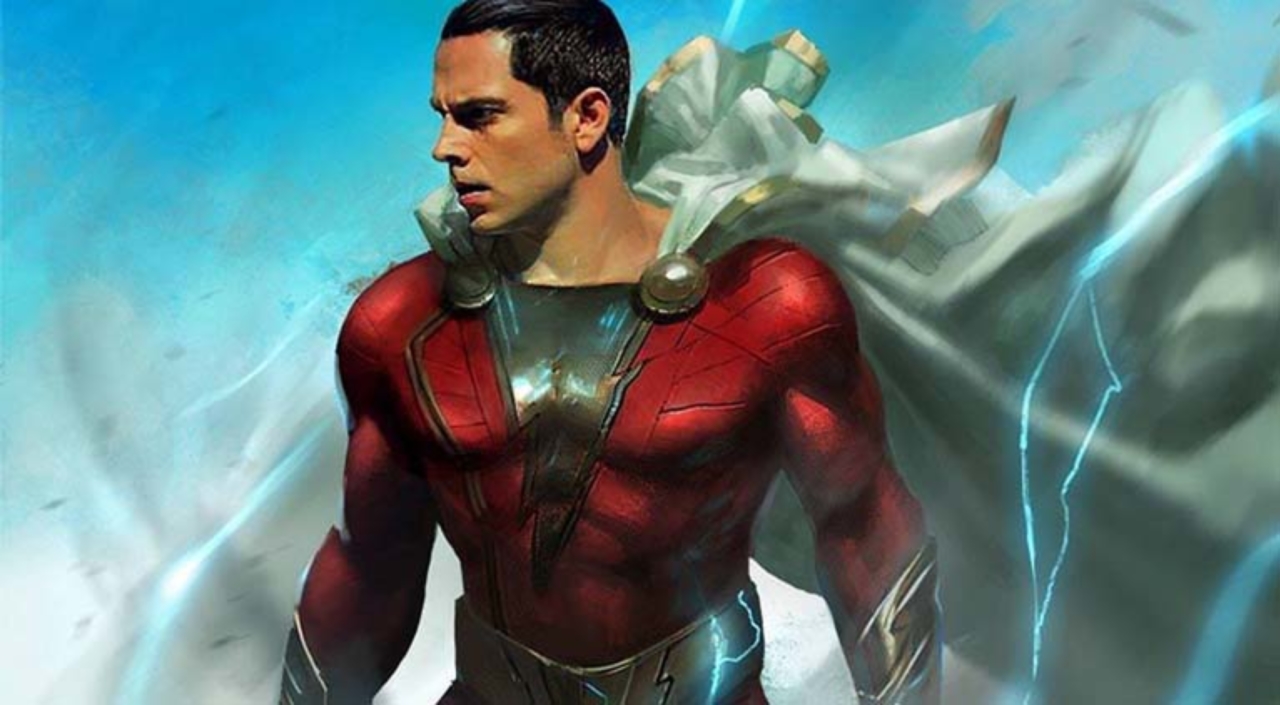 Shazam! comes out on April 5, 2019, and here's the official Synopsis:
We all have a superhero inside us, it just takes a bit of magic to bring it out. In Billy Batson's (Angel) case, by shouting out one word—SHAZAM!—this streetwise 14-year-old foster kid can turn into the adult Super Hero Shazam (Levi), courtesy of an ancient wizard. Still a kid at heart—inside a ripped, godlike body—Shazam revels in this adult version of himself by doing what any teen would do with superpowers: have fun with them! Can he fly? Does he have X-ray vision? Can he shoot lightning out of his hands? Can he skip his social studies test? Shazam sets out to test the limits of his abilities with the joyful recklessness of a child. But he'll need to master these powers quickly in order to fight the deadly forces of evil controlled by Dr. Thaddeus Sivana (Strong).
Play Now: The Ultimate DCEU Quiz (Click on the link below to begin)
If You FAIL This DC Movies Test, Stop Calling Yourself A True Fan!